Open Access This article is
freely available
re-usable
Article
Assembly Pathways and the Growth of Massive Early-Type Galaxies
Centre for Astrophysics & Supercomputing, Swinburne University, Hawthorn VIC 3122, Australia
Academic Editor: Emilio Elizalde
Received: 20 April 2017 / Accepted: 1 June 2017 / Published: 7 June 2017
Abstract
:
Based on data from the SAGES Legacy Unifying Globulars and GalaxieS (SLUGGS) survey, I present results on the assembly pathways, dark matter content and halo growth of massive early-type galaxies. Using galaxy starlight information we find that such galaxies had an early dissipative phase followed by a second phase of halo growth from largely minor mergers (and in rare cases major mergers). Thus our result fits in well with the two-phase scenario of galaxy formation. We also used globular cluster radial velocities to measure the enclosed mass within 5 effective radii. The resulting dark matter fractions reveal a few galaxies with very low dark matter fractions that are not captured in the latest cosmological models. Multiple solutions are possible, but none yet is convincing. Translating dark matter fractions into epochs of halo assembly, we show that low mass galaxies tend to grow via gas-rich accretion, while high mass galaxies grow via gas-poor mergers.
Keywords:
galaxies; formation; evolution; halos
Acknowledgments
I thank the SLUGGS survey team for their contribution to the research presented here, especially Busola Alabi. This work was supported by ARC grant DP130100388.
Conflicts of Interest
The author declares no conflict of interest.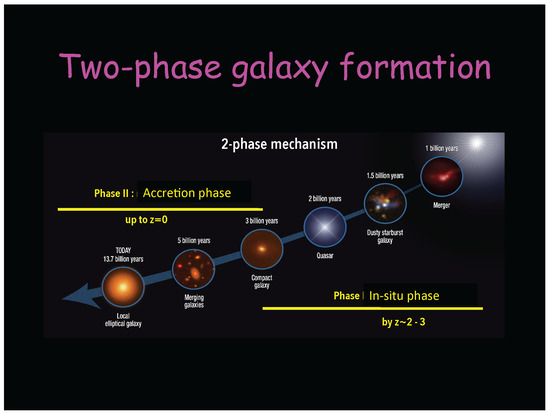 Figure 1.
Two-phase galaxy formation. This schematic illustrates the two-phase galaxy formation scenario as described by the cosmological simulations of Naab et al. (2014) [
2
]. The first phase, at high redshift, is a dissipative one that results in the in-situ formation of a compact, massive core (red nugget) and perhaps an AGN. In he second phase, after redshift z ∼2, growth is dominated by accretion from minor or major mergers which leads to the formation of the galaxy halo. Credit: NASA, ESA, S. Toft, A. Feild.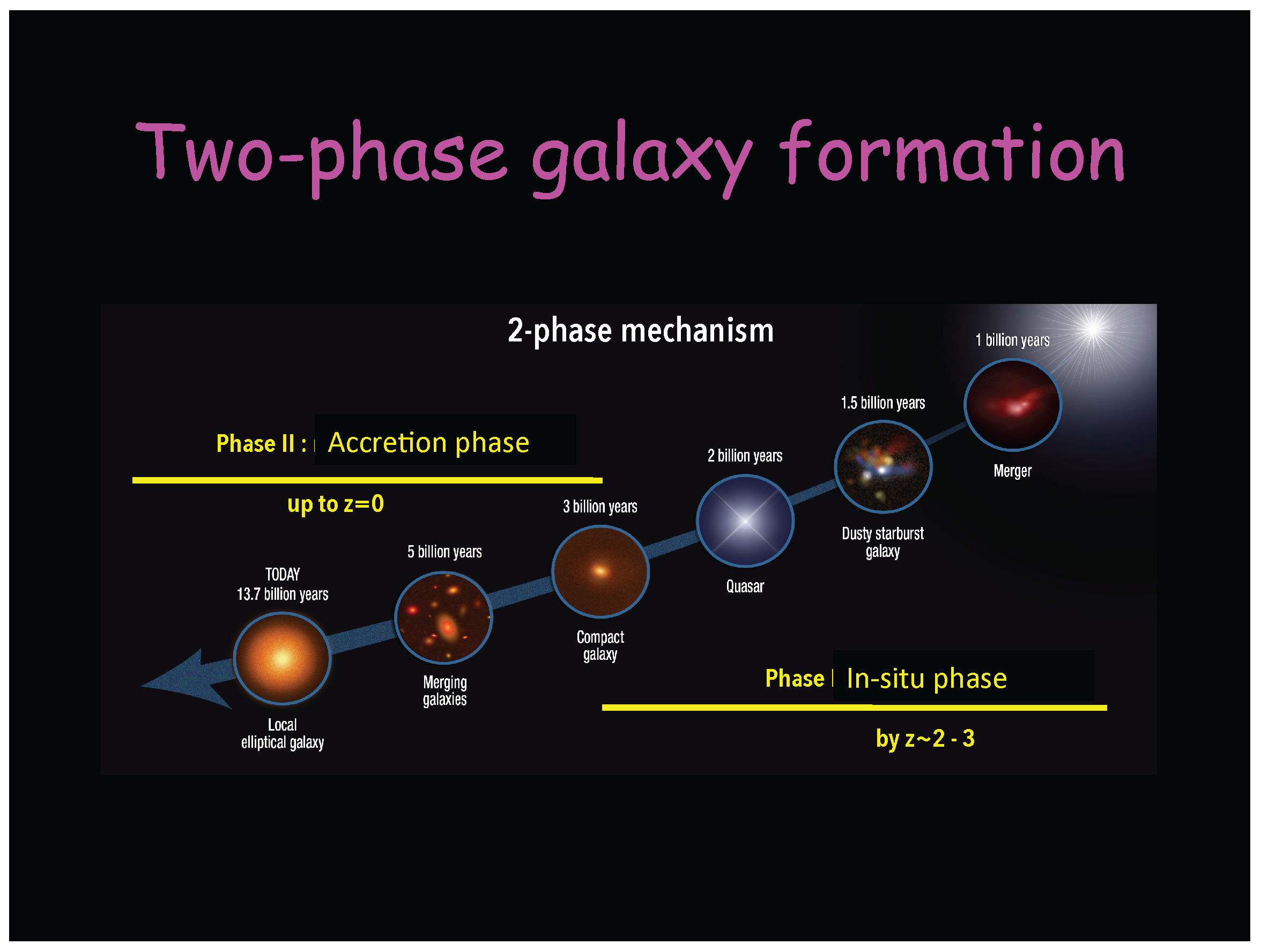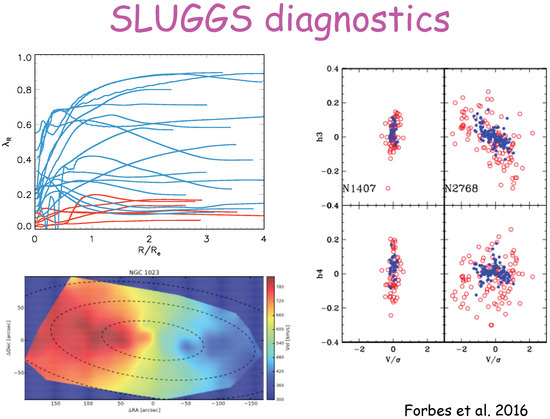 Figure 2.
SLUGGS diagnostics. The kinematic diagnostics used to place each SLUGGS galaxy in one of six Naab et al. (2014) [
2
] assembly history classes are: radial lambda (spin) profiles (top left), 2D kinematic maps (lower left) and higher order velocity moments vs. V/ (right). In the spin profiles, blue lines are centrally fast rotators and red lines are for centrally slow rotators. In the higher order moments, blue symbols are data within 1 R, and red symbols for data outside 1 R.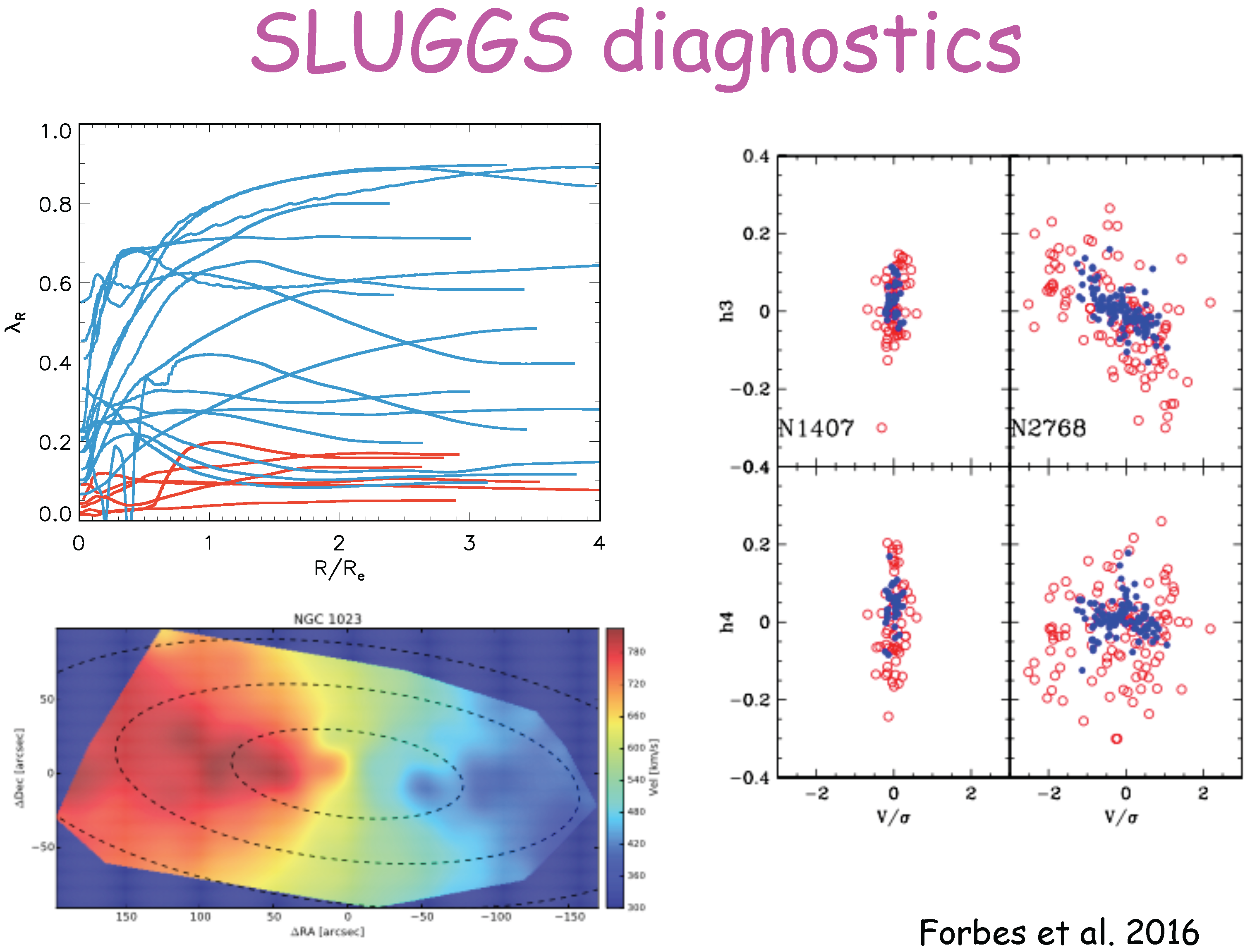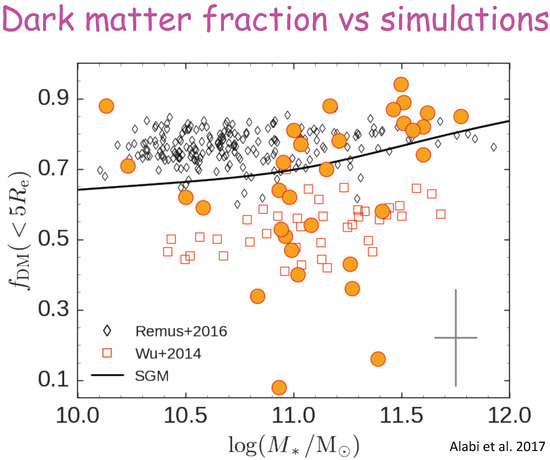 Figure 3.
Dark matter fraction vs simulations. The dark matter fraction within 5 effective radii is shown against stellar mass. The SLUGGS data from Alabi et al. (2017) [
7
] are shown by filled orange circles, with a typical error bar at the lower right. The black and red open symbols are the cosmological simulations of Remus et al. (2017) [
8
] and Wu et al. (2014) [
9
] respectively. The solid black line shows a simple galaxy model based on scaling relations and a NFW dark matter halo. The data show some agreement with the model galaxies, but reveal a considerable range in dark matter fractions for log stellar masses of ∼11 that is not captured in the models.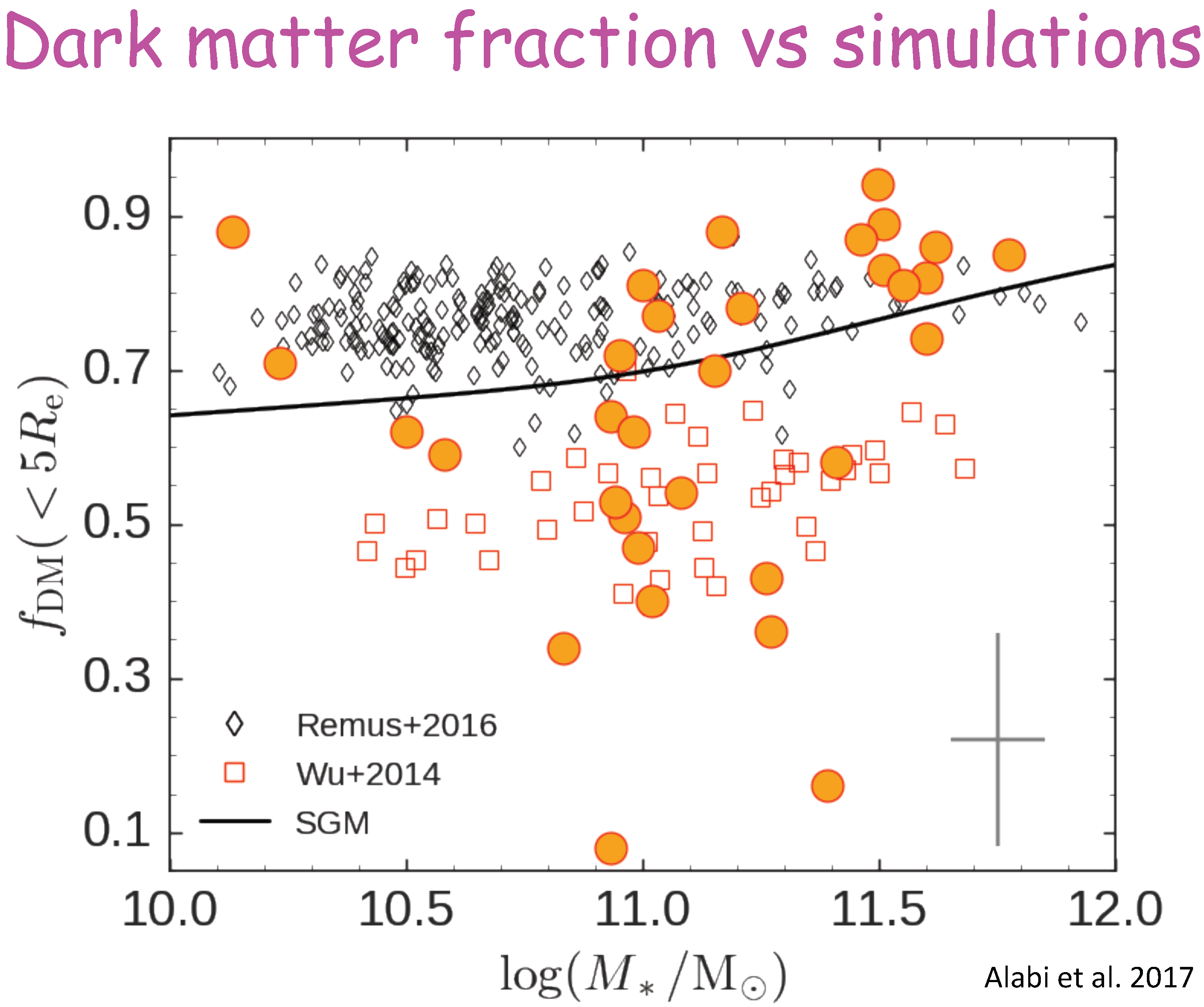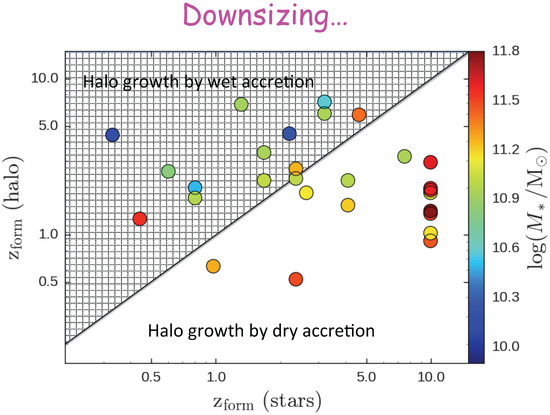 Figure 4.
Downsizing
—the early formation and completion of star formation in massive galaxies.
The assembly epoch of galaxy halos, derived from the dark matter density within 5 effective radii, is shown vs the luminosity-weighted mean age of the stars in each SLUGGS galaxy. Symbols are colour-coded by their stellar mass. Galaxies in the upper left tend to be of low stellar mass for which halo growth continues via gas-rich accretion. Whereas, for high mass galaxies growth is dominated by gas-poor mergers.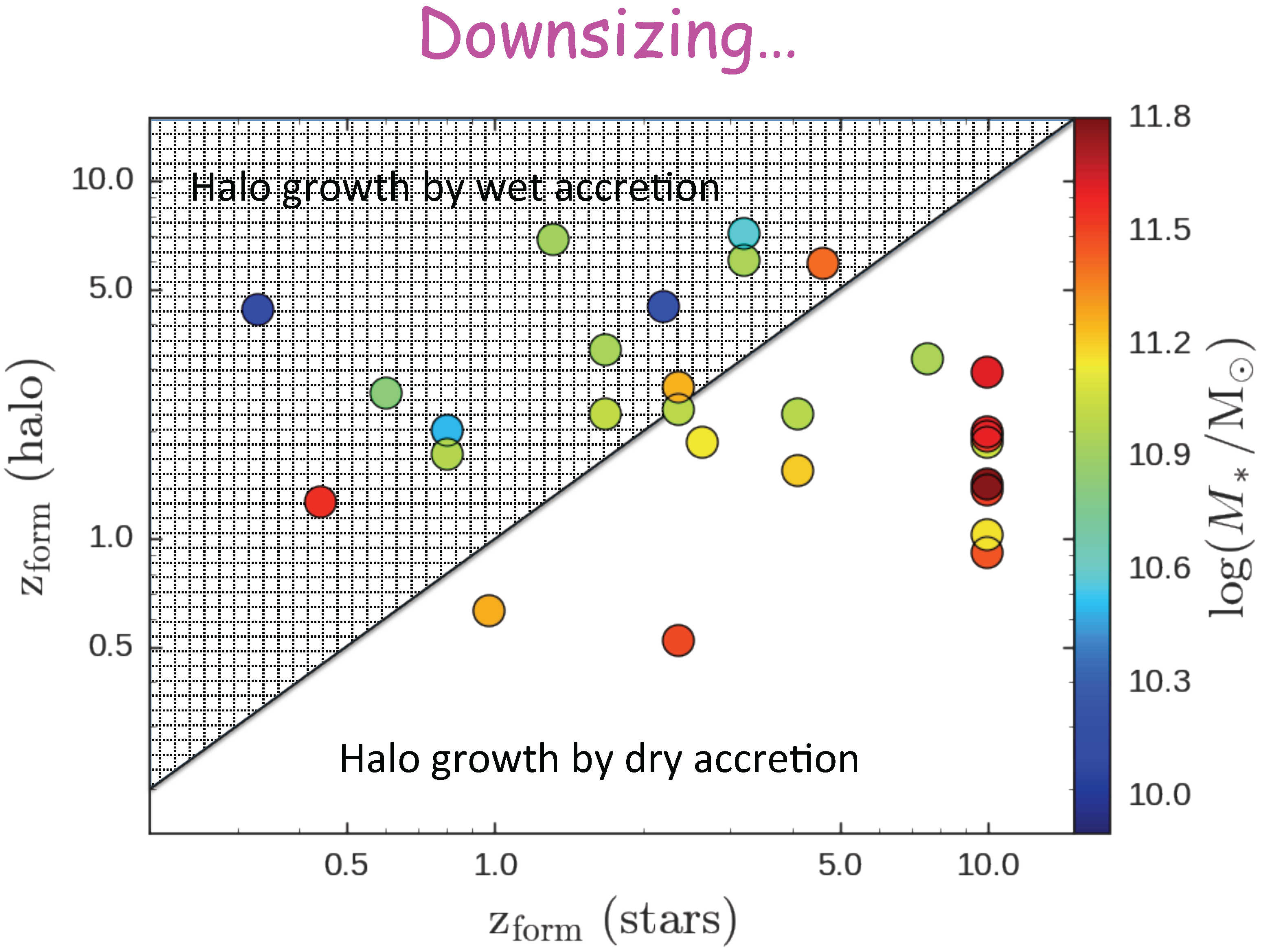 © 2017 by the author. Licensee MDPI, Basel, Switzerland. This article is an open access article distributed under the terms and conditions of the Creative Commons Attribution (CC BY) license (http://creativecommons.org/licenses/by/4.0/).