Open Access This article is
freely available
re-usable
Article
A Novel Technique for Intraoral Ultrasound-Guided Aspiration of Peritonsillar Abscess
1
Department of Otorhinolaryngology, Head and Neck Surgery & Audiology, Rigshospitalet University Hospital, 2100 Copenhagen, Denmark
2
Department of Otorhinolaryngology and Maxillofacial Surgery, Zealand University Hospital, 4600 Køge, Denmark
*
Author to whom correspondence should be addressed.
Received: 23 June 2018 / Accepted: 31 July 2018 / Published: 2 August 2018
Abstract
:
Peritonsillar abscess (PTA) is a common complication to acute tonsillitis. The treatment is drainage of the abscess, but many needle aspirations are unsuccessful due to a low diagnostic accuracy based on oral examination only. In this article, we describe how intraoral ultrasound can be added to improve the diagnostic work-up of PTA and present a novel technique for ultrasound-guided aspiration of PTA, using a small pencil-shaped transducer. We present our first clinical experiences with this technique and describe how it could be integrated in a clinical setting to guide safe and successful needle aspirations of PTA.
Keywords:
point-of-care ultrasound; intraoral ultrasound; peritonsillar abscess; ultrasound-guided aspiration
Author Contributions
Conceptualization, T.T., M.G.S. and C.H.H.; Methodology, T.T.; Data Curation, T.T.; Writing-Original Draft Preparation, T.T.; Writing-Review & Editing, T.T., M.G.S. and C.H.H.
Funding
This proof-of-concept study received no external funding.
Acknowledgments
The Burr-Hole ultrasound transducer was borrowed from BK Ultrasound (Analogic, Peabody, MA, USA) for the study period.
Conflicts of Interest
The authors declare no conflicts of interest.
Figure 1. Different types of transducers that can be used for intraoral ultrasound (Left). A Burr-Hole, a Hockey Stick and a transvaginal/rectal transducers were from BK Ultrasound (Analogic, Peabody, MA, USA). A needle guide attached to the Burr-Hole transducer (Middle). An intraoral ultrasound examination conducted with a Burr-Hole transducer with a cover (Right).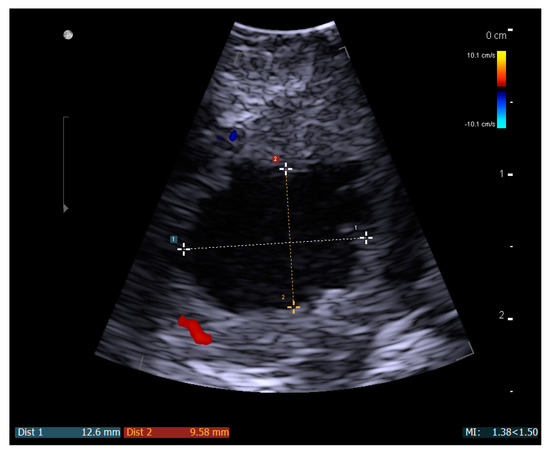 Figure 2. A static ultrasound image with a Burr-Hole N11C5s BK Ultrasound transducer of a left-side peritonsillar abscess seen as the measured hypoechoic area.
Figure 3. Power Doppler demonstrated no vascular activity in the ill-defined hypoechoic area (A), supporting the diagnose of a peritonsillar abscess. Ultrasound image with a Hockey Stick 8809 transducer and a Flex Focus 800 BK Ultrasound machine (Analogic, Peabody, MA, USA).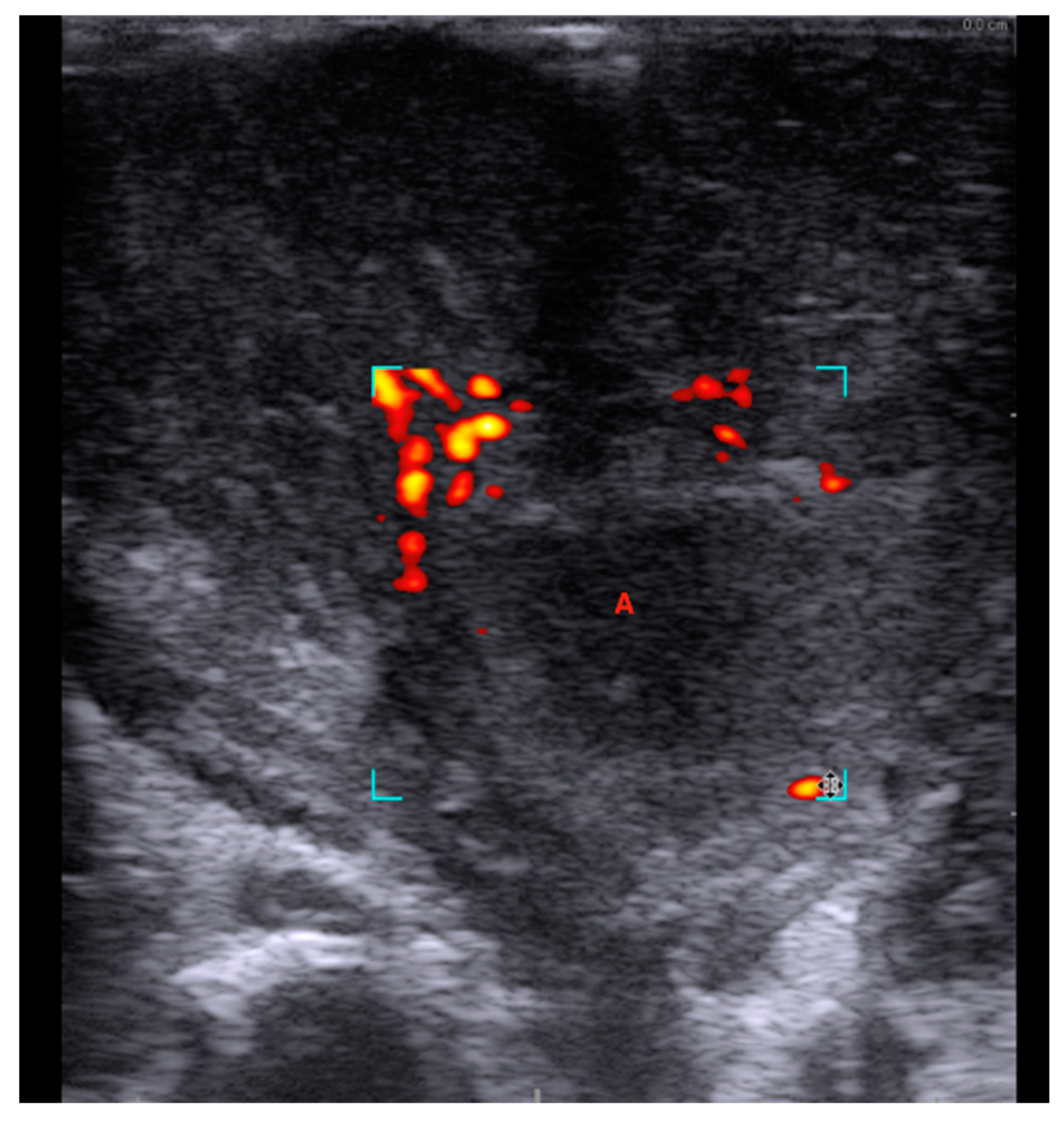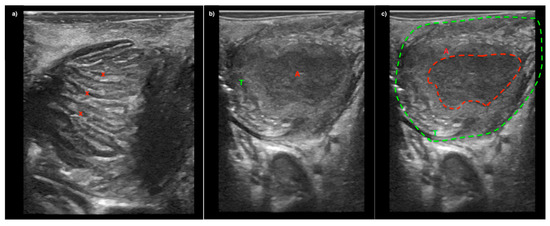 Figure 4. Image (a) A patient with severe tonsillitis presenting with peritonsillar swelling. Tonsillar hypertrophy is seen on ultrasound with inflamed tonsillar crypts (x) but without abscess. Image (b) and (c) Ultrasound image from another patient showing the palatine tonsil (T) with an abscess cavity (A). All imaged were captured with a Hockey Stick transducer and a GE Logiq S7 Ultrasound System (GE_Healthcare Chicago, Chicago, IL, USA).
Figure 5. (Image (A)) A well-defined hypoechoic peritonsillar abscess (A) seen with a linear Hockey Stick transducer (BK Ultrasound) in relation to the Palatine Tonsil (T). (Image (B)) Ultrasound image from the same patient using a convex array Burr-Hole transducer with needle guide. The tip of the needle is seen as a hypoechoic reflection (N) in the abscess cavity (A). (Image (C)) Ultrasound image after successful aspiration from the abscess cavity emptied of pus.
Figure 6. The oral examination with left-side peritonsillar swelling (Left). A deep left-side peritonsillar abscess, indicated by red arrows in the computed tomography (CT) image (Right).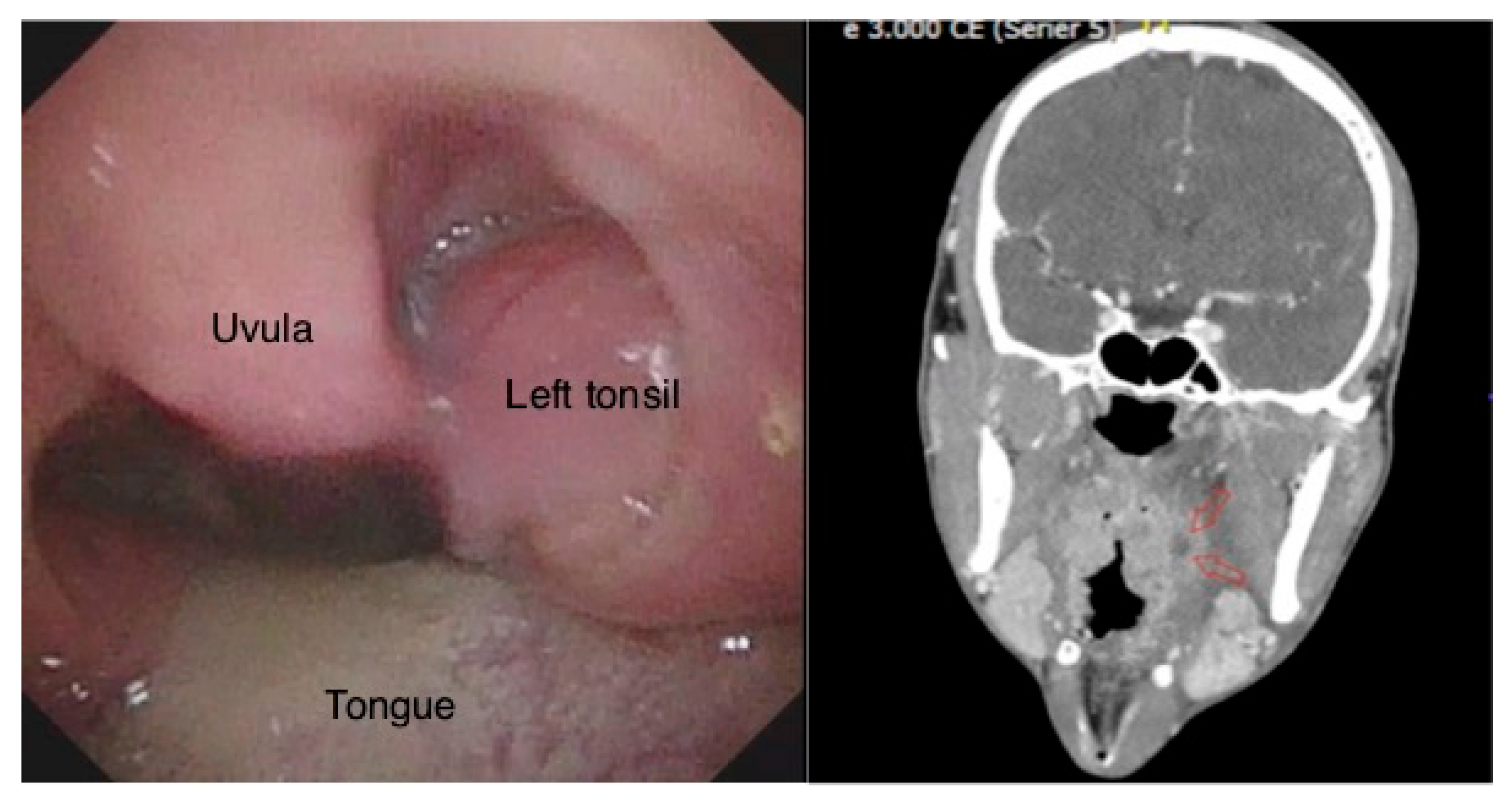 © 2018 by the authors. Licensee MDPI, Basel, Switzerland. This article is an open access article distributed under the terms and conditions of the Creative Commons Attribution (CC BY) license (http://creativecommons.org/licenses/by/4.0/).