Open Access This article is
freely available
re-usable
Article
Detection of Biological Bricks in Space. The Case of Adenine in Silica Aerogel
1
Département de Chimie Sorbonne Université, CNRS MONARIS UMR8233, 4 Place Jussieu, F-75005 Paris, France
2
Institut de Systématique, CNRS Sorbonne Université, MNHN, UMR 7205, Evolution, Biodiversité, ISYEB, F-75005 Paris, France
3
Department of Physics, Chiba University, Chiba 263-8522, Japan
4
Department of Applied Life Sciences, Tokyo University of Pharmacy and Life Sciences, Hachiojishi, Tokyo 192-0392, Japan
*
Authors to whom correspondence should be addressed.
Received: 12 September 2019 / Accepted: 24 October 2019 / Published: 26 October 2019
Abstract
:
Space missions using probes to return dust samples are becoming more frequent. Dust collectors made of silica aerogel blocks are used to trap and bring back extraterrestrial particles for analysis. In this work, we show that it is possible to detect traces of adenine using surface-enhanced Raman spectroscopy (SERS). The method was first optimized using adenine deposition on glass slides and in glass wells. After this preliminary step, adenine solution was injected into the silica aerogel. Finally, gaseous adenine was successfully trapped in the aerogel. The presence of traces of adenine was monitored by SERS through its characteristic bands at 732, 1323, and 1458 cm−1 after the addition of the silver Creighton colloid. Such a method can be extended in the frame of Tanpopo missions for studying the interplanetary transfer of prebiotic organic compounds of biological interest.
Keywords:
adenine; Tanpopo mission; aerogel; SERS; origins of life
Author Contributions
Conceptualization, M.-C.M.; methodology, E.-L.Z., A.-T.N. and M.T.; validation, A.Y.; investigation, A.A.A.; writing—original draft preparation, A.P.; supervision, J.V.
Funding
This research received no external funding.
Acknowledgments
We thank the CNES (Centre National d'Etudes Spatiales) for constant support in this work as well as for the studies on the origins of life. We are grateful to Reviewers who assisted in improving the manuscript with valuable comments.
Conflicts of Interest
The authors declare no conflict of interest.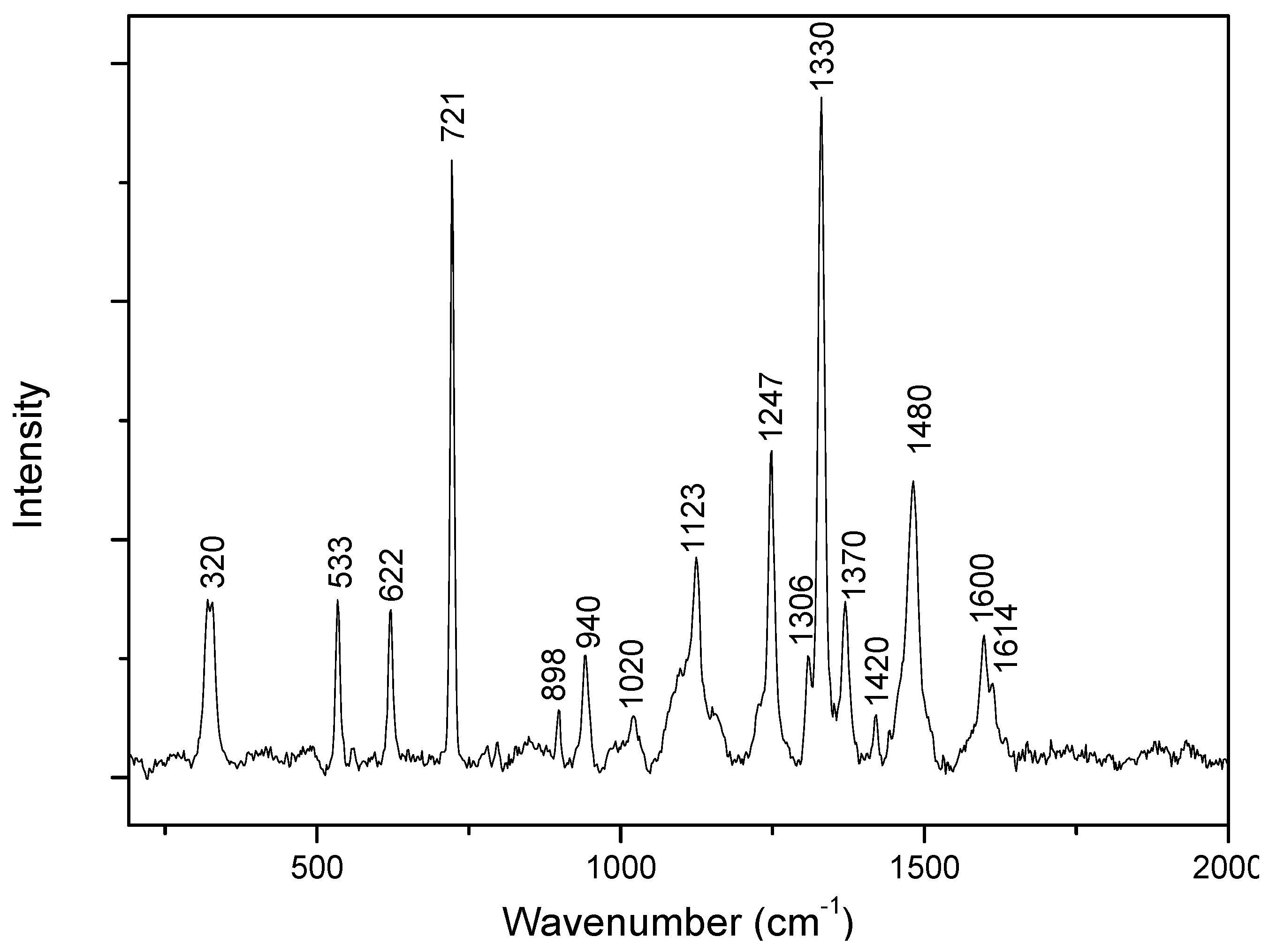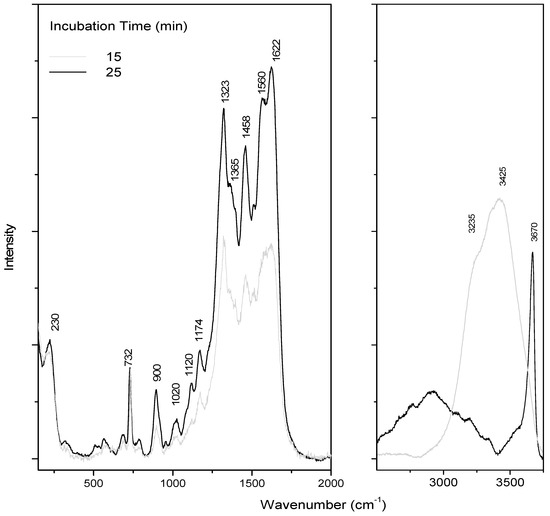 Figure 2. SERS adenine spectra as a function of incubation time. A colloid drop was added on dried adenine (10 µL of adenine–ethanol solution at 10−3 M) on a glass slide.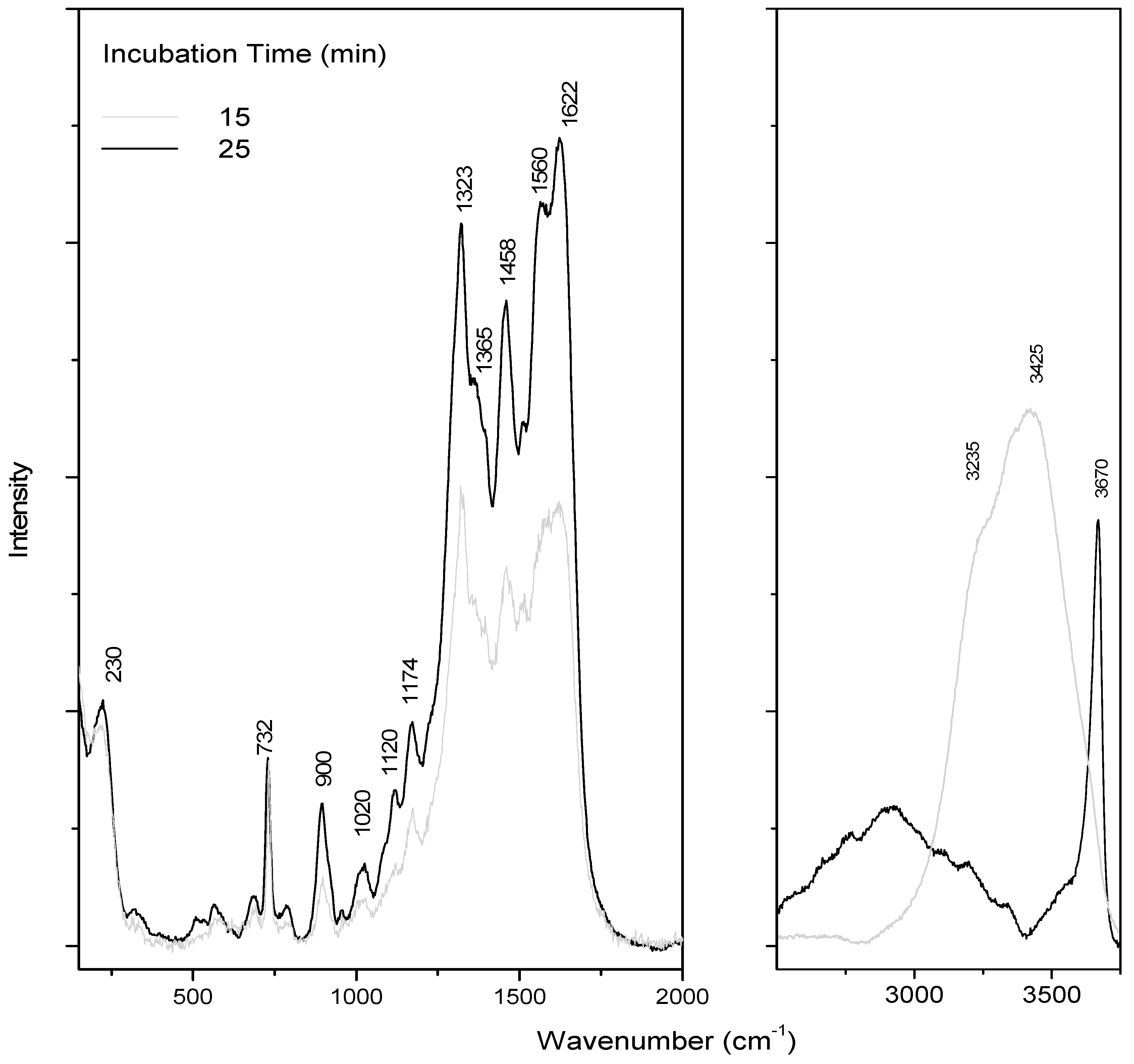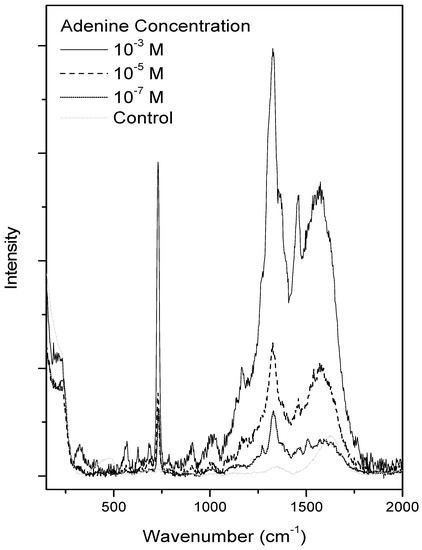 Figure 3. SERS adenine spectra as a function of adenine concentration in glass wells after 15 min incubation, with control spectrum (colloid mixture).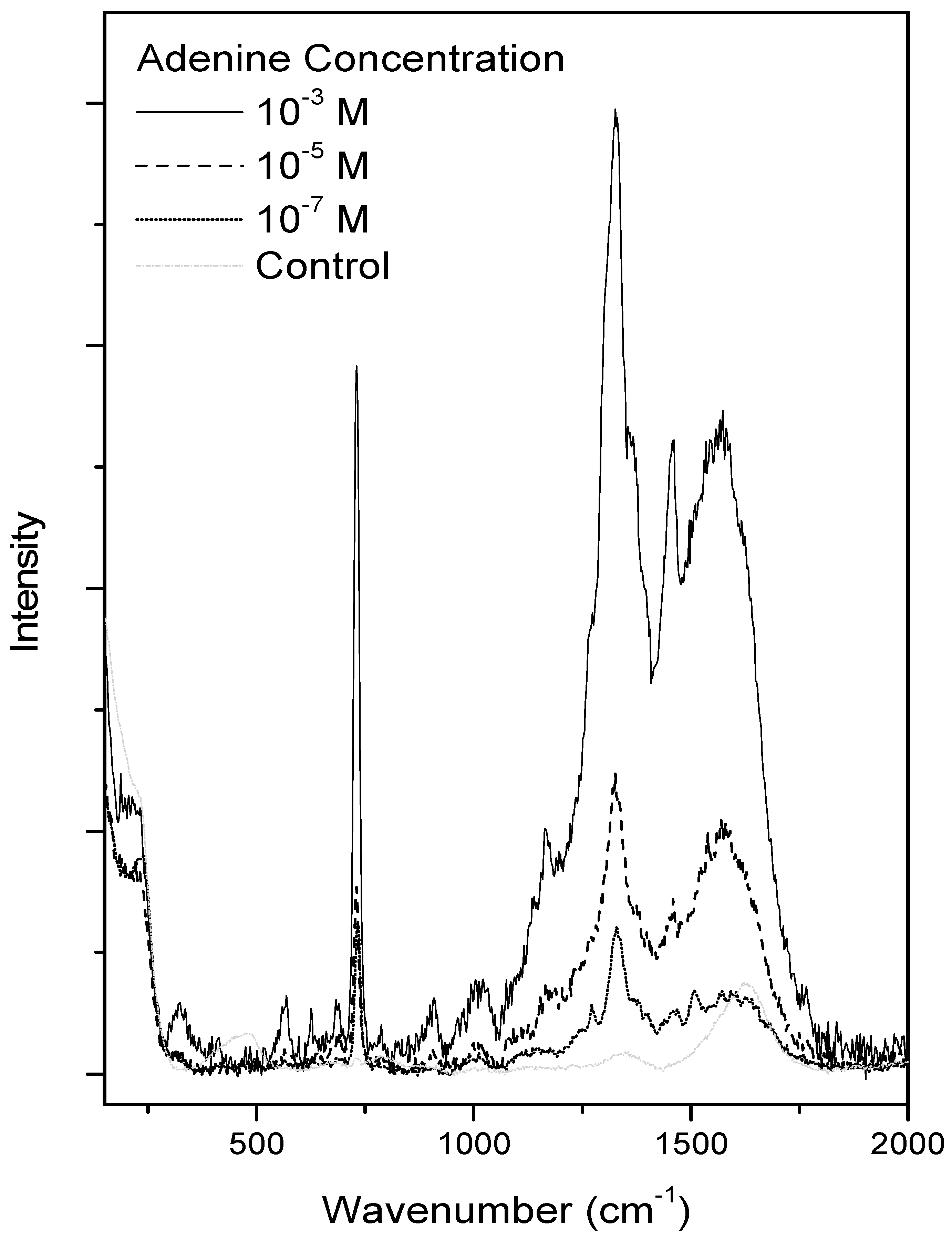 Figure 4. SEM image of the aerogel after adenine and colloid and salt deposit and drying (A). (B) and (C) energy dispersive X-Ray spectrometry (EDS) analysis on the focus B and C, respectively.


Figure 5.
Cartographies showing the 2D distribution of some elements characteristic of the colloid and salt (Mg, Cl, Ag) and aerogel (O, Si) (
Figure 4
A).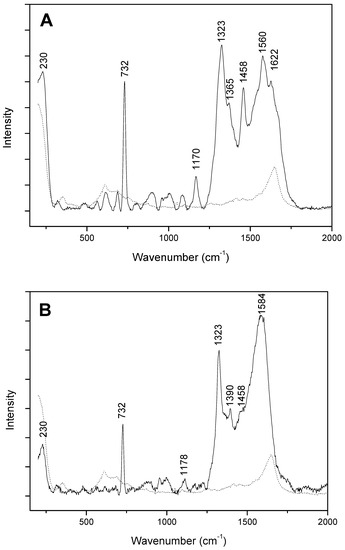 Figure 6. SERS adenine spectra after injection in aerogel (A) and adsorption from the gas phase (B) with control spectrum (aerogel and colloid mixture) (dots).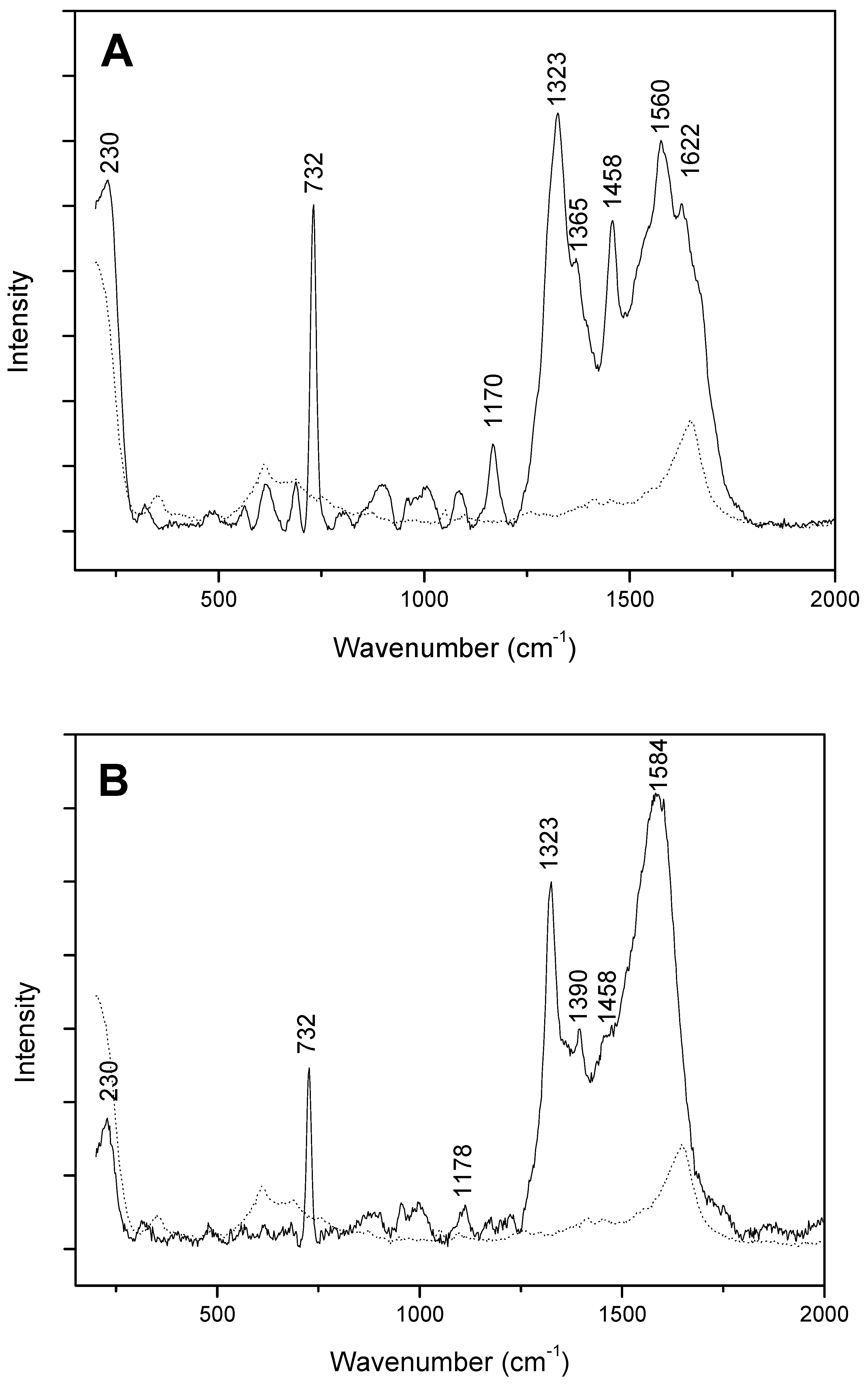 Table 1. Main bands observed in Raman and surface-enhanced Raman spectroscopy (SERS) spectra with their assignments.
Raman (cm−1)
SERS (cm−1)
Assignments
Ref. [16,26,28,29]
Ref. [17]
320
bend C6-NH2
533
def R6, R5
wag N9-H
622
def R6, R5
ring bend
721
732
ring breath
ring breath
898
900
def R6, R5
940
def R5
1020
1020
rock NH2
1123
1120
str C8-N9, A bend N9-H, C8-H
1174
str C6-N10, N3-C4, C4-N9, bend C8-H, N10-H11
1247
bend C8-H, N9-H, str N7-C8
H bend, ring str
1306
str C2-N3, N1-C2, C5-C6, C5-N7
1330
1323
str C5-N7, N1-C2, bend C2-H, C8-H bend C2-H, C8-H, N9-H, str C6-N1, C8-N9, N3-C4
H bend, ring str
1370
1365
bend C2-H, N9-H, str C8-N9, C4-N9
H bend, ring str
1420
str C4-N9, C4-C5, C6-N10, N7-C8, bend C2-H
H bend, ring str
1482
1458
str C2-N3, N1-C6, bend C2-H, sciss NH2
H bend, ring str
1600
sciss NH2
1614
1622
str N3-C4, N1-C6, C5-N7, N7-C8, bend N9-H
The following abbreviations have been used: bend, bending; breath, breathing; def, deformation; rock, rocking; sciss, scissoring; str, stretching; wag, wagging; R5, five-membered ring; R6, six-membered ring.

© 2019 by the authors. Licensee MDPI, Basel, Switzerland. This article is an open access article distributed under the terms and conditions of the Creative Commons Attribution (CC BY) license (http://creativecommons.org/licenses/by/4.0/).