Making Molecules with Clay: Layered Double Hydroxides, Pentopyranose Nucleic Acids and the Origin of Life
Department of Chemistry, University of Otago, P.O. Box 56 Dunedin, New Zealand
Received: 2 December 2018 / Revised: 4 February 2019 / Accepted: 9 February 2019 / Published: 15 February 2019
Abstract
A mixture of sugar diphosphates is produced in reactions between small aldehyde phosphates catalysed by layered double hydroxide (LDH) clays under plausibly prebiotic conditions. A subset of these, pentose diphosphates, constitute the backbone subunits of nucleic acids capable of base pairing, which is not the case for the other products of these LDH-catalysed reactions. Not only that, but to date no other polymer found capable of base pairing—and therefore information transfer—has a backbone for which its monomer subunits have a plausible prebiotic synthesis, including the ribose-5-phosphate backbone subunit of RNA. Pentose diphosphates comprise the backbone monomers of pentopyranose nucleic acids, some of the strongest base pairing systems so far discovered. We have previously proposed that the first base pairing interactions were between purine nucleobase precursors, and that these were weaker and less specific than standard purine-pyrimidine interactions. We now propose that the inherently stronger pairing of pentopyranose nucleic acids would have compensated for these weaker interactions, and produced an informational polymer capable of undergoing nonenzymatic replication. LDH clays might also have catalysed the synthesis of the purine nucleobase precursors, and the polymerization of pentopyranose nucleotide monomers into oligonucleotides, as well as the formation of the first lipid bilayers.
View Full-Text
►

▼

Figures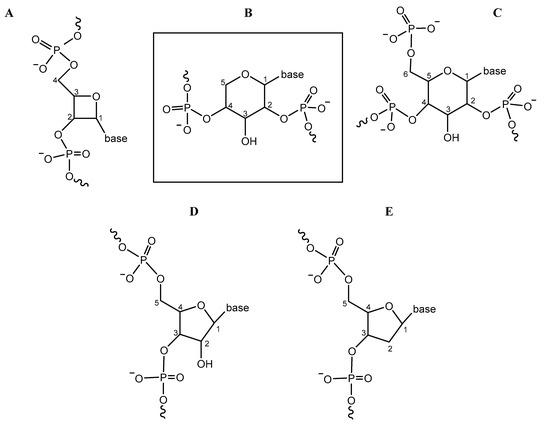 Figure 1
This is an open access article distributed under the
Creative Commons Attribution License
which permits unrestricted use, distribution, and reproduction in any medium, provided the original work is properly cited (CC BY 4.0).

Share & Cite This Article
MDPI and ACS Style
Bernhardt, H.S. Making Molecules with Clay: Layered Double Hydroxides, Pentopyranose Nucleic Acids and the Origin of Life. Life 2019, 9, 19.
Note that from the first issue of 2016, MDPI journals use article numbers instead of page numbers. See further details here.
Related Articles
Comments
[Return to top]