Open Access This article is
freely available
re-usable
Article
Cloning and Molecular Characterization of an Alpha-Glucosidase (MalH) from the Halophilic Archaeon
Haloquadratum walsbyi
1
Biology Department, Box 9000, University of Puerto Rico, Mayagüez, PR 00681, USA
2
Department of Immunology, University of Texas Southwestern Medical Center, Dallas, TX 75390, USA
3
Genetics Department, School of Medicine, Stanford University, Stanford, CA 94305, USA
†
These authors contributed equally to the work.

Received: 31 August 2017 / Accepted: 18 November 2017 / Published: 21 November 2017
Abstract
:
We report the heterologous expression and molecular characterization of the first extremely halophilic alpha-glucosidase (EC 3.2.1.20) from the archaeon
Haloquadratum walsbyi
. A 2349 bp region (
Hqrw_2071
) from the
Hqr. walsbyi
C23 annotated genome was PCR-amplified and the resulting amplicon ligated into plasmid pET28b(+), expressed in
E. coli
Rosetta cells, and the resulting protein purified by Ni-NTA affinity chromatography. The recombinant protein showed an estimated molecular mass of 87 kDa, consistent with the expected value of the annotated protein, and an optimal activity for the hydrolysis of α-PNPG was detected at 40 °C, and at pH 6.0. Enzyme activity values were the highest in the presence of 3 M NaCl or 3–4 M KCl. However, specific activity values were two-fold higher in the presence of 3–4 M KCl when compared to NaCl suggesting a cytoplasmic localization. Phylogenetic analyses, with respect to other alpha-glucosidases from members of the class Halobacteria, showed that the
Hqr. walsbyi
MalH was most similar (up to 41%) to alpha-glucosidases and alpha-xylosidases of
Halorubrum
. Moreover, computational analyses for the detection of functional domains, active and catalytic sites, as well as 3D structural predictions revealed a close relationship with an
E. coli
YicI-like alpha-xylosidase of the GH31 family. However, the purified enzyme did not show alpha-xylosidase activity. This narrower substrate range indicates a discrepancy with annotations from different databases and the possibility of specific substrate adaptations of halophilic glucosidases due to high salinity. To our knowledge, this is the first report on the characterization of an alpha-glucosidase from the halophilic Archaea, which could serve as a new model to gain insights into carbon metabolism in this understudied microbial group.
Keywords:
alpha-glucosidase; halophilic Archaea;
Haloquadratum
3. Results and Discussion
3.1. Identification of a Putative Alpha-Glucosidase Gene in the Hqr. walsbyi C23 Genome
Previous studies from our laboratory have demonstrated that
Hgm. borinquense
has the ability to utilize maltose as a sole carbon source. Phylogenetically,
Hqr. walsbyi
is closely related to
Hgm. borinquense
[
1
], and we hypothesized that these organisms might have a similar physiology for carbohydrate metabolism. Therefore, the genomes of
Hqr. walsbyi
HBSQ001 (DSM 16790) and
Hqr. walsbyi
C23 (DSM 16854) were searched for the presence of putative alpha-glucosidase gene sequences using the KEGG database (
http://www.genome.jp/kegg/pathway.html
). This resulted in the detection of a gene (
Hqrw_2071
) annotated as a putative alpha-glucosidase in the genome of
Hqr. walsbyi
strain C23 as well as in that of its homolog (
HQ1911A
) in strain HBSQ001. Through the use of different databases (Pfam, Expasy Proteomics Server, PROSITE, Inter Pro Scan, NCBI Conserved Domains), it was determined that the region comprised by nucleotide positions 1,126,713 to 1,129,061 of the
Hqr. walsbyi
C23 chromosome encoded an ORF with a predicted amino acid sequence of 782 residues [
25
,
26
,
33
]. The inferred amino acid sequence of
Hqrw_2071
was compared to that of other previously described or annotated alpha-glucosidases from members of the Archaea.
Table 1
shows detected domains of
Hqrw_2071
from
Hqr. Walsbyi
, which are 35% identical with respect to those present among representatives of the Family 31 of the glycosyl hydrolases and the family of galactose mutarotase-like 2. Galactose mutarotases act as catalyzers in the interconversion of either α- and β-anomers of galactose to glucose [
34
].
3.2. Biochemical Characterization of the Recombinant Alpha-Glucosidase from Hqr. walsbyi
After IPTG induction, crude extracts from
Escherichia coli
cells were analysed for the detection of alpha-glucosidase activity at salinity concentrations ranging from 0 to 5 M. Crude extracts from cells containing the pET-
mal
H plasmid showed alpha-glucoside activity in assays carried out at 40 °C and supplemented with 3 M NaCl. In contrast, extracts from cells transformed with an empty vector or from cells with no vector were unreactive (data not shown).
Purification of the recombinant alpha-glucosidase was performed by loading 1 mL of concentrated crude cell extract into a Ni-NTA agarose column (Qiagen, Venlo, Germany) and eluted with imidazole as described by the manufacturer. The quality and purity of the recombinant protein was verified using SDS-PAGE (
Figure 1
).
As seen in
Figure 2
, optimal activity conditions for the recombinant enzyme were observed at 40 °C, pH 6.0, and 3 M KCl. These results are in agreement with
Hqr. walsbyi
growth conditions [
1
]. Interestingly, recombinant MalH showed a higher activity when KCl was used in the buffer instead of NaCl. This result is consistent with a cytoplasmic enzyme, as halophilic Archaea accumulate high levels of K
+
in their cytoplasm to compensate for the high concentration of Na
+
in their environment [
39
].
3.3. In Silico Functional Chracterization and Phylogenetic Analysis of the Hqrw_2071 Gene Product
Supplementary Materials
The following are available online at
www.mdpi.com/2075-1729/7/4/46/s1
, Figure S1: Evolutionary relationship of alpha-glucosidases within Archaea by Maximum Likelihood method.
Acknowledgments
This study was supported by the Howard Hughes Medical Institute (HHMI) "Enhancing Advanced Educational Opportunities in STEM Fields for Minority Students at the University of Puerto Rico Mayaguez (UPRM)" (Grant No. 52007566). The authors would like to thank the members of the Extremophile Laboratory at UPRM for their help.
Author Contributions
R.M.-R., C.L.-M., M.F.C.-I. and R.A.I.-C. conceived and designed the experiments; M.F.C.-I., R.A.I.-C., C.L.-M. and K.M.B.-R. performed the experiments; R.M.-R., C.M.R.-M. and M.F.C.-I. analyzed the data; C.M.R.-M. contributed to the in silico functional characterization of the
malH
gene product; and R.M.-R., M.F.C.-I. and C.M.R.-M. wrote the paper.
Conflicts of Interest
The authors declare no conflict of interest.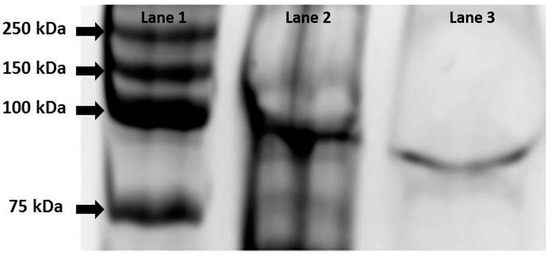 Figure 1.
SDS-PAGE gel (10% polyacrylamide) of α-glucosidase containing fractions. Lane 1: Ladder Precision Plus Protein Kaleidoscope (BioRad Inc., Hercules, CA, USA); Lane 2: Crude extract of
E. coli
Rosetta™ cells (
pET-malH
) after induction with IPTG; Lane 3: purified MalH showing a size of approximately 87 kDa.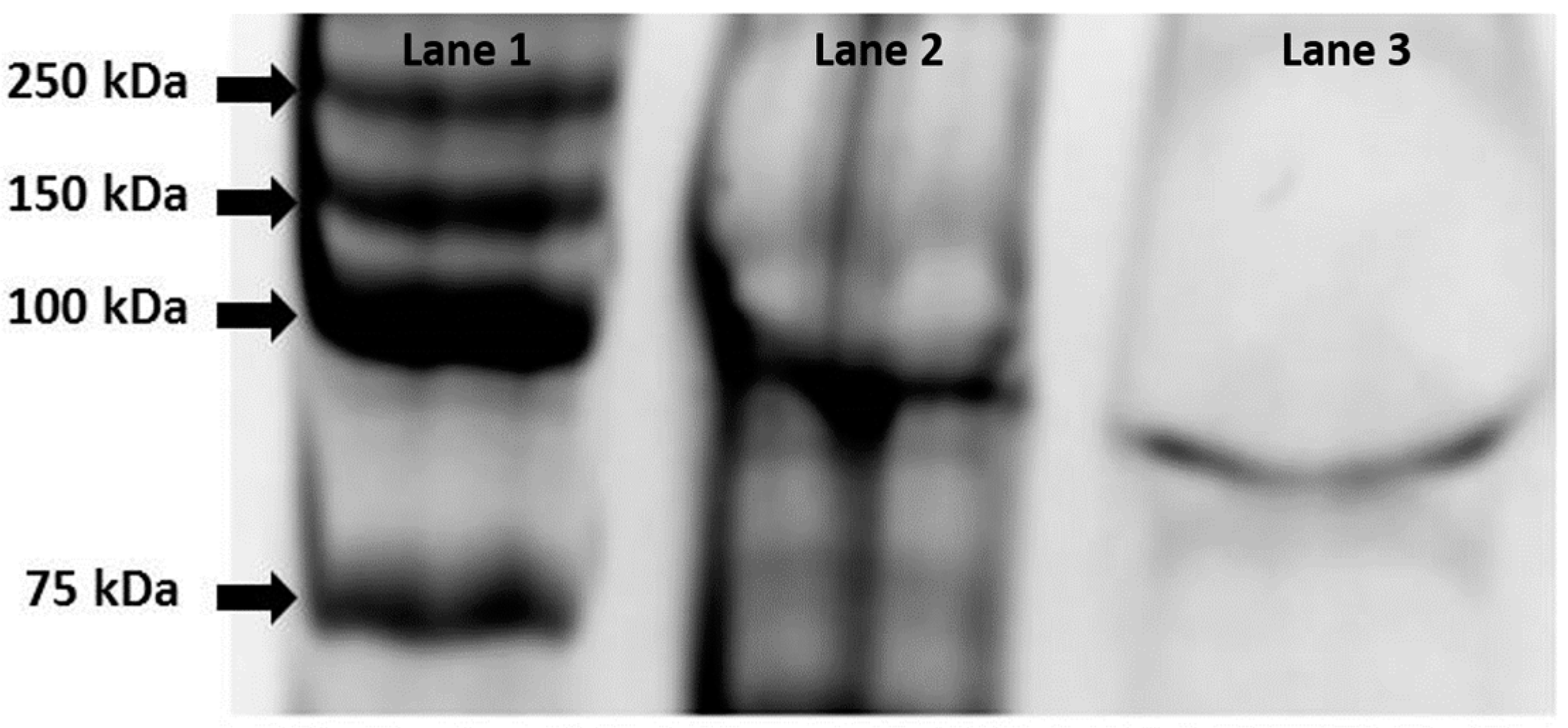 Figure 2.
Optimal temperature (
A
), salinity (
B
), and pH (
C
) conditions for the hydrolysis of p-nitrophenyl α-
d
-glucopyranoside (PNPG) by the
Hqr. walsbyi
MalH. Conditions were tested as follows: (
A
) optimal temperature was determined using the following: 10, 25, 30, 40, 50, 60 (°C) in a 3 M KCl, 50 mM MES (pH 6.0) reaction buffer; (
B
) optimal salinity was determined using KCl (0–4 M) and NaCl (0–5 M) as salt variables in a reaction buffer containing 50 mM MES (pH 6.0) at 40 °C; (
C
) optimum pH was determined at 40 °C with 3 M KCl in the following range: 2.5, 3.5, 4.0, 5.0, 6.0, 7.0, 8.0, 9.0, and 10.0. The graphs are representative of an average of four independent trials performed in order to describe the optimal conditions of the protein under study.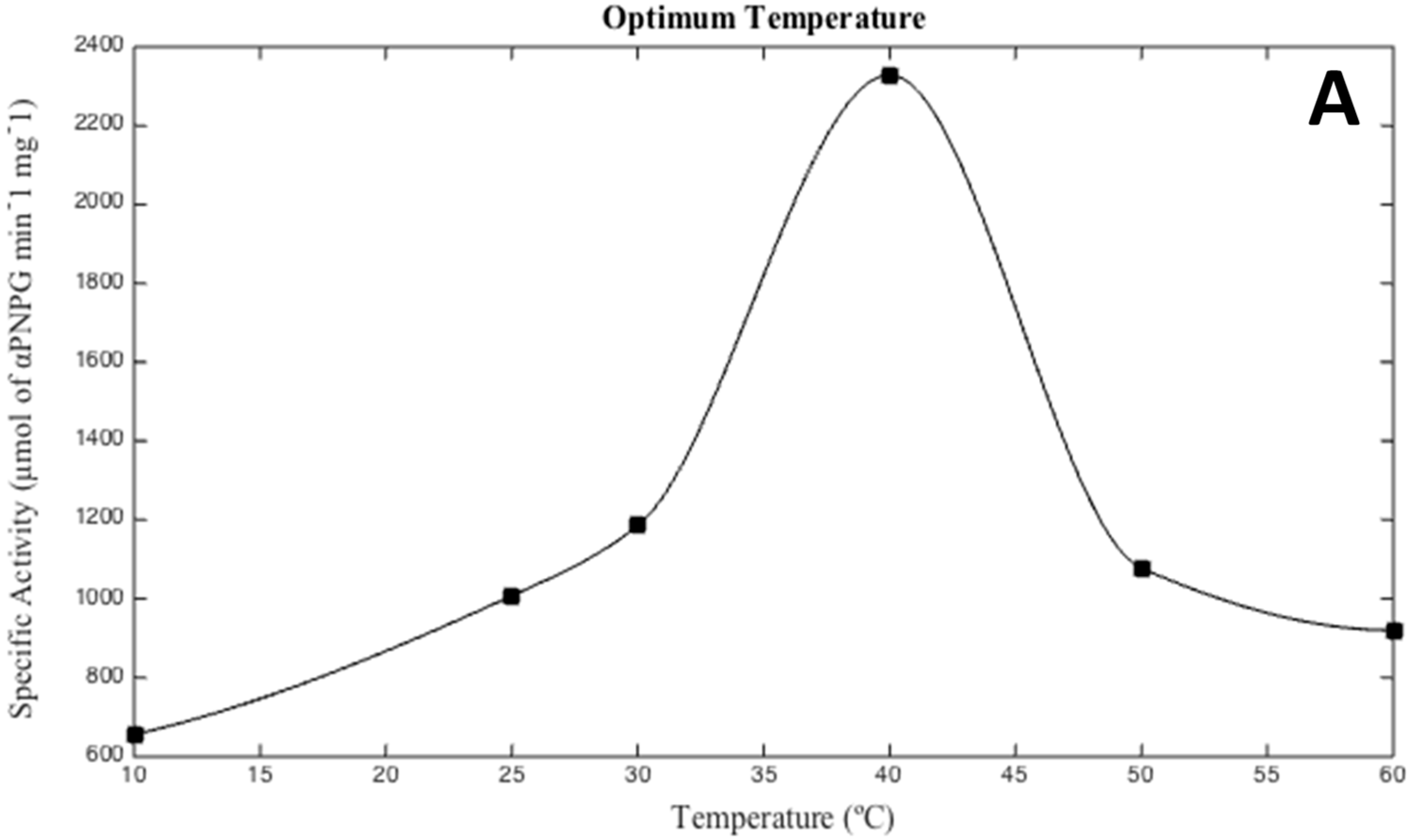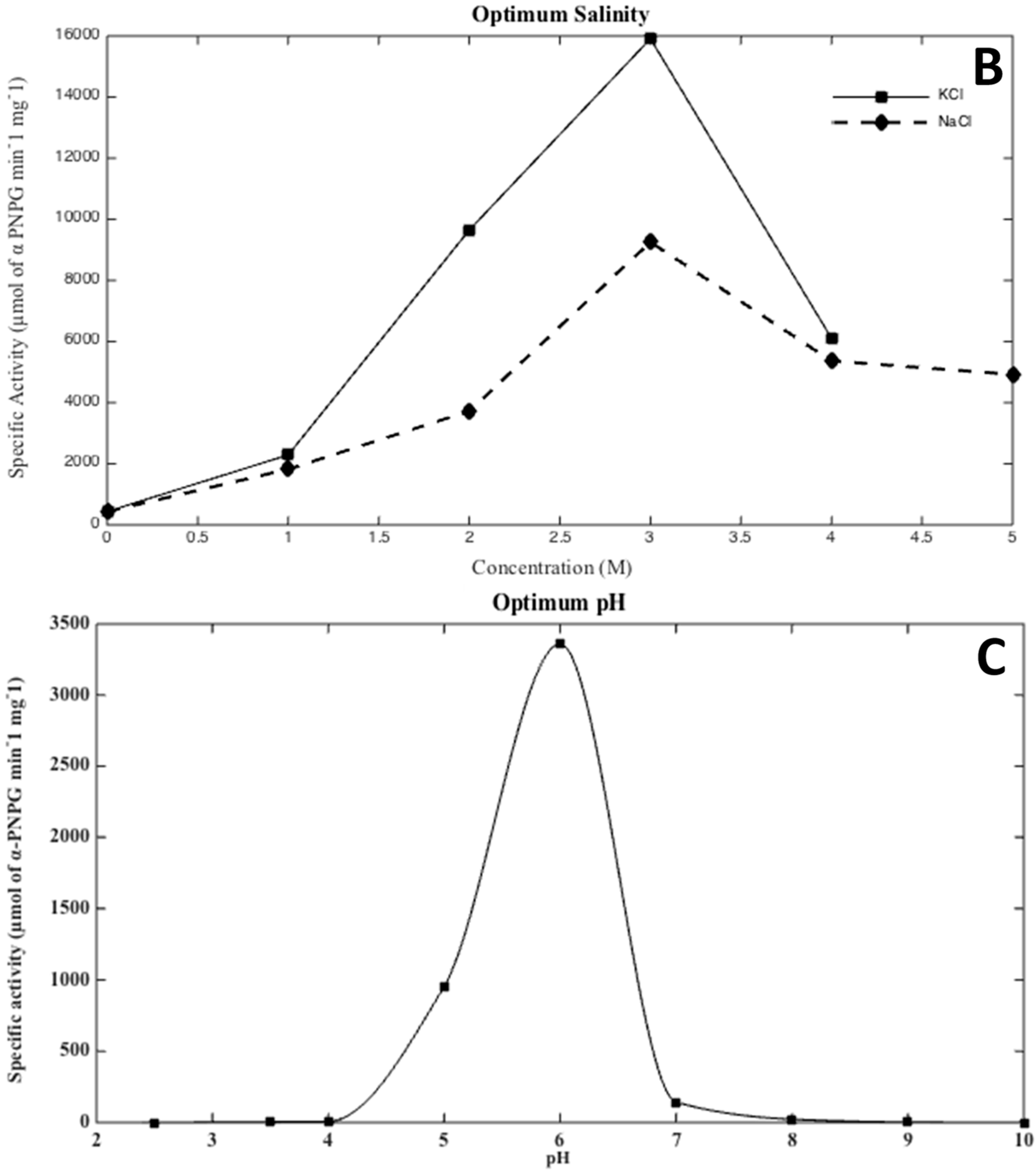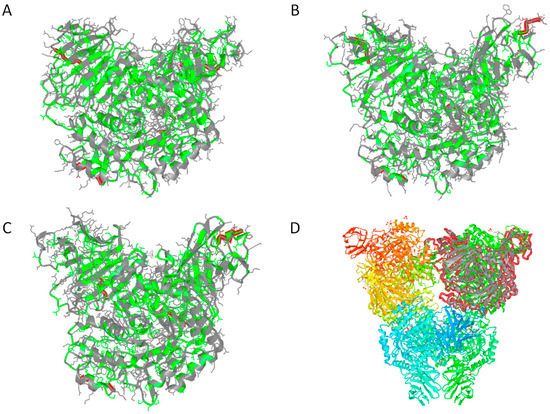 Figure 3.
Tridimensional structural predictions for Hqr. walsbyi MalH generated with the Phyre2 (
A
) and (PS)2-V2 (
B
) modellingmodeling tools; (
C
) tridimensional structure of the monomer corresponding to the chain A of the homohexadimer complex of the
E. coli
YicI-like alpha-xylosidase (PDB 2F2H). Red highlights depict the first five positions of the N-terminal and the last five residues of the C-terminal (left and right, respectively) as well as that of putative homotrimer and hexadimer interfaces (bottom and center, respectively). Hydrophobic and hydrophilic residues are highlighted in green and gray, respectively (
A
–
C
); (
D
) Homohexadimer structure of the YicI thiosugar Michaelis complex (PDB 2F2H). The monomer corresponding to the chain A of the complex is shown in gray and outlined in red (top right). Secondary structure domains within each monomer are highlighted in different shades.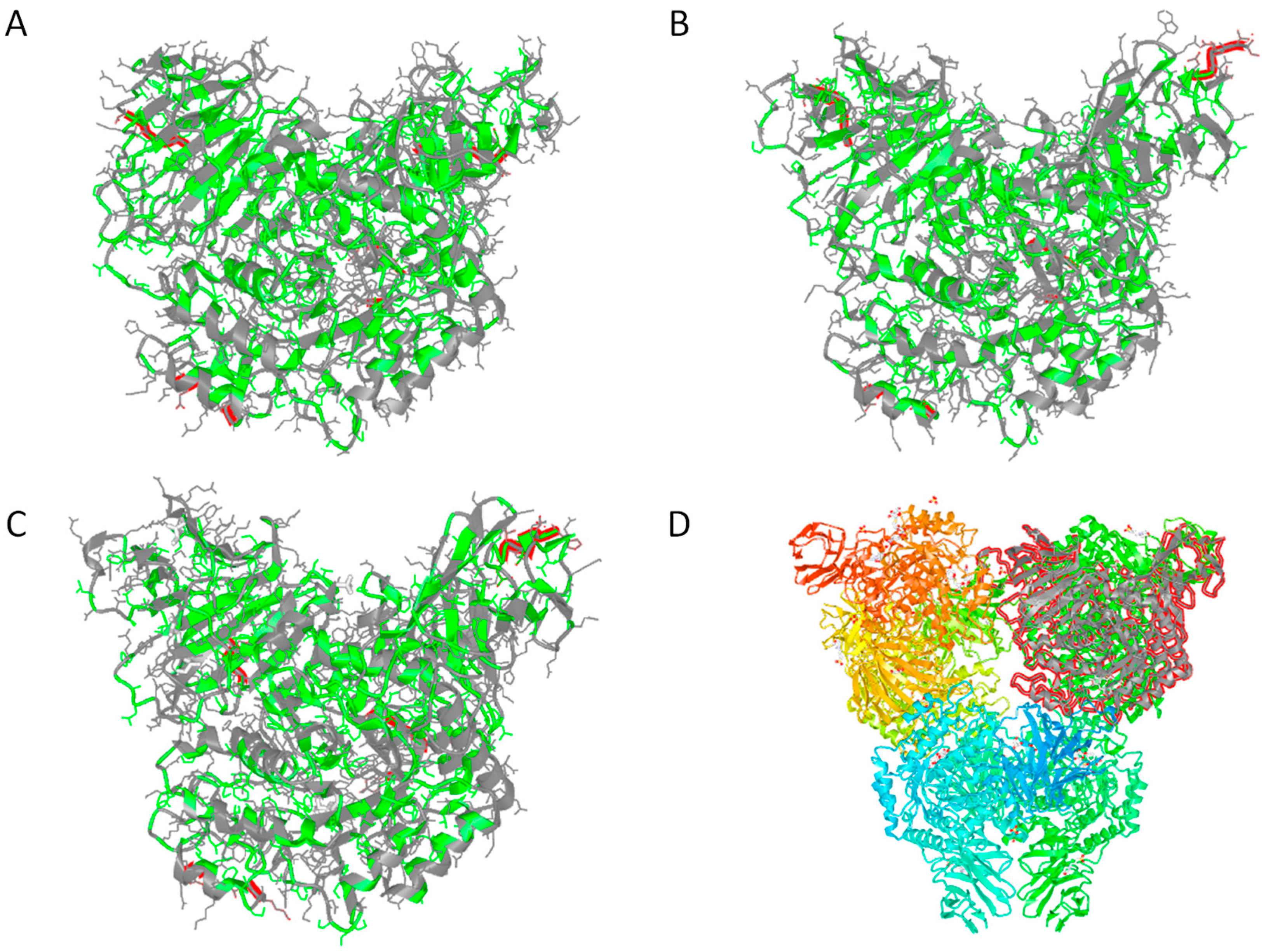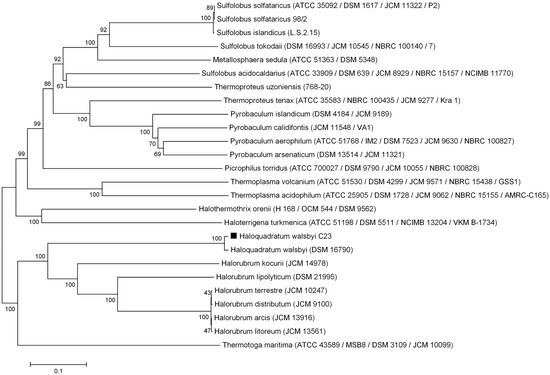 Figure 4.
Neighbor-joining dendrogram showing the evolutionary relationship of archaeal alpha-glucosidases [
44
]. The Thermotoga maritima alpha-glucosidase was used as an outgroup. The sequence of
Hqr. walsbyi
MalH is labeled with a black square. Bootstrap values (2000 replicates) are shown at the nodes [
27
]. The phylogenetic tree is drawn to scale, using the same units for branch lengths as those of the evolutionary distances. The evolutionary distances were estimated using the p-distance model and are in the units of the number of amino acid differences per site [
25
]. The analysis involved 26 protein sequences. A total of 998 positions were used in the dataset.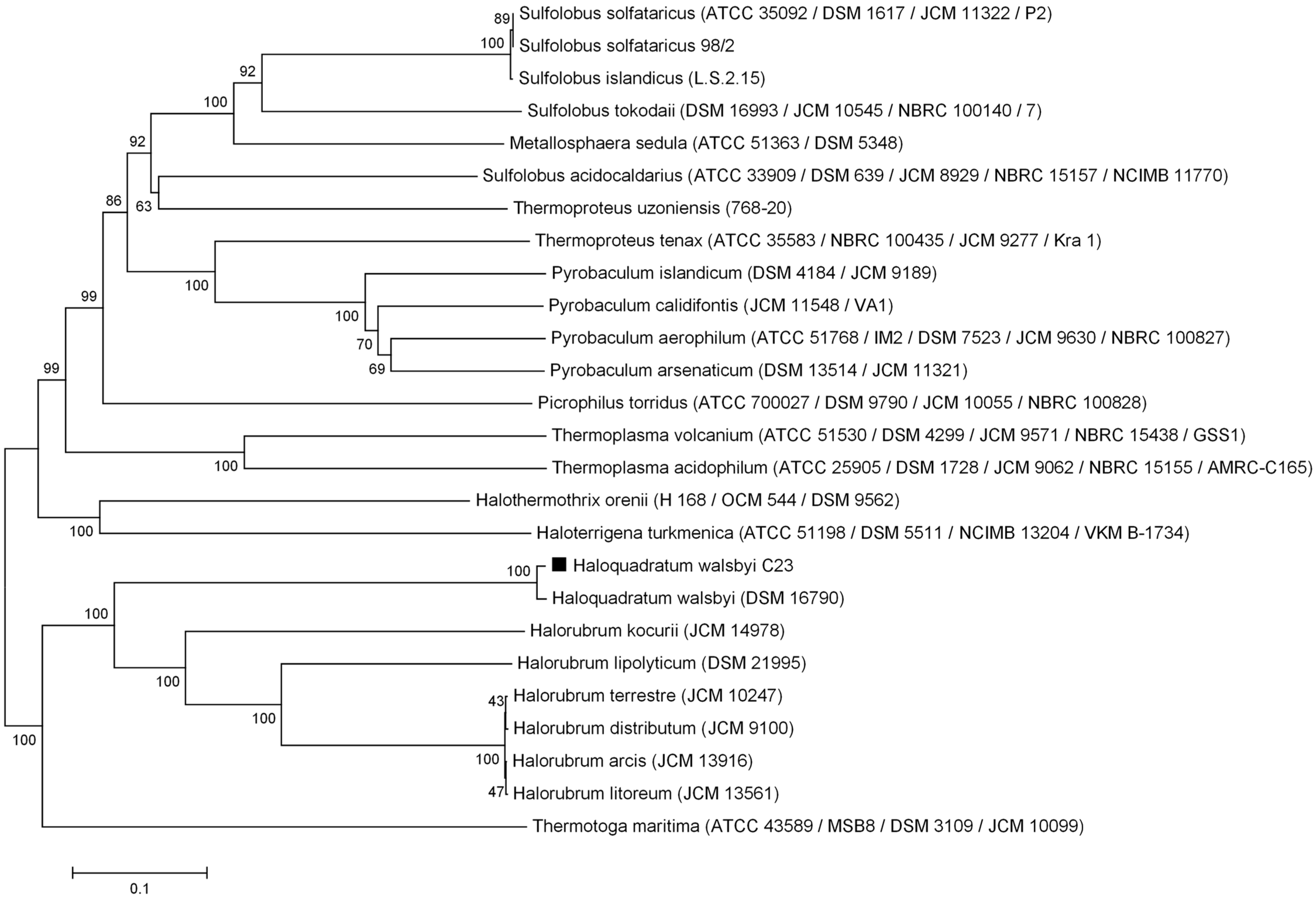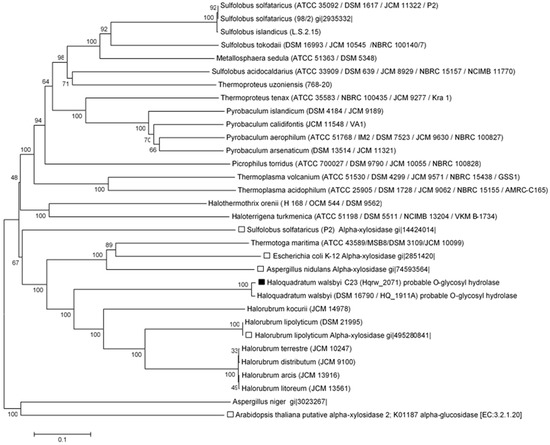 Figure 5.
Inferred evolutionary relationships of α-glucosidases and alpha-xylosidases described among representatives from the Archaea, Bacteria, and Eukarya. The position of MalH is indicated by the black square, while that of putative alpha-xylosidases is indicated with white squares. Alpha-glucosidases are unmarked. The evolutionary history was predicted using the neighbor-joining method [
28
]. The percentage of replicate trees in which the associated taxa clustered together in the bootstrap test (2000 replicates) are shown at the nodes [
27
]. The phylogenetic tree is drawn to scale, using the same units for branch lengths as those of the evolutionary distances. Evolutionary distances were calculated using the
p
-distance method and are in the units of the number of amino acid differences per site. The analysis included 32 amino acid sequences. All ambiguous positions were removed for each sequence pair. The final dataset consisted of a total of 2541 positions. Evolutionary analyses were conducted in MEGA 6 [
29
].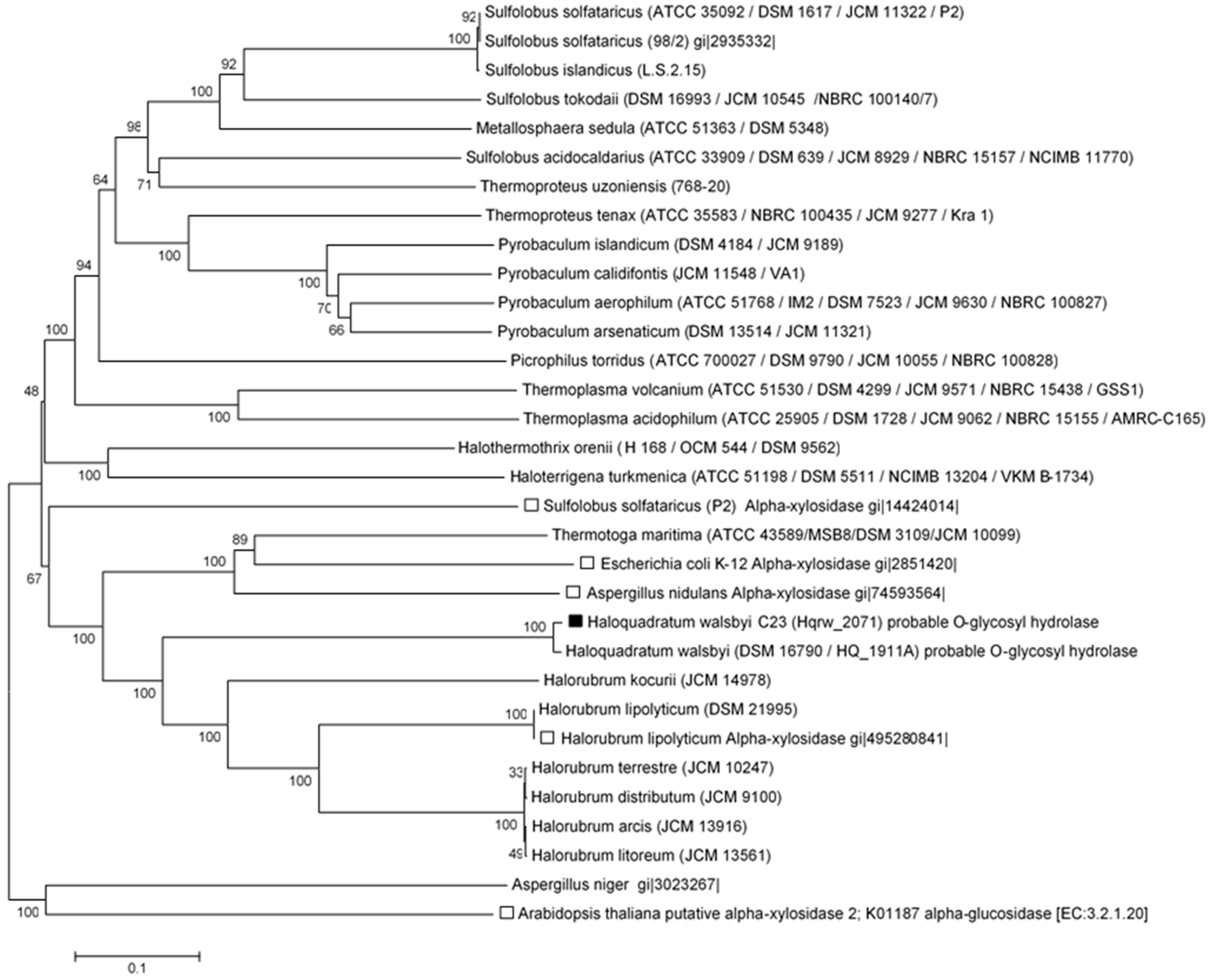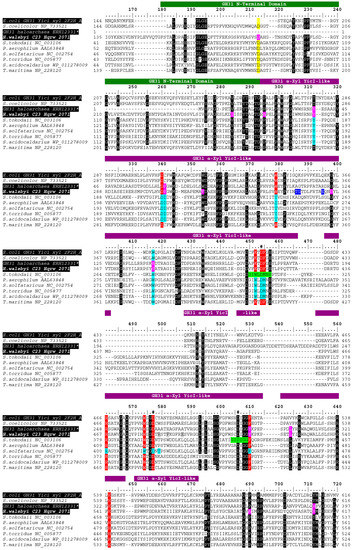 Figure 6.
Partial depiction of a full-length multiple sequence alignment showing the functional features detected in MalH, with respect to those described in previously purified and characterized alpha-glucosidases. The green bar indicates the potential location for an N-terminal domain of GH31 enzymes, whereas the violet bar shows thatfor a YicI-like GH31 xylosidase domain. Black-shaded columns illustrate positions ≥75% identical. Yellow and red columns indicate the location of active sites detected at regions corresponding to the putative N-terminal and YicI-like domains, respectively. Light blue and light green shades show positions corresponding to active sites and conserved regions reported in glycosidases from
S. solfataricus
and
S. tokodaii
, respectively. The location of putative catalytic "D" residues associated with YicI-like domains are indicated with "#" characters at the top of the column. That of predicted homotrimer and homohexamer binding sites are highlighted in blue and gray, respectively. Distinctive residues detected in the predicted gene product of
Hqrw_2071
are highlighted in pink. PDB or GenBank accession numbers follow the designation of sequences. * = partial sequence.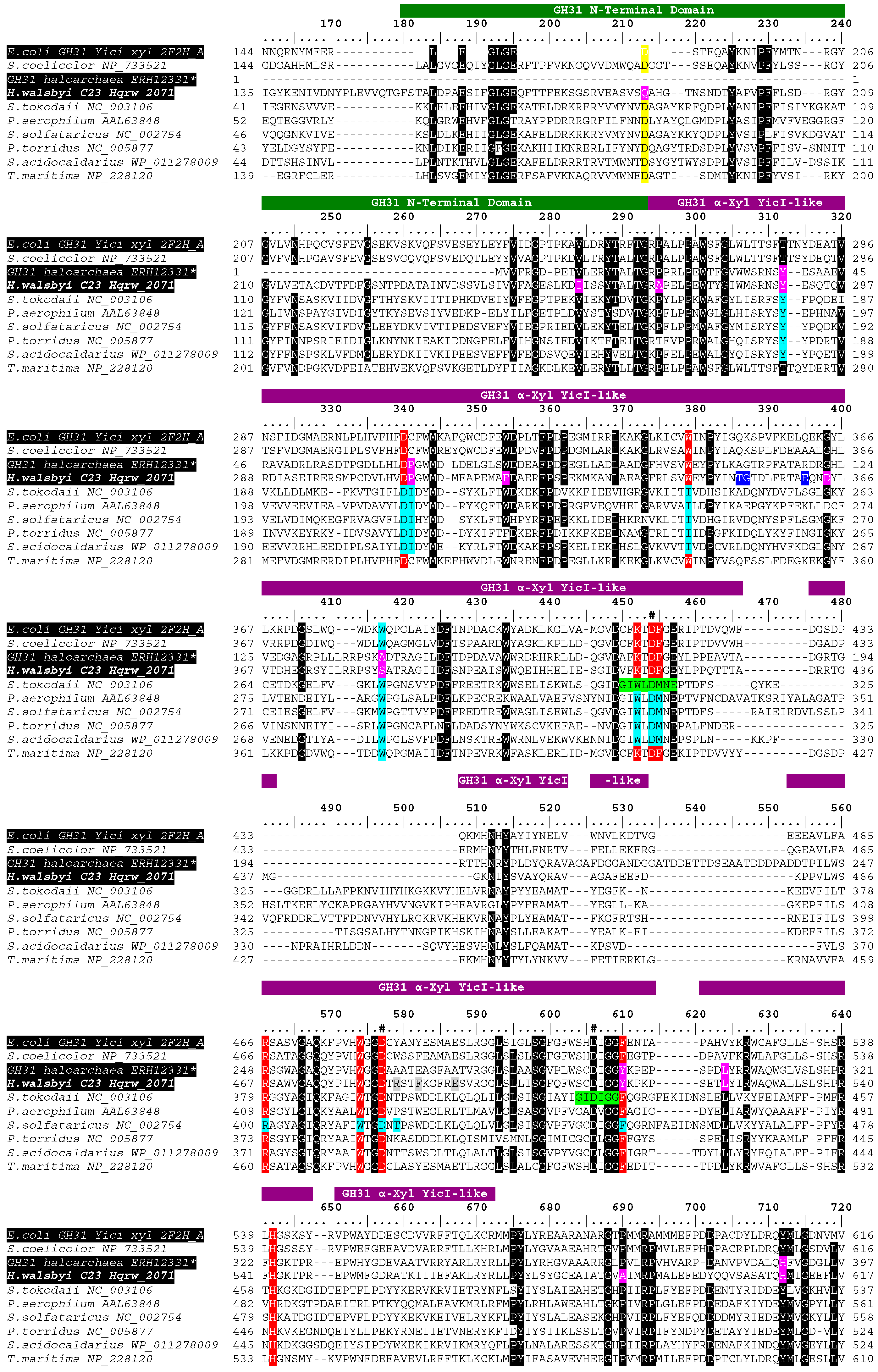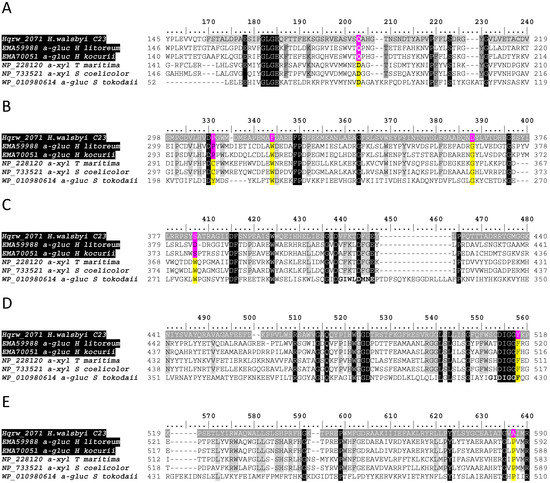 Figure 7.
Partial multiple sequence alignments (
A
–
E
) illustrating distinctive positions (pink) shared by glucosidases from halophilic archaea with respect to conserved sites in their bacterial (
S. coelicolor
) and thermophilic archaeal counterparts (yellow). Gray-shaded rows indicate the predicted span the N-terminal domain of GH31 glycosyl hydrolases (
A
) located upstream with respect to a YicI-like xylosidase domain (
B
–
E
). Black-shaded columns illustrate the position amino acids as 100% identical, whereas light gray columns indicate the location of residues ≥84% identical. GenBank accession numbers precede the designation of reference sequences.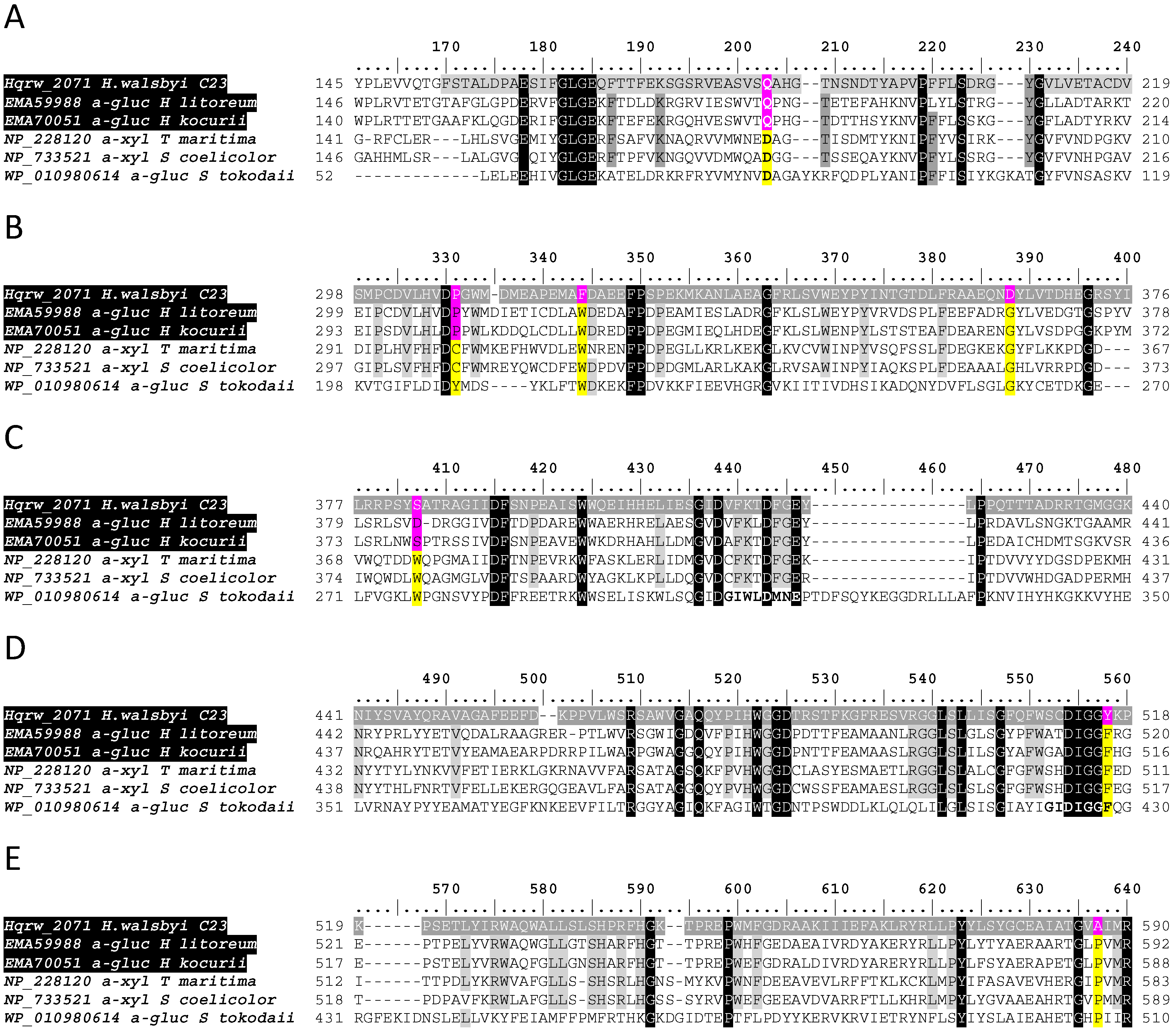 Table 1.
Archaeal members encoding hydrolases with conserved domains associated with alpha-glucosidases. The identity percentages of these conserved regions with respect to those detected in the amino acid sequence of the
Haloquadratum walsbyi
MalH are shown. The comparisons are based on searches against the Pfam repository.
Archaea Species
Conserved Domains
Percent Identity (%)
Galactose Mutarotase-Like 2
Glycosyl Hydrolases Family 31

Haloquadratum walsbyi

161–222
243–670
This study

Halorubrum kocurii

156–217
238–668
43

Halorubrum terrestre

162–223
244–672
41

Halorubrum arcis

162–223
244–672
41

Halorubrum litoreum

162–233
244–672
41

Halorubrum distributum

162–233
244–672
41

Halorubrum lipolyticum

160–221
242–670
40

Halothermothrix orenii

144–211
232–672
29

Thermoplasma volcanium

177–244
265–697
27

Thermoproteus uzoniensis

67–136
157–602
27

Pyrobaculum aerophilum *

67–133
152–612
27

Haloterrigena turkmenica

126–193
226–696
26

Sulfolobus islandicus

61–127
148–608
26

Sulfolobus solfataricus *

161–222
243–670
26

Thermoproteus tenax

69–135
155–616
26

Pyrobaculum arsenaticum

68–134
154–613
26

Pyrobaculum calidifontis

67–133
153–610
26

Thermoplasma acidophilum

147–214
234–667
25

Sulfolobus acidocaldarius

59–124
145–574
25

Sulfolobus tokodaii *

56–122
143–586
25

Metallosphaera sedula

57–123
144–598
25

Pyrobaculum islandicum

67–133
153–612
25

Picrophilus torridus *

58–123
144–572
24

© 2017 by the authors. Licensee MDPI, Basel, Switzerland. This article is an open access article distributed under the terms and conditions of the Creative Commons Attribution (CC BY) license (http://creativecommons.org/licenses/by/4.0/).