Arsenite as an Electron Donor for Anoxygenic Photosynthesis: Description of Three Strains of
Ectothiorhodospira

from Mono Lake, California and Big Soda Lake, Nevada

1

U.S. Geological Survey, Menlo Park, CA 94025, USA

2

Department of Microbiology and Environmental Toxicology, University of California, Santa Cruz, CA 95064, USA

3

Department of Biological Sciences, Duquesne University, Pittsburgh, PA 15282, USA

*

Authors to whom correspondence should be addressed.

Academic Editors: Rafael Montalvo-Rodríguez, Aharon Oren and Antonio Ventosa

Received: 5 October 2016 / Revised: 20 December 2016 / Accepted: 21 December 2016 / Published: 26 December 2016
Abstract
Three novel strains of photosynthetic bacteria from the family Ectothiorhodospiraceae were isolated from soda lakes of the Great Basin Desert, USA by employing arsenite (As(III)) as the sole electron donor in the enrichment/isolation process. Strain PHS-1 was previously isolated from a hot spring in Mono Lake, while strain MLW-1 was obtained from Mono Lake sediment, and strain BSL-9 was isolated from Big Soda Lake. Strains PHS-1, MLW-1, and BSL-9 were all capable of As(III)-dependent growth via anoxygenic photosynthesis and contained homologs of arxA, but displayed different phenotypes. Comparisons were made with three related species:
Ectothiorhodospira shaposhnikovii
DSM 2111,
Ectothiorhodospira shaposhnikovii
DSM 243
T
, and
Halorhodospira halophila
DSM 244. All three type cultures oxidized arsenite to arsenate but did not grow with As(III) as the sole electron donor. DNA–DNA hybridization indicated that strain PHS-1 belongs to the same species as
Ect. shaposhnikovii
DSM 2111 (81.1% sequence similarity), distinct from
Ect. shaposhnikovii
DSM 243
T
(58.1% sequence similarity). These results suggest that the capacity for light-driven As(III) oxidation is a common phenomenon among purple photosynthetic bacteria in soda lakes. However, the use of As(III) as a sole electron donor to sustain growth via anoxygenic photosynthesis is confined to novel isolates that were screened for by this selective cultivation criterion.
View Full-Text
►

▼

Figures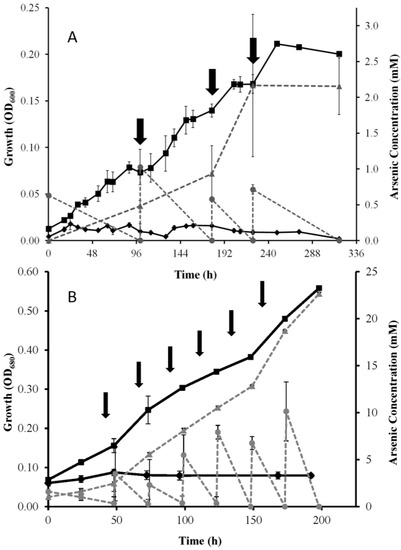 Figure 1
This is an open access article distributed under the
Creative Commons Attribution License
which permits unrestricted use, distribution, and reproduction in any medium, provided the original work is properly cited (CC BY 4.0).

Share & Cite This Article
MDPI and ACS Style
Hoeft McCann, S.; Boren, A.; Hernandez-Maldonado, J.; Stoneburner, B.; Saltikov, C.W.; Stolz, J.F.; Oremland, R.S. Arsenite as an Electron Donor for Anoxygenic Photosynthesis: Description of Three Strains of Ectothiorhodospira from Mono Lake, California and Big Soda Lake, Nevada. Life 2017, 7, 1.
Note that from the first issue of 2016, MDPI journals use article numbers instead of page numbers. See further details here.
Related Articles
Comments
[Return to top]