Open Access This article is
freely available
re-usable
Review
The Impact of Salts on Single Chain Amphiphile Membranes and Implications for the Location of the Origin of Life
Department of Chemistry and Biochemistry, Central Connecticut State University, 1615 Stanley St., New Britain, CT 06050, USA
Received: 19 September 2017 / Accepted: 7 November 2017 / Published: 14 November 2017
Abstract
:
One of the key steps in the origins of life was the formation of a membrane to separate protocells from their environment. These membranes are proposed to have been formed out of single chain amphiphiles, which are less stable than the dialkyl lipids used to form modern membranes. This lack of stability, specifically for decanoate, is often used to refute ocean locations for the origins of life. This review addresses the formation of membranes in hydrothermal-vent like conditions, as well as other environmental constraints. Specifically, single chain amphiphiles can form membranes at high sea salt concentrations (150 g/L), high temperatures (65 °C), and a wide pH range (2 to 10). It additionally discusses the major challenges and advantages of membrane formation in both ocean and fresh water locations.
Keywords:
prebiotic; vesicles; liposomes; protocell; abiogenesis; ionic solutes; amphiphiles
1. Early Earth Environments for the Origins of Life
2. Membranes and Life
Membranes serve many purposes in a cell and are considered a requirement for the formation of life. These amphiphilic bilayers primarily act as a hydrophobic barrier between the environment and the cytosol, preventing the diffusion of molecules into and out of the cell. They additionally can contain energy harvesting molecules like the proteins in the electron transport chain required for oxidative phosphorylation and maintain the chemical gradients necessary to use these molecules. Finally, membranes serve as a platform for evolution by defining an individual within a population for selection to act upon.
Generally, the bottom up and the top down approach meet in the middle, where a successful replicator is thought to adopt a single strategy. Therefore, while carboxylates were most likely part of the first membranes, it is unlikely they were the only amphiphile present.
3. Salt and Membranes
Using a top-down approach to determine the salinity of the first cells, neither sea water nor fresh water closely mimics contemporary cytosol (
Table 1
). Single celled organisms have cytosol that is highly dependent on growth media, making this task more difficult. It is also not known how contemporary cytosol differs from the cytosol of the last universal common ancestor (LUCA).
Fresh water was likely available from precipitation and dew formation but was by far less prevalent, as the continental mass was even smaller than it is today. All cells contain relatively concentrated ionic solutions compared to fresh water, freshwater seems an unlikely choice for the formation of life, especially considering the advantages hydrophobic self-assembly has in higher ionic strength solutions [
39
,
40
].
Seawater is much higher in total ionic strength than cytosol (>3 times), and the ratios more closely mimic blood (or extracellular environment), with high concentrations of sodium but low concentrations of potassium. Additionally, the concentration of ions in the early oceans was likely equal, if not higher than, in the modern oceans, although the ions present may have differed due to the lack of oxygen in the atmosphere and the temperature, among other factors [
41
]. The water present on early Earth quickly equilibrated with the atmosphere, and the mineral surfaces present to generated oceans with high ionic strength, likely 1.6 to two times saltier than today's oceans. This makes seawater an unlikely choice for the first cytosol as well.
The first primitive membranes were reported in 1978 by Hargreaves and Deamer, demonstrating that short, saturated fatty acids and fatty acid/alcohol mixtures could self-assemble into membranes [
36
]. These amphiphiles were appealing, not only because they are simpler than phosphoglycerolipids, but also a chemical building block making fatty acids a clear precursor to modern lipids. Since many properties of these membranes have been explored, it is clear that they are capable of a range of 'living' functions [
14
,
21
,
22
,
23
,
28
,
30
].
However, carboxylates precipitate in the presence of divalent cations, specifically Mg2+ and Ca2+, which are present in seawater. To form membranes, fatty acids must be partially deprotonated (close to their pKa); therefore the membranes will precipitate in ocean-like conditions. Additionally, divalent cations are a requirement for many nucleic acid reactions, making these membranes less compatible with the RNA world hypothesis.
While many articles discuss the incompatibility of high ionic strength solutions with membranes, few discuss the need for salt in single chain amphiphile membrane formation [
39
,
45
]. The ionic strength of fresh water would likely be insufficient to form membranes from decanoic acid, as about 10 mM of salt is needed to find vesicles. Most experiments using fatty acid membranes do not report NaCl addition, as it is added inadvertently through pH vesiculation: by increasing the pH with NaOH then decreasing the pH to the p
Ka
of the fatty acid with HCl [
46
]. This formation improvement is likely caused by both salting-in the hydrophobic tails and charge-shielding the carboxylate headgroups, allowing for the formation of fatty acid membranes [
40
,
47
].
Many simple membrane models have now been proposed from a range of single chain amphiphiles (
Figure 1
) [
48
,
49
,
50
,
51
,
52
,
53
,
54
,
55
]. Membranes composed of non-fatty acid amphiphiles or mixtures of fatty acids with other amphiphiles were found to be more stable than fatty acid/carboxylate membranes; they showed less divalent salt sensitivity [
14
,
55
], higher critical vesicle concentrations [
22
,
48
], more pH-range resilience [
14
,
49
,
55
], and less mixing between populations [
48
]. These amphiphiles include the often-used long chain alcohols and glycerol monoacylates but also less commonly reported charged groups like alkyl phosphates, ketocarboxylic acids, and amines.
It is likely that a wide variety of membranes need some amount of salt to form, and the author therefore recommends adding a fixed amount of saline to buffers to aid in aggregation (30 to 100 mM). While decanoic acid/decanoate membranes tend to 'salt-out' of solution around 200 mM NaCl, mixtures of single chain amphiphile membranes are often stable at much higher concentrations of salt [
39
].
Some mixtures of single-chain amphiphiles can form stable membranes in seawater solutions. Namani and Deamer originally showed the formation of decanoic acid/decylamine vesicles in the presence of seawater [
51
]. Additionally, ketocarboxylic acids and phosphate vesicles are stable in seawater solutions [
49
,
55
]. Recently, we have found that seawater can be used to form membranes out of a variety of amphiphile mixtures (
Figure 2
) [
56
]. The clear exception is carboxylates, which precipitate due to the Mg
2+
content, but, if the pH is kept relatively low, even fatty acids can be included in the mixture. The concentration of the seawater can even be increased above Archean estimates, and membranes of decanoic acid/decylamine will still form (
Figure 3
A) [
56
]. Additionally, mixtures of amphiphiles would have been far more likely in the absence of a specific enzymatic synthesis, reducing the carboxylate precipitation problems commonly cited as a barrier to a saltwater/hydrothermal origin.
4. Other Environmental Factors
5. Conclusions
Membranes are an essential component of cells, even protocells; therefore the environment for the origins of life must have permitted membrane formation to occur. Because decanoate, which precipitates in the presence of divalent cations, is often thought of as the precursor to modern membranes, ocean environments are sometimes referred to as unfavorable for membrane formation. The missing logic in this argument is that decanoate is only one among many possible early membrane-forming molecules, and mixtures of amphiphiles, even containing decanoate, are stabilized against divalent cation precipitation. In fact, membrane formation is often enhanced in the presence of salts due to changes in hydrophobicity and interactions between salts and charged amphiphile headgroups.
By varying the composition of single chain amphiphile mixtures, it is possible to find stable membranes in most environmental conditions suggested for the origins of life. Therefore, the ability of a specific amphiphile (e.g., decanoate) to form membranes in an environment should not be used to determine the suitability of that environment for abiogenesis. Both ocean and land environments pose challenges to membrane formation but none that are truly insurmountable. Indeed, membrane formation through the self-assembly of single chain amphiphiles may be the easiest step in the formation of a functional biological cell.
Acknowledgments
I would like to thank Bruce Damer and David Deamer for their work in the implementation of the Astrobiology Science Conference sessions devoted to this topic in April 2017. This work was supported by the 2015–2016 Connecticut State University American Association of University Professors (CSU-AAUP) Research Grant (Grant ID: ARMAUJ).
Conflicts of Interest
The author declares no conflicts of interest.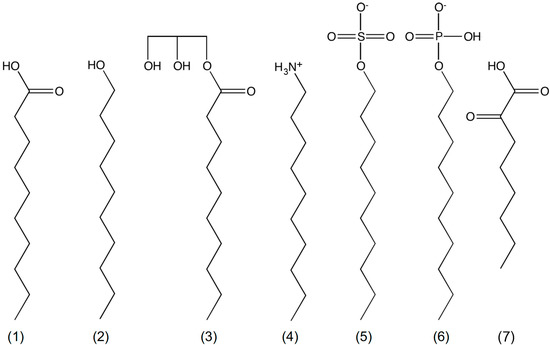 Figure 1. Chemical structures of mono decyl amphiphiles. (1) decanoic acid; (2) decanol; (3) glycerol monodecanoate; (4) decylamine; (5) decylsulfate; (6) decylphosphate; and (7) 2-ketooctanoic acid.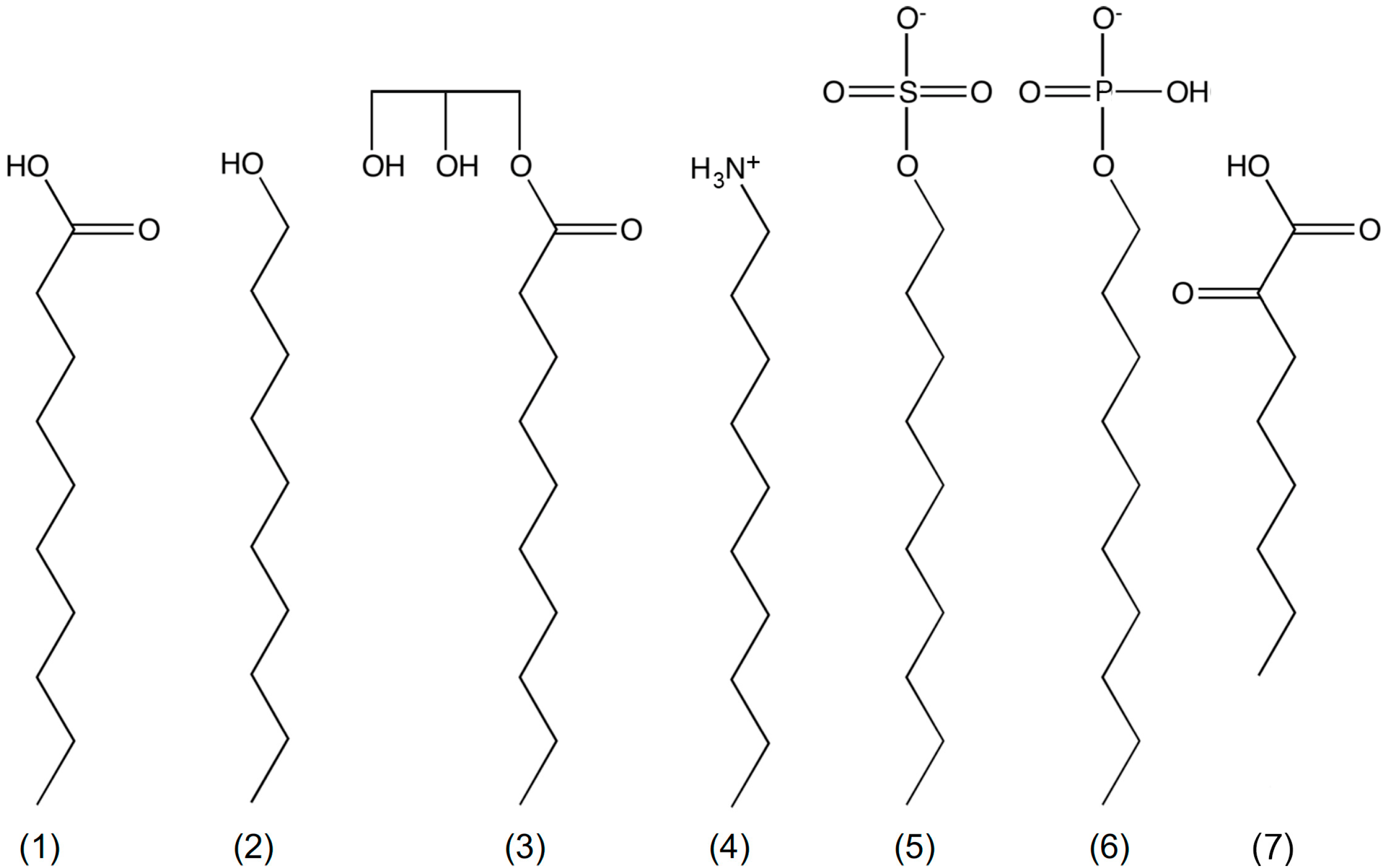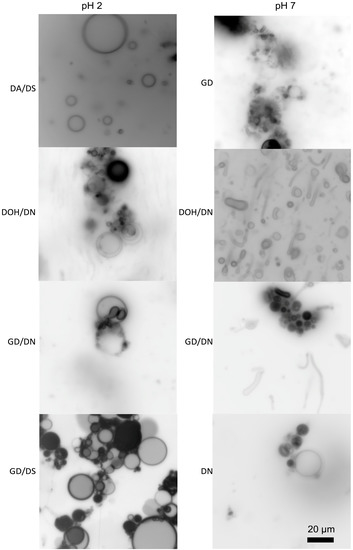 Figure 2. Membrane formation of various amphiphiles in the presence of 35 g/L sea salt. The abbreviations used are decanoic acid (DA), decylsulfate (DS), decanol (DOH), decylamine (DN), and glycerol monodecanoate (GMD). The total concentration of lipid in each sample is 25 mM, and the mixtures of amphiphiles are in a 1:1 ratio. Original micrographs are from the author. The scale bar is the same for all micrographs.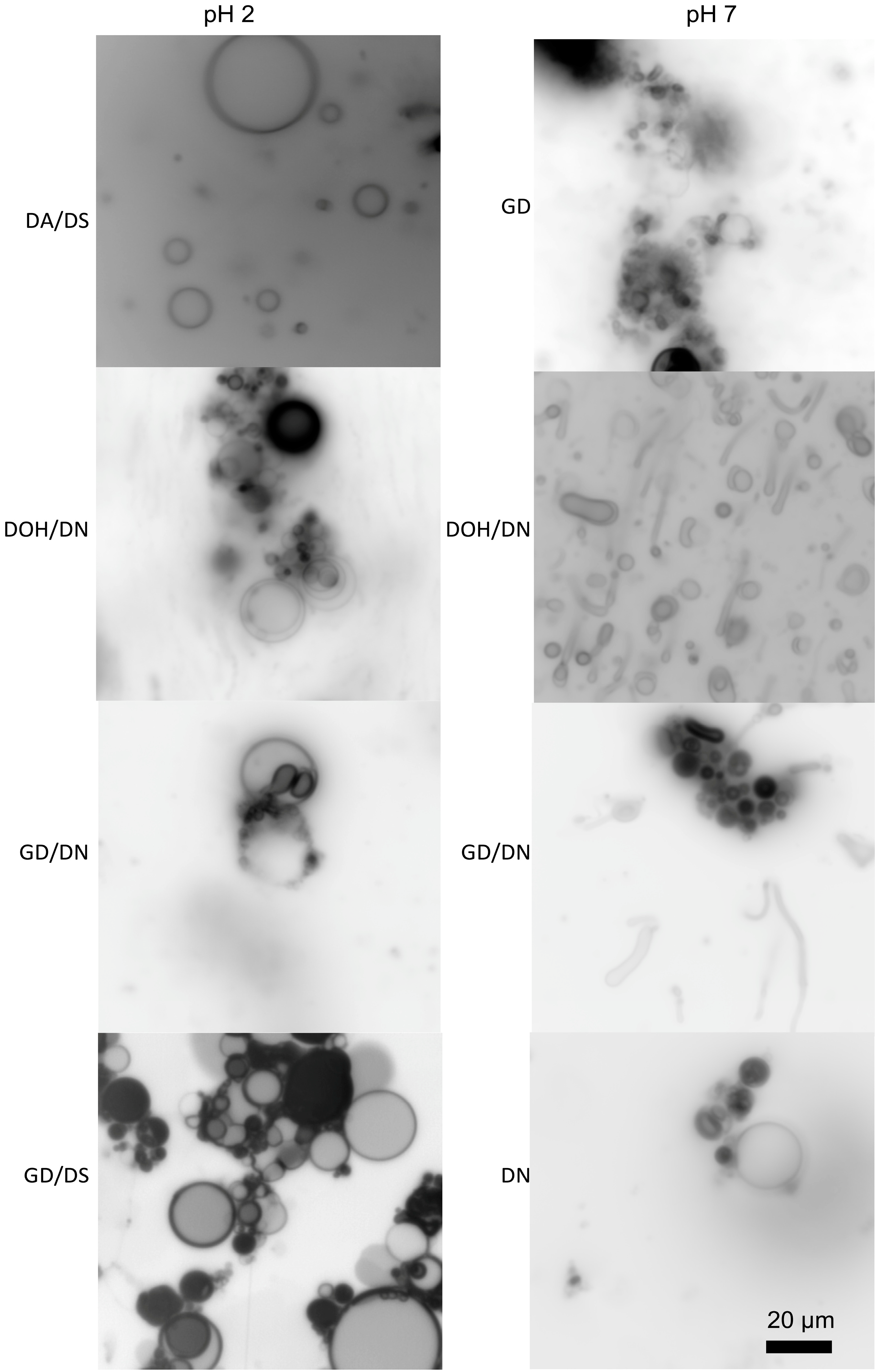 Figure 3. Decanoic acid/decylamine mixtures (equimolar, 25 mM total concentration) at higher concentrations of sea salt. (A) 60 g/L of sea salt at room temperature. (B) 150 g/L sea salt at room temperature. (C) 150 g/L sea salt at 65 °C. Original micrographs are from the author. The scale bar is the same for all micrographs.

Table 1. Concentration of ions in relevant solutions.

| Ion | Cytosol (mM) [42] a | Cytosol (mM) [43] b | Blood (mM) [43] b | River Water (mM) [44] | Seawater (mM) [14] |
| --- | --- | --- | --- | --- | --- |
| Potassium | 200–250 | 139 | 4 | 0.051 | 10 |
| Sodium | 5 | 12 | 145 | 0.261 | 400 |
| Chloride | 6 | 4 | 116 | 0.226 | 460 |
| Bicarbonate | | 12 | 29 | 0.951 | 2.1 |
| Magnesium(free) | 1–2 | 0.8 | 1.5 | 0.165 | 50 |
| Calcium (free) | 0.1 | <0.0002 | 1.8 | 0.374 | 10 |
| Sulfate | | | | 0.115 | 20 |
| Other | | | | 0.233 | 0.5 |
a Values based on

E. coli

, which are dependent on growth media; b values based on humans.

© 2017 by the author. Licensee MDPI, Basel, Switzerland. This article is an open access article distributed under the terms and conditions of the Creative Commons Attribution (CC BY) license (http://creativecommons.org/licenses/by/4.0/).