Open Access This article is
freely available
re-usable
Article
SMORE: Synteny Modulator of Repetitive Elements
1
Bioinformatics Group, Department of Computer Science, and Interdisciplinary Center for Bioinformatics, University of Leipzig, Härtelstraße 16-18, D-04107 Leipzig, Germany
2
Max Planck Institute for Mathematics in the Sciences, Inselstraße 22, D-04103 Leipzig, Germany
3
Department of Biochemistry, University of Alberta, Edmonton, AB T6G 2H7, Canada
4
German Centre for Integrative Biodiversity Research (iDiv) Halle-Jena-Leipzig, Competence Center for Scalable Data Services and Solutions, and Leipzig Research Center for Civilization Diseases, University Leipzig, D-04103 Leipzig, Germany
5
Fraunhofer Institute for Cell Therapy and Immunology, Perlickstrasse 1, D-04103 Leipzig, Germany
6
Institute for Theoretical Chemistry, University of Vienna, Währingerstraße 17, A-1090 Wien, Austria
7
Center for RNA in Technology and Health, Univ. Copenhagen, Grønnegårdsvej 3, DK-1870 Frederiksberg C, Denmark
8
Santa Fe Institute, 1399 Hyde Park Rd., Santa Fe, NM 87501, USA
*
Author to whom correspondence should be addressed.
Received: 28 August 2017 / Accepted: 28 October 2017 / Published: 31 October 2017
Abstract
:
Several families of multicopy genes, such as transfer ribonucleic acids (tRNAs) and ribosomal RNAs (rRNAs), are subject to concerted evolution, an effect that keeps sequences of paralogous genes effectively identical. Under these circumstances, it is impossible to distinguish orthologs from paralogs on the basis of sequence similarity alone. Synteny, the preservation of relative genomic locations, however, also remains informative for the disambiguation of evolutionary relationships in this situation. In this contribution, we describe an automatic pipeline for the evolutionary analysis of such cases that use genome-wide alignments as a starting point to assign orthology relationships determined by synteny. The evolution of tRNAs in primates as well as the history of the Y RNA family in vertebrates and nematodes are used to showcase the method. The pipeline is freely available.
Keywords:
bioinformatics; pipeline; workflow; concerted evolution; synteny; orthology; tandem duplications; Y RNAs; tRNAs
Supplementary Materials
The following are available online at
www.mdpi.com/2075-1729/7/4/42/s1
. S1: Stockholm alignment of sbRNA sequences; S2: Table of genome assemblies used; S3: Table of alloacceptor remoldings in detected tRNA genes; and S4: Distribution of different Y RNA types in mammals.
Acknowledgments
This research was supported by the Deutsche Forschungsgemeinschaft (project STA 850/27-1 to P.F.S and A.H., under the auspices of SPP 1784), the DAAD and JSPS (to S.J.B. within the JSPS Summer Program 2017) and the Department of Biochemistry, University of Alberta, Edmonton (to C.R.M).
Author Contributions
P.F.S. conceived the study, S.J.B. together with A.H. and C.R.A.M. implemented the pipeline, S.J.B. and A.H. conducted the case studies, and all authors contributed to the interpretation of the results and to the writing of the manuscript.
Conflicts of Interest
The authors declare no conflict of interest.

Figure 1. Summary of the computational workflow implemented in the Synteny Modulator Of Repetitive Elements (SMORE) pipeline for analyzing the evolution of mutlicopy genes. The compilation of orthology estimates and the quantitative analysis are logically separated and can also be used independently of each other; see text for details. The blue box describes options for input data. Black arrows pointing toward the next step of the pipeline (to the right) show an uninterrupted workflow and hence no printing or reading of files in between single steps of the pipeline. Black arrows pointing downward indicate output files that are always part of the output, whereas blue arrows pointing downward indicate the creation of temporary files and of optional output for the user.


Figure 2. Example of syntenic gene clusters before post-processing. Panel (A) shows the initial genomic organization of different genetic elements (colored circles, triangles and squares). Grey horizontal lines represent genomes of different species. Vertical lines denote the genomic anchors, which in our setting correspond to unique multiple alignment format (MAF) blocks. These anchors subdivide the genetic elements into the syntenic gene clusters shown in panel (B). Genetic elements belonging to the same cluster are surrounded by a box.


Figure 3.
Example of the graph
G
for a cluster consisting of two groups of orthlogous elements in two species
S
and
T
(
A
). Thick edges indicate above-threshold sequence similarity. The dashed edge, which was included initially, must be inserted to correct
G
; otherwise T5-S4-T3-S1 would form a . Modified Needleman–Wunsch alignment for graph
G
(
B
). The inserted edge to correct for a co-graph is now part of the thick edges showing the orthology relation. The alignment removes crossing edges of the orthology graph and detects duplications (dashed edges). The edge attached to node indicates a deletion in species
S
as there is no target node for this edge.


Figure 4. Example for counting genetic events: (e1)–(e5) are five groups of orthologous elements; '+' and '-' signs show where insertions and deletions are counted in the tree on the basis of the groups; '&' depicts a duplication. Deletions can possibly also be reported as missing data; rM, nL, pA, gG, hg and pT are abbreviations for species identifiers rheMac3, nomLeu3, ponAbe2, gorGor3, hg38 and panTro4.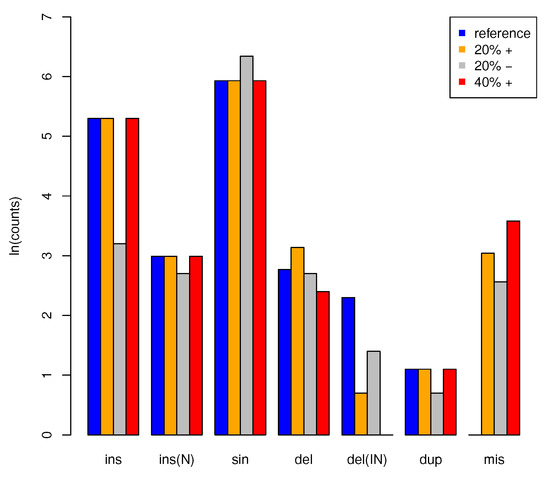 Figure 5.
Summary of results for simulated data. The final counts (counted as natural logarithm ln(counts),
y
-axis) for evolutionary events, i.e., insertions (ins) and deletion (del) at the leaves, insertions (ins(IN)) and deletions (del(IN)) at the interior nodes, singletons (sin) and potentially missing data (mis) are compared between the reference ground truth and alignment with 20% (orange and grey) and 40% (red) of missing anchors. For 20% noise level we also compare the results with (+, orange) and without (−, grey) the segment joining step. High levels of noise mostly lead to a reduction in the inferred number of deletions and a corresponding increase in the reporting of missing data. Employing the joining strategy in general yields much more accurate results. Omitting the joining step in particular leads to fewer numbers of insertions inferred for interior nodes.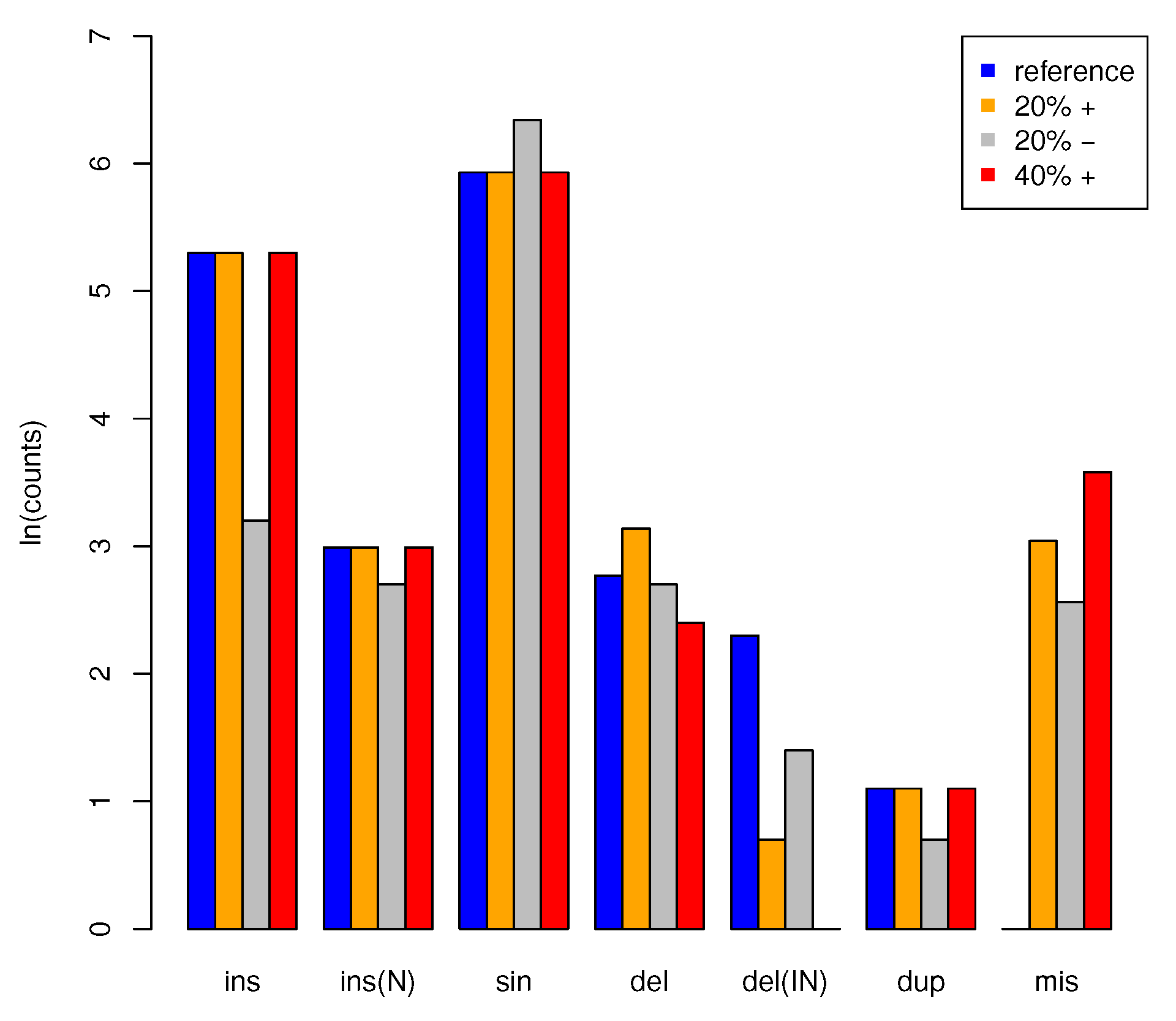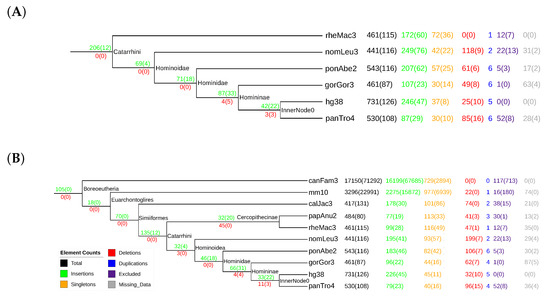 Figure 6. Summary of the evolutionary events inferred for transfer ribonucleic acids (tRNAs) in an evaluation with 6 (A) and 10 (B) species. Insertions and deletions that occur for groups of orthologous elements are inserted at their lowest common ancestor, and possible deletions are added below the interior branches to which they refer. Other events such as singletons and duplications are added directly at the leaves for each species separately. Orthology relations are based on a similarity threshold of 80% sequence similarity, and clusters were joined using the relaxed adjacency constraints. Numbers in parentheses are numbers of pseudogenes.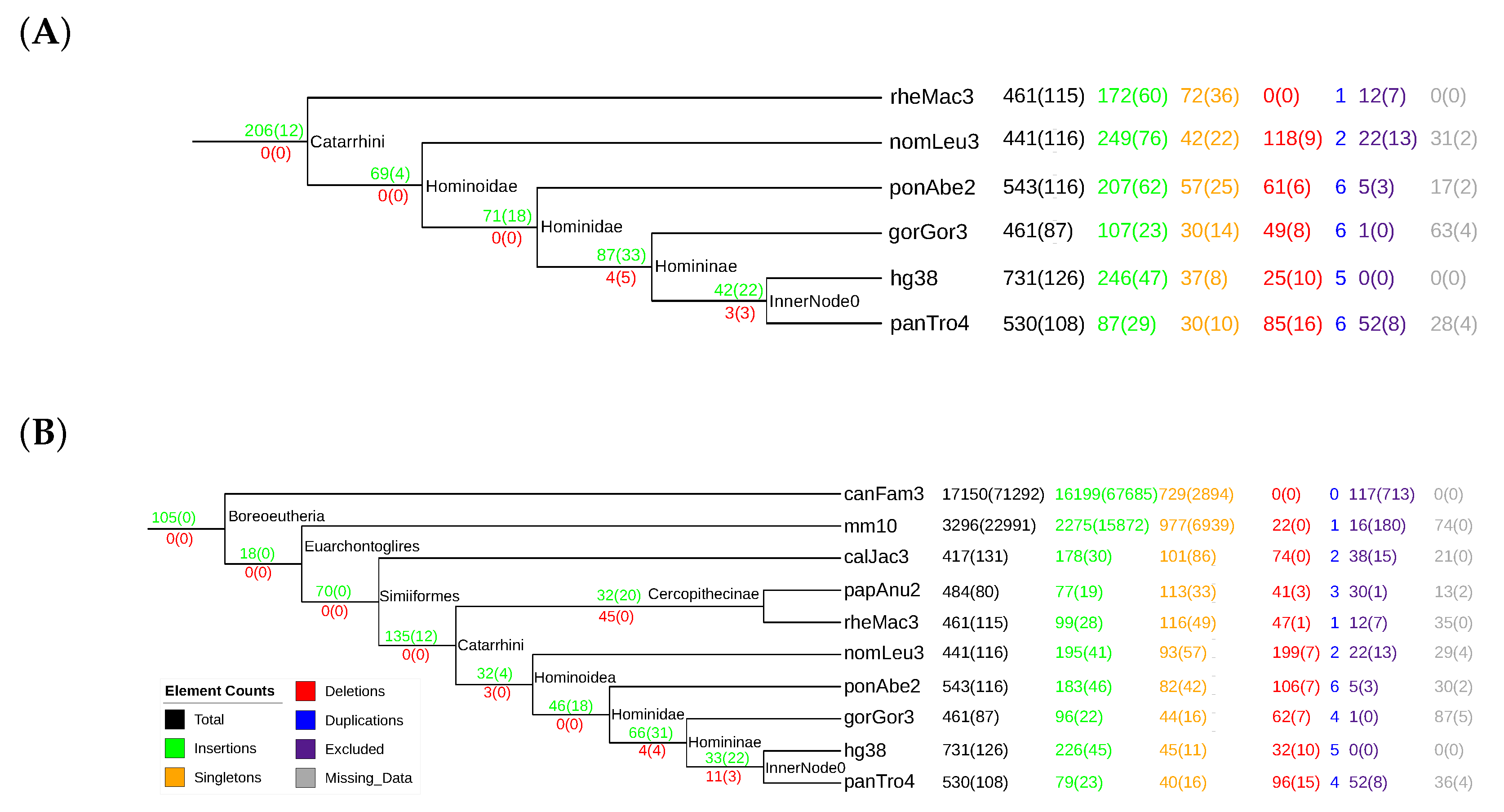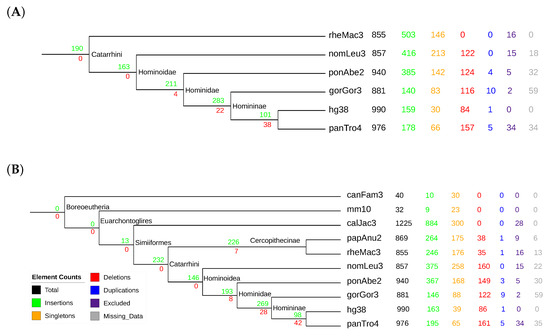 Figure 7.
Summary of the evolutionary events inferred for Y ribonucleic acids (Y RNAs) in an evaluation with 6 (
A
) and 10 (
B
) species. See the caption of
Figure 6
for a detailed legend. The main difference between the two data sets is that the inclusion of an additional member of the Cercopithecinae moves a substantial number of the insertion events from Hominoidae to Catarrhini.

Figure 8.
Evolutionary events of stem-bulge RNAs (sbRNA) in eight nematode species. See the caption of
Figure 6
for a detailed legend.


© 2017 by the authors. Licensee MDPI, Basel, Switzerland. This article is an open access article distributed under the terms and conditions of the Creative Commons Attribution (CC BY) license (http://creativecommons.org/licenses/by/4.0/).