Evidence Supporting the Uptake and Genomic Incorporation of Environmental DNA in the "Ancient Asexual" Bdelloid Rotifer
Philodina roseola
AG Systematics and Evolutionary Biology, IBU–Faculty V, Carl von Ossietzky Universität Oldenburg, Carl von Ossietzky Strasse 9–11, 26111 Oldenburg, Germany
*
Author to whom correspondence should be addressed.
Academic Editor: David Deamer
Received: 29 May 2016 / Revised: 8 August 2016 / Accepted: 30 August 2016 / Published: 6 September 2016
Abstract
Increasing evidence suggests that bdelloid rotifers regularly undergo horizontal gene transfer, apparently as a surrogate mechanism of genetic exchange in the absence of true sexual reproduction, in part because of their ability to withstand desiccation. We provide empirical support for this latter hypothesis using the bdelloid
Philodina roseola
, which we demonstrate to readily internalize environmental DNA in contrast to a representative monogonont rotifer (
Brachionus rubens
), which, like other monogononts, is facultative sexual and cannot withstand desiccation. In addition, environmental DNA that was more similar to the host DNA was retained more often and for a longer period of time. Indirect evidence (increased variance in the reproductive output of the untreated F1 generation) suggests that environmental DNA can be incorporated into the genome during desiccation and is thus heritable. Our observed fitness effects agree with sexual theory and also occurred when the animals were desiccated in groups (thereby acting as DNA donors), but not individually, indicating the mechanism could occur in nature. Thus, although DNA uptake and its genomic incorporation appears proximally related to anhydrobiosis in bdelloids, it might also facilitate accidental genetic exchange with closely related taxa, thereby maintaining higher levels of genetic diversity than is otherwise expected for this group of "ancient asexuals".
View Full-Text
►

▼

Figures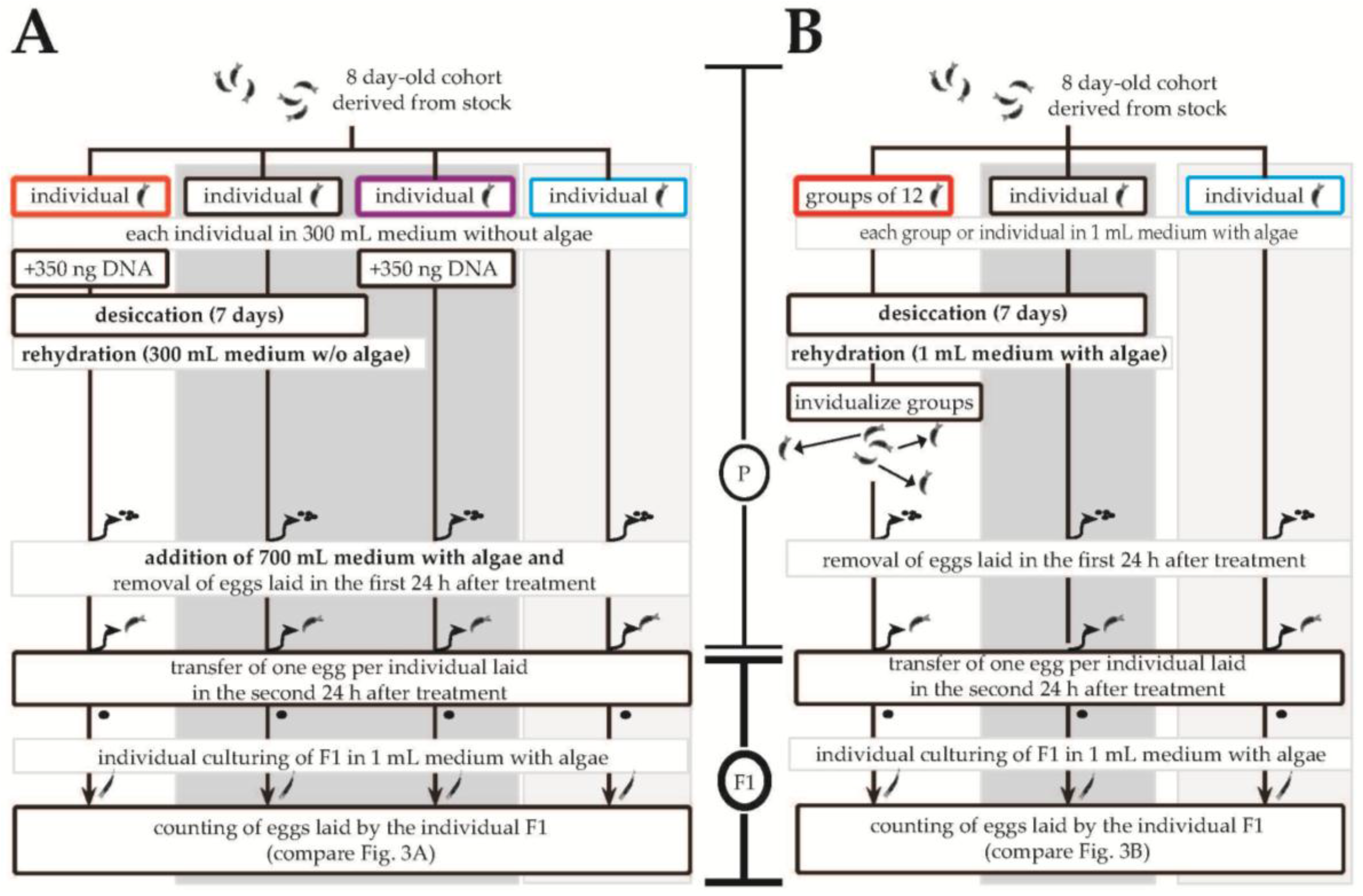 Figure 1
This is an open access article distributed under the
Creative Commons Attribution License
which permits unrestricted use, distribution, and reproduction in any medium, provided the original work is properly cited (CC BY 4.0).

Share & Cite This Article
MDPI and ACS Style
Bininda-Emonds, O.R.P.; Hinz, C.; Ahlrichs, W.H. Evidence Supporting the Uptake and Genomic Incorporation of Environmental DNA in the "Ancient Asexual" Bdelloid Rotifer Philodina roseola. Life 2016, 6, 38.
Note that from the first issue of 2016, MDPI journals use article numbers instead of page numbers. See further details here.
Related Articles
Comments
[Return to top]