Mineralization Epochs of Granitic Rare-Metal Pegmatite Deposits in the Songpan–Ganzê Orogenic Belt and Their Implications for Orogeny
1
NRM Key Laboratory of Metallogeny and Mineral Assessment, Institute of Mineral Resources, Chinese Academy of Geological Sciences, Beijing 100037, China
2
CAS Key Laboratory for Experimental Study under Deep-sea Extreme Conditions, Institute of Deep-sea Science and Engineering, Chinese Academy of Sciences, Sanya 572000, China
*
Author to whom correspondence should be addressed.
Received: 15 April 2019 / Revised: 4 May 2019 / Accepted: 4 May 2019 / Published: 7 May 2019
Abstract
Granitic pegmatite deposits, which are usually products of orogenic processes during plate convergence, can be used to demonstrate regional tectonic evolution processes. In the eastern Tibetan Plateau in China, the Jiajika, Dahongliutan, Xuebaoding, Zhawulong, and Ke'eryin rare metal pegmatite deposits are located in the southern, western, northern, midwestern, and central areas of the Songpan–Ganzê orogenic belt, respectively. In this study, we dated two muscovite Ar–Ar ages of 189.4 ± 1.1 Ma and 187.0 ± 1.1 Ma from spodumene pegmatites of the Dahongliutan deposit. We also dated one zircon U-Pb age of 211.6 ± 5.2 Ma from muscovite granite, two muscovite Ar–Ar ages of 179.6 ± 1.0 Ma and 174.3 ± 0.9 Ma, and one columbite–tantalite U-Pb age of 204.5 ± 1.8 Ma from spodumene pegmatites of the Zhawulong deposit. In addition, we dated one muscovite Ar–Ar age of 159.0 ± 1.4 Ma from spodumene pegmatite of the Ke'eryin deposit. Combining these ages and previous studies in chronology, we concluded that the granitic magma in the Jiajika, Xuebaoding, Dahongliutan, Zhawulong, and Ke'eryin deposits intruded into Triassic metaturbidites at approximately 223, 221, 220–217, 212, and 207–205 Ma, respectively, and that the crystallization of the corresponding pegmatite ceased at approximately 199–196, 195–190, 189–187, 180–174, and 159 Ma, respectively. In this study, we demonstrated that the peak in magmatic activity and the final crystallization age of the pegmatite lagged behind one another from the outer areas of the orogeny belt to the inner areas. The pegmatite–parented granitic magmas were sourced from Triassic metaturbidites that were melted by shear heating along the large-scale decollement resulting from Indosinian collisions along the North China block, Qiangtang–Changdu block, and Yangtze block. As a result, the above temporal and spatial regularities indicated that the tectonic–thermal stress resulting from the collisions of three blocks was transferred from the outer areas of the orogenic belt to the inner areas. A large amount of heat and a slow cooling rate at the convergent center of thermal stress in two directions will lead to crystallization and differentiation of magma in the Songpan–Ganzê orogenic belt, forming additional rare metal deposits.
View Full-Text
►

▼

Figures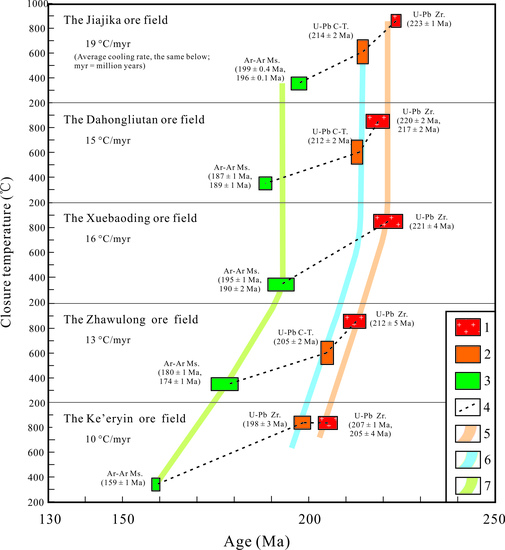 Graphical abstract
This is an open access article distributed under the
Creative Commons Attribution License
which permits unrestricted use, distribution, and reproduction in any medium, provided the original work is properly cited (CC BY 4.0).

Share & Cite This Article
MDPI and ACS Style
Li, P.; Li, J.; Chou, I.-M.; Wang, D.; Xiong, X. Mineralization Epochs of Granitic Rare-Metal Pegmatite Deposits in the Songpan–Ganzê Orogenic Belt and Their Implications for Orogeny. Minerals 2019, 9, 280.
Note that from the first issue of 2016, MDPI journals use article numbers instead of page numbers. See further details here.
Related Articles
Comments
[Return to top]