Open Access This article is
freely available
re-usable
Article
Intracrystalline Reaction-Induced Cracking in Olivine Evidenced by Hydration and Carbonation Experiments
1
Institute of Earth Sciences, University of Lausanne, Géopolis, 1015 Lausanne, Switzerland
2
University of Grenoble Alpes, University of Savoie Mont Blanc, CNRS, IRD, IFSTTAR, ISTerre, 38000 Grenoble, France
3
The Njord Centre, Physics of Geological Processes, Department of Geosciences, University of Oslo, Box 1048, Blindern, 0316 Oslo, Norway
*
Author to whom correspondence should be addressed.
Received: 3 August 2018 / Accepted: 14 September 2018 / Published: 18 September 2018
Abstract
:
In order to better understand the microtextural changes associated with serpentinization reactions, natural millimeter-sized olivine grains were experimentally reacted with alkaline NaOH and NaHCO3 solutions at a temperature of 200 °C and for durations of 3 to 12 months. During hydration experiments, dissolution and precipitation were intimately correlated in time and space, with reaction products growing in situ, either as layered veins or as nearly continuous surface cover. In contrast, carbonation experiments showed a strong decoupling between both processes leading to essentially delocalized precipitation of the reaction products away from dissolution sites. Textural analyses of the samples using scanning electron microscopy, Raman spectroscopy, and X-ray synchrotron microtomography provided experimental evidence for a cause-and-effect relationship between in situ precipitation and intracrystalline reaction-induced cracking in olivine. Juvenile cracks typically nucleated at the tip of dissolution notches or on diamond-shaped pores filled with reaction products, and propagated through the olivine crystal lattice during the course of the reaction. The occurrence of new cracks at the tip of diamond-shaped pores, but also of tiny subspherical pores lining up along microcracks, indicated that fracturation and porosity networks were mutually driven, making serpentinization an extremely efficient alteration process over time. Alternatively, our data suggested that some form of porosity also developed in absence of fracturation, thus further highlighting the remarkable efficiency and versatility of serpentinization processes.
Keywords:
serpentinization; hydration; carbonation; reaction-induced cracking; veining; porosity; X-ray synchrotron microtomography
2. Materials and Methods
2.1. Sample Preparation and Experimental Conditions
2.2. Scanning Electron Microscopy (SEM) and Energy Dispersive Spectroscopy (EDS)
Reacted olivine grains and slurry residues were imaged at the Institute of Earth Sciences of the University of Lausanne (Lausanne, Switzerland) using a Tescan Mira II LMU Schottky field emission-scanning electron microscope (FE-SEM) operated at an acceleration voltage of 20 kV and a probe current of ~0.5 nA. The goal here was to identify mineral phases and textures, with a particular emphasis on the reaction products, porosity and fracturation. Backscattered electron (BSE) images were taken on finely-polished epoxy mounts coated with a 15 nm carbon layer, while a few olivine grains were hand-picked on aluminum stubs and gold-coated for secondary electron (SE) imaging.
Energy dispersive spectroscopy (EDS) analyses were carried out at the same facility to determine the chemical composition of the reaction products. This data was complemented by elemental maps on specific user-defined areas, in order to visualize the spatial distribution of key chemical elements, such as Si, Fe and Mg.
2.3. Raman Spectroscopy
In-situ Raman spectroscopy was used to differentiate the serpentine polymorphs chrysotile and lizardite, as they are characterized by distinct Raman peaks on the OH stretching range, with a single band at 3697 cm−1, and two bands at 3682 cm−1 and 3704 cm−1, respectively. Raman spectra of the reaction products were collected using a Horiba LabRam HR800 (Jobin-Yvon Technologies) apparatus generating an argon laser beam, 532 nm in wavelength. Measurements were performed at the Institute of Earth Sciences of the University of Lausanne (Lausanne, Switzerland). The instrument was equipped with an Olympus™ BX30 open microscope used for fine focusing of the laser beam on the sample surface (probe size <1 μm in diameter). The reflected Raman signal was sampled for 60 s in two cycles, and analyzed using a 600 lines/mm grating.
2.4. X-ray Synchrotron Microtomography
The 3D morphologies of olivine grains were investigated using X-ray microtomography images acquired at the beamline ID19 of the European Synchrotron Radiation Facility in Grenoble (France). The main advantages of synchrotron microtomography over standard desktop micro-computed tomography alternatives include better spatial resolution and limited beam hardening artefacts due to the use of highly-coherent monochromatic X-ray radiation. The instrumentation was operated at an energy of 35 keV and the setting was adjusted to image either X-ray absorption or phase contrast. Radiographs were taken over 360° at 0.18° intervals, all having a 16-bit grayscale depth and 2.2 µm pixel size. Cross-sectional tomographic slices and 3D volume renderings were then reconstructed and post-processed using the commercial AvizoFire™ software 9.4.
3. Results
3.1. Serpentinization Experiments in NaOH Solution
3.2. Serpentinization Experiments in NaHCO3 Solution
Porosity was overall higher than after reaction in NaOH solution, especially in the outer 100 µm of olivine grains. Here, pores were oblong or lens-shaped and did not show any correlation with pre-existing cracks. With their non-equant shape and preferred orientation normal to the olivine edge, those pores clearly reflected the anisotropic nature of olivine dissolution. Unlike lens-shaped pores, diamond-shaped pores up to 30 μm in size grew along pre-existing cracks where they lined up to form typical saw-tooth patterns. As for reaction in NaOH solution, only the few diamond-shaped pores filled with reaction products were preferential sites for nucleation and growth of juvenile cracks. Tiny sub-spherical pores sparsely grew onto microcracks too, but to a much lower extent than after reaction in NaOH solution. No evidence for a hierarchical porosity network was observed.
4. Discussion
4.1. Coupled vs. Decoupled Dissolution-Precipitation
4.2. Reaction-Induced Cracking
Our experimental data have provided ample evidence for the formation of new intracrystalline cracks during serpentinization. These results are in good agreement with those reported in natural serpentinites by other authors [
9
,
21
], who proposed that the nucleation and propagation of new cracks is driven by the crystallization stress accumulated at the tips of dissolution notches during progressive serpentinization [
43
,
44
]. We therefore support the idea that the large increase in volume associated with phase transformation does not necessarily impede the extent of serpentinization reactions, but rather triggers the formation of a hierarchical fracturation network allowing for serpentinization to continue during hydration. The fact that reaction-induced cracking is abundant in hydration experiments, i.e., reactions in which no long-range mass transfer and no spatial decoupling between dissolution and precipitation have occurred, indicates that, at least in serpentinite systems, in-situ precipitation of the reaction products is a prerequisite to raise stress at notch tips and trigger mineral/rock fracturation. This point is further evidenced in our carbonation reactions, in which only the diamond-shaped pores filled with reaction products have generated new cracks. Consequently, our experimental work unequivocally argues for a cause-and-effect relationship linking in-situ phase transformation and intracrystalline reaction-induced cracking whatever the reaction (hydration or carbonation). The striking similarities between the reaction-induced cracks observed experimentally here and in natural ophiolites give further credence to this hypothesis.
There is little doubt that if the reaction products had massively precipitated in situ during our carbonation experiments, substantially more reaction-induced cracking, similar to that observed after hydration experiments, would have taken place in that case too. Indeed, carbonation in no way constitutes an intrinsic obstacle to reaction-induced cracking, as long as dissolution and precipitation mechanisms are spatially coupled and dominant over mass transfer. This finding leads us to stress that a high degree of spatial coupling between dissolution and precipitation constitutes an essential condition for reaction-induced cracking, much more than the type of reaction itself, at least when the confining pressure is very low. However, carbonation reactions show a weaker tendency for in situ precipitation, and consequently also, reaction-induced cracking rather, than hydration reactions. Alternatively, carbonation reactions could also give rise to delayed reaction-induced cracking occurring in the nearby rocks where precipitation takes place, but our experiments on single grains did not allow for such observations.
It is worth noting that, in our experiments, cracking has been locally enhanced by the occurrence of less-reactive mineral inclusions of pyroxene or spinel. This process is common and has been widely reported in the literature for natural peridotites [
32
,
45
]. Pyroxene and spinel are highly resistant to alteration and act as hard spots around which stress accumulates and radial cracks nucleate. This effect may be further amplified by the high serpentinization efficiency attributed to a greater silica activity at the olivine-pyroxene boundary [
46
]. We therefore conclude that natural, inclusion-rich olivine grains and peridotites may be more prone to intracrystalline reaction-induced cracking than monomineralic rocks or manufactured samples of dunite sintered from synthetic olivine powder.
4.3. Porosity, an Alternative and Complementary Way for Reaction Propagation
Our experimental data indicate that the development of porosity is an essential aspect of serpentinization reactions, whatever the composition of the reactive fluid. As a general trend, our results show that the apparent pore abundance is positively correlated with fracturation, in the sense that highly fractured grains contain more pores than less fractured ones in hydration experiments. Moreover, we have proposed several lines of evidence to demonstrate that porosity and fracturation networks tend to mutually self-propagate in the course of the reaction. The observation that pores preferably line up along microcracks indicates that fracturation actively participates in spreading porosity towards the interior of olivine grains. The fact that juvenile cracks obviously nucleate at the tips of diamond-shaped pores shows that the reverse is also true, i.e., that pores play an equally important role in the propagation of the fracture network. This self-reinforcing loop, in which more cracks generate more pores, and vice versa, is noteworthy, as it guarantees efficient progression of the reaction front through the olivine grains, and therefore the survival of serpentinization reactions over time in a context of massive volume increase and limited mass transfer.
Besides highlighting the strong mutual correlation between porosity and fracturation, during both hydration and carbonation, our experimental results suggest that some form of porosity may develop in absence of cracks too. The growth of isolated pores in the outer fringes of olivine grains during carbonation experiments indicates that fracturation is not an absolute requirement for pore formation. According to this view, porosity is thought to propagate spontaneously, e.g., in response to high chemical gradients between dissolution and precipitation sites. Alternatively, those pores could also be 2D cross-sectional views of dissolution channels, similar to those recently reported by Xing et al. [
21
]. Whatever the interpretation, the occurrence of porosity features disconnected from cracks—in good agreement with previous studies [
47
,
48
]—is not irrelevant, as it suggests that serpentinization could, to some extent, take place with little or no fracturation at all. This result stresses the multivalent nature of serpentinization, which can follow alternative reaction paths to keep progressing over time.
Finally, the coexistence of pores filled with reaction products immediately adjacent to empty pores suggests that serpentinization continuously creates and eliminates porosity, in accordance with the physicochemical conditions at a specific time and place. It must be noted that both filled and empty pores can positively influence the course of serpentinization reactions. While empty pores facilitate fluid flow and mass transfer, pores filled with reaction products participate in the spreading of the fracturation network through reaction-induced cracking. This observation was already noted in other studies [
49
,
50
].
5. Implications and Conclusions
In the present study, hydration and carbonation experiments were carried out on coarse olivine grains in order to better understand the processes at play during serpentinization reactions. The striking parallels that can be drawn between the textural features observed here and in natural outcrops are excellent indicators of the relevance of the experimental set-up and starting materials. The tendency of hydrated olivine grains to accommodate the reaction products in situ while remaining whole is characterized in hydrated peridotites by the widespread occurrence of mesh texturing and veining. In contrast, the delocalized precipitation of the reaction products and the pervasive break-up of olivine grains after carbonation reactions is in good agreement with the bimodal mineral distribution and the highly brecciated and often chaotic nature of many ophicarbonates. We therefore concluded that the fluid composition, and in particular the carbon dioxide content of the volatile phase, not only determines the mineral species occurring in the reaction products, but also drastically controls the textures of serpentinized rocks and the degree of redistribution of the chemical elements in the oceanic lithosphere.
Our study has provided the first experimental evidence for a cause-and-effect relationship between in situ precipitation and intracrystalline reaction-induced cracking in olivine especially during hydration experiments. We have shown that this process occurs regardless of the type of reactive fluid, commencing as soon as precipitation of the reaction products occurs in situ and exerts a sufficient differential stress at the tips of dissolution notches or pores. This finding is particularly timely, as two very recent experimental serpentinization studies have questioned the very existence of such a feature at the expense of intercrystalline reaction-induced cracking [
13
,
21
]. Based on our own experimental results and observations, however, we strongly advocate that intracrystalline reaction-induced cracking does occur in olivine, and that it is an essential component of rock fracturation during serpentinization reactions.
Finally, our study has highlighted the extreme versatility and multi-faceted nature of serpentinization. Processes that could at first be misidentified as detrimental, such as massive volume increase during phase transformations and ensuing pore clogging, are in reality not major obstacles for the continuation of serpentinization reactions, due to the ability of the system to adapt through a series of positive loops, making it resilient and enduring over time. Among the most striking features are the paired and concomitant development of fracturation and porosity networks, and the possibility to extend (or reduce) porosity even in absence of fracturation. The many strings serpentinization has to its bow undoubtedly explains at least part of its considerable success over time and the widespread occurrence of fully serpentinized rocks in very different geological contexts all over the world.
Supplementary Materials
The following are available online at
https://www.mdpi.com/2075-163X/8/9/412/s1
. Supplementary Material S1: Field emission electron probe microanalyzer (FE-EPMA) chemical characterization of starting olivine grains. Supplementary Material S2: Experimental setup and Olivine serpentinization in deionized water. Supplementary Material S3: Identification of serpentine polymorphs using Raman spectroscopy.
Author Contributions
R.L. prepared the samples, established the experimental protocol, characterized the reaction products, and took the lead in the interpretation of the data. G.M.-H. supervised the serpentinization experiments and collected the reaction product. F.R. performed the X-ray synchrotron microtomography analyses and post-processing. P.V. collaborated in the acquisition of scanning electron microscopy data and participated in writing the manuscript. All authors contributed to the scientific interpretation of the data.
Funding
The free access to lab facilities was made available by the Universities of Lausanne (Switzerland) and Grenoble Alpes (France). F.R. acknowledges funding from the Norwegian Research Council (grant HADES 250661.
Acknowledgments
We are grateful to Martin Robyr for his help during the electron probe microanalyses, and to Deyanira Cisneros-Lazaro for proofreading the last version of the manuscript.
Conflicts of Interest
The authors declare no conflicts of interest.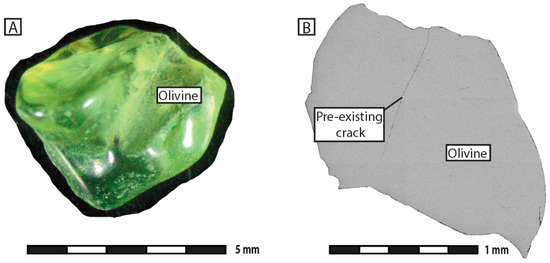 Figure 1. (A) Optical micrograph and (B) Backscattered electrons (BSE) image of an olivine grain before starting the experiments.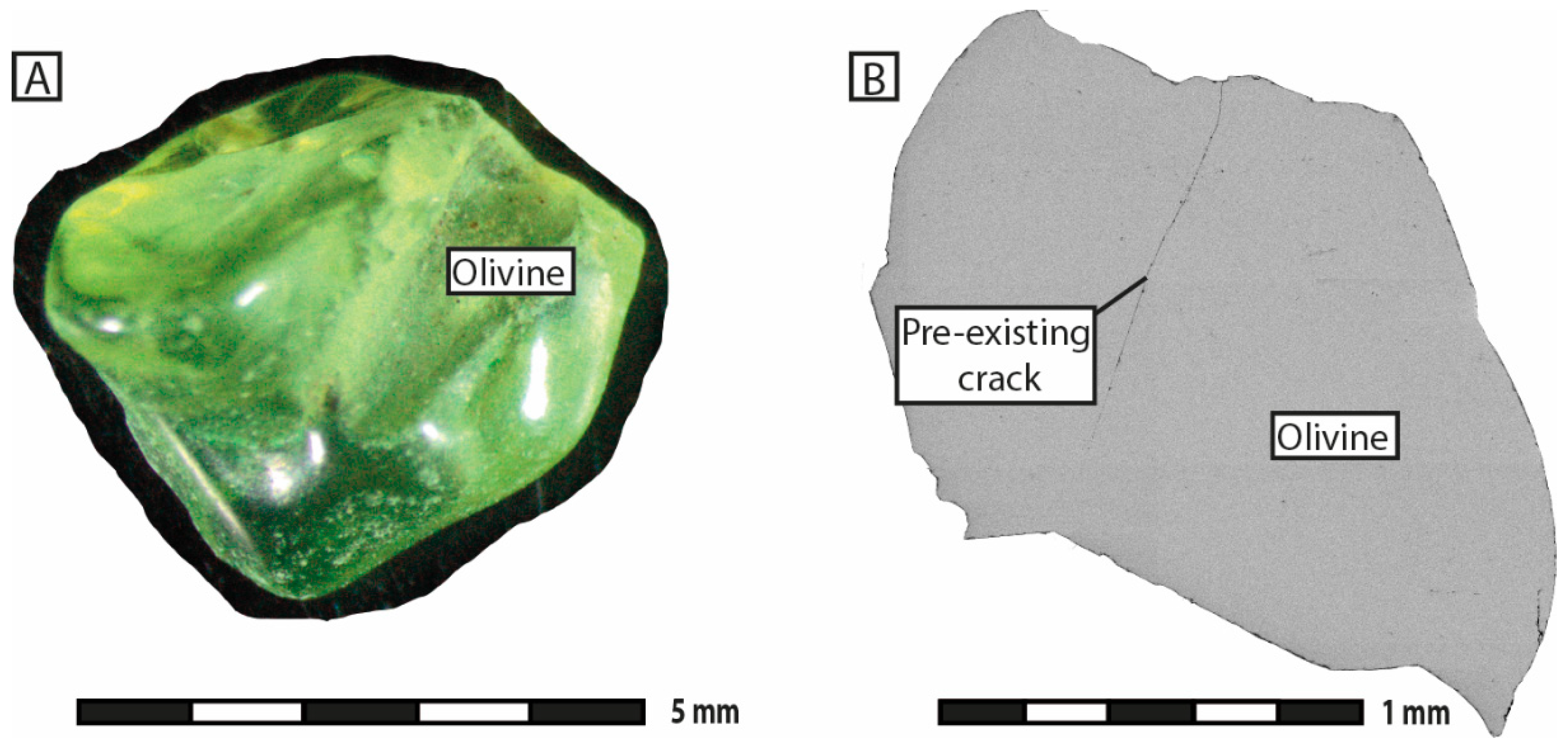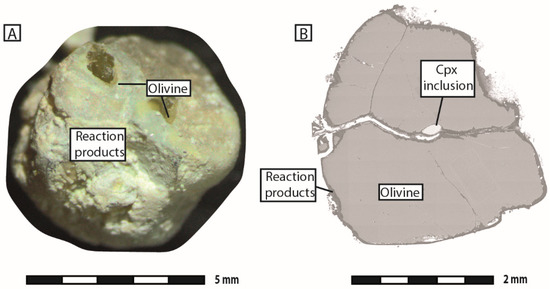 Figure 2.
(
A
) Optical micrograph and (
B
) BSE image of an olivine grain after six months of reaction in NaOH solution (run # 2). Note the external and internal changes in texture with respect to the starting olivine grain shown in
Figure 1
. Cpx: clinopyroxene.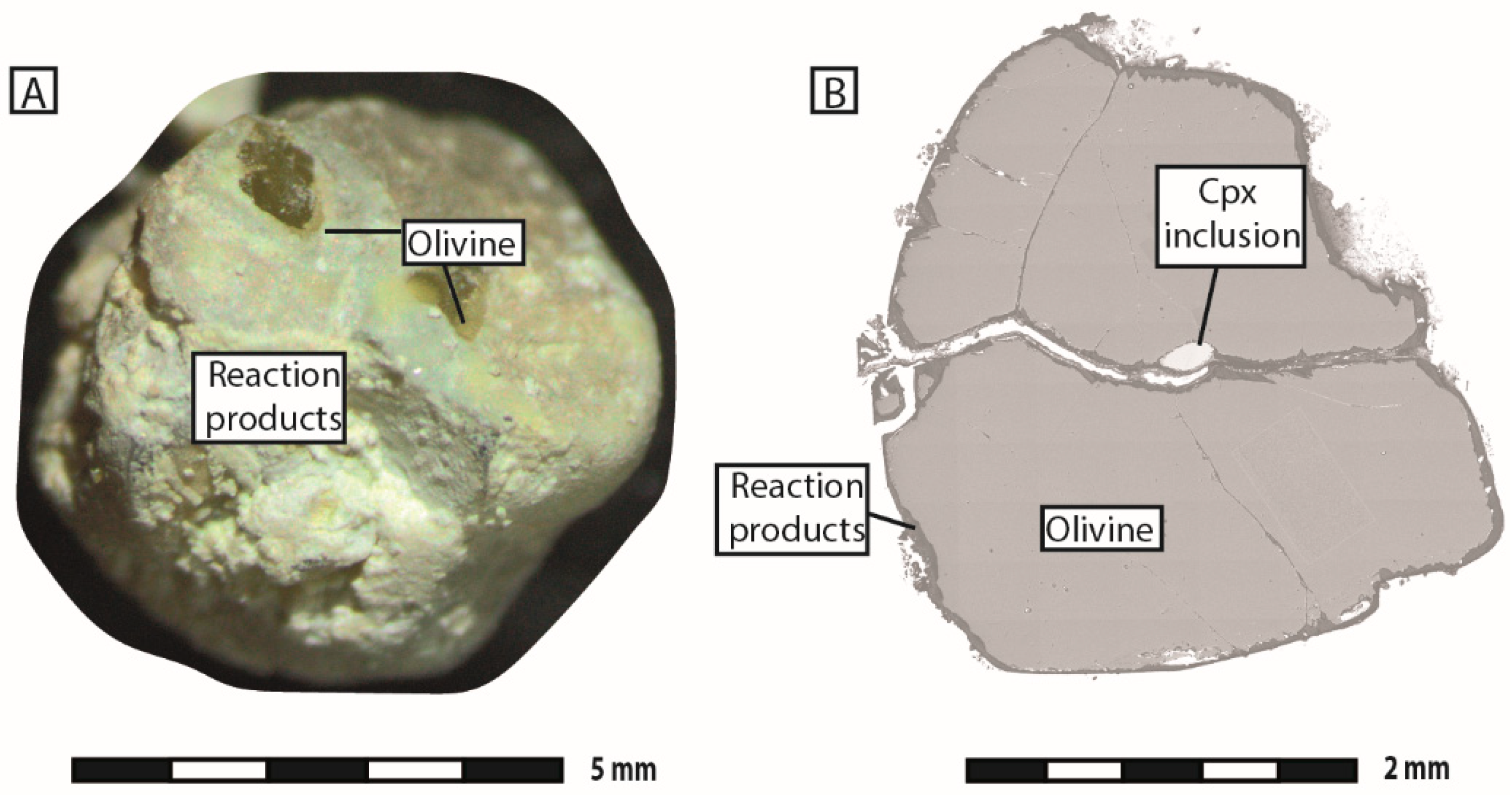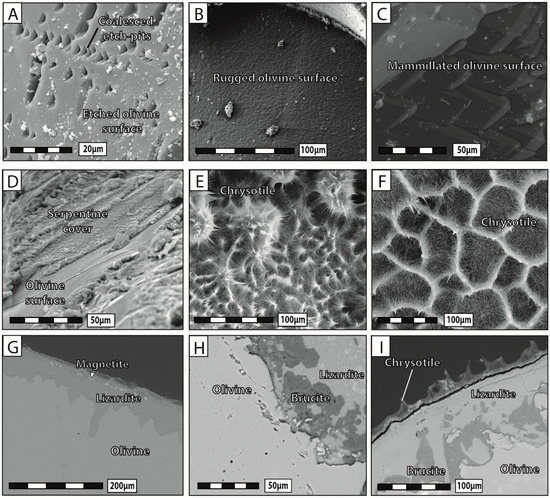 Figure 3. Scanning electron microscope (SEM) images of surface features after reaction in NaOH solution. (A) Selective dissolution resulting in closely spaced or coalesced etch pits. (B) Rugged and (C) mammillated olivine surface. (D) Lizardite growing onto fresh olivine. (E) Bunches of tepee-like chrysotile bundles. (F) Polygonization of the chrysotile cover forming Voronoi tessellation features. (G) Cross section through the entire reaction zone showing the chrysotile cover, a thin layer of oxides, and the lizardite alteration margin down to the etched/notched olivine surface, (H,I) reaction zones containing lizardite and brucite in contact with healthy olivine. (A–D) are for t = 3 months (run # 1), (E,G) for t = 6 months (run # 2), and (F,H,I) for t = 12 months (run # 3).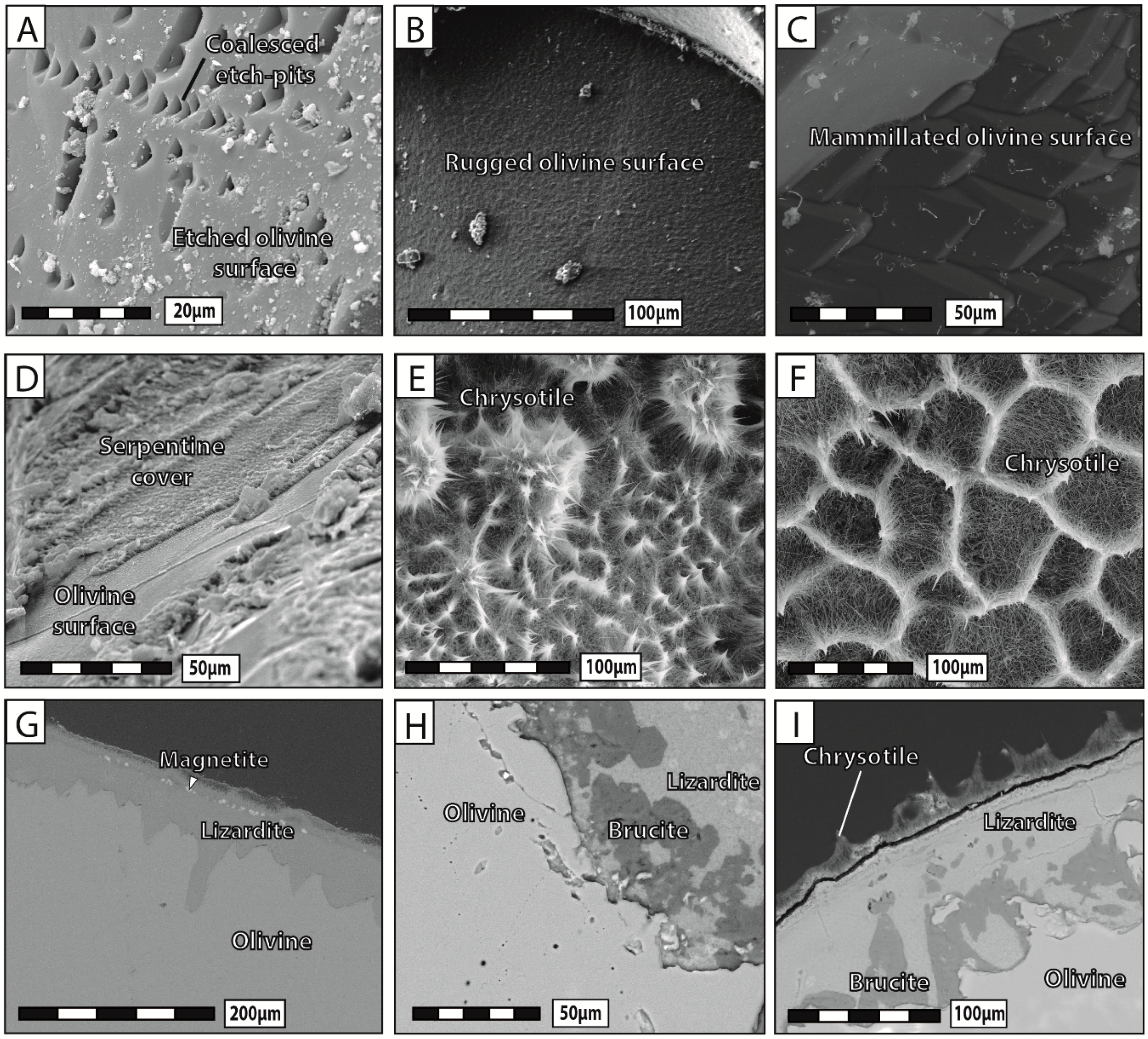 Figure 4. Veins filling pre-existing cracks after reaction in NaOH solution. (A) BSE image displaying obvious mineral zoning between the core and rim layers of the vein, the alteration margins made of lizardite and brucite, and the rough profile of the reaction fronts. (B) BSE image of a vein outlet containing secondary magnetite. (C) EDS elemental maps for Si, Mg and Fe, and (D) chemical profiles corresponding to the red band shown in (C). Fe and Al are enriched in the core layers due to the high content of serpentine, while the presence of brucite in the alteration rim is testified by prominent Mg peaks. (A) is for t = 6 months (run # 2), and (B–D) are for t = 12 months (run # 3).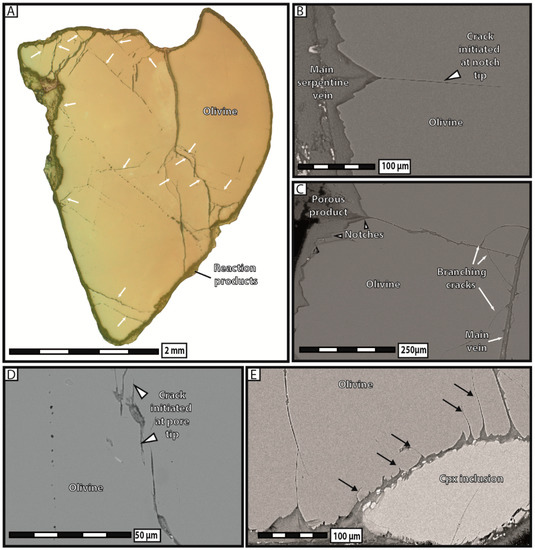 Figure 5. Reflected light micrograph and BSE images of new cracks formed after reaction in NaOH solution. (A) Polished olivine grain with the location of new cracks indicated by white arrows. (B) A short and straight juvenile crack nucleated at the tip of a dissolution notch and vanished within the olivine bulk. (C) More mature cracks showing straight, corrugated, and branched trident-shaped sections ending in a pre-existing vein. (D) Juvenile cracks initiated at the tips of pores filled with reaction products. (E) High density of dissolution notches and newly formed cracks surrounding a clinopyroxene inclusion. (A,D) are for t = 12 months (run # 3), and (B,C,E) for t = 6 months (run # 2).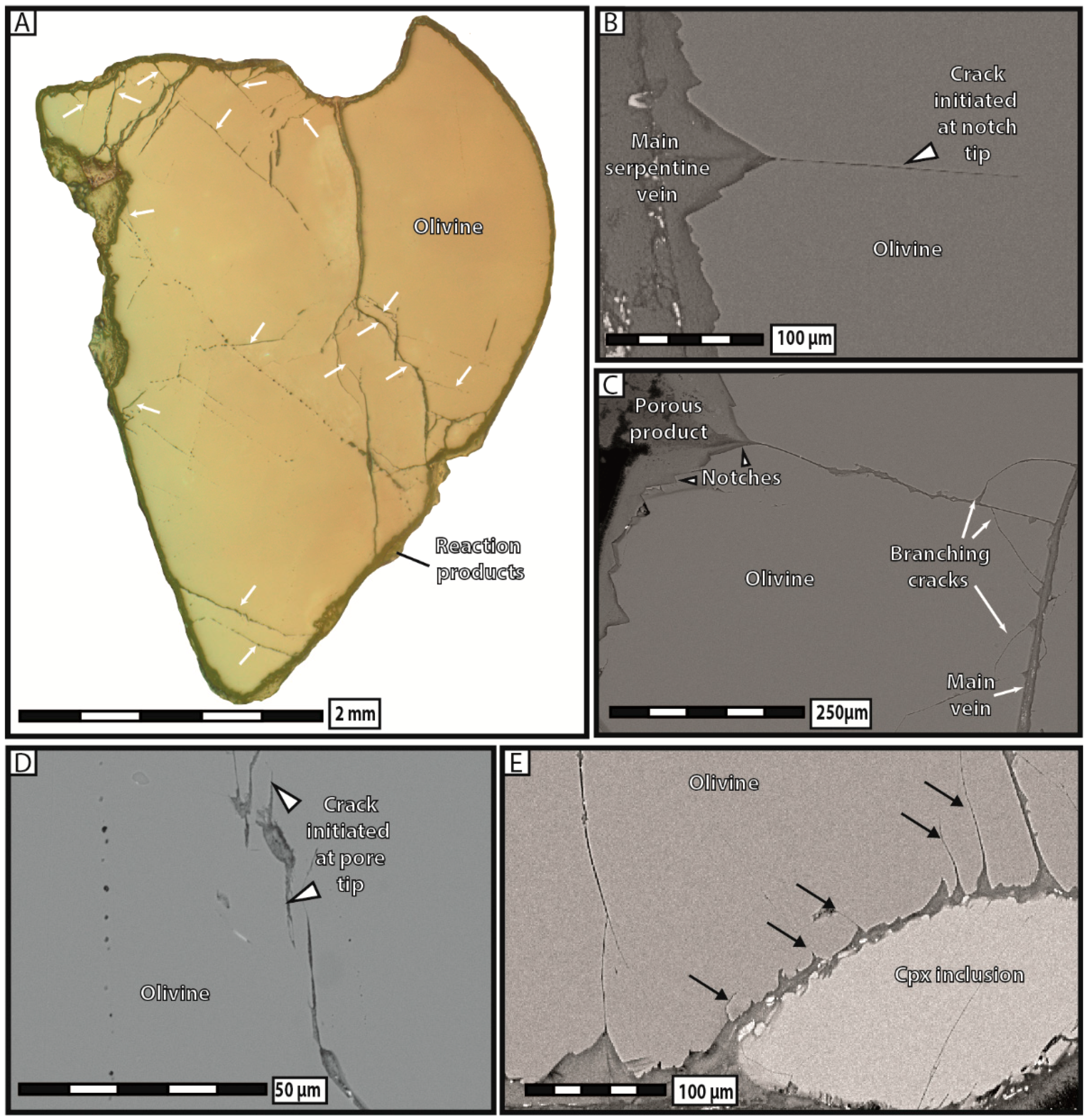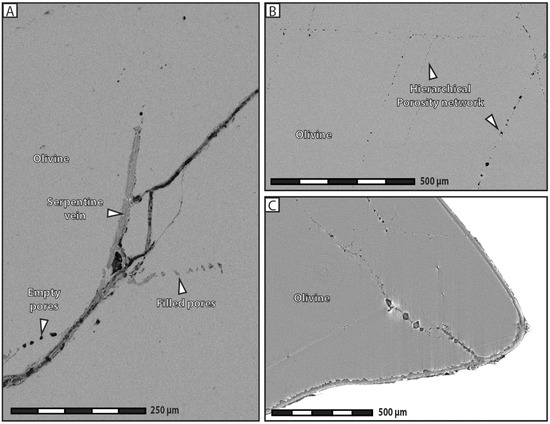 Figure 6. Porosity after reaction in NaOH solution. (A) BSE image of empty and filled pore trails closely related to a serpentine vein. (B) BSE image of the hierarchical porosity network formed by pores of different sizes growing up along microcracks (C) Phase-contrast X-ray synchrotron microtomography image showing tiny spherical pores lining up with large diamond-shaped pores. (A) is for t = 6 months (run # 2), and (B,C) for t = 12 months (run # 3).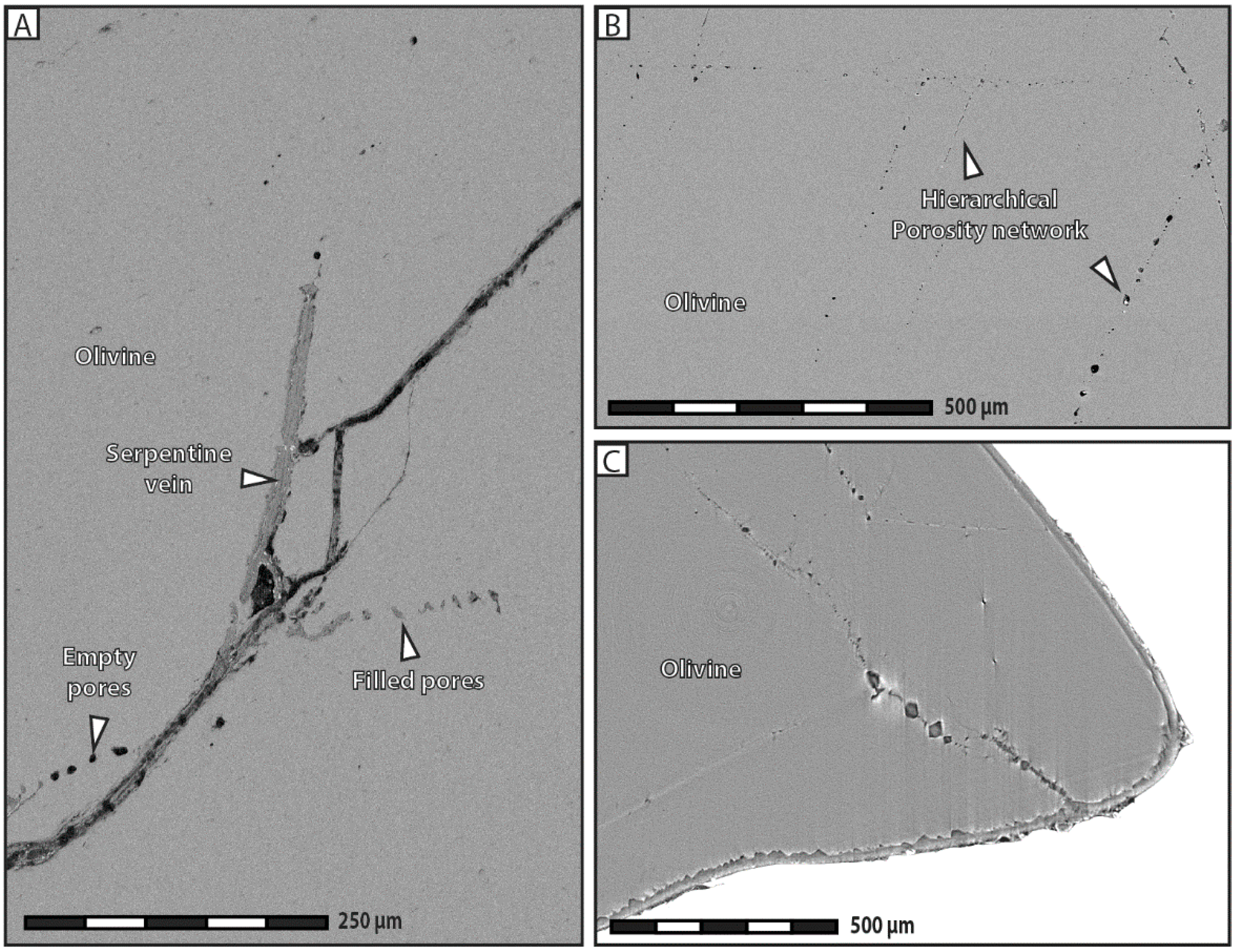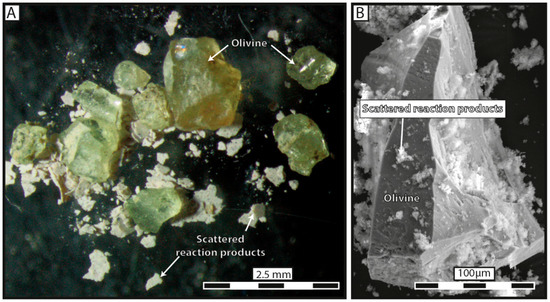 Figure 7. Olivine grains after reaction in NaHCO3 solution. (A) Optical micrograph showing a highly fragmented olivine grain and widespread scattering of the reaction products. (B) Secondary electron image displaying small aggregates of reaction products scattered onto an olivine fragment. (A) is for t = 12 months (run # 3), and (B) for t = 6 months (run # 2).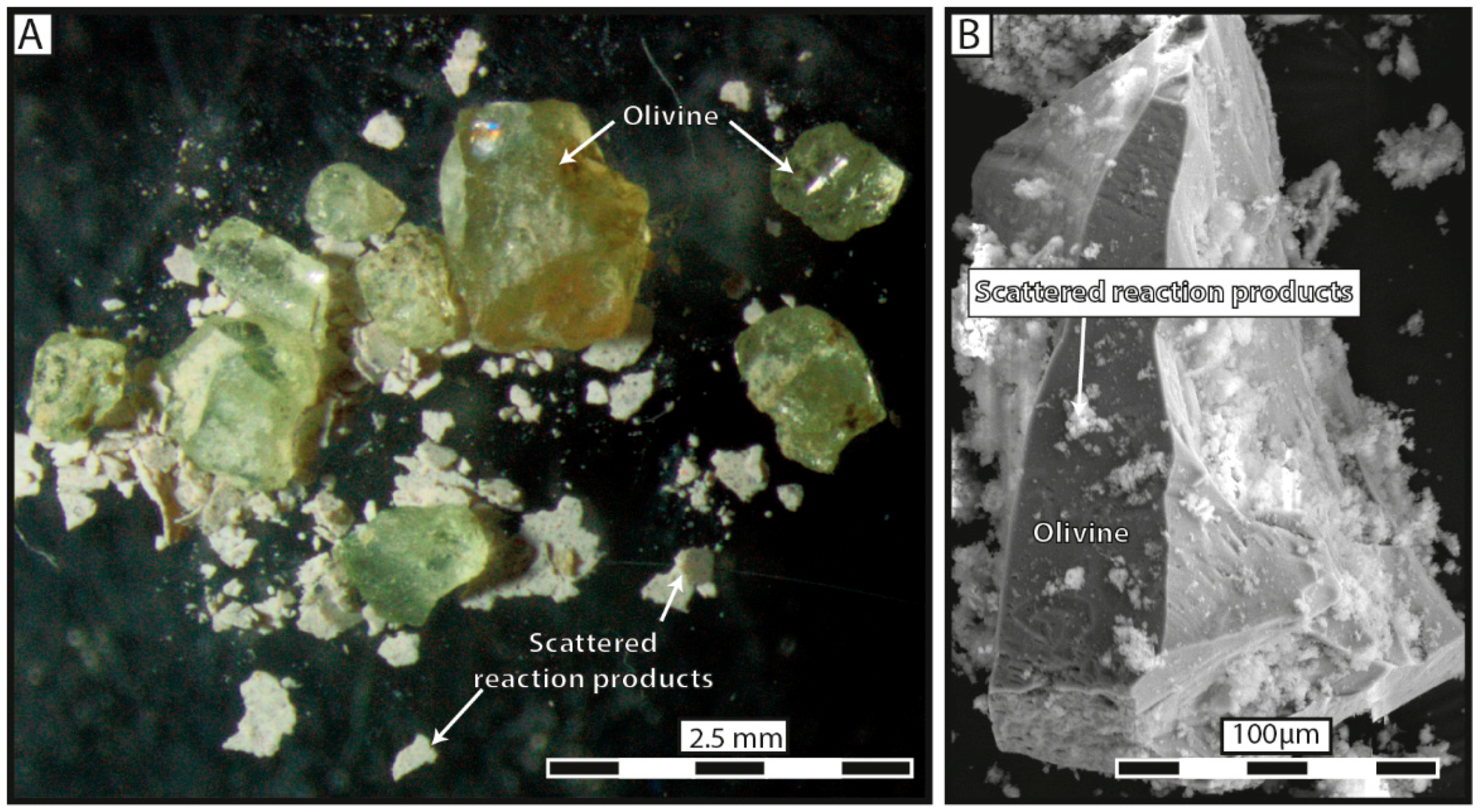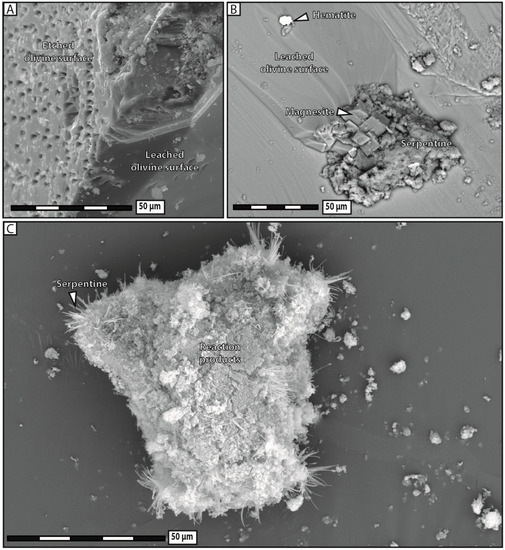 Figure 8. SEM images after reaction in NaHCO3 solution. (A) Contact zone between etch-pitted and leached olivine surfaces. (B) Cluster of reaction products on top of leached olivine. (C) Single aggregate of reaction products consisting in a mixture of serpentine, magnesite, dolomite and hematite. (B) is for t = 3 months (run # 4), and (A and C) for t = 12 months (run # 6).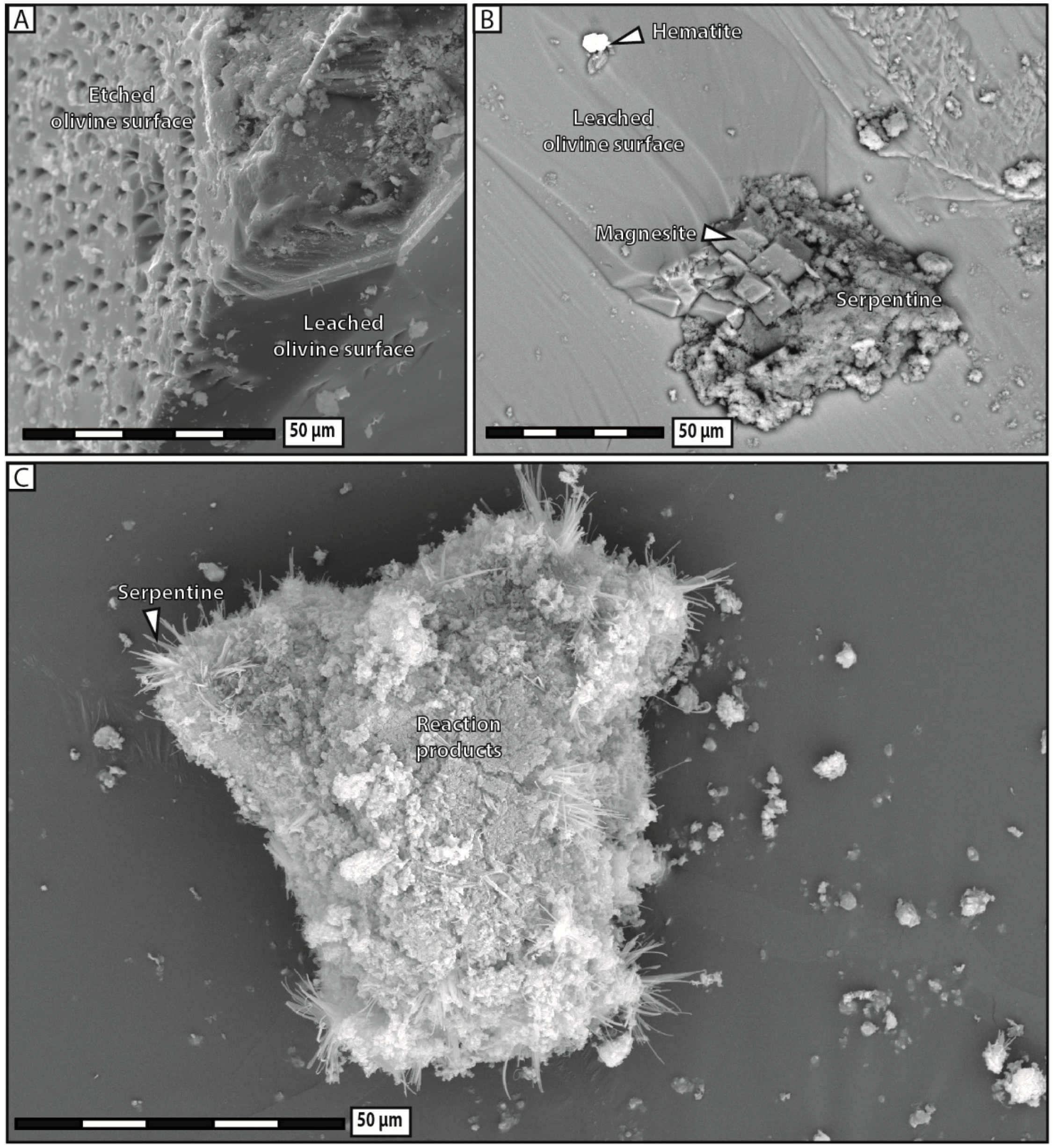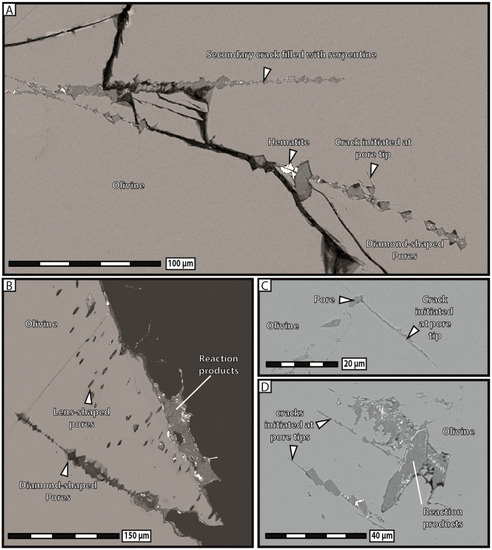 Figure 9. BSE images of porosity features after reaction in NaHCO3 solution. (A) Diamond-shaped pores filled with reaction products and lining up along secondary cracks. (B) Oblong and lens-shaped pores scattered in the outer parts of olivine grains. Some pores were filled with reaction products while other have remained empty. (C,D) Juvenile cracks initiated at the tips of diamond-shaped pores filled with reaction products. (A,B) are for t = 6 months (run # 5), and (C,D) for t = 12 months.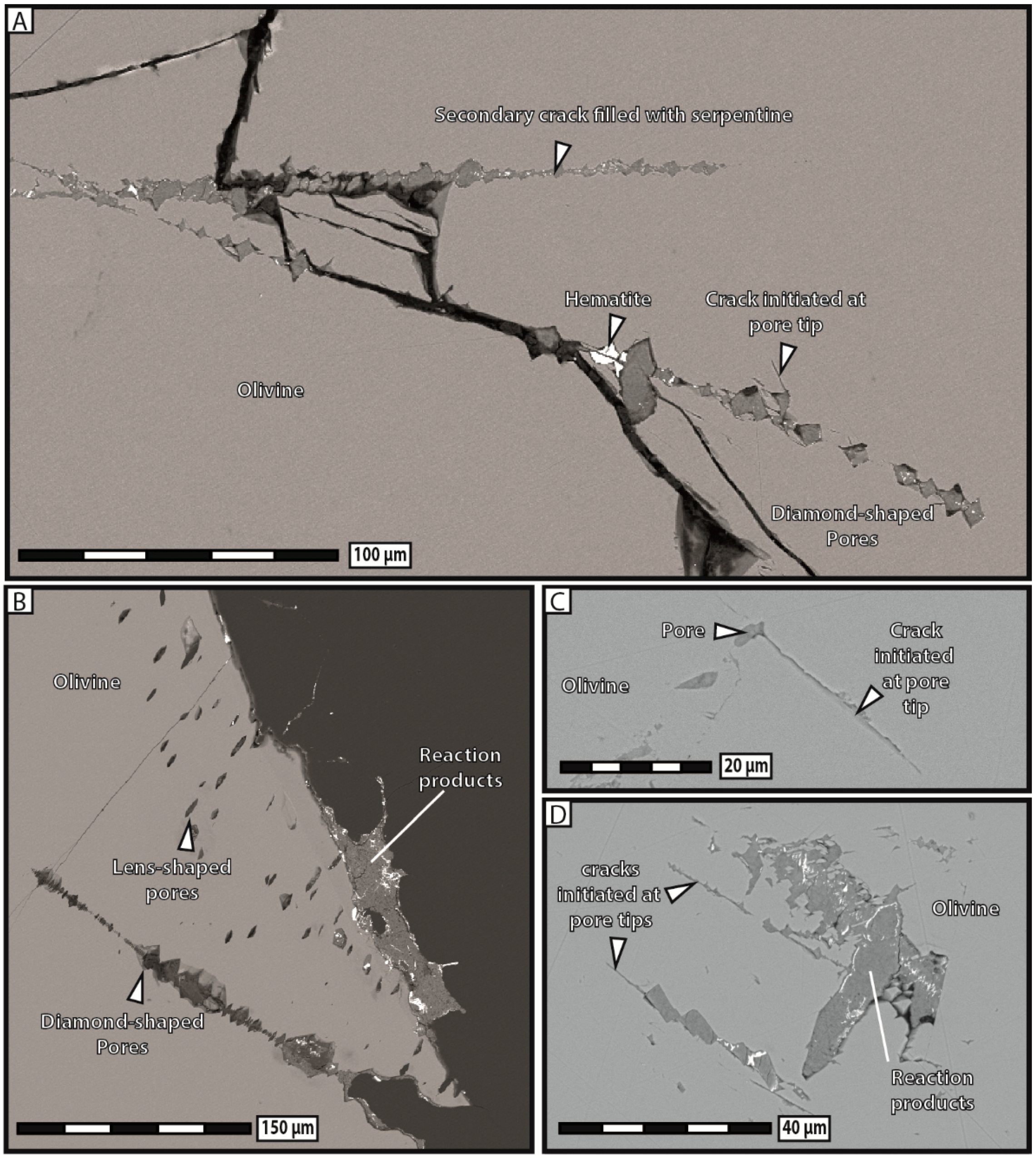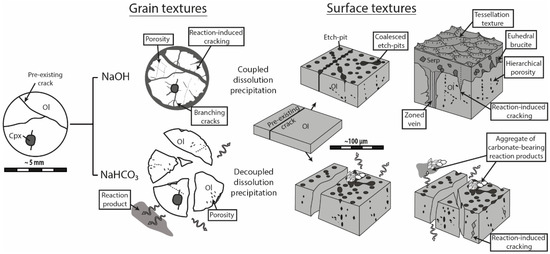 Figure 10. Sketch summarizing the distinct grain and surface features observed after reaction in NaOH and NaHCO3 solutions. Note the very different degree of spatial coupling between dissolution and precipitation in each reaction type Cpx: clino-pyroxene, Ol: olivine, Serp: serpentine.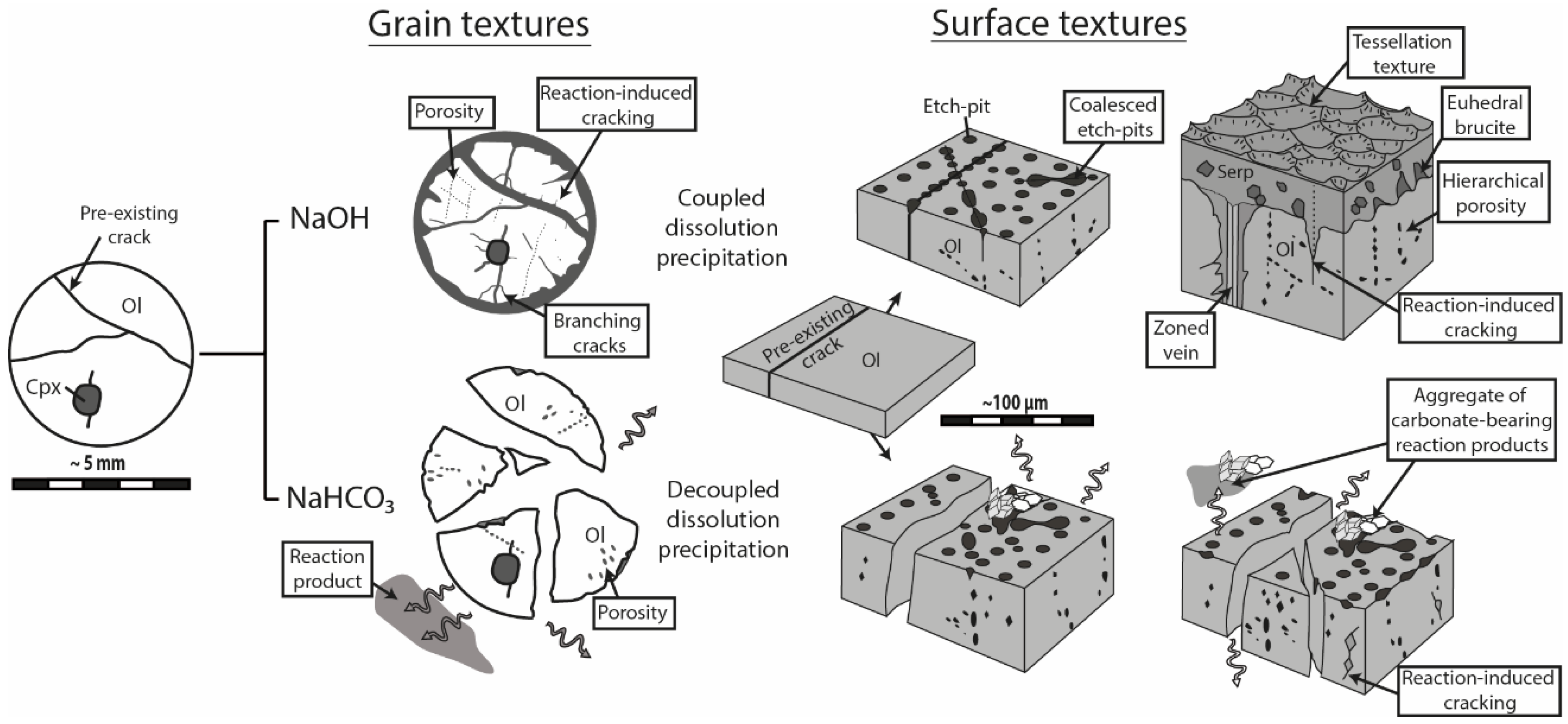 Run #
Duration (months)
Temperature (°C)
Reactive Aqueous Solution
Solute Type
Volume
pH
(mL)
Start
Quenched 25 °C
25 °C
200 °C γ
1
3
200
NaOH α
2
13.5
11.0
13.4
2
6
200
NaOH α
2
13.5
11.0
13.3
3
12
200
NaOH α
2
13.5
11.0
13.3
4
3
200
NaHCO3 β
2
8.7
7.4
9.2
5
6
200
NaHCO3 β
2
8.7
7.4
9.3
6
12
200
NaHCO3 β
2
8.7
7.4
9.3
α The NaOH (1 M) solution was obtained by dissolving 40 g of NaOH into 1 L of deionized water. β The NaHCO3 solution (0.95 M of total carbon) was obtained by ionic dissociation of dissolved CO2 in concentrated 2 M NaOH solution (See [29] for more details). γ pH calculated at 200 °C using the PHREEQC software.

© 2018 by the authors. Licensee MDPI, Basel, Switzerland. This article is an open access article distributed under the terms and conditions of the Creative Commons Attribution (CC BY) license (http://creativecommons.org/licenses/by/4.0/).