Origin of the Granite Porphyry and Related Xiajinbao Au Deposit at Pingquan, Hebei Province, Northeastern China: Constraints from Geochronology, Geochemistry, and H–O–S–Pb–Hf Isotopes
1
School of Resources and Safety Engineering, Central South University, Changsha 410083, China
2
Key Laboratory of Metallogenic Prediction of Non-Ferrous Metals and Geological Environment Monitoring, Central South University, Ministry of Education, Changsha 410083, China
3
School of Geosciences and Info-Physics, Central South University, Changsha 410083, China
4
China Non-Ferrous Metals Geological Survey, Beijing 100012, China
*
Author to whom correspondence should be addressed.
Received: 13 June 2018 / Revised: 25 July 2018 / Accepted: 26 July 2018 / Published: 31 July 2018
Abstract
The Xiajinbao gold deposit is a medium-sized gold deposit in the Jidong gold province. Ore bodies mainly occur within the Xiajinbao granite porphyry and along the contact zone between the intrusion and Archean plagioclase hornblende gneiss. The zircon LA-ICP-MS age of the Xiajinbao granite porphyry yields 157.8 ± 3.4 Ma, which reflects the metallogenic age of the gold mineralization. Its petrographic features, major and trace element contents, zircon Hf isotopic model ages and compositional features all demonstrate that the Xiajinbao granitic magma is derived from partial melting of the Changcheng unit. The results of H–O isotopic analyses of auriferous quartz veins indicate that the ore-forming fluids are derived from magmatic waters that gradually mixed with meteoric waters during the evolution of the ore-forming fluids. S–Pb isotopic data indicate that the ore-forming fluids were mainly provided by the magma and by plagioclase hornblende gneisses. The gold metallogeny of the Xiajinbao gold deposit is temporally, spatially, and genetically associated with the high-K calc-alkaline-shoshonitic granitic magma emplaced during the Yanshanian orogeny and intruding the Archean plagioclase hornblende gneisses. These magmatic events mainly occurred during the period of 223–153 Ma and comprise three peak periods in the late Triassic (225–205 Ma), the early Jurassic (200–185 Ma) and the middle–late Jurassic (175–160 Ma), respectively. The metallogenic events in this area mainly occurred during the period of 223–155 Ma with the peak periods during the late Triassic (223–210 Ma) and the middle–late Jurassic (175–155 Ma), respectively. Both mineralization and magmatism occurred in a post-collisional tectonic setting related to the collision between the Mongolian plate and the North China plate at the end of the Permian. The magmatism of the early Jurassic occurred during the collision between the Siberian plate and the Mongolian plate, which caused the thickening and melting of the northern margin of the North China plate. The middle and late Jurassic magmatism and metallogenic activities are products of crustal thickening and partial melting during the Yanshanian intra-continental orogeny at the northern margin of the North China plate.
View Full-Text
►

▼

Figures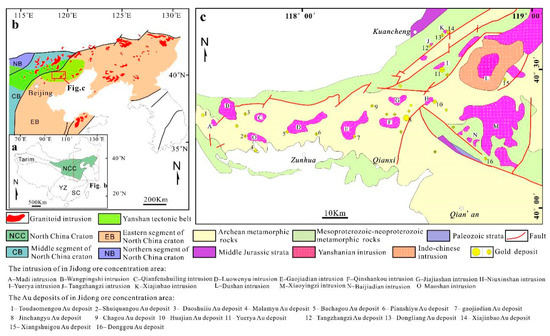 Figure 1
This is an open access article distributed under the
Creative Commons Attribution License
which permits unrestricted use, distribution, and reproduction in any medium, provided the original work is properly cited (CC BY 4.0).

Share & Cite This Article
MDPI and ACS Style
Liu, Q.; Shao, Y.; Liu, Z.; Zhang, J.; Wang, C. Origin of the Granite Porphyry and Related Xiajinbao Au Deposit at Pingquan, Hebei Province, Northeastern China: Constraints from Geochronology, Geochemistry, and H–O–S–Pb–Hf Isotopes. Minerals 2018, 8, 330.
Note that from the first issue of 2016, MDPI journals use article numbers instead of page numbers. See further details here.
Related Articles
Comments
[Return to top]