Comparative Analysis of the Siliceous Source and Organic Matter Enrichment Mechanism of the Upper Ordovician–Lower Silurian Shale in the Upper-Lower Yangtze Area
1
State Key Laboratory of Petroleum Resources and Prospecting, China University of Petroleum, Beijing 102249, China
2
Unconventional Natural Gas Institute, China University of Petroleum, Beijing 102249, China
3
Unconventional Petroleum Collaborative Innovation Center, China University of Petroleum, Beijing 102249, China
4
Research Institute of Petroleum Exploration and Development, Beijing 100083, China
5
Energy and Geoscience Institute, University of Utah, Salt Lake City, UT 84108, USA
6
Research Institute of Unconventional Oil & Gas and Renewable Energy, China University of Petroleum (East China), Qingdao 266580, China
7
Jiangxi Provincial Natural Gas Company, Ltd., Nanchang 330000, China
8
Guangzhou Marine Geological Survey, Guangzhou 510760, China
9
Geoscience Documentation Center, CGS, Beijing 100083, China
10
School of Earth Sciences and Engineering, Xi'an Shiyou University, Xi'an 710065, China
11
School of Earth Sciences and Resources, China University of Geosciences, Beijing 100083, China
*
Authors to whom correspondence should be addressed.
Received: 25 May 2018 / Revised: 20 June 2018 / Accepted: 21 June 2018 / Published: 2 July 2018
Abstract
Organic matter is the material basis of hydrocarbon generation and the abundance of organic matter is a main factor of regional selection and evaluation in shale gas. Also the enrichment is influenced by sedimentary environments. Thus, it is important for the study on the geological factors controlling organic matter enrichment and further to provide scientific basis of regional selection and evaluation by organic matter enrichment area with analysis of the factors. In this paper, the Upper Ordovician–Lower Silurian shale from representative wells in the Upper-Lower Yangtze area is selected as the research object. The goal of this study is to quantitatively calculate the excess siliceous mineral content in shale siliceous minerals and determine the origin of excess silicon based on Al, Fe, and Mn elements; as well as to analyze the sedimentary organic matter enrichment mechanism based on the water body redox environment and bio-productivity. The results show that excess silicon from the Upper Ordovician–Lower Silurian shale in the Upper Yangtze area is biogenic and deposited in closed water bodies. On the one hand, the upper water body contains oxygen, which leads to higher bio-productivity. On the other hand, the lower water body has strong reducibility, which is conducive to sedimentary organic matter preservation. However, the excess silicon in the Upper Ordovician–Lower Silurian shale of the Lower Yangtze area is derived from hydrothermal solution. Hydrothermal activity can enhance the bottom water reducibility, and its nutrient elements can improve bio-productivity and enrich sedimentary organic matter. Therefore, the organic matter enrichment, which depends on the biological productivity and redox conditions, is controlled by the water closure in the Upper Yangtze and hydrothermal activities in the Lower Yangtze respectively. It led to a conclusion that in the process of regional selection and evaluation of shale gas in the Late Ordovician–Early Silurian, it is favorable in the area of relatively strong closure, which is the center of cratonic depression, in the Upper Yangtze and in the hydrotherm-active area, which is the plate connection of the Lower Yangtze and the Cathaysian, in the Lower Yangtze.
View Full-Text
►

▼

Figures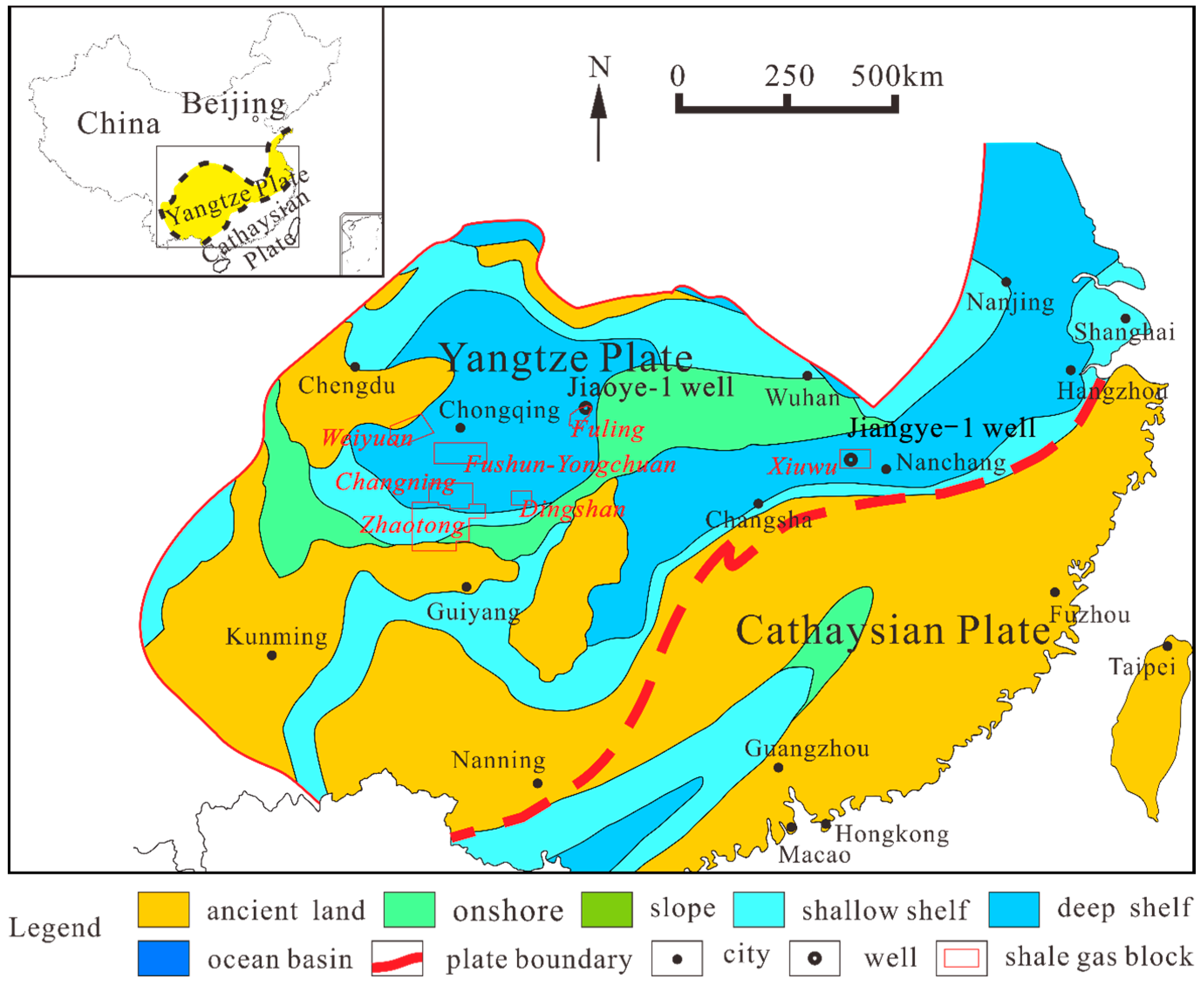 Figure 1
This is an open access article distributed under the
Creative Commons Attribution License
which permits unrestricted use, distribution, and reproduction in any medium, provided the original work is properly cited (CC BY 4.0).

Share & Cite This Article
MDPI and ACS Style
Zhang, K.; Li, Z.; Jiang, S.; Jiang, Z.; Wen, M.; Jia, C.; Song, Y.; Liu, W.; Huang, Y.; Xie, X.; Liu, T.; Wang, P.; Shan, C.; Wu, Y. Comparative Analysis of the Siliceous Source and Organic Matter Enrichment Mechanism of the Upper Ordovician–Lower Silurian Shale in the Upper-Lower Yangtze Area. Minerals 2018, 8, 283.
Note that from the first issue of 2016, MDPI journals use article numbers instead of page numbers. See further details here.
Related Articles
Comments
[Return to top]