Transition from Endothermic to Exothermic Dissolution of Hydroxyapatite Ca5(PO4)3OH–Johnbaumite Ca5(AsO4)3OH Solid Solution Series at Temperatures Ranging from 5 to 65 °C
Faculty of Geology, AGH University of Science and Technology, Geophysics and Environmental Protection, al. Mickiewicza 30, 30-059 Cracow, Poland
*
Author to whom correspondence should be addressed.
Received: 29 May 2018 / Revised: 23 June 2018 / Accepted: 26 June 2018 / Published: 30 June 2018
Abstract
Five crystalline members of the hydroxyapatite (HAP; Ca
5
(PO
4
)
3
OH)–johnbaumite (JBM; Ca
5
(AsO
4
)
3
OH) series were crystallized at alkaline pH from aqueous solutions and used in dissolution experiments at 5, 25, 45, and 65 °C. Equilibrium was established within three months. Dissolution was slightly incongruent, particularly at the high-P end of the series. For the first time, the Gibbs free energy of formation
, enthalpy of formation
, entropy of formation
, and specific heat of formation
were determined for HAP–JBM solid solution series. Based on the dissolution reaction, Ca
5
(AsO
4
)
m
(PO
4
)
3−

m
OH = 5Ca
2+
(aq)
+
m
AsO
4
3−
(aq)
+ (3 −
m
)PO
4
3−
(aq)
+ OH
−
(aq)
, their solubility product K
sp,298.15
was determined. Substitution of arsenic (As) for phosphorus (P) in the structure of apatite resulted in a linear increase in the value of K
sp
: from HAP logK
sp,298.15
= −57.90 ± 1.57 to JBM logK
sp,298.15
= −39.22 ± 0.56. The temperature dependence of dissolution in this solid solution series is very specific; in the temperature range of 5 °C to 65 °C, the enthalpy of dissolution ΔH
r
varied around 0. For HAP, the dissolution reaction at 5 °C and 25 °C was endothermic, which transitioned at around 40 °C and became exothermic at 45 °C and 65 °C.
View Full-Text
►

▼

Figures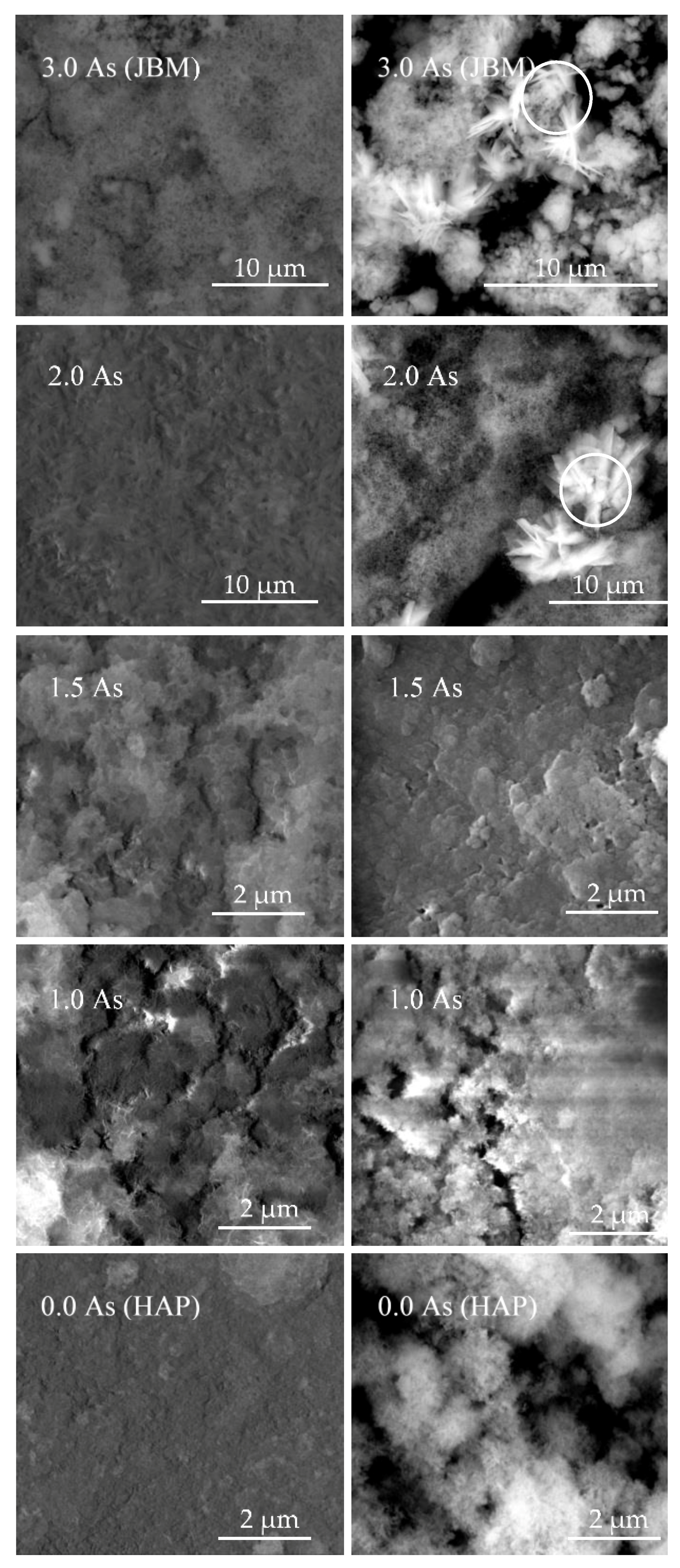 Figure 1
This is an open access article distributed under the
Creative Commons Attribution License
which permits unrestricted use, distribution, and reproduction in any medium, provided the original work is properly cited (CC BY 4.0).

Share & Cite This Article
MDPI and ACS Style
Puzio, B.; Manecki, M.; Kwaśniak-Kominek, M. Transition from Endothermic to Exothermic Dissolution of Hydroxyapatite Ca5(PO4)3OH–Johnbaumite Ca5(AsO4)3OH Solid Solution Series at Temperatures Ranging from 5 to 65 °C. Minerals 2018, 8, 281.
Note that from the first issue of 2016, MDPI journals use article numbers instead of page numbers. See further details here.
Related Articles
Comments
[Return to top]