Effect of Ammonium Chloride on the Efficiency with Which Copper Sulfate Activates Marmatite: Change in Solution Composition and Regulation of Surface Composition
Faculty of Land Resource Engineering, Kunming University of Science and Technology, Kunming 650000, China
*
Authors to whom correspondence should be addressed.
Received: 14 May 2018 / Revised: 7 June 2018 / Accepted: 11 June 2018 / Published: 13 June 2018
Abstract
Zinc sulfide minerals are the primary choice for zinc extraction and marmatite is one of the two most common zinc sulphide minerals (sphalerite and marmatite), therefore it is of great significance to study and optimize the flotation of marmatite. To improve the activation of copper sulfate on marmatite, a method involving the addition of ammonium chloride is devised. The method has been proven to be an effective way of improving the activation efficiency of copper sulfate towards marmatite under alkaline conditions. The strengthening mechanism was studied using micro-flotation, adsorption test, X-ray photoelectron spectroscopy, and by analyzing changes in solution composition. Flotation test results show that the activation effect of the copper sulfate towards marmatite is enhanced with the addition of ammonium chloride. According to the results of the adsorption measurements and X-ray photoelectron spectroscopy analysis, when the marmatite surface is activated using copper sulfate with added ammonia chloride, it adsorbs more copper sulfide and less copper hydroxide and zinc hydroxide. These changes in surface composition are believed to occur via the following process: NH
3
(aq) promotes the dissolution of zinc hydroxide and then facilitates the conversion of surface copper hydroxide to copper sulfide. In addition, the occurrence of Cu(NH
3
)
n
2+
can promote the adsorption of copper ions (Cu
2+
can be stored as Cu(NH
3
)
n
2+
via complexation, and then, when the concentration of copper ions decreases, Cu
2+
can be released through the decompositionof Cu(NH
3
)
n
2+
. Hence, the copper ion concentration can be maintained and this can facilitate the adsorption of Cu
2+
on marmatite). Based on a comprehensive analysis of all our results, we propose that adding ammonium chloride to the copper sulfate changes the solution components (i.e., the presence of NH
3
(aq) and Cu(NH
3
)
n
2+
) and then regulates the surface composition of marmatite. The change in surface composition improves the hydrophobicity of mineral surface and this leads to an improvement in activation of marmatite.
View Full-Text
►

▼

Figures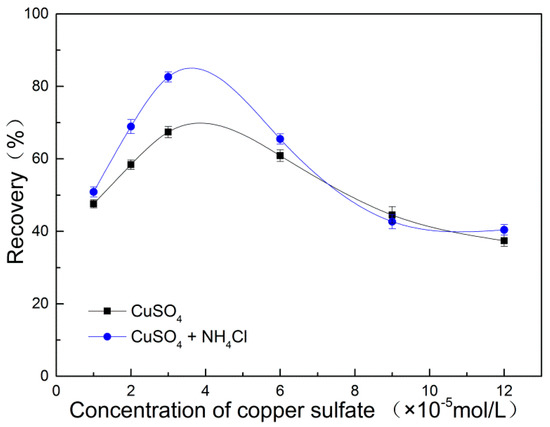 Figure 1
This is an open access article distributed under the
Creative Commons Attribution License
which permits unrestricted use, distribution, and reproduction in any medium, provided the original work is properly cited (CC BY 4.0).

Share & Cite This Article
MDPI and ACS Style
Zhang, S.; Feng, D.; Tong, X.; Yang, B.; Xie, X. Effect of Ammonium Chloride on the Efficiency with Which Copper Sulfate Activates Marmatite: Change in Solution Composition and Regulation of Surface Composition. Minerals 2018, 8, 250.
Note that from the first issue of 2016, MDPI journals use article numbers instead of page numbers. See further details here.
Related Articles
Comments
[Return to top]