Multiple Stage Ore Formation in the Chadormalu Iron Deposit, Bafq Metallogenic Province, Central Iran: Evidence from BSE Imaging and Apatite EPMA and LA-ICP-MS U-Pb Geochronology
1
Department of Earth Sciences, University of New Brunswick, Fredericton, NB E3B 5A3, Canada
2
Faculty of Earth Sciences, Shahid Beheshti University, Evin, P.O. Box 1983969411, Tehran, Iran
3
Department of Geology, Payame Noor University, P.O. Box 193953697, Tehran, Iran
*
Author to whom correspondence should be addressed.
Received: 29 September 2017 / Revised: 21 February 2018 / Accepted: 23 February 2018 / Published: 27 February 2018
Abstract
The Chadormalu magnetite-apatite deposit in Bafq metallogenic province, Central Iran, is hosted in the late Precambrian-lower Cambrian volcano-sedimentary rocks with sodic, calcic, and potassic alterations characteristic of iron oxide copper-gold (IOCG) and iron oxide-apatite (IOA) ore systems. Apatite occurs as scattered irregular veinlets and disseminated grains, respectively, within and in the marginal parts of the main ore-body, as well as apatite-magnetite veins in altered wall rocks. Textural evidence (SEM-BSE images) of these apatites shows primary bright, and secondary dark areas with inclusions of monazite/xenotime. The primary, monazite-free fluorapatite contains higher concentrations of Na, Si, S, and light rare earth elements (LREE). The apatite was altered by hydrothermal events that led to leaching of Na, Si, and REE + Y, and development of the dark apatite. The bright apatite yielded two U-Pb age populations, an older dominant age of 490 ± 21 Ma, similar to other iron deposits in the Bafq district and associated intrusions, and a younger age of 246 ± 17 Ma. The dark apatite yielded a U-Pb age of 437 ± 12 Ma. Our data suggest that hydrothermal magmatic fluids contributed to formation of the primary fluorapatite, and sodic and calcic alterations. The primary apatite reequilibrated with basinal brines in at least two regional extensions and basin developments in Silurian and Triassic in Central Iran.
View Full-Text
►

▼

Figures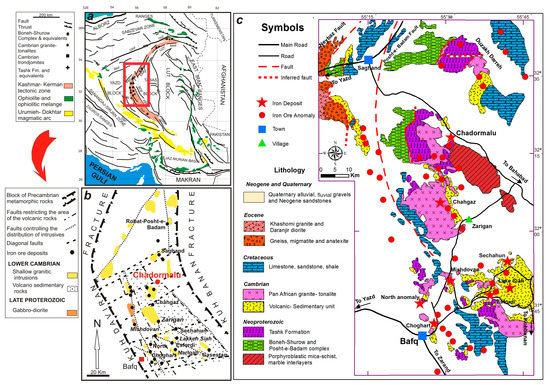 Figure 1
This is an open access article distributed under the
Creative Commons Attribution License
which permits unrestricted use, distribution, and reproduction in any medium, provided the original work is properly cited (CC BY 4.0).

Share & Cite This Article
MDPI and ACS Style
Heidarian, H.; Lentz, D.R.; Alirezaei, S.; McFarlane, C.R.M.; Peighambari, S. Multiple Stage Ore Formation in the Chadormalu Iron Deposit, Bafq Metallogenic Province, Central Iran: Evidence from BSE Imaging and Apatite EPMA and LA-ICP-MS U-Pb Geochronology. Minerals 2018, 8, 87.
Note that from the first issue of 2016, MDPI journals use article numbers instead of page numbers. See further details here.
Related Articles
Comments
[Return to top]