Biological and Geochemical Development of Placer Gold Deposits at Rich Hill, Arizona, USA
1
Department of Geology, California State University, 5500 University Parkway, San Bernardino, CA 92407, USA
2
Department of Earth Sciences, University of California Riverside, 900 University Avenue, Riverside, CA 92521, USA
3
Department of Biology, California State University, 5500 University Parkway, San Bernardino, CA 92407, USA
4
Department of Molecular and Cellular Biology, School of Biological Sciences, The University of Adelaide, Adelaide, South Australia 5005, Australia
5
CSIRO Land and Water, Environmental Contaminant Mitigation and Technologies, PMB2, Glen Osmond, South Australia 5064, Australia
6
J.W. Mining, Wickenburg, AZ 85390, USA
7
Rob's Detectors, Surprise, AZ 85374, USA
*
Author to whom correspondence should be addressed.
Received: 18 January 2018 / Revised: 2 February 2018 / Accepted: 5 February 2018 / Published: 8 February 2018
Abstract
Placer gold from the Devils Nest deposits at Rich Hill, Arizona, USA, was studied using a range of micro-analytical and microbiological techniques to assess if differences in (paleo)-environmental conditions of three stratigraphically-adjacent placer units are recorded by the gold particles themselves. High-angle basin and range faulting at 5–17 Ma produced a shallow basin that preserved three placer units. The stratigraphically-oldest unit is thin gold-rich gravel within bedrock gravity traps, hosting elongated and flattened placer gold particles coated with manganese-, iron-, barium- (Mn-Fe-Ba) oxide crusts. These crusts host abundant nano-particulate and microcrystalline secondary gold, as well as thick biomats. Gold surfaces display unusual plumate-dendritic structures of putative secondary gold. A new micro-aerophilic Betaproteobacterium, identified as a strain of
Comamonas testosteroni
, was isolated from these biomats. Significantly, this 'black' placer gold is the radiogenically youngest of the gold from the three placer units. The middle unit has well-rounded gold nuggets with deep chemical weathering rims, which likely recorded chemical weathering during a wetter period in Arizona's history. Biomats, nano-particulate gold and secondary gold growths were not observed here. The uppermost unit is a pulse placer deposited by debris flows during a recent drier period. Deep cracks and pits in the rough and angular gold from this unit host biomats and nano-particulate gold. During this late arid period, and continuing to the present, microbial communities established within the wet, oxygen-poor bedrock traps of the lowermost placer unit, which resulted in biological modification of placer gold chemistry, and production of Mn-Fe-Ba oxide biomats, which have coated and cemented both gold and sediments. Similarly, deep cracks and pits in gold from the uppermost unit provided a moist and sheltered micro-environment for additional gold-tolerant biological communities. In conclusion, placer gold from the Devils Nest deposits at Rich Hill, Arizona, USA, preserves a detailed record of physical, chemical and biological modifications.
View Full-Text
►

▼

Figures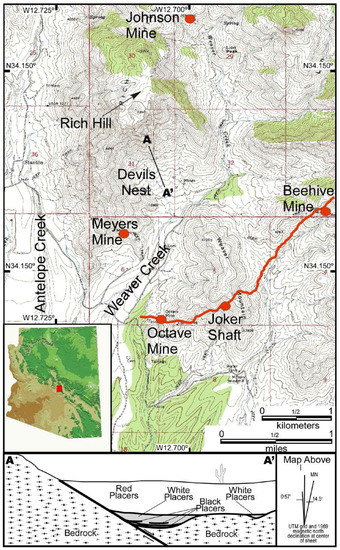 Figure 1
This is an open access article distributed under the
Creative Commons Attribution License
which permits unrestricted use, distribution, and reproduction in any medium, provided the original work is properly cited (CC BY 4.0).

Printed Edition Available!
A printed edition of this Special Issue is available
here
.
Share & Cite This Article
MDPI and ACS Style
Melchiorre, E.B.; Orwin, P.M.; Reith, F.; Rea, M.A.D.; Yahn, J.; Allison, R. Biological and Geochemical Development of Placer Gold Deposits at Rich Hill, Arizona, USA. Minerals 2018, 8, 56.
Note that from the first issue of 2016, MDPI journals use article numbers instead of page numbers. See further details here.
Related Articles
Comments
[Return to top]