A New Zincian Greenockite Occurrence in the Saishitang Cu Skarn Deposit, Qinghai Province, Northwest China
Key Laboratory of Metallogenic Prediction of Non-Ferrous Metals and Geological Environment Monitor (Central South University), Ministry of Education, Changsha 410083, China
*
Author to whom correspondence should be addressed.
Received: 15 June 2017 / Revised: 25 July 2017 / Accepted: 26 July 2017 / Published: 28 July 2017
Abstract
Zn-Cd-S series minerals not only comprise industrial resources for Zn and Cd, but are also significant mineralogical indicators for hydrothermal ore-forming processes. Due to its unique formation conditions and rare occurrence, our understanding of the formation of zincian greenockite in natural systems is limited. Zincian greenockite was discovered during mineralogical studies in the Saishitang Cu skarn deposit, Qinghai Province, Northwest China. This provided an ideal opportunity to assess the occurrence and formation of zincian greenockite in skarn-type deposits. Ore minerals were observed using reflected-light microscopy, and the zincian greenockite was further analyzed using electron-probe microanalysis (EPMA) and X-ray diffraction (XRD). The zincian greenockite occurs in the bornite–chalcopyrite ores and is composed of subhedral to anhedral grains approximately 50 × 150 μm
2
to 200 × 300 μm
2
in size, replaces the bornite, and is replaced by native silver. Two phases (I and II) were identified based on back-scattered electron images, X-ray element-distributions maps, and EPMA data. The textural relationship indicated that Phase I was replaced by Phase II. Phase I contained high Zn (14.6 to 21.7 mol % ZnS) and low Cd (72.4 to 82.2 mol % CdS), while Phase II contained low Zn (5.6 to 9.1 mol % ZnS) and high Cd (85.4 to 89.9 mol % CdS). The zincian greenockite was formed at temperature of 300~270 °C during the transformation from a reducing environment to an oxidizing one in the late stage of the mineralization process in the Saishitang deposit.
View Full-Text
►

▼

Figures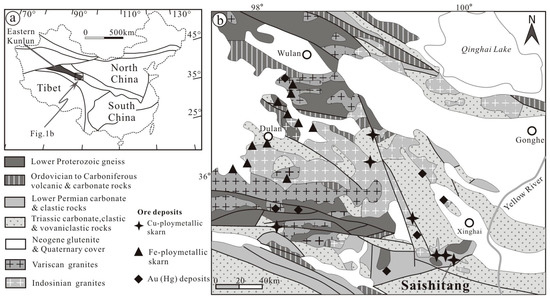 Figure 1
This is an open access article distributed under the
Creative Commons Attribution License
which permits unrestricted use, distribution, and reproduction in any medium, provided the original work is properly cited (CC BY 4.0).

Share & Cite This Article
MDPI and ACS Style
Liu, J.; Zhang, S. A New Zincian Greenockite Occurrence in the Saishitang Cu Skarn Deposit, Qinghai Province, Northwest China. Minerals 2017, 7, 132.
Note that from the first issue of 2016, MDPI journals use article numbers instead of page numbers. See further details here.
Related Articles
Comments
[Return to top]