Experimental Deployment of Microbial Mineral Carbonation at an Asbestos Mine: Potential Applications to Carbon Storage and Tailings Stabilization
1
School of Earth & Environmental Sciences, The University of Queensland, St. Lucia, QLD 4072, Australia
2
School of Earth and Environment, The University of Leeds, Leeds LS2 9JT, UK
3
School of Earth, Atmosphere and Environment, Monash University, Clayton, Melbourne, VIC 3800, Australia
*
Author to whom correspondence should be addressed.
Received: 30 August 2017 / Revised: 19 September 2017 / Accepted: 6 October 2017 / Published: 12 October 2017
Abstract
A microbial mineral carbonation trial was conducted at the Woodsreef Asbestos Mine (NSW, Australia) to test cyanobacteria-accelerated Mg-carbonate mineral precipitation in mine tailings. The experiment aimed to produce a carbonate crust on the tailings pile surface using atmospheric carbon dioxide and magnesium from serpentine minerals (asbestiform chrysotile; Mg
3
Si
2
O
5
(OH)
4
) and brucite [Mg(OH)
2
]. The crust would serve two purposes: Sequestering carbon and stabilizing the hazardous tailings. Two plots (0.5 m
3
) on the tailings pile were treated with sulfuric acid prior to one plot being inoculated with a cyanobacteria-dominated consortium enriched from the mine pit lakes. After 11 weeks, mineral abundances in control and treated tailings were quantified by Rietveld refinement of powder X-ray diffraction data. Both treated plots possessed pyroaurite [Mg
6
Fe
2
(CO
3
)(OH)
16
·4H
2
O] at 2 cm depth, made visible by its orange-red color. The inoculated plot exhibited an increase in the hydromagnesite [Mg
5
(CO
3
)
4
(OH)
2
·4H
2
O] content from 2–4 cm depth. The degree of mineral carbonation was limited compared to previous experiments, revealing the difficulty of transitioning from laboratory conditions to mine-site mineral carbonation. Water and carbon availability were limiting factors for mineral carbonation. Overcoming these limitations and enhancing microbial activity could make microbial carbonation a viable strategy for carbon sequestration in mine tailings.
View Full-Text
►

▼

Figures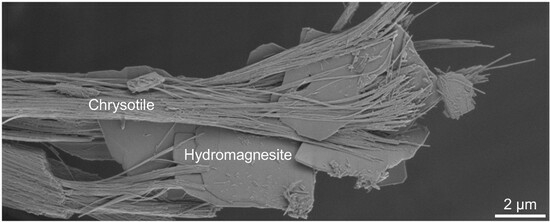 Graphical abstract
This is an open access article distributed under the
Creative Commons Attribution License
which permits unrestricted use, distribution, and reproduction in any medium, provided the original work is properly cited (CC BY 4.0).

Share & Cite This Article
MDPI and ACS Style
McCutcheon, J.; Turvey, C.C.; Wilson, S.A.; Hamilton, J.L.; Southam, G. Experimental Deployment of Microbial Mineral Carbonation at an Asbestos Mine: Potential Applications to Carbon Storage and Tailings Stabilization. Minerals 2017, 7, 191.
Note that from the first issue of 2016, MDPI journals use article numbers instead of page numbers. See further details here.
Related Articles
Comments
[Return to top]