Open Access This article is
freely available
re-usable
Article
A Peculiarly Cerebroid Convex Zygo-Dodecahedron is an Axiomatically Balanced "House of Blues": The Circle of Fifths to the Circle of Willis to Cadherin Cadenzas
Department of Chemistry and Biochemistry, Florida International University, Miami, FL 33199, USA
Received: 24 August 2012; in revised form: 28 October 2012 / Accepted: 6 November 2012 / Published: 15 November 2012
Abstract
:
A bilaterally symmetrical convex dodecahedron consisting of twelve quadrilateral faces is derived from the icosahedron via a process akin to Fuller's Jitterbug Transformation. The unusual zygomorphic dodecahedron so obtained is shown to harbor a bilaterally symmetrical jazz/blues harmonic code on its twelve faces that is related to such fundamental music theoretical constructs as the Circle of Fifths and Euler's tonnetz. Curiously, the patterning within the aforementioned zygo-dodecahedron is discernibly similar to that observed in a ventral view of the human brain. Moreover, this same pattern is arguably evident during development of the embryonic pharynx. A possible role for the featured zygo-dodecahedron in cephalogenesis is considered. Recent studies concerning type II cadherins, an important class of proteins that promote cell adhesion, have generated data that is demonstrated to conform to this zygo-dodecahedral brain model in a substantially congruous manner.
Keywords:
bilateral symmetry; geometrical music theory; dodecahedra; morphogenesis; cephalogenesis; cadherins; brain networks
1. Introduction
The rhombic dodecahedron and trapezo-rhombic dodecahedron are prominent paradigms in the context of the two reported solutions to the famous Kepler Conjecture concerning the most efficient packing of uniform spheres [
1
]. Notably, the patterning of the respective duals of both of these fundamental dodecahedra can be derived in a consistent manner from nature's most symmetrical polyhedron, the icosahedron. Thus, as pointed out by R. Buckminster Fuller in his Jitterbug Transformation [
2
], the removal of a specific set of six edges from the thirty edges of an icosahedron as shown in
Figure 1
generates his so-called Vector Equilibrium, the cuboctahedron (the dual of the rhombic dodecahedron). Similarly, as depicted in
Figure 2
, removal of a different set of six edges from an icosahedron produces the dual of the trapezo-rhombic dodecahedron; namely, the anticuboctahedron (also known as the triangular orthobicupola or Johnson Solid #27). The graphs of the cuboctahedron and anticuboctahedron are both planar quartic graphs on twelve vertices. In terms of connectivity, there are five distinct planar quartic graphs on twelve vertices that can be obtained from an icosahedral graph by removing one of five different sets of six edges. Of these five graphs (shown in
Figure 3
), only the first three have detectable symmetry.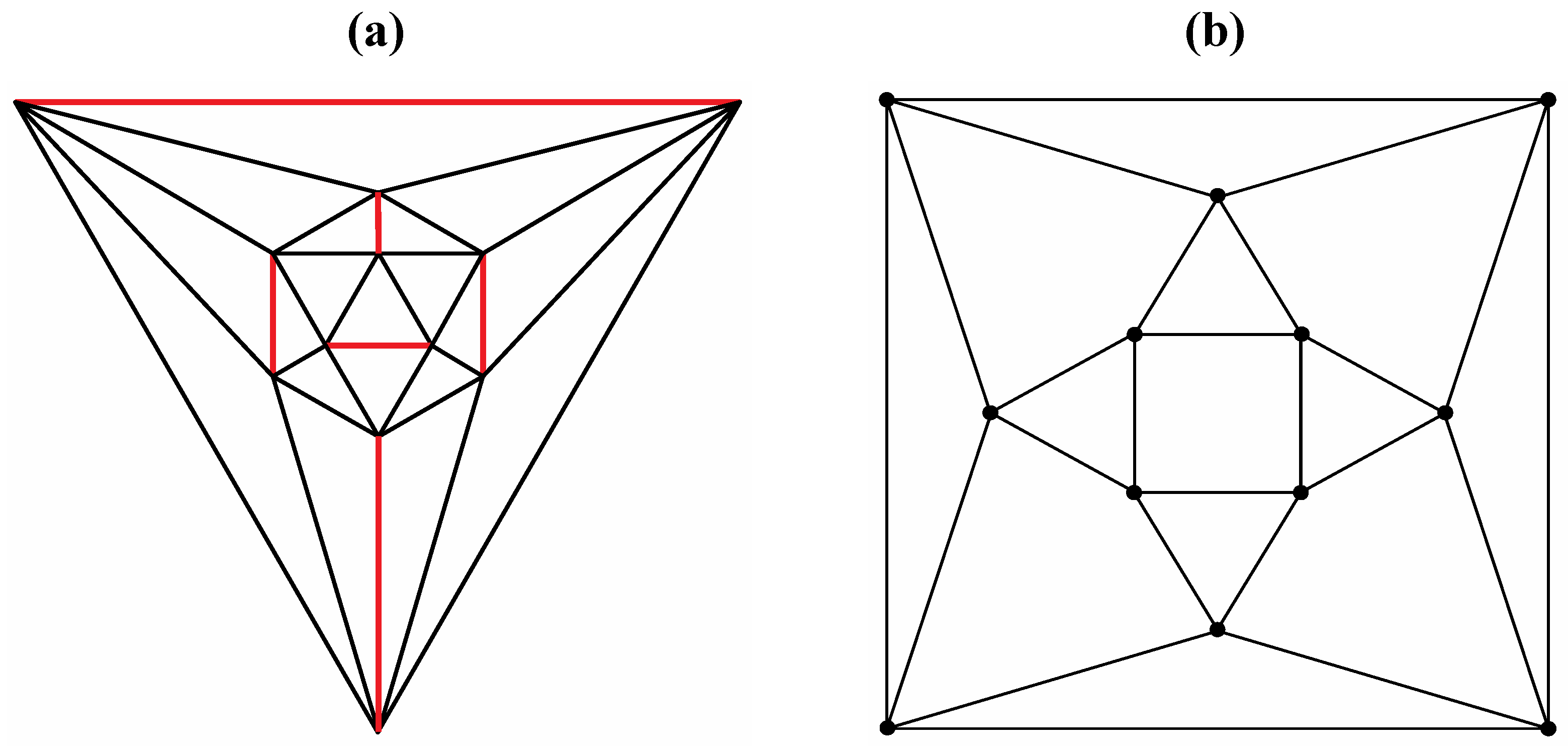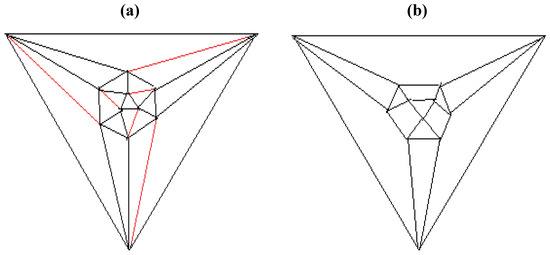 Figure 2. Removal of (a) the six indicated icosahedral graph edges (shown in red) generates (b) the anticuboctahedral graph.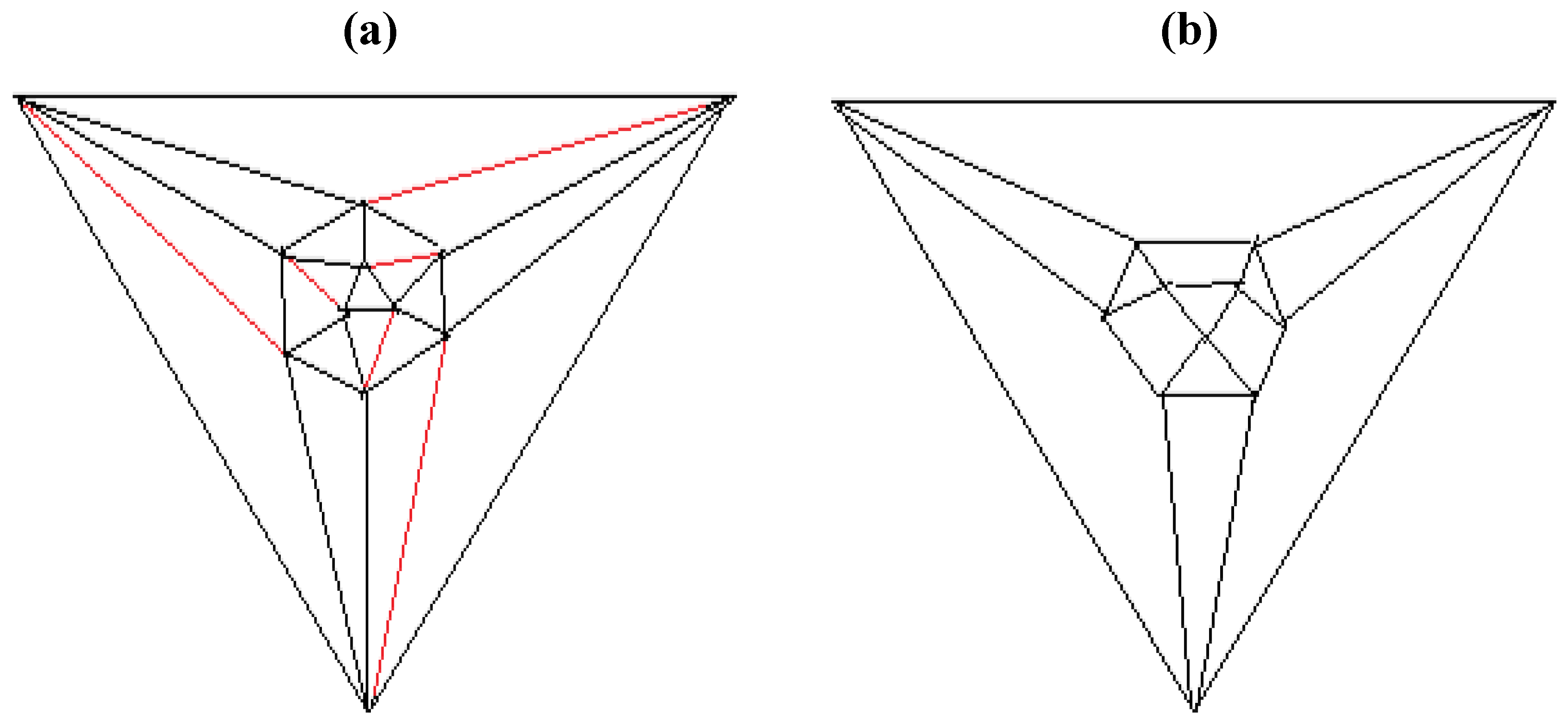 Figure 3
a is that of the cuboctahedron, while
Figure 3
b is that of the anticuboctahedron. Given the importance of the respective dodecahedral duals that correspond to
Figure 3
a,b, it is logical to surmise that the dodecahedral dual of
Figure 3
c may also prove to be an interesting geometrical entity. What then is its structure?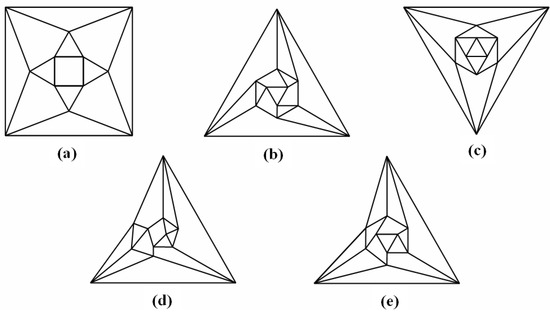 Figure 3. The five planar quartic graphs (a–e) on twelve vertices that can be obtained from the icosahedral graph by removing a set of six edges.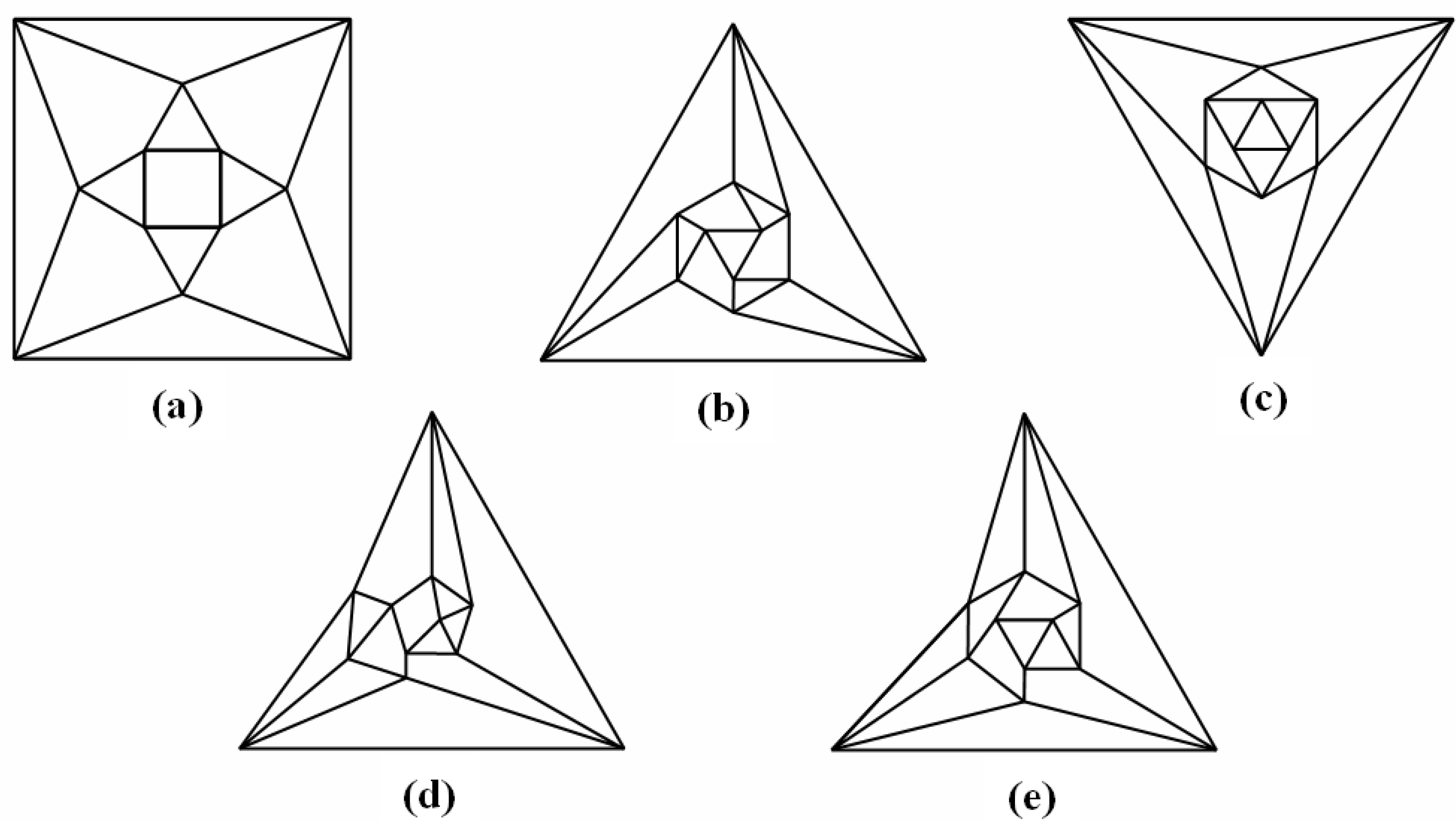 2. Results and Discussion
3. Conclusions
In summary, it seems appropriate to mention that both Kepler [
34
] and Euler [
6
] were so enamored with musical harmony that each of these eminent scientists became devoted to careful contemplation of the subject. Centuries earlier, the Pythagoreans held the Platonic dodecahedron to be a sacred object and the fact that its dual, the icosahedron, can be simply modified to yield a zygomorphic brain-like dodecahedron with cherished harmonic properties that relate to the Circle of Fifths is indeed an unusual chain of associations. Perhaps Sir Thomas Browne said it best as "Nature geometrizeth and observeth order in all things" [
35
].
Acknowledgments
DAB wishes to express infinite thanks to Susan Amy Marcus, for her unwavering support.
© 2012 by the authors. Licensee MDPI, Basel, Switzerland. This article is an open access article distributed under the terms and conditions of the Creative Commons Attribution license ( http://creativecommons.org/licenses/by/3.0/).