Binding of Immunoglobulin G to Protoporphyrin IX and Its Derivatives: Evidence the Fab Domain Recognizes the Protoporphyrin Ring
Laboratory of Veterinary Biochemistry, School of Veterinary Medicine, Kitasato University, Aomori 034-8628, Japan
Received: 15 November 2018 / Revised: 19 December 2018 / Accepted: 27 December 2018 / Published: 4 January 2019
Abstract
Immunoglobulin G (IgG) is known to bind zinc via the Fc domain. In this study, biotinylated protoporphyrin IX (PPIX) was incubated with human IgG and then zinc-immobilized Sepharose beads (Zn-beads) were added to the mixture. After washing the beads, the binding of biotinylated PPIX with IgG trapped on Zn-beads was detected using alkaline phosphatase (ALP)-labeled avidin. Human IgG and its Fab domain coated on microtiter plate wells recognized biotin-labeled PPIX and its derivatives, Fe-PPIX and Zn-PPIX, whereas the Fc domain showed some extent of reaction only with Zn-PPIX. When rabbit anti-bovine transferrin (Tf) antibodies were incubated with biotinylated PPIX, the binding of anti-Tf antibodies with apo-Tf was indirectly detected using ALP-labeled avidin, suggesting that even if the antibody is modified with PPIX, the antibody-antigen reaction occurs. These results suggest that the IgG Fab domain recognizes PPIX and its derivatives, probably via the recognition of the PPIX ring. It is unlikely that binding between the Fab domain and PPIX affects the Fc domain-zinc interaction or antigen-antibody reaction.
View Full-Text
►

▼

Figures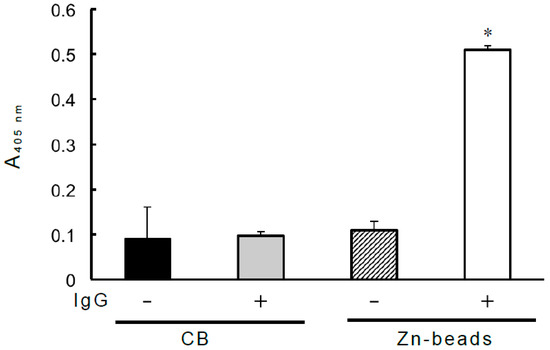 Figure 1
This is an open access article distributed under the
Creative Commons Attribution License
which permits unrestricted use, distribution, and reproduction in any medium, provided the original work is properly cited (CC BY 4.0).

Share & Cite This Article
MDPI and ACS Style
Orino, K. Binding of Immunoglobulin G to Protoporphyrin IX and Its Derivatives: Evidence the Fab Domain Recognizes the Protoporphyrin Ring. Antibodies 2019, 8, 6.
Note that from the first issue of 2016, MDPI journals use article numbers instead of page numbers. See further details here.
Related Articles
Comments
[Return to top]