BPSL1626: Reverse and Structural Vaccinology Reveal a Novel Candidate for Vaccine Design against
Burkholderia pseudomallei
1
Istituto di Chimica del Riconoscimento Molecolare, Consiglio Nazionale delle Ricerche, Via Mario Bianco 9, 20131 Milano, Italy
2
Center for Complexity and Biosystems and Dipartimento di Fisica, Università degli Studi di Milano and INFN, 20133 Milano, Italy
3
Computational Biomedicine Section, Institute of Advanced Simulation IAS-5 and Institute of Neuroscience and Medicine INM-9 Forschungszentrum Jülich, 52425 Jülich, Germany
4
Department of Biosciences, Università degli Studi di Milano, Via Celoria 26, 20133 Milano, Italy
5
Center for Research and Development of Medical Diagnostic Laboratories (CMDL), Faculty of Associated Medical Sciences, Khon Kaen University, Khon Kaen 40002, Thailand
6
Institute of Biotechnology and Biomedicine (IBB), Universitat Autònoma de Barcelona (UAB), 08193 Bellaterra, Spain
7
Catalan Institution for Research and Advanced Studies (ICREA), 08010 Barcelona, Spain
8
Pediatric Clinical Research Center "Romeo ed Enrica Invernizzi", Cryo Electron-Microscopy Laboratory, Università degli Studi di Milano, 20133 Milano, Italy
9
Department of Chemistry, Università di Pavia, 27100 Pavia, Italy
*
Authors to whom correspondence should be addressed.
†
Present address: Frau Pharma Srl, 20864 Agrate Brianza, Italy.
Received: 31 May 2018 / Revised: 16 July 2018 / Accepted: 17 July 2018 / Published: 19 July 2018
Abstract
Due to significant advances in computational biology, protein prediction, together with antigen and epitope design, have rapidly moved from conventional methods, based on experimental approaches, to in silico-based bioinformatics methods. In this context, we report a reverse vaccinology study that identified a panel of 104 candidate antigens from the Gram-negative bacterial pathogen
Burkholderia pseudomallei
, which is responsible for the disease melioidosis.
B. pseudomallei
can cause fatal sepsis in endemic populations in the tropical regions of the world and treatment with antibiotics is mostly ineffective. With the aim of identifying potential vaccine candidates, we report the experimental validation of predicted antigen and type I fimbrial subunit, BPSL1626, which we show is able to recognize and bind human antibodies from the sera of
Burkholderia
infected patients and to stimulate T-lymphocytes in vitro. The prerequisite for a melioidosis vaccine, in fact, is that both antibody- and cell-mediated immune responses must be triggered. In order to reveal potential antigenic regions of the protein that may aid immunogen re-design, we also report the crystal structure of BPSL1626 at 1.9 Å resolution on which structure-based epitope predictions were based. Overall, our data suggest that BPSL1626 and three epitope regions here-identified can represent viable candidates as potential antigenic molecules.
View Full-Text
►

▼

Figures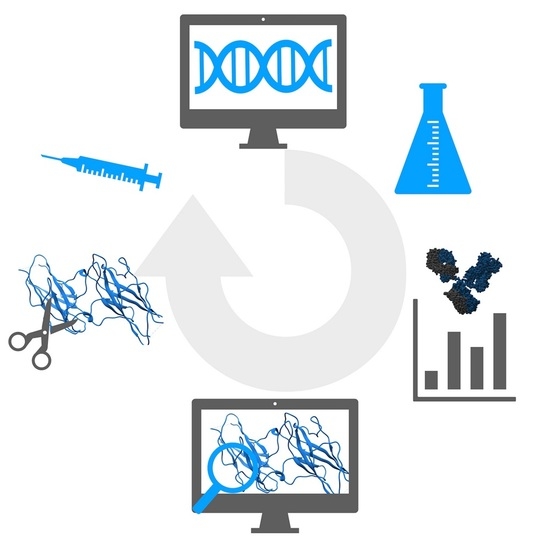 Graphical abstract
This is an open access article distributed under the
Creative Commons Attribution License
which permits unrestricted use, distribution, and reproduction in any medium, provided the original work is properly cited (CC BY 4.0).

Share & Cite This Article
MDPI and ACS Style
Capelli, R.; Peri, C.; Villa, R.; Nithichanon, A.; Conchillo-Solé, O.; Yero, D.; Gagni, P.; Chiari, M.; Lertmemongkolchai, G.; Cretich, M.; Daura, X.; Bolognesi, M.; Colombo, G.; Gourlay, L.J. BPSL1626: Reverse and Structural Vaccinology Reveal a Novel Candidate for Vaccine Design against Burkholderia pseudomallei. Antibodies 2018, 7, 26.
Note that from the first issue of 2016, MDPI journals use article numbers instead of page numbers. See further details here.
Related Articles
Comments
[Return to top]