The PARP1/ARTD1-Mediated Poly-ADP-Ribosylation and DNA Damage Repair in B Cell Diversification
1
Department of Biochemistry and Molecular Biology, Bloomberg School of Public Health, Johns Hopkins University, Baltimore, MD 21205, USA
2
Department of Molecular Microbiology and Immunology, Bloomberg School of Public Health, Johns Hopkins University, Baltimore, MD 21205, USA
3
Department of Oncology, School of Medicine, Johns Hopkins University, Baltimore, MD 21205, USA
4
Sidney Kimmel Comprehensive Cancer Center, Johns Hopkins University, Baltimore, MD 21287, USA
*
Author to whom correspondence should be addressed.
†
These authors contributed equally to this work.
Received: 10 October 2013 / Revised: 6 January 2014 / Accepted: 10 January 2014 / Published: 16 January 2014
Abstract
ADP-ribosylation is an essential post-translational modification, mediated by a family of proteins named poly-ADP-ribose polymerases/Diphtheria toxin-like ADP-ribosyltransferases (PARPs/ARTDs), that functions to assist in cellular homeostasis through an array of mechanisms. Although the function of PARP1/ARTD1-mediated poly-ADP-ribosylation (PARylation) in response to environmental genotoxic stressors has been extensively studied, its role in the regulation and maintenance of cellular events under times of programmed DNA damage and repair remains to be elucidated. In the case of B cell maturation and differentiation, processes such as V(D)J recombination, somatic hypermutation, and class switch recombination, require the induction of DNA strand breaks for the generation of a varied immunoglobulin repertoire and, thus, serve as a model system to explore the function of PARylation in immunological processes. In this review, we summarize the current understanding of ADP-ribosylation and the PARPs/ARTDs family proteins, in particular PARP1/ARTD1-conferred PARylation, in B cells. Following an overview of PARylation in cellular responses to environmental and spontaneous DNA damage, we discuss the emerging function of PARP1/ARTD1 and PARylation in DNA damage-induced nuclear factor kappaB (NF-κB) signaling and B cell maturation and differentiation. Finally, we conclude by underlining further efforts that are needed to understand how the PARPs/ARTDs family proteins and ADP-ribosylation control the development and function of B cells.
View Full-Text
►

▼

Figures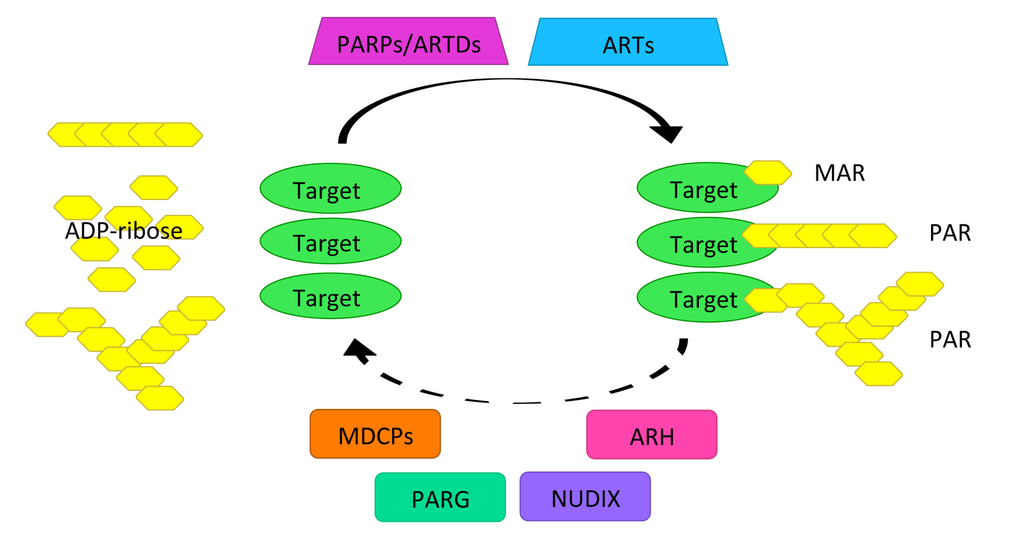 Figure 1

Share & Cite This Article
MDPI and ACS Style
Lasola, J.J.; Hodgson, A.; Sun, X.; Wan, F. The PARP1/ARTD1-Mediated Poly-ADP-Ribosylation and DNA Damage Repair in B Cell Diversification. Antibodies 2014, 3, 37-55.
Related Articles
Comments
[Return to top]