Open Access This article is
freely available
re-usable
Article
A "Young Farmer Problem"? Opportunities and Constraints for Generational Renewal in Farm Management: An Example from Southern Europe
1
Sic4Change—Social Innovation Cluster for Change, Calle Huertas 9, 35480 Agaete, Spain
2
ICAAM—Instituto de Ciências Agrárias e Ambientais Mediterrânicas, Universidade de Évora, Pólo da Mitra, Ap. 94, 7006-554 Évora, Portugal
3
Departamento de Paisagem Ambiente e Ordenamento, ICAAM—Instituto de Ciências Agrárias e Ambientais Mediterrânicas, Escola de Ciências e Tecnologia, Universidade de Évora, Ap. 94, 7006-554 Évora, Portugal
*
Author to whom correspondence should be addressed.
Received: 19 March 2019 / Accepted: 18 April 2019 / Published: 23 April 2019
Abstract
:
The existence of a "young farmer problem" in Europe has been recognized by scientists and policy-makers and is based on the widespread acknowledgement of the poor generational renewal rates in the farming sector and in particular in farmland management across the European Union. Despite existing support policy measures, young farmers (YF) face barriers which hamper the establishment and consolidation of their farming enterprises. Focusing on Alentejo (NUTS II), in Portugal, this paper identifies the difficulties YF face to accessing land, the high investment costs required to set up a farming unit, and the insufficient access to credit as the main reasons why young people are prevented from setting up their farming enterprises. Existing policy support measures targeting YF are widely perceived as inefficient with regard to triggering generational renewal. Hence, our findings suggest that not only is it necessary to pay greater attention to the complex question of land tenure, but that also the impact of policies implemented in the past should be examined in detail in order to develop and implement more effective measures that are sensitive to the different national and regional contexts.
Keywords:
young farmers; barriers; public policies; farming systems; generational renewal
Author Contributions
M.E. led and coordinated work on the paper, including its ideation, analysis, and writing, and provided the data related to the EP project. A.R.S. contributed and analyzed empirical data, also contributing to the writing of the text. J.M.-R. and T.P.C. contributed to the ideation, theoretical underpinning, and elaboration and refinement of the version submitted.
Funding
This work was funded by the European Parliament grant IP/B/AGRI/IC/2017-021 "Research for Agri Committtee: Young Farmers Policy Implementation After the 2013 CAP Reform"; by the NEWBIE project "New Entrant netWork: Business Models for Innovation, Entrepreneurship and Resilience in European Agriculture", grant 772835; and by National Funds through FCT (the Foundation for Science and Technology) under the project UID/AGR/00115/2019.
Acknowledgments
We would like to acknowledge support provided by Maria Helena Guimarães (ICAAM-Universidad de Évora), who facilitated the implementation of the various participatory workshops and stakeholder discussions whose results and findings are reflected in this paper. In addition, we would like to thank participants of the focus group and interviews without whom the arguments and ideas in this paper would have not been possible. We are also thankful for the information provided from the NEWBIE project, from stakeholders and New Entrants meetings, discussions, and case studies data collection.
Conflicts of Interest
The authors declare no conflict of interest. The funders had no role in the design of the study; in the collection, analyses, or interpretation of data; in the writing of the manuscript, or in the decision to publish the results.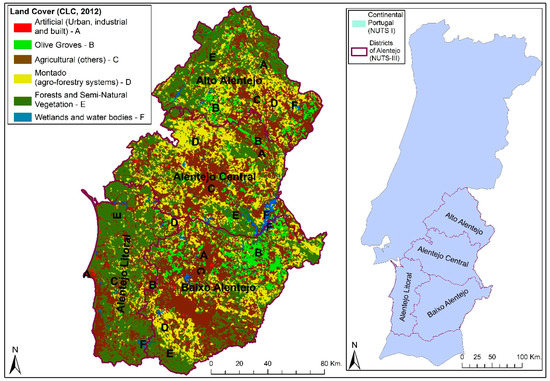 Figure 1.
Location and key land cover classes of the case study area (own elaboration, based on CLC (Corine Land Cover) [
28
]).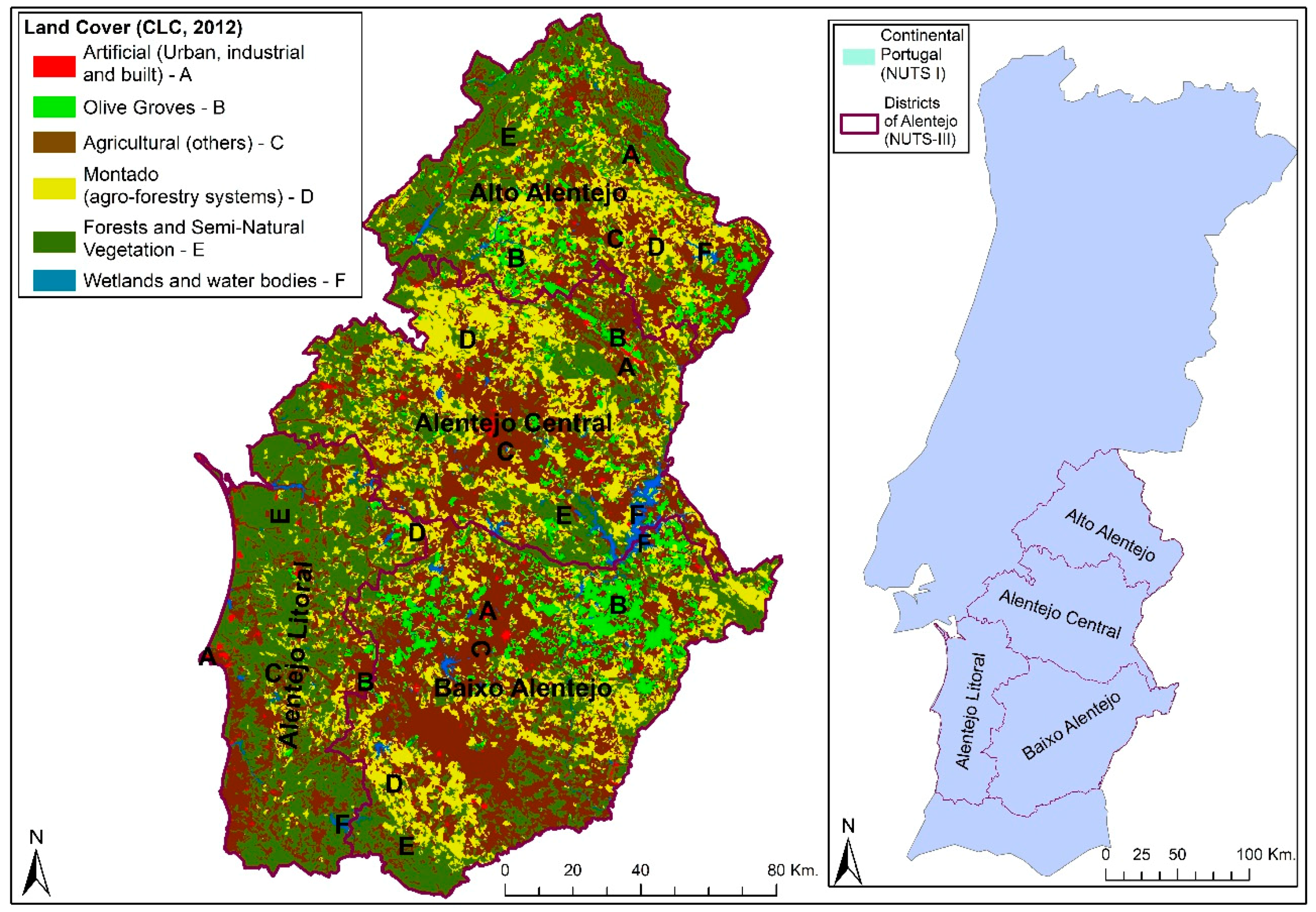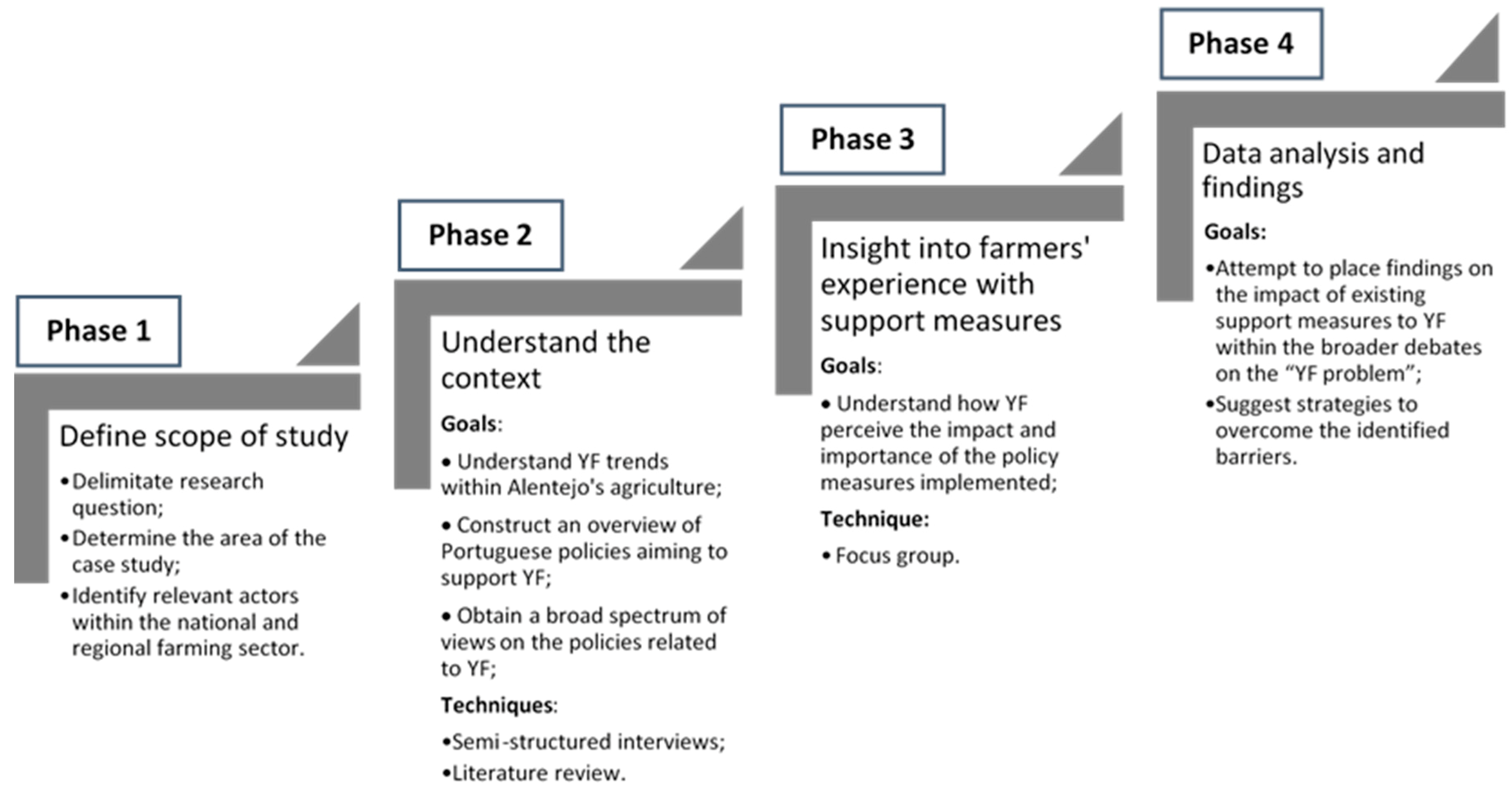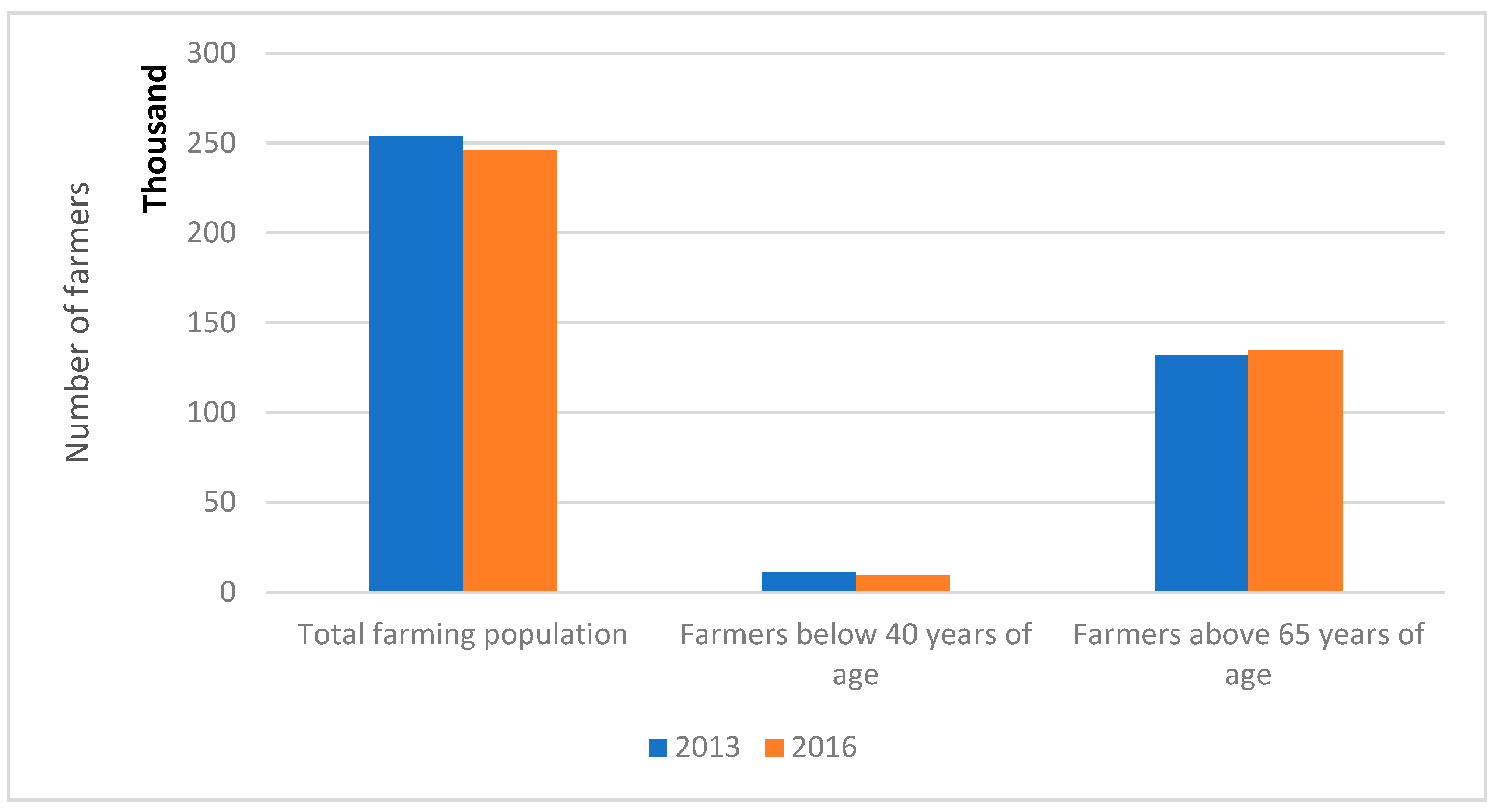 Table 1. Key European Union (EU) and national policies for young farmers (YF) in Portugal and their main characteristics. Legend: CAP, Common Agricultural Policy; CAJA, YF Monitoring Committee.
CAP regulatory framework
Pilar I
YF Direct Payment
25% top-up of the annual basic payment
Pilar II
YF Start-up aid
20,000€ non-refundable start-up aid
Investment Support
10% bonus for YF
Training and counselling support
Support to private institutions which provide training sessions or advisory services to YF
YF application bonification within other schemes
National policies
CAJA
Monitor and analyse barriers and policies linked to YF
Land Bank
Priority given to YF for State owned lands
Positive
Public support and funds are vital, allowing for an initial investment that would be inaccessible through private agencies.
Required business plan contributes to assuring viability of the holding.
Training requirements provide farmers with a higher level of technical knowledge.
Negative
Insufficient funds:
- When funds run out, many applications evaluated as positive are excluded from support.
- Support on investment does not include VAT (Value-Added-Tax).
- Instalment payments (Pillar II) are insufficient to cover kick-off costs.
Outdated method used to calculate Pillar I direct payments (based on productivity estimates from 2001–2003).
Lack of measures supporting access to credit.
Technically and administratively difficult application process.
Evaluation method has poor link to farming reality.
Long and uncertain application process: during this period farmers need to supply money upfront (uncertain of whether it will ever be reimbursed).
Land listed in the Land Reservoir is insufficient, remote, often expensive, and often with poor soils.
Existing supports benefit farmers with higher investment capacity:
- Only YF with access to private funds can get bonification from being dedicated exclusively to farming.
- Increased support depending on previous investments is, in practical terms, only available to farmers with higher investment capacity.

© 2019 by the authors. Licensee MDPI, Basel, Switzerland. This article is an open access article distributed under the terms and conditions of the Creative Commons Attribution (CC BY) license (http://creativecommons.org/licenses/by/4.0/).