Permafrost Boundary Shift in Western Siberia May Not Modify Dissolved Nutrient Concentrations in Rivers
1
BIO-GEO-CLIM Laboratory, Tomsk State University, 634050 Tomsk, Russia
2
Georesources and Environnement Toulouse GET UMR 5563 CNRS, University of Toulouse, 14 Avenue Edouard Belin, 31400 Toulouse, France
3
Climate Impacts Research Centre (CIRC), Department of Ecology and Environmental Science, Umeå University, Linnaeus väg 6, 901 87 Umeå, Sweden
4
N. Laverov Federal Center for Integrated Arctic Research, IEPS, Russian Academy of Sciences, Severnoy Dviny Embankment, 23, 163000 Arkhangelsk, Russia
*
Author to whom correspondence should be addressed.
Received: 10 November 2017 / Revised: 11 December 2017 / Accepted: 13 December 2017 / Published: 17 December 2017
Abstract
Identifying the landscape and climate factors that control nutrient export by rivers in high latitude regions is one of the main challenges for understanding the Arctic Ocean response to ongoing climate change. This is especially true for Western Siberian rivers, which are responsible for a significant part of freshwater and solutes delivery to the Arctic Ocean and are draining vast permafrost-affected areas most vulnerable to thaw. Forty-nine small- and medium-sized rivers (10–100,000 km
2
) were sampled along a 1700 km long N–S transect including both permafrost-affected and permafrost-free zones of the Western Siberian Lowland (WSL) in June and August 2015. The N, P, dissolved organic and inorganic carbon (DOC and DIC, respectively), particular organic carbon (POC), Si, Ca, K, Fe, and Mn were analyzed to assess the role of environmental parameters, such as temperature, runoff, latitude, permafrost, bogs, lake, and forest coverage on nutrient concentration. The size of the watershed had no influence on nutrient concentrations in the rivers. Bogs and lakes retained nutrients whereas forests supplied P, Si, K, Ca, DIC, and Mn to rivers. The river water temperature was negatively correlated with Si and positively correlated with Fe in permafrost-free rivers. In permafrost-bearing rivers, the decrease in T northward was coupled with significant increases in PO
4
, P
tot
, NH
4
, pH, DIC, Si, Ca, and Mn. North of the permafrost boundary (61° N), there was no difference in nutrient concentrations among permafrost zones (isolated, sporadic, discontinuous, and continuous). The climate warming in Western Siberia may lead to a permafrost boundary shift northward. Using a substituting space for time scenario, this may decrease or maintain the current levels of N, P, Si, K, Ca, DIC, and DOC concentrations in rivers of continuous permafrost zones compared to the present state. As a result, the export flux of nutrients by the small- and medium-sized rivers of the Western Siberian subarctic to the Arctic Ocean coastal zone may remain constant, or even decrease.
View Full-Text
►

▼

Figures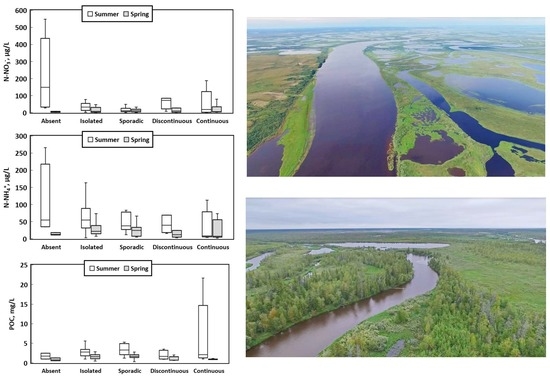 Graphical abstract
This is an open access article distributed under the
Creative Commons Attribution License
which permits unrestricted use, distribution, and reproduction in any medium, provided the original work is properly cited (CC BY 4.0).
Supplementary materials
Supplementary File 1:

DOCX-Document (DOCX, 825 KB)

Externally hosted supplementary file 1
Doi: DOI: 10.13140/RG.2.2.19454.08005
Description: Physico-geographical parameters of rivers, results of statistical treatment, latitudinal pattern of nutrient concentrations for rivers of different size and impact of permafrost on nutrient concentration in rivers

Share & Cite This Article
MDPI and ACS Style
Vorobyev, S.N.; Pokrovsky, O.S.; Serikova, S.; Manasypov, R.M.; Krickov, I.V.; Shirokova, L.S.; Lim, A.; Kolesnichenko, L.G.; Kirpotin, S.N.; Karlsson, J. Permafrost Boundary Shift in Western Siberia May Not Modify Dissolved Nutrient Concentrations in Rivers. Water 2017, 9, 985.
Note that from the first issue of 2016, MDPI journals use article numbers instead of page numbers. See further details here.
Related Articles
Comments
[Return to top]