Open Access This article is
freely available
re-usable
Article
Composition of Groundwater Bacterial Communities before and after Air Surging in a Groundwater Heat Pump System According to a Pyrosequencing Assay
1
School of Earth and Environmental Sciences, Seoul National University, Seoul 08826, Korea
2
Geo3eco Co., Ltd, Kangwon National University, Chuncheon 200-701, Korea
3
Department of Geology and Geophysics, Kangwon National University, Chuncheon 200-701, Korea
*
Author to whom correspondence should be addressed.
Received: 29 September 2017 / Accepted: 13 November 2017 / Published: 15 November 2017
Abstract
:
The geothermal energy of groundwater has aroused increasing interest as a solution to climate change. The groundwater heat pumps (GWHP) system using groundwater is the most environmentally friendly system to date and has been examined in several studies. However, biological clogging by microorganisms negatively affects the thermal efficiency of the GWHP system. In this study, we employed air surging, the most popular among well management methods, and pyrosequencing to analyze the genetic diversity in bacteria before and after air surging in a geothermal well. Furthermore, the diversity of dominant bacterial genera and those related to clogging were evaluated. The bacterial diversity of the groundwater well increased after air surging. Nevertheless, the proportion of bacterial genera thought to be related to microbiological clogging decreased. In cooling and heating systems based on the geothermal energy of groundwater, the wells should be maintained regularly by air surging to reduce efficiency problems caused by microbiological clogging and to prevent secondary damage to human health, e.g., pneumonia due to human pathogenic bacteria including
Pseudomonas aeruginosa
and
Acinetobacter
.
Keywords:
groundwater heat pumps; GWHP; bacterial community composition; efficiency; clogging; pyrosequencing; air surging
2. Materials and Methods
2.2. Water Sampling and Chemical Analysis
Groundwater before and after cleansing was sampled on 25 August 2015 in order to assess water quality before and after air surging. The onsite water quality (temperature, pH, electrical conductivity (EC), oxidation reduction potential (ORP), and dissolved oxygen) was evaluated in the field, and the water quality analysis (Ca2+, Na+, Mg2+, K+, Zn2+, Fe2+, Al3+, NO3−, Cl−, SO42−, F−, and SiO2) was carried out in the laboratory. The onsite water quality parameters were measured with a portable meter, YSI556 (YSI, Yellow Springs, OH, USA). For indoor water quality analysis, water was pumped until there was no difference in the water temperature, and a water sample was collected when the water quality stabilized. The collected sample was passed through 0.45 µm filter paper to remove impurities. Nitric acid at the concentration 0.05 N was used for acid treatment, and the anion and cation samples were collected into 100 mL sterile water collection bottles, frozen below 4 °C, and transported to the laboratory. Laboratory analysis was performed by the Natural Science Research Support Center of Sangji University.
2.3. Air Surging
Air surging was conducted in August 2015. The air surging procedure involved pressurized air at ~2000 psi (150 atm), which was injected into the screen of the casing or near well walls in the aquifer of study site groundwater well.
Figure 5
a shows a photo of interior of the groundwater well before air surging and (b) a view inside the groundwater well after air surging.
2.4. Microbial Analysis
A 3000 mL sample of groundwater was passed through a 0.2 µm pore size filter (Millipore, Billerica, MA, USA). Total DNA was extracted according to the manufacturer's instructions after filtering by means of the i-Genomic Soil DNA Extraction Mini Kit (iNtRON Biotechnology, Kyungki-Do, Korea) and the extraction was confirmed using a Qubit fluorometer (Invitrogen, Carlsbad, CA, USA). The 8-27F and 1492-1510R primers were used to amplify a fragment of the bacterial 16S ribosomal RNA (rRNA) gene. The procedures, including reagent composition, reaction conditions, and electrophoresis for polymerase chain reaction (PCR) amplification, were the same as those described by Lee et al. [
28
]. An amplicon band of approximately 1.5 kb was observed (data not shown). Pyrosequencing analysis of the PCR product was conducted by Macrogen Co., Ltd. (Seoul, Korea). The platform used for the analysis was the MiSeq v4 hyper variable, and the results were analyzed after special processing, including the exclusion of nonspecific nucleic acid sequences.
3. Results and Discussion
3.1. Physicochemical Data
The water temperature ranged between 11.7 and 22.5 °C. Seasonal changes were clearly detectable, with the highest temperatures in the summer (21.6 °C) and lowest in winter (11.7 °C); pH showed a wide range, between 4.4 and 8.3, but the typical range was between 6.0 and 8.3, except for the value measured in July 2016. There was no seasonal change in pH. Dissolved oxygen concentration ranged from 1.42 to 5.88 mg/L and was relatively high in the summer (4.10 mg/L) during rainfall, whereas in other seasons, it showed general average of DO values in a groundwater (2.23 mg/L). Electrical conductivity ranged from 186 to 350 μS/cm and was the lowest in May and highest in August 2016. Except for these two periods, electrical conductivity was 235 μS/cm, showing stable values (
Figure 6
).
Groundwater was compared before and after air surging. The water temperature, pH, ORP, and EC before air surging were 19.2 °C, 6.7, −8.9 mV, and 220 μS/cm, respectively. The water temperature was dropped steadily after the air surging procedure, whereas pH decreased after air surging and then tended to increase. ORP and EC increased and then decreased (
Figure 7
). Changes in temperature of the groundwater seemed to be influenced by the atmosphere, and the fluctuations of parameters such as EC, ORP and pH varied greatly after air surge but recovered over time. Air surging does not seem to have a significant effect on the physicochemical properties of the groundwater wells.
3.2. Microbial Data
Pyrosequencing analysis indicated that the sample analyzed by means of a rarefaction curve could explain the metagenomic findings (data not shown). In this analysis, 709,386 and 668,033 reads were obtained before and after air surging, respectively. Biodiversity increased from 5.0 before air surging up to 6.5 after (
Table 1
), and the dominance showed a minimal difference with values of 0.93 and 0.97 (
Table 1
), respectively. Particularly, 519 operational taxonomic units (OTUs) were detected before air surging and 775 after, showing an increase of 256 OTUs. The number of OTUs with a 0.5% prevalence rate or higher increased from 25 to 41, whereas the number of OTUs with prevalence 0.1–0.4% increased from 48 to 89. Thus, bacterial communities became more diverse after air surging (
Table 1
).
Phylum level analysis showed that the phylum Proteobacteria was dominant with prevalence 83.6%, and that Bacteroidetes was the second most dominant phylum, accounting for 6.7% of OTUs in the geothermal well. The pattern changed after the air surging. The prevalence of Proteobacteria decreased to 46.6% after air surging and additional phyla were detected, such as Actinobacteria, Bacteroidetes, Acidobacteria, and Chloroflexi (
Figure 8
). Particularly, the proportion of the class Gammaproteobacteria in Proteobacteria decreased from 39.4% to 1.8% (decrease of 37.6%) and that of the class Betaproteobacteria decreased by 8.4%. The prevalence of classes belonging to Proteobacteria changed too; for example, the prevalence of class Deltaproteobacteria increased from 0.4% to 7.8% (increase of 7.4%;
Supplementary Materials Table S1
).
In the genus level analysis, the top seven genera accounted for 67.3% of OTUs in the geothermal well before air surging. Among them, the genus
Gallionella
was dominant, accounting for 17.4% of OTUs, and the genus
Acinetobacter
was in second place at 15.8%.
Pseudomonas
accounted for 11.7% of OTUs. The class Betaproteobacteria-OTU25,
Stenotrophomonas
, class Betaproteobacteria-OTU05, and
Enterobacter
had relatively high prevalence rates before air surging, and these rates tended to decrease after the purging. Candidatus
Planktophila
, which had prevalence of 2.4% before air surging, became dominant at 11.2% after air surging, and the prevalence rates of the class Betaproteobacteria-OTU05, phylum Bacteroidetes-OTU44, and class Betaproteobacteria-OTU25 ranged from 5.2% to 6.4% after air surging.
In addition, the genera with prevalence rates lower than 1.0%, or below the detection limit before air surging, such as
Geobacter
(3.5%) and
Sulfuritalea
(2.4%) increased in prevalence after air surging; thus, diversity increased in general (
Figure 9
and
Supplementary Materials Table S2
). Analysis of bacterial genera that were thought to be related to clogging revealed that the dominant OTU was the genus
Gallionella
, which accounted for 17.4% of OTUs before air surging.
Gallionella
is known as an anaerobic iron bacteria. Only a single species,
G. ferruginea
, has been reported previously [
31
,
32
], and its role in the environment remains unclear.
Nevertheless, iron reducing bacteria use oxygen to form rust and can create slimy materials that get attached to well pipes, pumps, and plumbing fixtures [
33
]. Furthermore, OTUs with prevalence rates of 11.7% and 2.2% were identified as
Pseudomonas
and
Flavobacterium
. These genera inhabit a wide variety of environments and play important roles in the environment [
33
]. Among them, some species are reported to produce exopolysaccharides and are related to biofilms [
14
,
34
]. In contrast,
Gallionella
prevalence decreased from 17.4% to 1.7% after air surging,
Pseudomonas
decreased from 11.7% to below 0.1%, and
Flavobacterium
from 2.2% to 0.4%. The genus known to purify organisms,
Geobacter
, increased in prevalence from 0.1% to 3.5% (
Figure 9
and
Supplementary Materials Table S2
).
The genus
Acinetobacter
, which was the second most dominant, accounting for 15.8% of OTUs prior to air surging, inhabits environments such as soil, freshwater, sewage, and wastewater, and 44 species have been reported [
35
]. This genus is known to perform an important function mainly in soil. However, A.
baumannii
and A.
lwoffi
belonging to the genus
Acinetobacter
are suspected human pathogens that are the source of strains causing pneumonia and may cause various other infections such as the infection of skin wounds, bacteremia, and meningitis [
36
,
37
]. The genus
Acinetobacter
decreased in prevalence from 15.8% to 0.2% after air surging. During the practical use of cooling and heating by means of geothermal wells, secondary damage may occur, and thus follow-up monitoring should be conducted in order to eliminate possible human pathogenic bacteria, e.g.,
P. aeruginosa
and
Acinetobacter
.
4. Conclusions
This study analyzed the genetic diversity of bacteria, by pyrosequencing, in a geothermal well before and after air surging. The groundwater of the geothermal well was neglected for 24 months before air surging. Before the procedure, the well showed a relatively low bacterial diversity, and the proportion of the bacterial genera believed to be related to microbiological clogging was high. After air surging, diversity increased, whereas clogging-related taxa decreased in prevalence. Further studies of microorganisms that may cause secondary damage are needed. According to our results, it is necessary to perform regular maintenance at least once every 24 months by air surging in order to improve efficiency and to reduce the risk of secondary damage such as the biological clogging of cooling and heating systems that are based on the geothermal energy of groundwater.
Supplementary Materials
The following are available online at
www.mdpi.com/2073-4441/9/11/891/s1
, Table S1: Class comparison of phylum Proteobacteria before and after air surging, Table S2: Comparison of major bacterial communities before and after air surging.
Acknowledgments
This study was supported by the Korean Ministry of Environment under "GAIA project (2014000530001)".
Author Contributions
Heejung Kim, Jong-Koo Mok and Kang-Kun Lee were responsible for research design. Heejung Kim, Youngyun Park and Dugin Kaown analyzed the data, and prepared figures. Heejung Kim drafted the main text. Jong-Koo Mok and Youngyun Park participated in the sampling. Heejung Kim, Dugin Kaown and Kang-Kun Lee polished the manuscript. All authors participated in discussions and editing.
Conflicts of Interest
The authors declare no conflict of interest.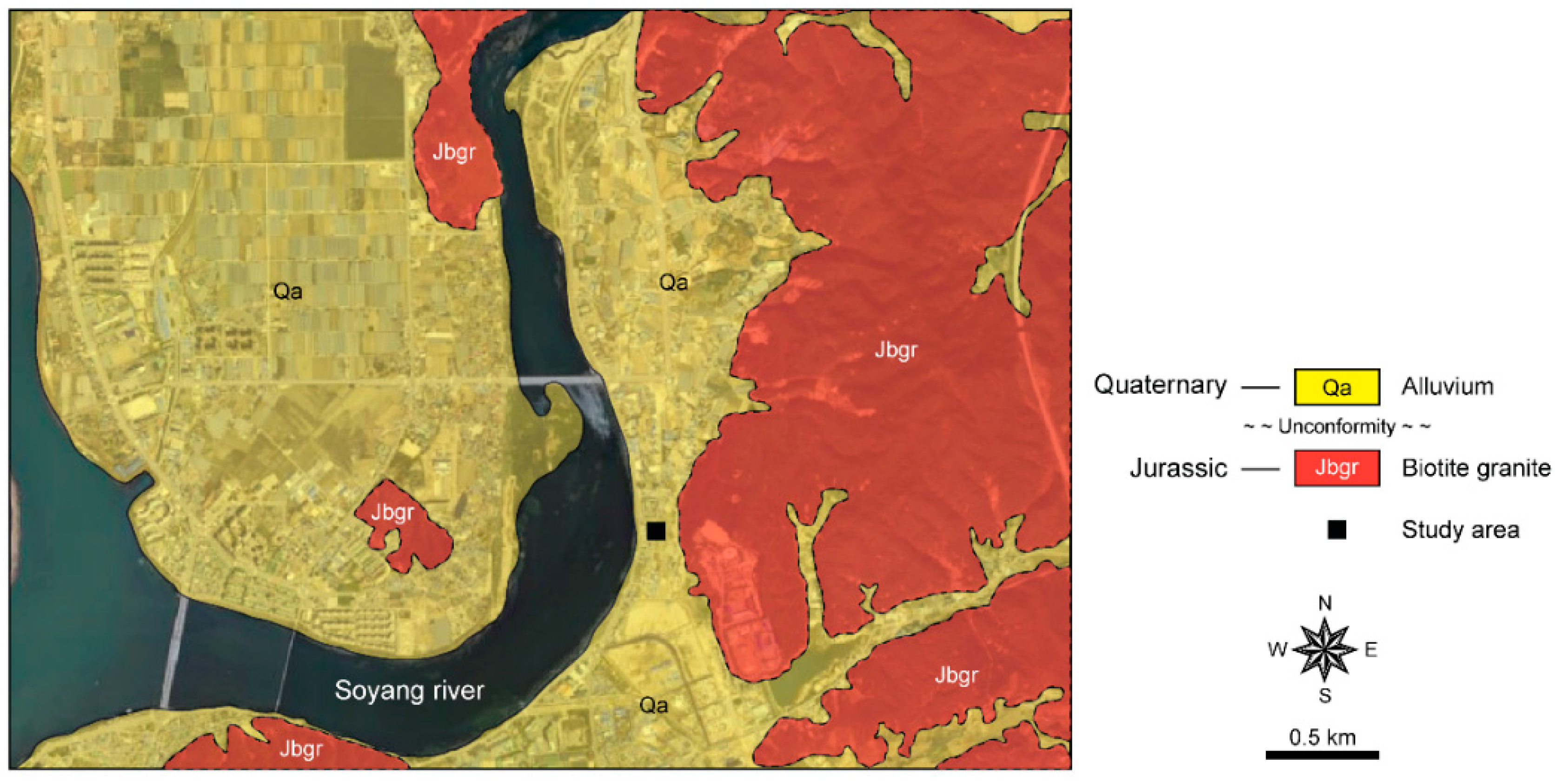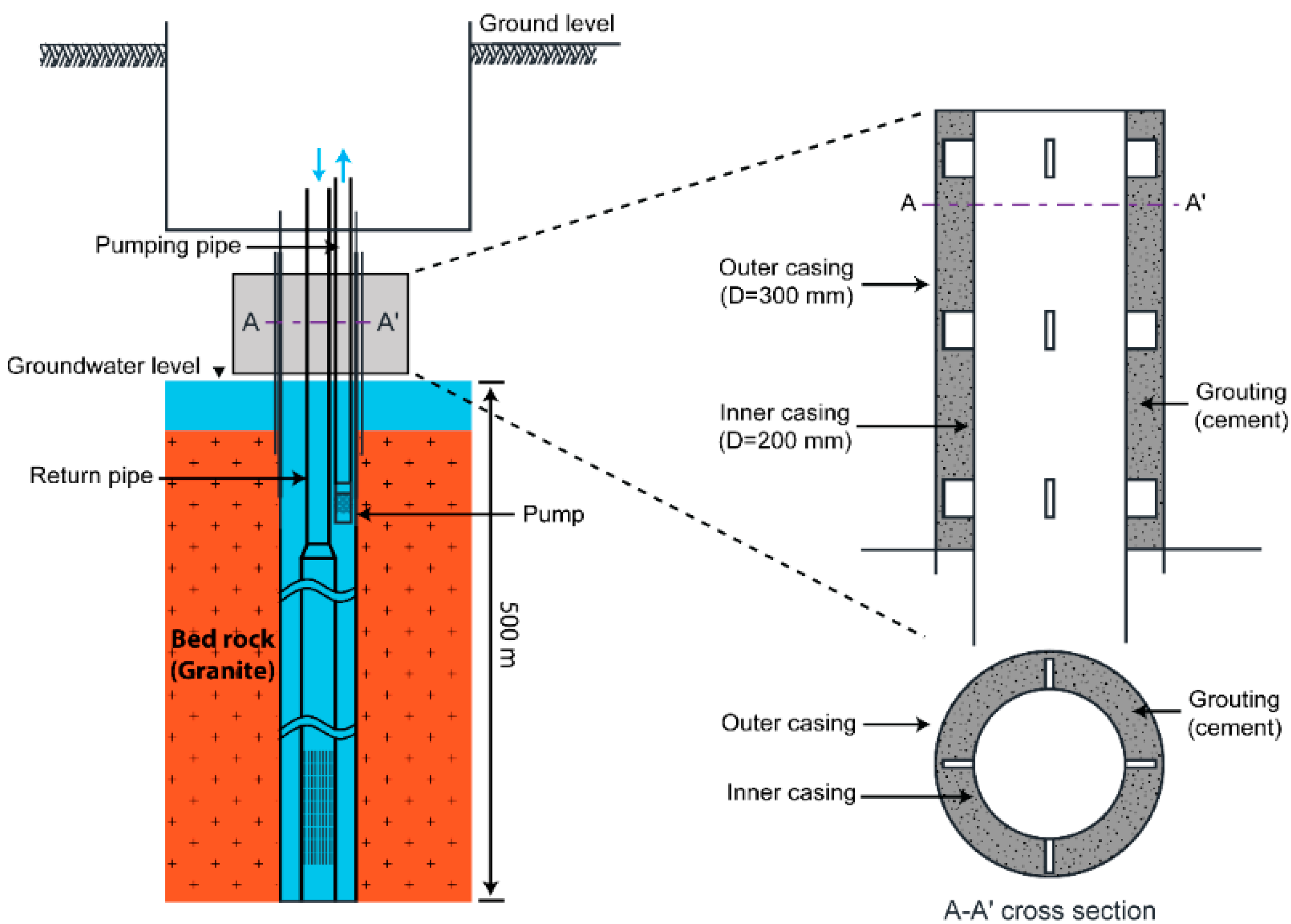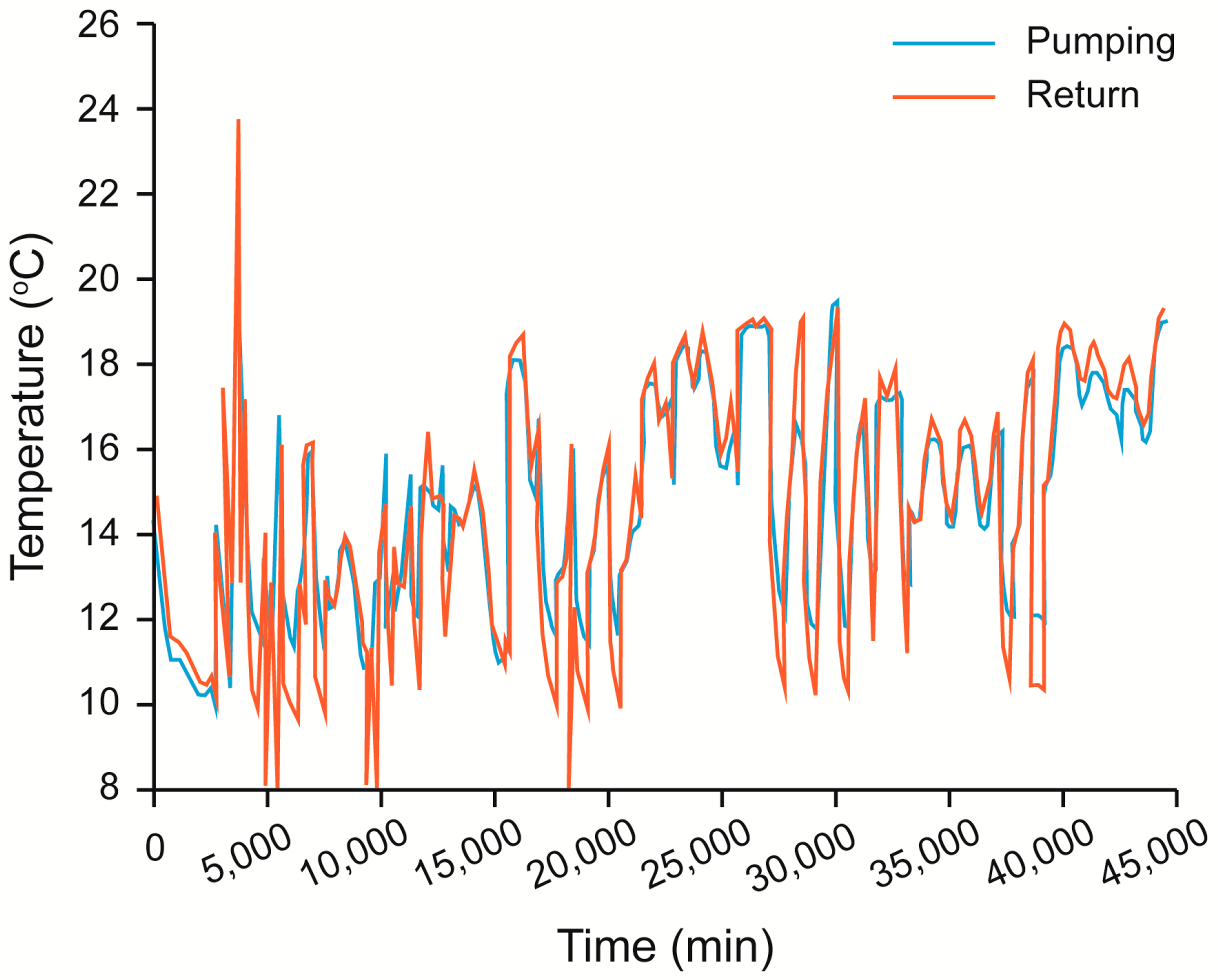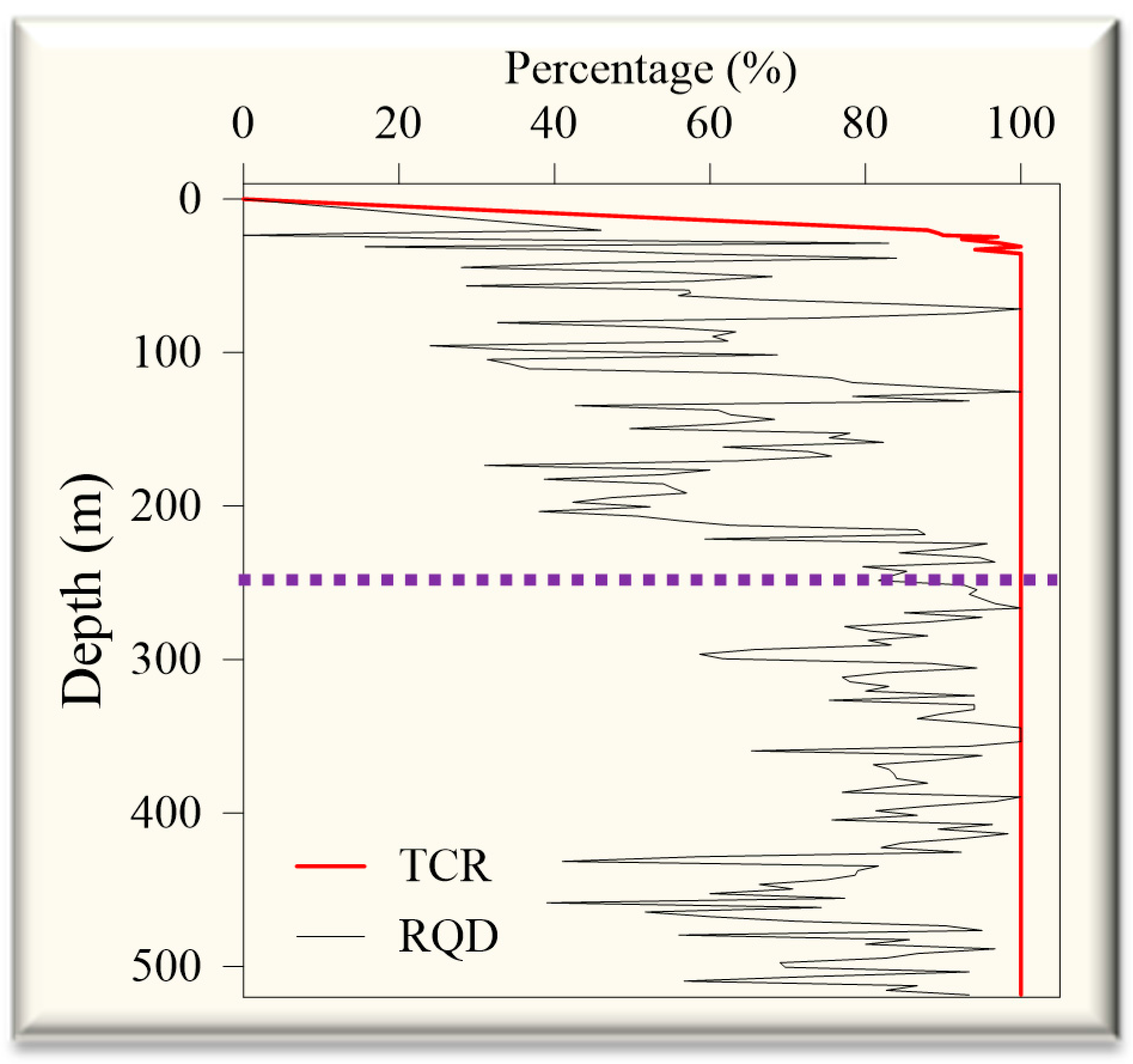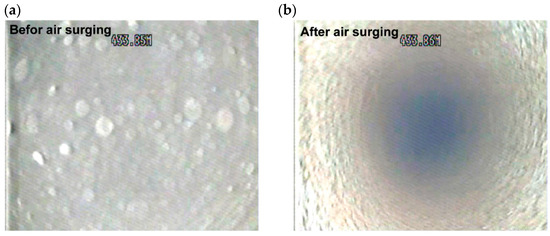 Figure 5. (a) A photo of the interior of the groundwater well before air surging, (b) a photo of the interior of the groundwater well after air surging.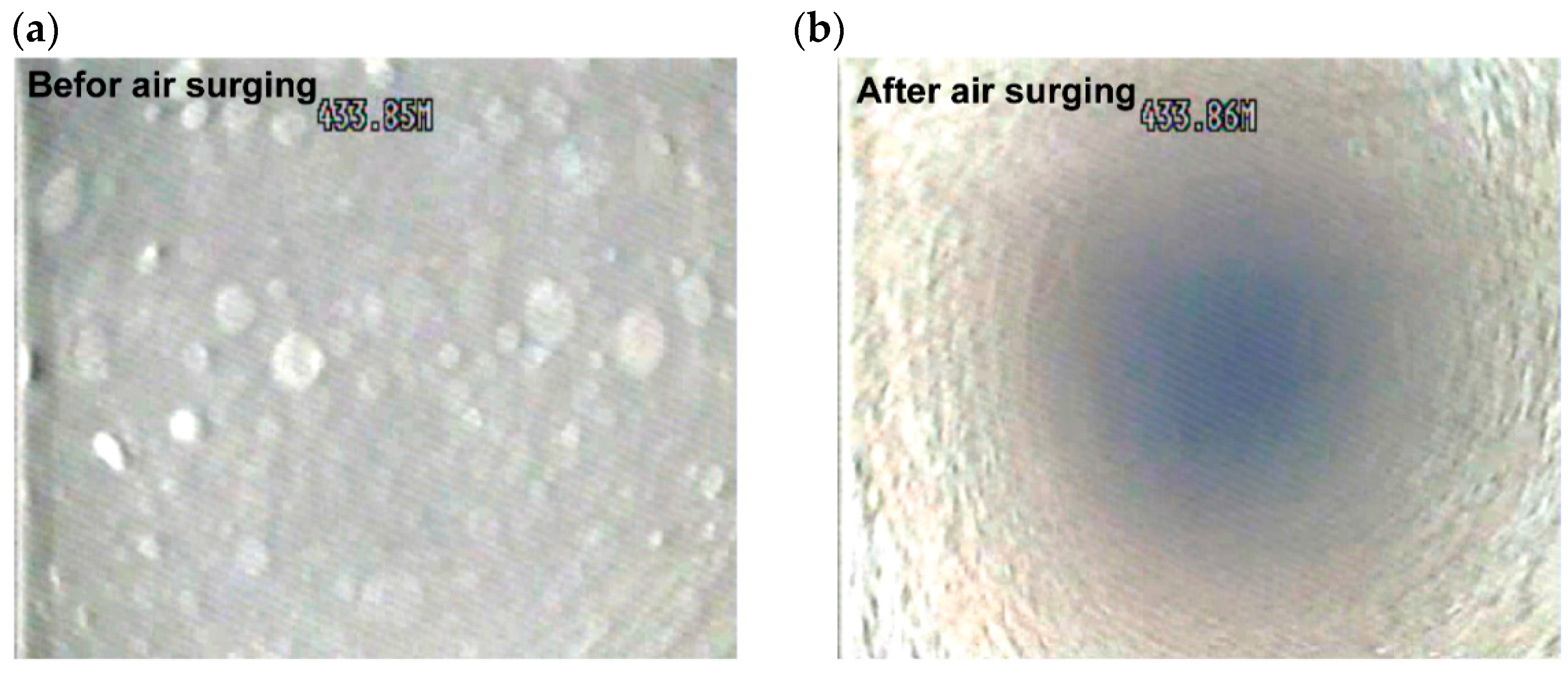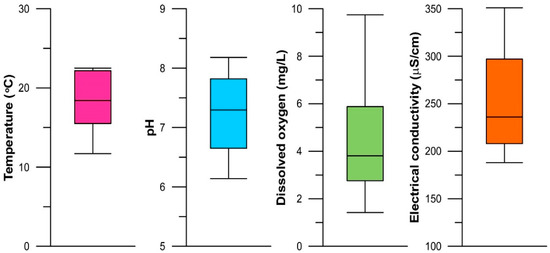 Figure 6. The range of measured water temperatures, pH, dissolved oxygen concentrations, and electrical conductivity in the well being monitored.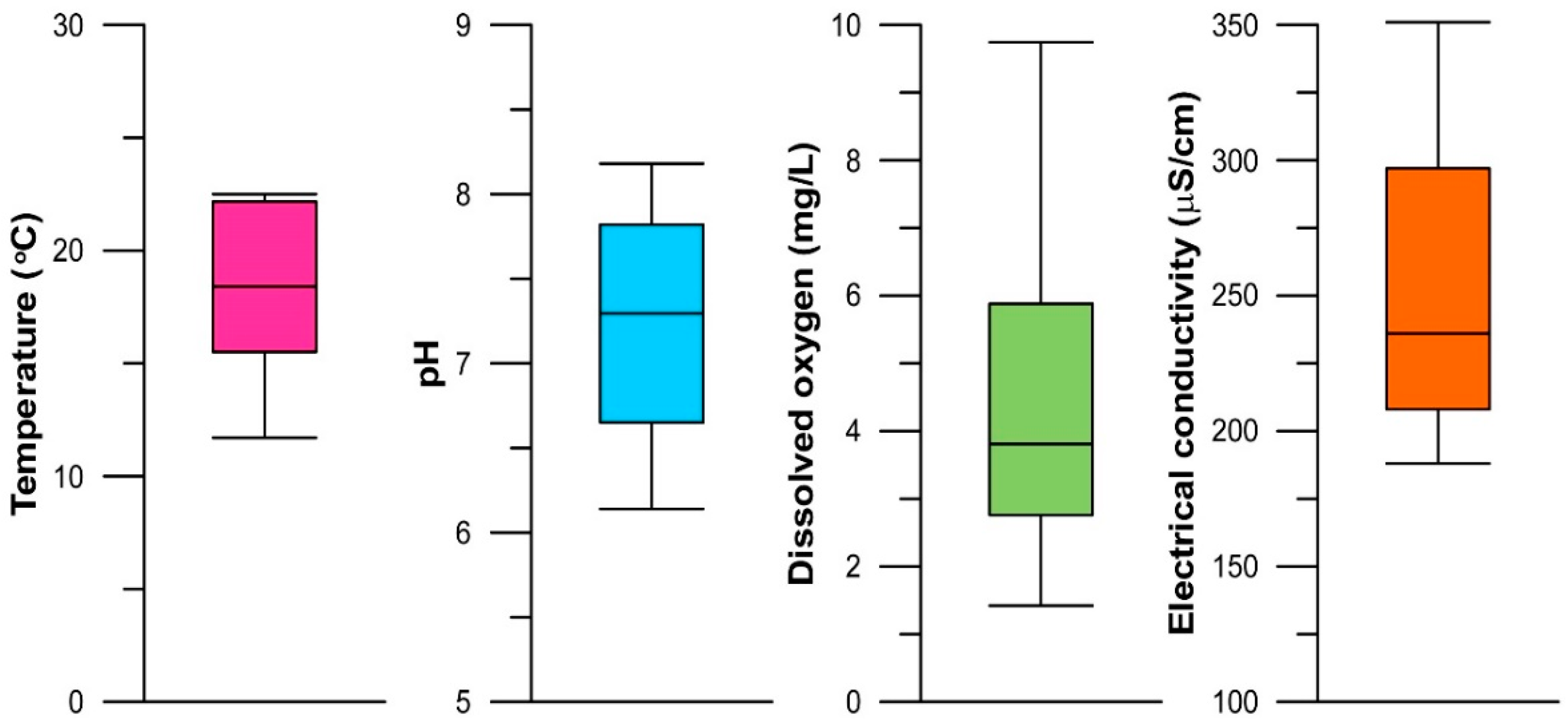 Figure 7. Temporal variation of water temperature, pH, dissolved oxygen, and electrical conductivity before and after air surging.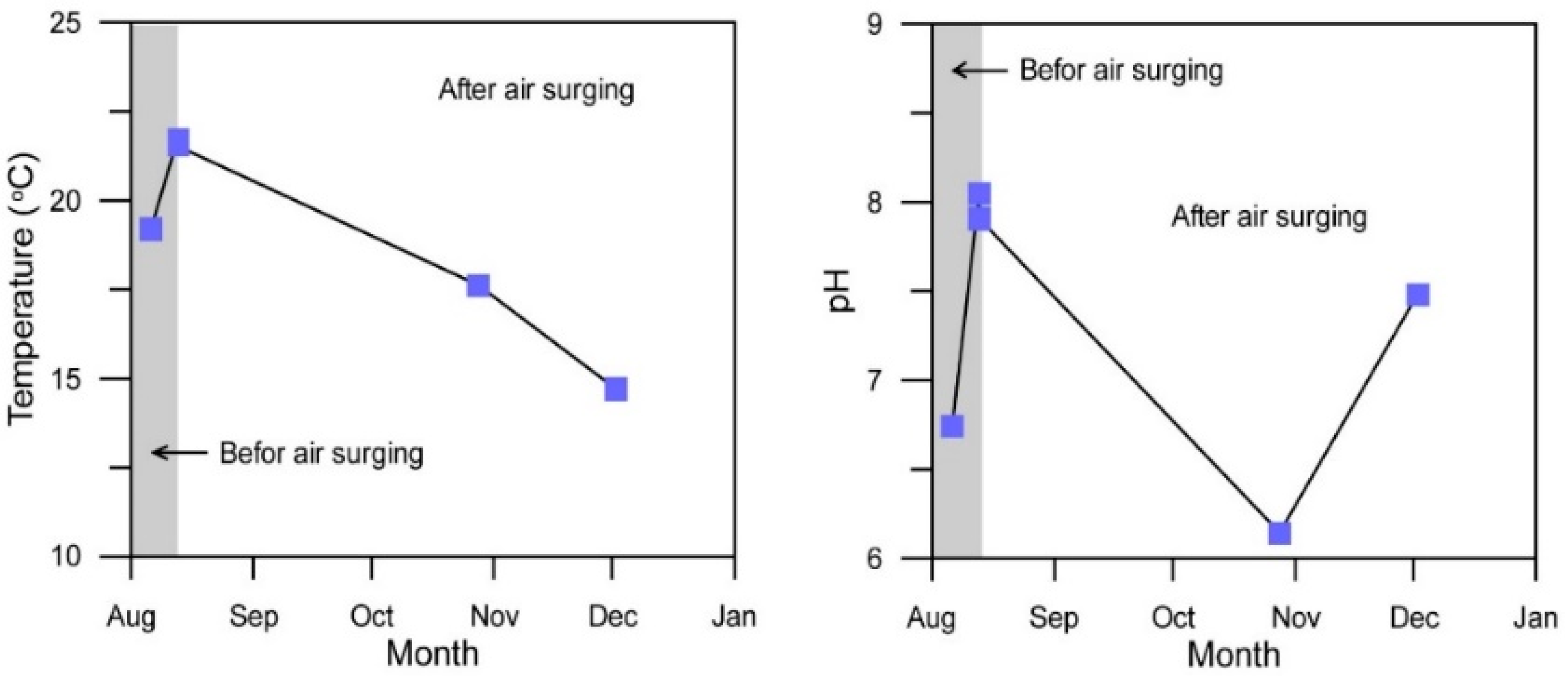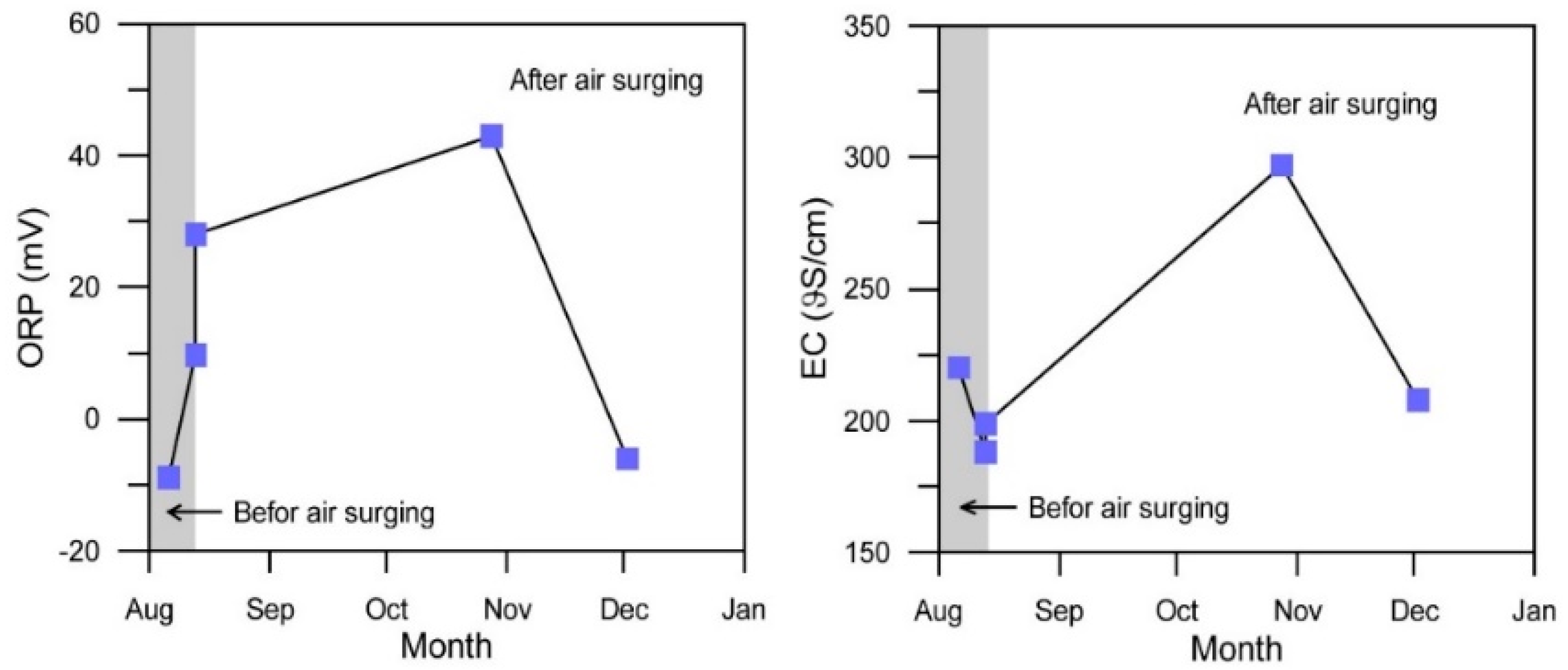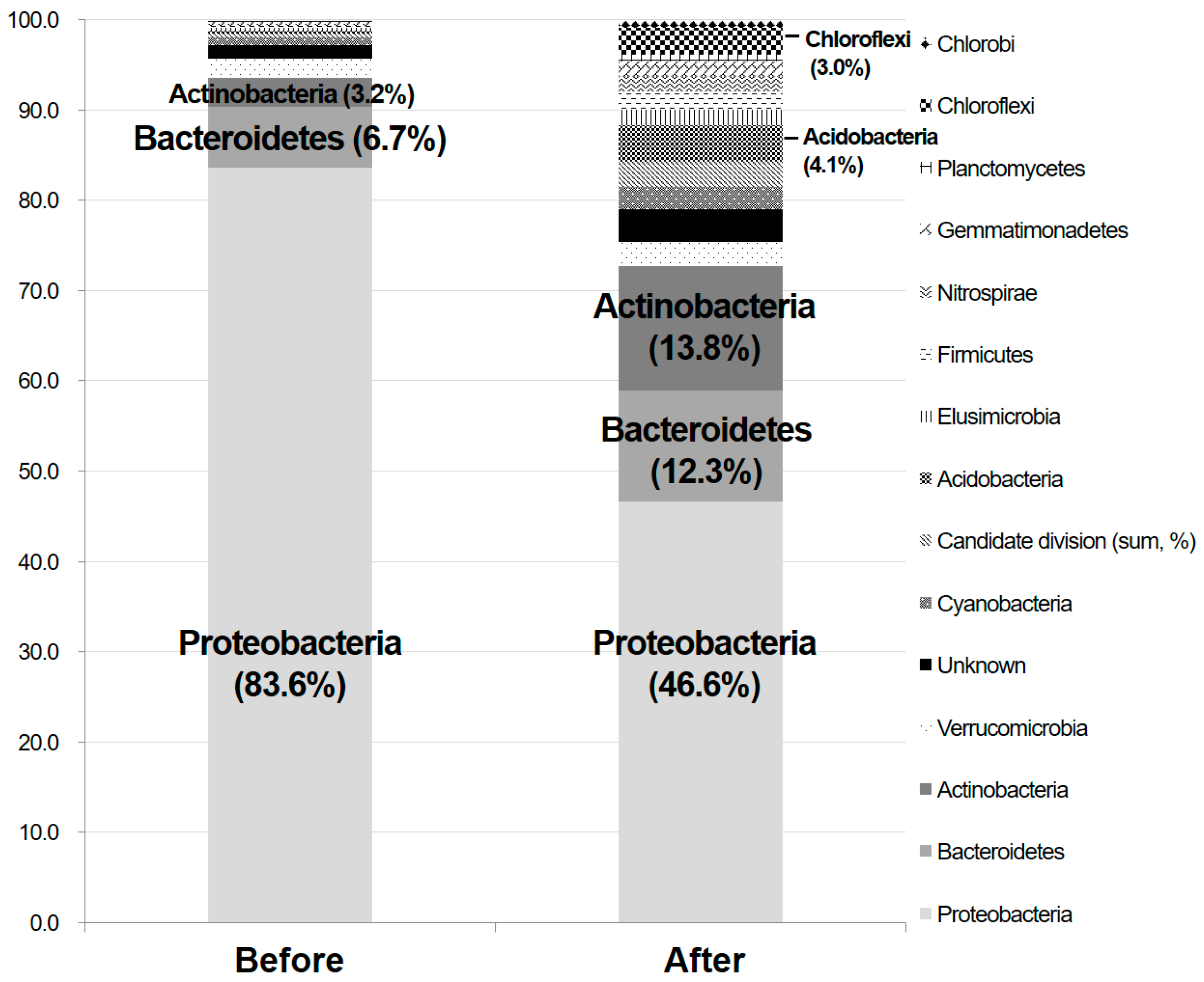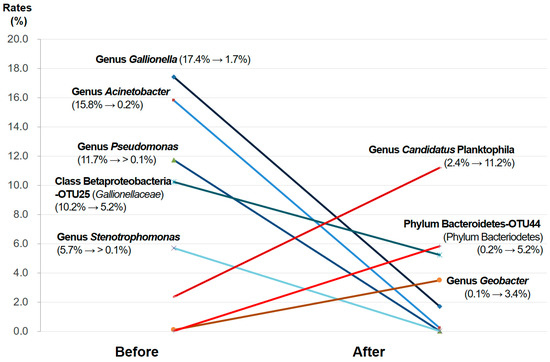 Figure 9. Comparison of major changes in genus or OTU level prevalence rates of taxa before and after air surging.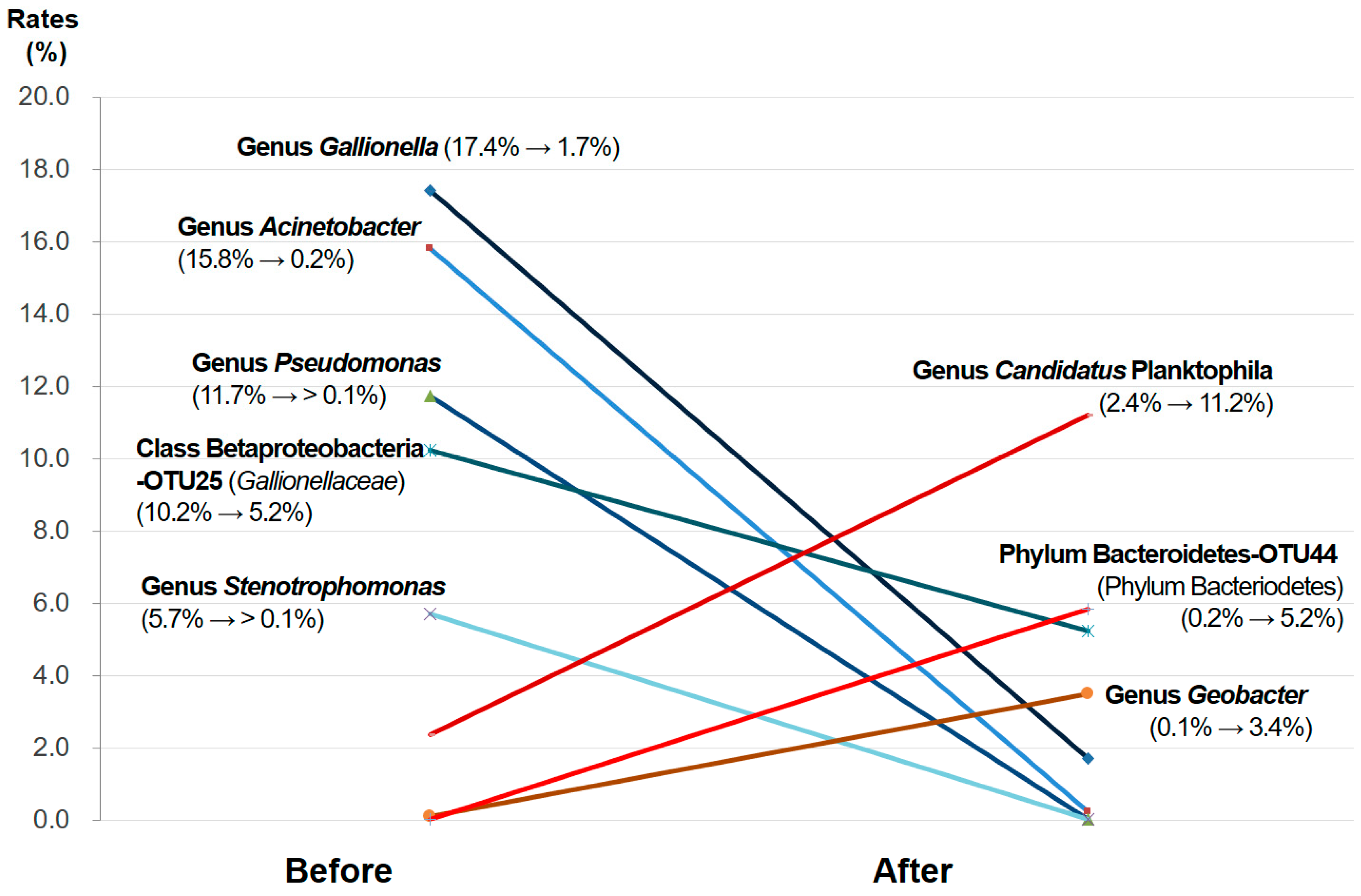 Table 1. A comparison of operational taxonomic units (OTUs) and diversity indices before and after air surging. The percentages indicate a prevalence rate.
Air Surging
Number of OTUs
Diversity Index
Total
>0.5%
0.1–0.4%
Shannon
Simpson
Before
519
25
48
5.00
0.93
After
775
41
89
6.50
0.97

© 2017 by the authors. Licensee MDPI, Basel, Switzerland. This article is an open access article distributed under the terms and conditions of the Creative Commons Attribution (CC BY) license (http://creativecommons.org/licenses/by/4.0/).