Tracing Nitrate-Nitrogen Sources and Modifications in a Stream Impacted by Various Land Uses, South Portugal
1
Faculty of Geo-Information and Observation Science, University of Twente, P.O. Box 217, 7500 AE Enschede, The Netherlands
2
Department of Oceanography and Center for Climate and Resilience Research, Universidad de Concepción, Casilla 160-C Concepción, Chile
3
Department of Ecosystem Studies, Netherlands Institute of Sea Research, Postbus 140, 4400 AC Yerseke, The Netherlands
1
Centro Operayivo e de Tecnologia de Regadio, COTR, Beja, Portugal
1
Escola Agraria do Beja, Portugal
*
Author to whom correspondence should be addressed.
Academic Editors: David K. Kreamer and Y. Jun Xu
Received: 18 January 2016 / Revised: 2 August 2016 / Accepted: 29 August 2016 / Published: 6 September 2016
Abstract
The identification of nitrate-nitrogen (NO
3
–N) origin is important in the control of surface and ground water quality. These are the main sources of available drinking water. Stable isotopes (
15
N and
18
O) for NO
3
–N and along with a 1-D reactive transport model were used to study the origin and processes that lead to nitrogen transformation and loss in a major stream that flows into a reservoir within an intensively cultivated catchment area (352 km
2
) in Alentejo-Portugal. Seasonal water samples (October–November 2008, March 2009 and September 2009) of stream surface water, wells and sediment pore water were collected. The results showed consistently increasing isotope values and decreasing NO
3
–N concentrations downstream. During winter (wet period, November 2008 and March 2009) slightly higher NO
3
–N concentrations were found in comparison to early fall (dry period: October 2008) and summer (dry period: September 2009). Isotopic composition of
15
N and
18
O values in surface water samples from the stream and wells indicated that the dominant NO
3
–N sources were derived mainly from the soil and fertilizers. There was also significant nitrification in surface water at the head of the stream. Sediment pore waters showed high NO
3
–N values near the sediment-water interface (reaching 25 mg·N·L
−1
) and NO
3
–N concentrations sharply decreasing with sediment depth, suggesting significant NO
3
–N consumption. Denitrification was also detected using the
15
N signature in upstream waters, but not downstream where very low NO
3
–N levels were measured. In the stream, the calculated isotopic enrichment factor for NO
3
–N was −2.9‰ for
15
N and −1.78 for
18
O, this indicates that denitrification accounts for 7.8% to 48% of nitrate removal.
View Full-Text
►

▼

Figures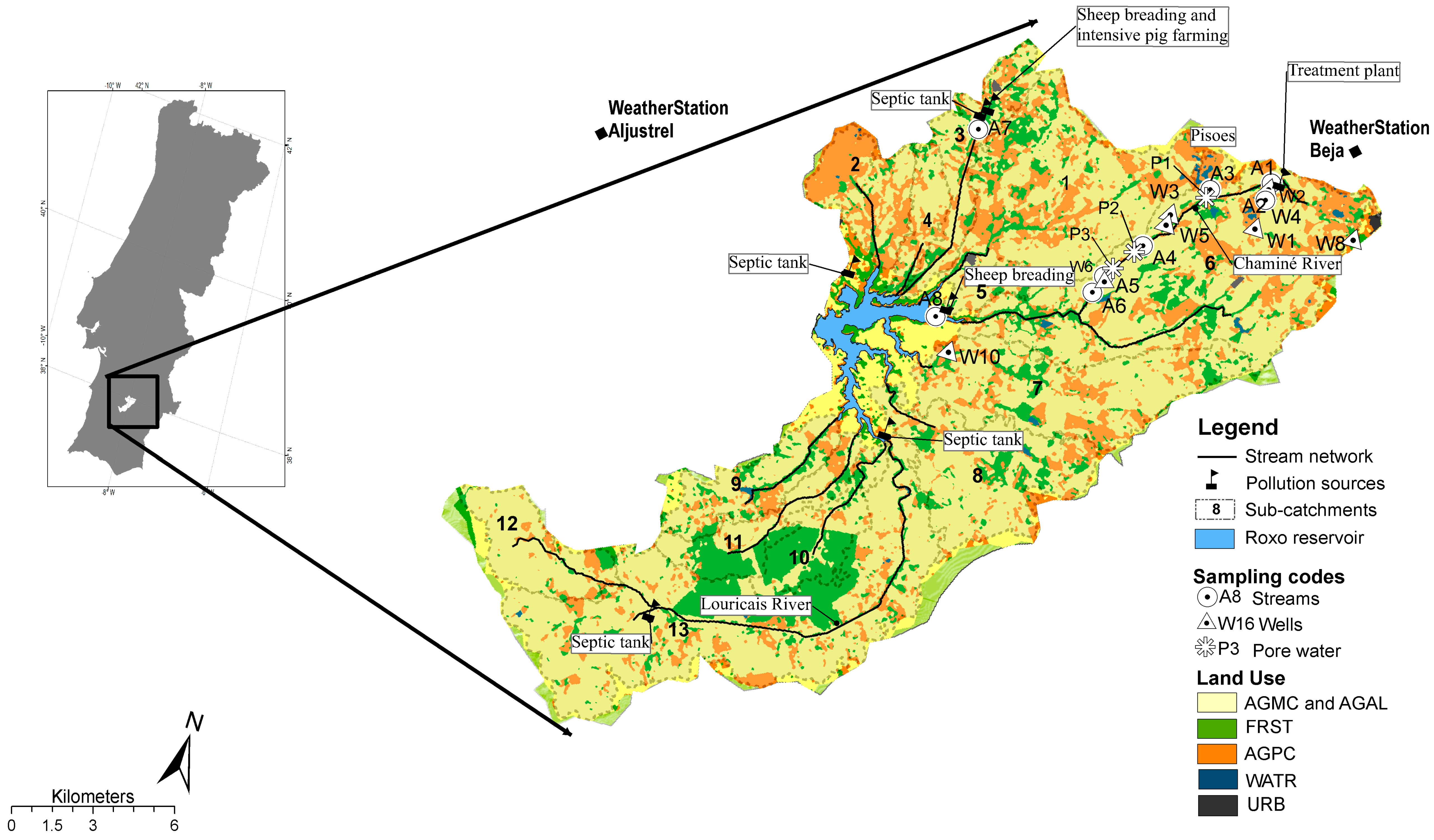 Figure 1
This is an open access article distributed under the
Creative Commons Attribution License
which permits unrestricted use, distribution, and reproduction in any medium, provided the original work is properly cited (CC BY 4.0).

Share & Cite This Article
MDPI and ACS Style
Yevenes, M.A.; Soetaert, K.; Mannaerts, C.M. Tracing Nitrate-Nitrogen Sources and Modifications in a Stream Impacted by Various Land Uses, South Portugal. Water 2016, 8, 385.
Note that from the first issue of 2016, MDPI journals use article numbers instead of page numbers. See further details here.
Related Articles
Comments
[Return to top]