The Capacity of the Hydrological Modeling for Water Resource Assessment under the Changing Environment in Semi-Arid River Basins in China
1
Institute of Hydrology and Water Resources, Hohai University, Nanjing 210098, China
2
Research Center for Climate Change, Ministry of Water Resources, Nanjing 210029, China
3
State Key Laboratory of Hydrology-Water Resources and Hydraulic Engineering, Nanjing Hydraulic Research Institute, Nanjing 210029, China
4
International Water Management Institute-IWMI, Head of MENA Region, 3000 Cairo, Egypt
5
Hydrology Bureau, Yellow River Conservancy Commission, Ministry of Water Resources, Zhengzhou 450003, China
6
School of Resources and Environment, University of Electronic Science and Technology of China, Chengdu 611731, China
*
Authors to whom correspondence should be addressed.
Received: 6 May 2019 / Revised: 20 June 2019 / Accepted: 24 June 2019 / Published: 27 June 2019
Abstract
Conducting water resource assessment and forecasting at a basin scale requires effective and accurate simulation of the hydrological process. However, intensive, complex human activities and environmental changes are constraining and challenging the hydrological modeling development and application by complicating the hydrological cycle within its local contexts. Six sub-catchments of the Yellow River basin, the second-largest river in China, situated in a semi-arid climate zone, have been selected for this study, considering hydrological processes under a natural period (before 1970) and under intensive human disturbance (2000–2013). The study aims to assess the capacity and performance of the hydrological models in simulating the discharge under a changing environment. Four well-documented and applied hydrological models, i.e., the Xin'anjiang (XAJ) model, GR4J model, SIMHYD model, and RCCC-WBM (Water Balance Model developed by Research Center for Climate Change) model, were selected for this assessment. The results show that (1) the annual areal temperature of all sub-catchments presented a significant rising trend, and annual precipitation exhibited insignificant decline trend; (2) as a result of climate change and intensive human activities, the annual runoff series showed a declining trend with abrupt changes mostly occurring in the 1980s with the exception of the Tangnaihai station; (3) the four hydrological models generally performed well for runoff simulation for all sub-catchments under the natural period. In terms of Nash–Sutcliffe efficiency coefficient, the XAJ model worked better in comparison to other hydrological models due to its detailed representations and complicated mechanism in runoff generation and flow-routing scheme; (4) environmental changes have impacted the performance of the four hydrological models under all sub-catchments, in particularly the Pianguan River catchment, which is could be attributed to the various human activities that in turn represent more complexity for the regional hydrological cycle to some extent, and reduce the ability to predict the runoff series; (5) the RCCC-WBM model, well known for its simple structure and principles, is considered to be acceptable for runoff simulation for both natural and human disturbance periods, and is recommended for water resource assessment under changing environments for semi-arid regions.
View Full-Text
►

▼

Figures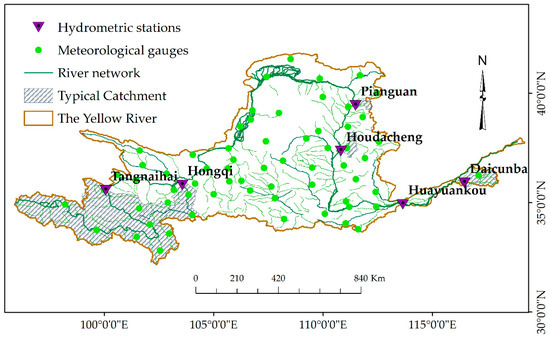 Figure 1
This is an open access article distributed under the
Creative Commons Attribution License
which permits unrestricted use, distribution, and reproduction in any medium, provided the original work is properly cited (CC BY 4.0).

Share & Cite This Article
MDPI and ACS Style
Guan, X.; Zhang, J.; Elmahdi, A.; Li, X.; Liu, J.; Liu, Y.; Jin, J.; Liu, Y.; Bao, Z.; Liu, C.; He, R.; Wang, G. The Capacity of the Hydrological Modeling for Water Resource Assessment under the Changing Environment in Semi-Arid River Basins in China. Water 2019, 11, 1328.
Note that from the first issue of 2016, MDPI journals use article numbers instead of page numbers. See further details here.
Related Articles
Comments
[Return to top]