Spatial Characteristics and Temporal Evolution of Chemical and Biological Freshwater Status as Baseline Assessment on the Tropical Island San Cristóbal (Galapagos, Ecuador)
1
Department of Animal Sciences and Aquatic Ecology, Ghent University, B-9000 Ghent, Belgium
2
University College Ghent, B-9000 Ghent, Belgium
3
Galapagos Marine Research and Exploration, GMaRE. Joint ESPOL-CDF program, Charles Darwin Research Station, 200102 Galapagos Islands, Ecuador
4
Plankton Laboratory, Facultad de Ingeniería Marítima, Ciencias Biológicas, Oceánicas y Recursos Naturales, Escuela Superior Politécnica del Litoral (ESPOL), Campus Gustavo Galindo, 09-01-5863 Guayaquil, Ecuador
5
Centro del Agua y Desarrollo Sustentable, Escuela Superior Politécnica del Litoral (ESPOL), Campus Gustavo Galindo, 09-01-5863 Guayaquil, Ecuador
6
Galapagos Government Council, Puerto Ayora, 200102 Galapagos Islands, Ecuador
*
Author to whom correspondence should be addressed.
Received: 30 March 2019 / Revised: 23 April 2019 / Accepted: 23 April 2019 / Published: 26 April 2019
Abstract
The fragility of geographically isolated islands stresses the necessity of evaluating the current situation, identifying temporal trends and suggesting appropriate conservation measures. To support this, we assessed the freshwater quality of three stream basins on San Cristóbal (Galapagos) for two consecutive years. Abiotic conditions generally complied with existing guidelines, except for the pH in the Cerro Gato basin (<6.5) and orthophosphate concentrations in 2016 (>0.12 mg P L
−1
). Macroinvertebrate communities were characterized by low family richness (3–11) and were dominated by Atyidae or Chironomidae, thereby causing low diversity (0.33–1.65). Spatial analysis via principal component analysis (PCA) illustrated that abiotic differences between stream basins were mostly related to turbidity, pH, dissolved oxygen (DO), and conductivity. Biotic differences were less clear due to masking by anthropogenic disturbances and dispersal limitations, yet indicated a negative effect of reduced pH and DO on Atyidae presence. In 2017, significantly narrower ranges were found for turbidity, temperature, pH, and diversity (
p
< 0.01), suggesting a decrease in habitat variability and a need for conservation measures, including mitigating measures related to dam construction for water extraction. As such, further follow-up is highly recommended for the sustainable development and environmental protection of this unique archipelago.
View Full-Text
►

▼

Figures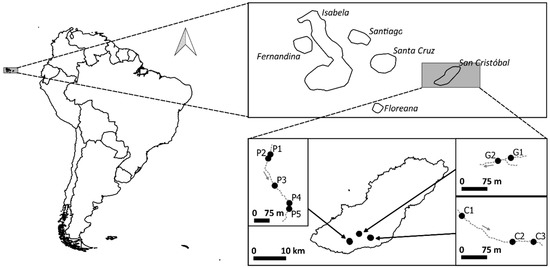 Figure 1
This is an open access article distributed under the
Creative Commons Attribution License
which permits unrestricted use, distribution, and reproduction in any medium, provided the original work is properly cited (CC BY 4.0).

Share & Cite This Article
MDPI and ACS Style
Van Echelpoel, W.; Forio, M.A.E.; Van der heyden, C.; Bermúdez, R.; Ho, L.; Rosado Moncayo, A.M.; Parra Narea, R.N.; Dominguez Granda, L.E.; Sanchez, D.; Goethals, P.L.M. Spatial Characteristics and Temporal Evolution of Chemical and Biological Freshwater Status as Baseline Assessment on the Tropical Island San Cristóbal (Galapagos, Ecuador). Water 2019, 11, 880.
Note that from the first issue of 2016, MDPI journals use article numbers instead of page numbers. See further details here.
Related Articles
Comments
[Return to top]