Ordered Mesoporous Carbons for Adsorption of Paracetamol and Non-Steroidal Anti-Inflammatory Drugs: Ibuprofen and Naproxen from Aqueous Solutions
Institute of Chemistry, Jan Kochanowski University, 25-406 Kielce, Poland
*
Author to whom correspondence should be addressed.
Received: 18 April 2019 / Revised: 21 May 2019 / Accepted: 22 May 2019 / Published: 25 May 2019
Abstract
The adsorption of paracetamol and non-steroidal anti-inflammatory drugs (ibuprofen and naproxen) on ordered mesoporous carbons (OMC) and, for comparison, on commercial activated carbon, were investigated in this work. OMC adsorbents were obtained by the soft-templating method and were characterized by low-temperature nitrogen adsorption and scanning electron microscopy (SEM). The effects of contact time and initial concentration of organic adsorbates on the adsorption were studied. The contact time to reach equilibrium for maximum adsorption was 360 min for all the studied adsorbates. The adsorption mechanism was found to fit pseudo-second-order and intra particle-diffusion models. Freundlich, Langmuir and Langmuir-Freundlich isotherm models were used to analyze equilibrium adsorption data. Based on the obtained experimental data, the adsorption isotherm in the applied concentration range for all the studied adsorbates was well represented by the Freundlich-Langmuir model. The adsorption ability of ordered mesoporous carbon materials was much higher for paracetamol and naproxen in comparison to commercial activated carbon. The removal efficiency for ibuprofen was significantly lower than for other studied pharmaceuticals and comparable for all adsorbents. Theoretical calculations made it possible to obtain optimized chemical structures of (
S
)-naproxen, ibuprofen, and paracetamol molecules. Knowledge of charge distributions of these adsorbate molecules can be helpful to explain why paracetamol and naproxen can react more strongly with the surface of adsorbents with a large numbers of acidic groups compared to ibuprofen facilitating more efficient adsorption of these pharmaceuticals on ordered mesoporous carbons.
View Full-Text
►

▼

Figures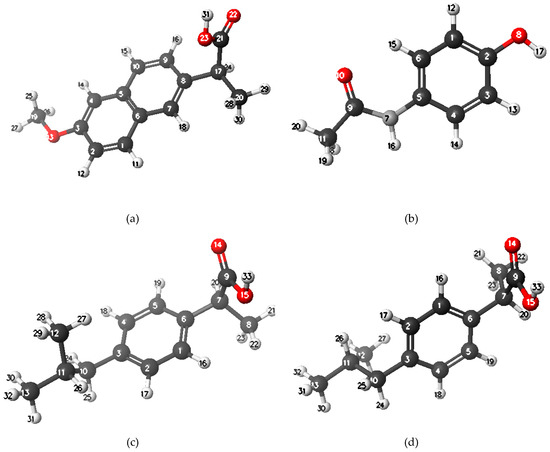 Figure 1
This is an open access article distributed under the
Creative Commons Attribution License
which permits unrestricted use, distribution, and reproduction in any medium, provided the original work is properly cited (CC BY 4.0).

Share & Cite This Article
MDPI and ACS Style
Jedynak, K.; Szczepanik, B.; Rędzia, N.; Słomkiewicz, P.; Kolbus, A.; Rogala, P. Ordered Mesoporous Carbons for Adsorption of Paracetamol and Non-Steroidal Anti-Inflammatory Drugs: Ibuprofen and Naproxen from Aqueous Solutions. Water 2019, 11, 1099.
Note that from the first issue of 2016, MDPI journals use article numbers instead of page numbers. See further details here.
Related Articles
Comments
[Return to top]