Open Access This article is
freely available
re-usable
Article
The Potential of Wetlands in Achieving the Sustainable Development Goals of the 2030 Agenda
1
Department of Physical Geography and Bolin Center for Climate Research, Stockholm University, SE-106 91 Stockholm, Sweden
2
Department of Physical Geography, Stockholm University, SE-106 91 Stockholm, Sweden
*
Author to whom correspondence should be addressed.
Received: 28 February 2019 / Accepted: 20 March 2019 / Published: 24 March 2019
Abstract
:
Wetlands used as cost-effective nature-based solutions provide environmental and socio-economic benefits to people locally and regionally. With significant loss of wetland areas due to expansion of forest, agriculture, and energy production industries, some countries, including Sweden, have begun providing economic support for environmental objectives for wetland conservation and restoration. Targeting such objectives and setting up relevant plans can decrease the risk of losing valuable wetland-related benefits and help achieve the United Nations Sustainable Development Goals (SDGs). Different ranges of wetland ecosystem services are broadly addressed by the SDGs, however, target-based assessments are required to better understand wetland functionality for sustainable development. This study investigates whether and how wetland ecosystems at local and regional scales can contribute to achieving the SDGs and their targets in Sweden. Scientific literature, policy documents, and international reports on Swedish wetland ecosystems are scrutinized to exemplify the SDGs and their targets, applying a scoring framework based on their interactions. This reveals that, overall, Swedish wetland ecosystems and implemented management plans can positively interact with 10 SDGs and 17 targets at different levels. The analysis also highlights synergies that need to be considered for integrated environmental governance and enhanced policy coherence for Swedish wetland management.
Keywords:
ecosystem services; nature-based solutions; policy coherence; scoring approach; sustainable development goals; wetland
2. Study Region
Sweden has one of the world's highest densities of wetlands, occupying an area of 9–10 million hectares predominantly in the north of the country, which represents one-fifth of the country's land area (
Figure 1
). Sweden also has the highest variation in wetland types within the European Union (EU) and, after Russia, it has the largest wetland area in Europe [
20
]. By 2018, Sweden designated 68 sites, covering a total surface area of 665,474 hectares, as internationally important Ramsar sites [
21
]. Large areas of different types of wetlands were lost in the early 19th century, due to expansion of forest industries and agricultures. Additionally, vast areas (primarily in the south of the country) were drained for extraction of peat for energy production, resulting in the loss of one-quarter of Swedish wetlands [
22
]. In this study, Swedish wetland ecosystems and the services they provide are used to illustrate NbS for achieving multiple SDGs and their targets simultaneously.
3. Materials and Methods
The scientific community has emphasized the need for a systems approach to sustainable development [
23
,
24
,
25
], but policy-makers face the challenge of implementing the SDGs. To address this challenge, a scoring framework (
Figure 2
) has been established to stimulate more science-policy dialogue on the importance of SDGs interactions, to provide a starting point for policy-makers and other stakeholders in setting their priorities and implementation strategies, and to engage the policy community in further knowledge developments in this field [
26
]. It can help decision-makers and policy-makers recognize the potential of target-based assessments by identifying negative or positive interactions among SDGs and their targets [
27
,
28
]. The key dimensions in the scoring framework are time, geography, governance, technology, and directionality, which describe the interactions and define the context in which they occur. Most interaction scores depend on these dimensions, so introducing the right policies and technologies could shift the score to a more positive value [
26
].
Within the scoring framework, positive interactions are assigned a score of +1 (enabling), +2 (reinforcing), or +3 (indivisible), while interactions characterized by trade-offs are assigned a score of −1 (constraining), −2 (counteracting), or −3 (cancelling) (
Figure 2
). Thus, the magnitude of the score, in whatever direction, provides an indication of how influential a given SDG or target is on another. Not all interactions and trade-offs between SDGs and targets fall neatly into one of the seven score classes, but the scale does provide a sufficiently wide range to classify most relationships [
26
]. As can be seen in
Figure 2
, the highest positive score (+3) is associated with joint and paired goals/targets, while the highest negative score (−3) is related to goals/targets that cannot be achieved together.
In the present analysis, a literature study is conducted using a data availability and data/methodological approach as regards local-regional wetland functions (municipal data, policy documents), international reports on wetland services (e.g., Ramsar), and literature concerning the SDGs and wetland ecosystems. Municipality data and policy documents were collected from Swedish government agencies such as the Swedish Environmental Protection Agency. For instance, an extensive survey of 35,000 Swedish wetland sites, collected over a 25-year timeline that was assembled in 2014 in a report [
20
] was used for understanding the different characters of wetlands and ecosystem services in Sweden. In addition, international reports on wetland status from organizations such as Ramsar and the Fifth Assessment Report of the Intergovernmental Panel on Climate Change (IPCC) on freshwater resources [
29
] were used for indications and predictions on current and coming changes for wetlands on a global scale. The scoring framework shown in
Figure 2
is applied in this study by assigning positive scores to different SDGs and their targets in accordance with their possible positive interactions (enabling, reinforcing, indivisible) with Swedish wetland ecosystem services and their management strategies. Negative interactions (cancelling, counteracting, constraining) and consistent interactions are not investigated in this study due to lack of available scientific data.
4. Results and Discussion
A total of 10 SDGs and 17 targets that positively interact with wetland ecosystem services in Sweden are identified by applying the scoring framework (
Table 1
). In this table, a score of +1, associated with enabling interactions, is assigned to the SDGs and targets for which the conditions required for their achievement can potentially be created by conservation and management plans for Swedish wetland ecosystems and services. For instance, preventing marine pollution of all kinds (SDG 14-target 14.1) is supported by the ability of wetlands to prevent hazardous run-off from the terrestrial floodplain entering the ocean (
Table 1
). A score of +2, associated with reinforcing interactions, is given to SDGs and targets that can be directly achieved based on particular Swedish wetland services. As an example, reducing the number of deaths and illnesses from hazardous contaminations (SDG 3-target 3.9) benefits from the wetland service of storing mercury in permafrost areas and diminishing the spread and accumulation of mercury in food chains (
Table 1
). Moreover, a score of +3, indicating indivisible interactions, is given to SDGs and targets that are inextricably linked to Swedish wetland ecosystem services and thus have a strong and positive interaction with their management and protection. For example, access to safe and affordable drinking water (SDG 6-target 6.3) requires access to local fresh water resources, which can effectively be recharged by wetland services that allow water to be filtered and re-deposited in local deep-water aquifers (
Table 1
).
Ecosystem services are categorized in a number of different ways in the literature, including by: (i) functional groupings, such as regulation, carrier, habitat, production, and information services; (ii) organizational groupings, such as services that are associated with certain species that regulate some exogenous input, or that are related to the organization of biotic entities; and (iii) descriptive groupings, such as renewable resource goods, non-renewable resource goods, physical structure services, biotic services, biogeochemical services, information services, and social and cultural services [
30
]. Considering functional groupings within the Millennium Ecosystem Assessment, all ecosystem services can be classified within categories of provisioning, regulating, cultural, and supporting services [
30
]. For operational purposes, in the following sections we focus on Swedish wetland ecosystem services in the regulating category and discuss those relevant to the SDGs and targets listed in
Table 1
.
5. Conclusions
Demand for clean drinking water is steadily increasing and global water resources are under high social and economic pressure. With the ongoing climate change caused by human activities, a clear understanding of how increasing global mean temperature affects the hydrological cycle at both global and local scales is crucial. By taking advantage of existing natural ecosystems, such as wetlands, it is possible to combat the trend of a warming planet. Multiple services provided by wetlands can act as essential NbS for achieving different SDGs and particular targets, for instance, by reducing greenhouse gases and environmental toxins, maintaining a stable groundwater level, and even cooling the planet. This study highlights the possibilities within Swedish wetland ecosystems to help achieve SDGs and their targets. Application of a scoring framework to classify SDGs and their targets in accordance with their interactions with wetland ecosystem services in Sweden resulted in identification of 10 SDGs and 17 targets with enabling, reinforcing and indivisible interactions. Many of these SDGs and targets are manageable/achievable by the same wetland services. For instance, wetland interactions with the water cycle from both quantity and quality aspects are in line with SDGs 1, 2, 6, 12, and 13 and their specific targets. Thus, efforts aiming to manage and restore Swedish wetlands can lead to achievement of the SDGs and other national environmental quality objectives. However, when developing wetland management plans, there is a need to replace the business-as-usual approach with an intelligible and inclusive approach, highlighting the possibilities wetland ecosystems provide to coherently address SDGs and their specific targets. Such an approach would give a broader view on achieving multiple SDGs by decreasing the risk of losing valuable resources for environmental and socio-economic benefits derived from Swedish wetlands. It is crucial that policy-makers in various domains avoid undermining each other's efforts to establish a network and instead strive for policy coherence, continuous development, and implementation of comprehensive strategies to achieve all relevant SDGs and targets.
Author Contributions
All authors have contributed substantially to this work, as specified below: Manuscript writing and editing: S.S.-A. Main analysis and writing of some parts: M.N. Research idea and contribution to writing and editing: Z.K.
Funding
This research received no external funding.
Conflicts of Interest
The authors declare no conflict of interest.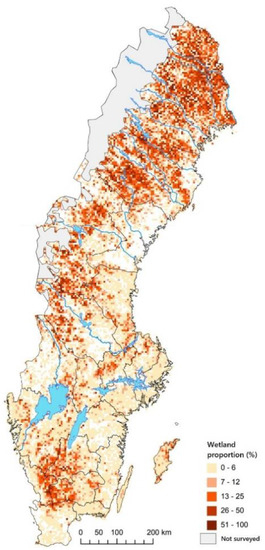 Figure 1.
Wetland distribution in Sweden [
20
]. Reproduced from publicly available national report for wetland inventory in Sweden entitled "The Swedish Wetland Survey"; published by Swedish Environmental Protection Agency (Naturvårdsverket), 2014.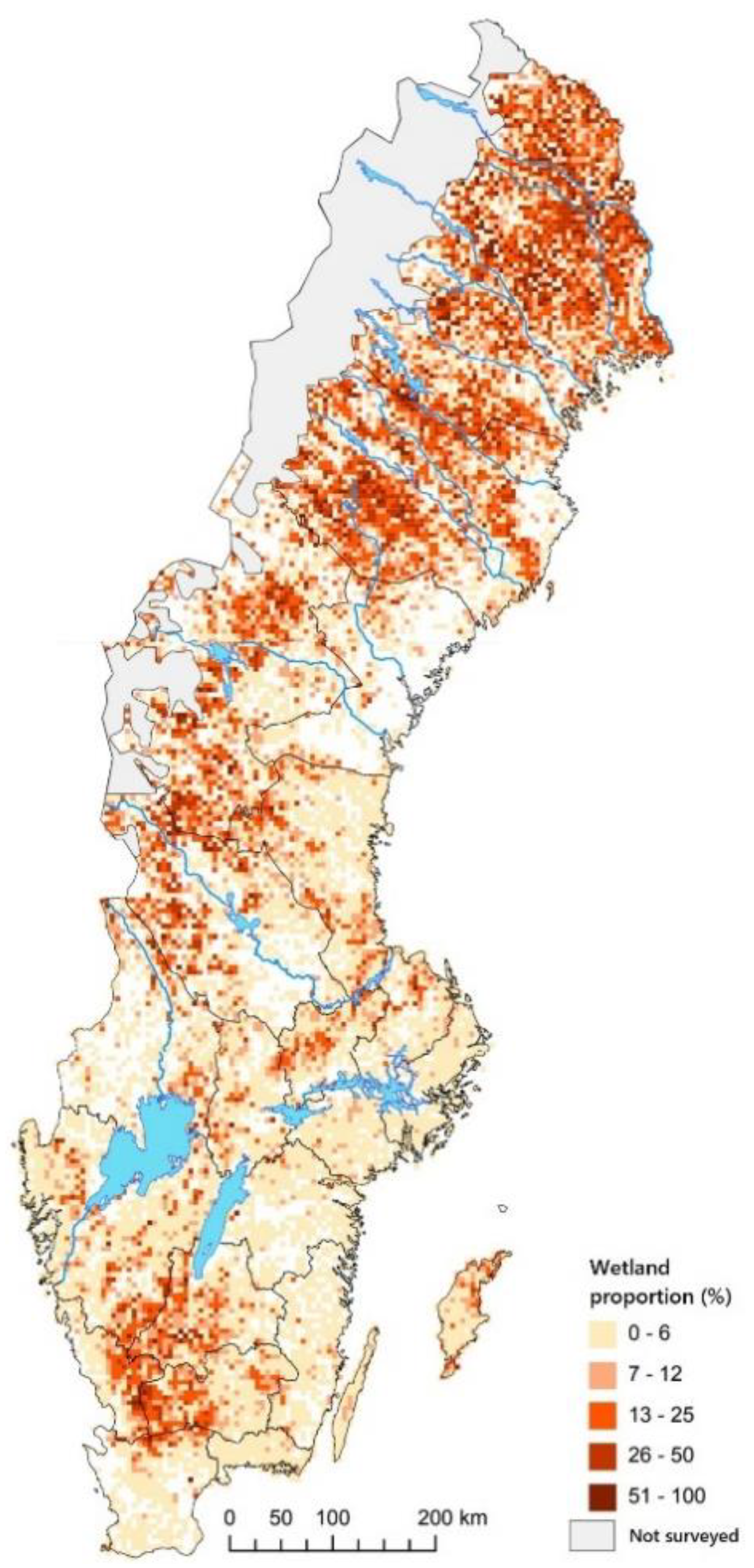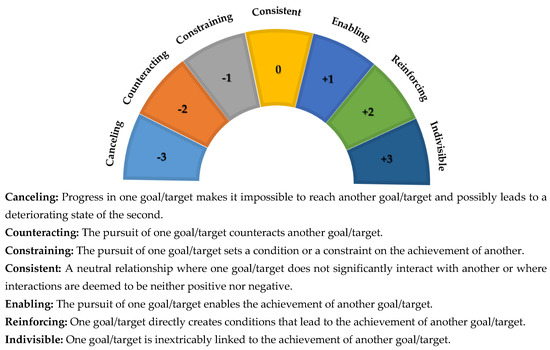 Figure 2.
Scoring framework for interactions between the United Nations Sustainable Development Goals (SDGs) and targets [
26
].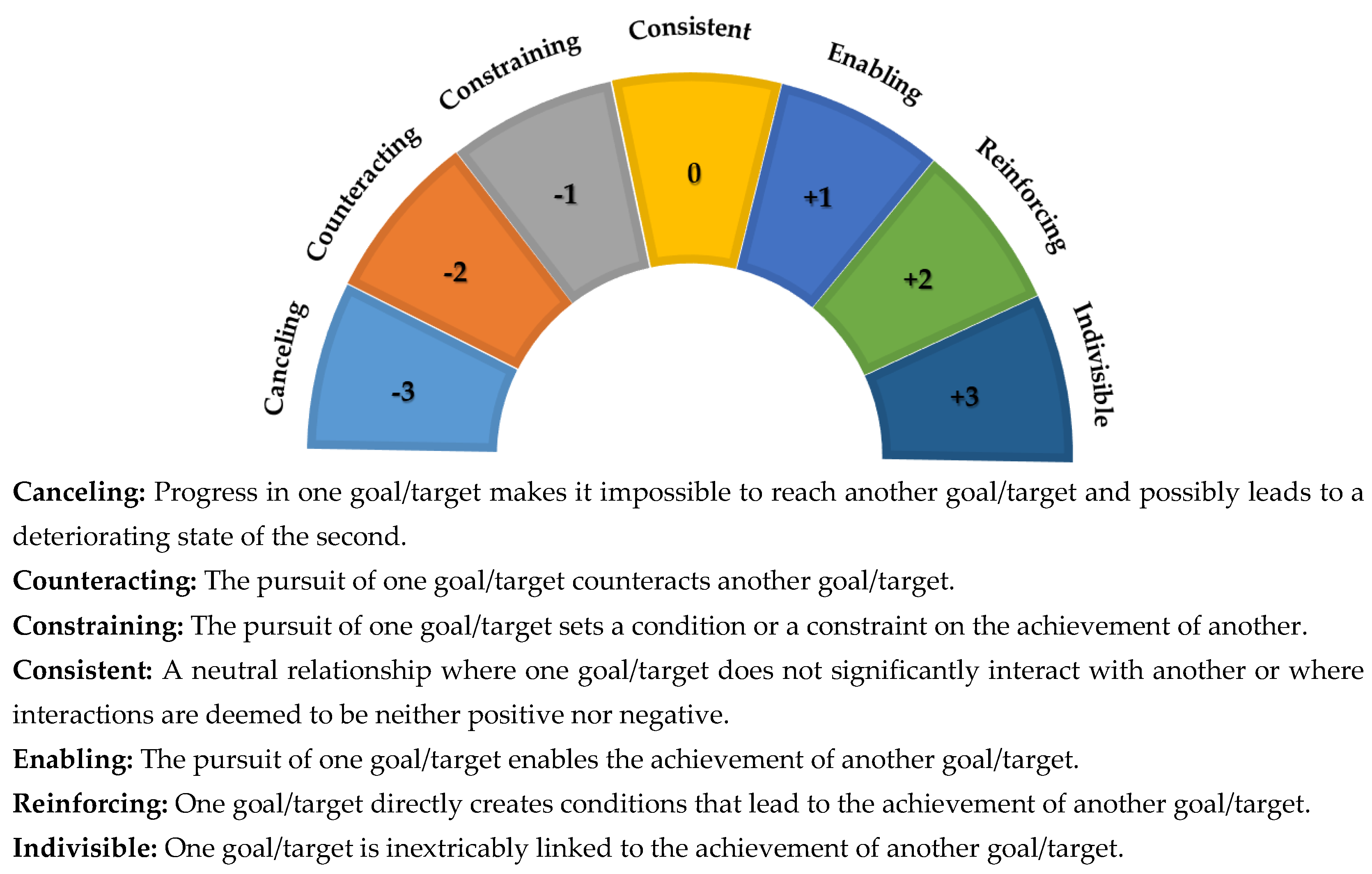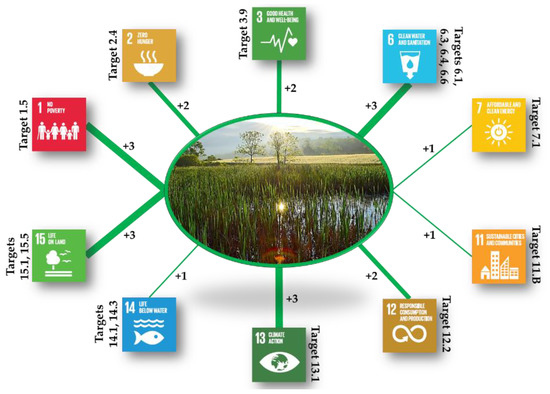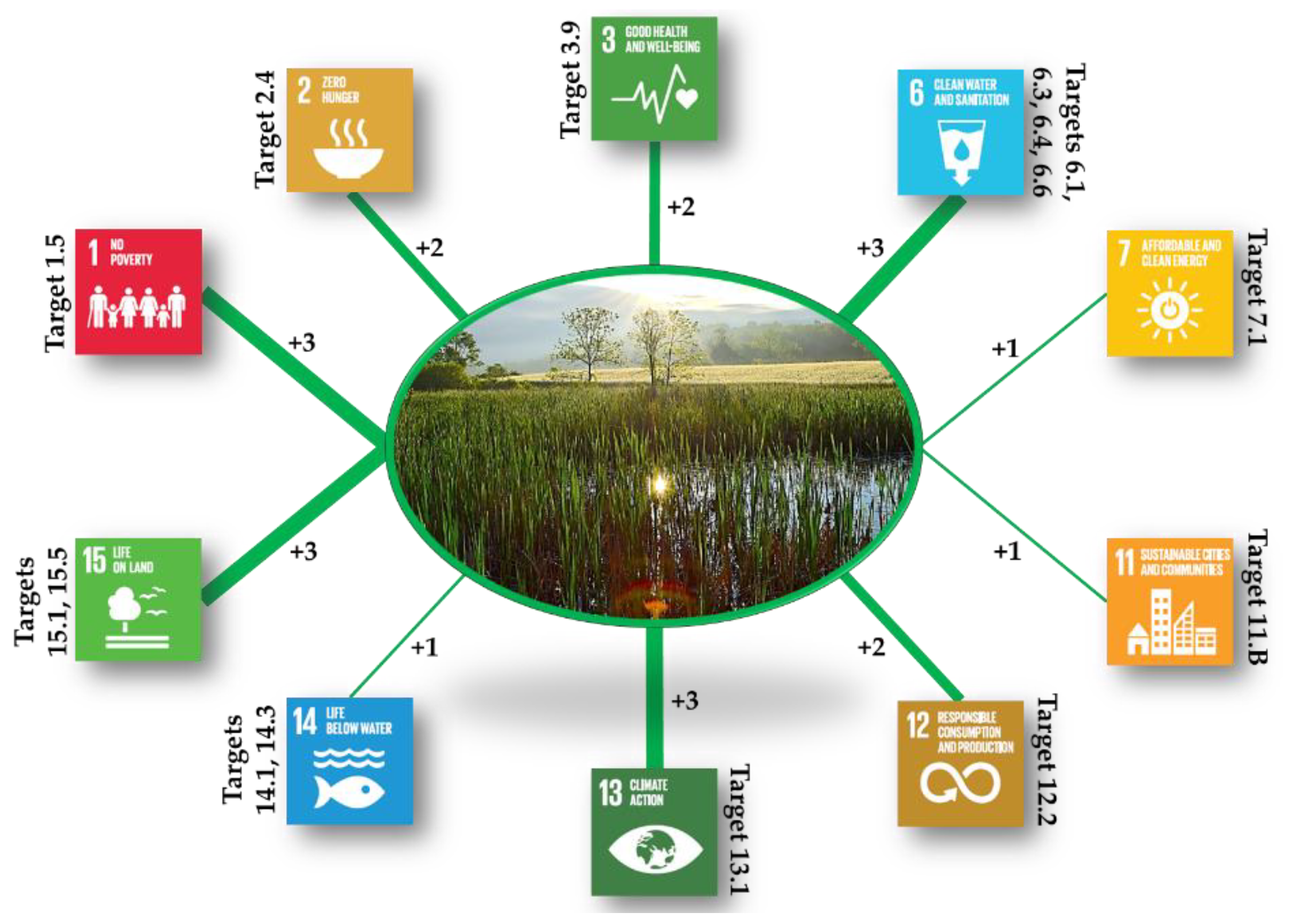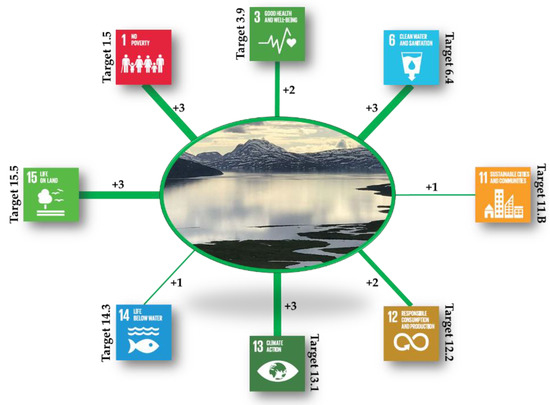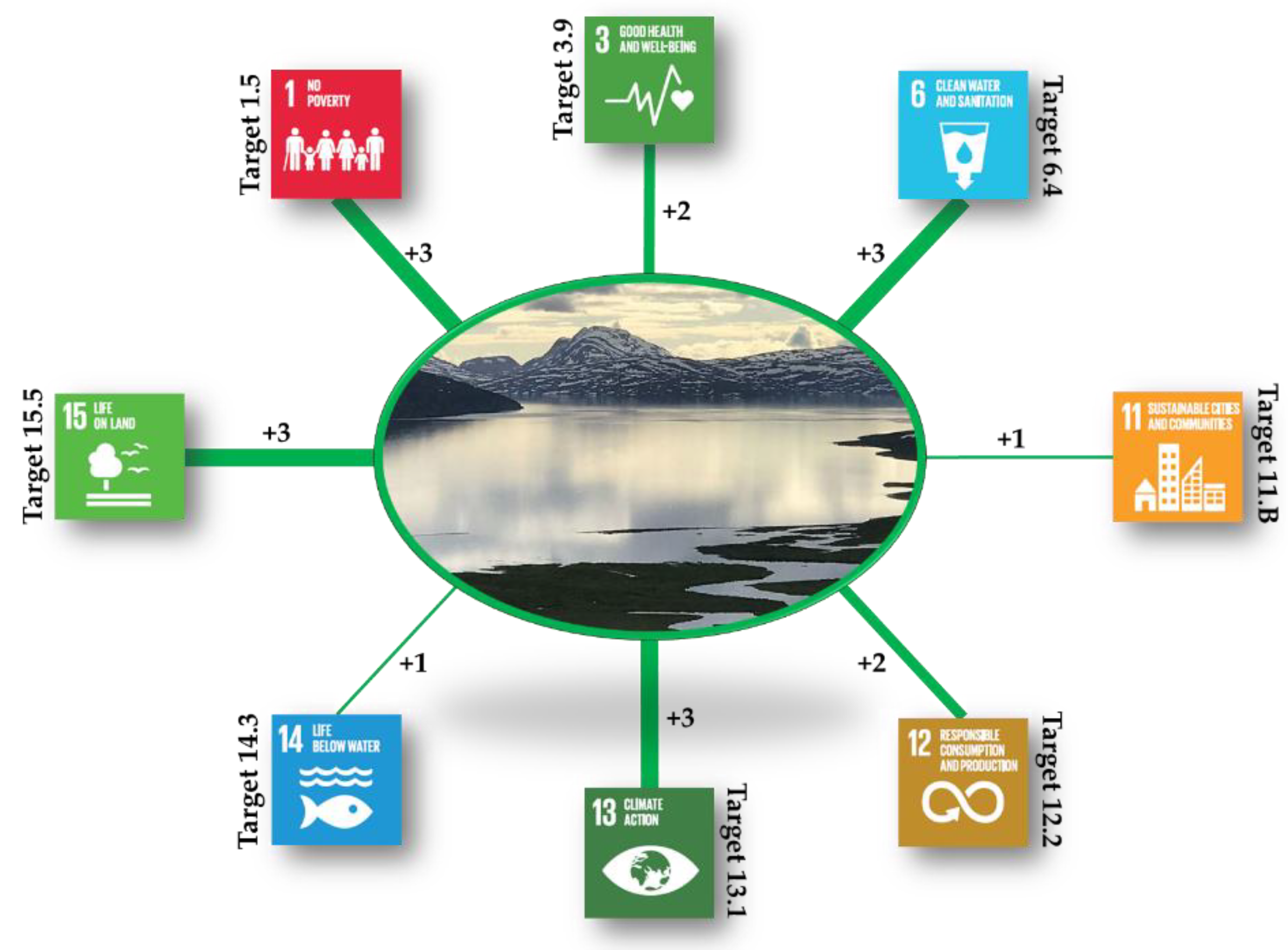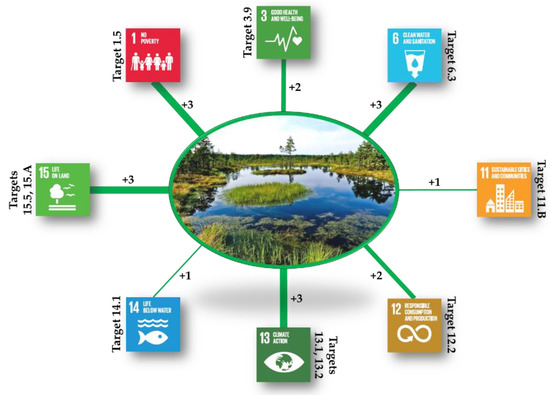 Figure 5. Positive water purification interactions identified between United Nations Sustainable Development Goals (SDGs) and Swedish wetland ecosystem services. Photo by Dmitri Korobtsov.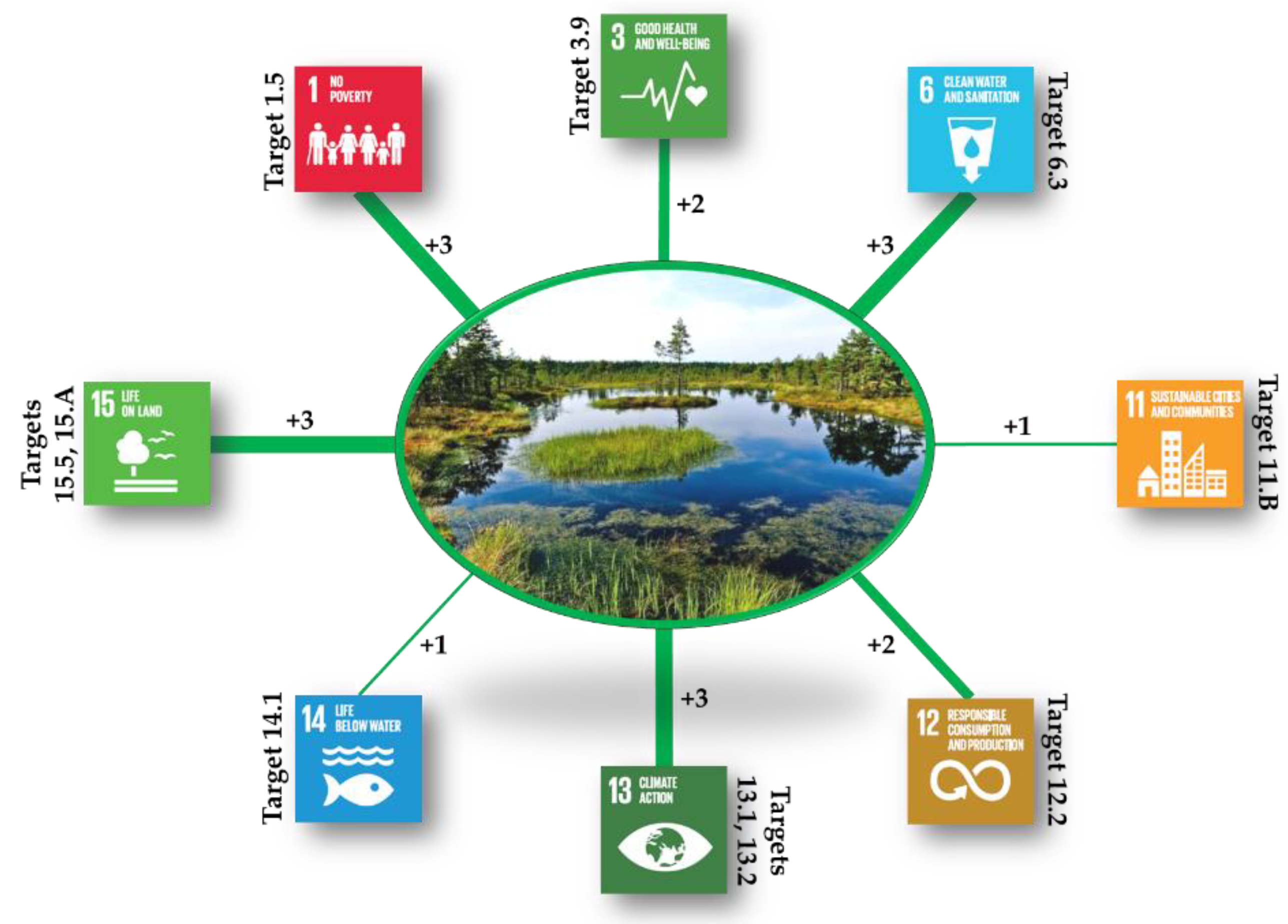 Table 1.
Positive interactions between the United Nations Sustainable Development Goals (SDGs) and their targets and Swedish wetland ecosystems. Description of SDGs and targets are taken from UN's 2030 Agenda [
28
].
Score
Category
Relevant SDGs and Targets
+1
Enabling
SDG
Target
7.1
11.B
14.1; 14.3
+2
Reinforcing
SDG
Target
2.4
3.9
12.2
+3
Indivisible
SDG
Target
1.5
6.1; 6.3; 6.4; 6.6
13.1; 13.2
15.1; 15.5; 15.A

SDG 1. End poverty in all its forms everywhere.

Target 1.5. By 2030, build the resilience of the poor and those in vulnerable situations and reduce their exposure and vulnerability to climate-related extreme events and other economic, social and environmental shocks and disasters.

SDG 2. End hunger, achieve food security and improve nutrition and promote sustainable agriculture.

Target 2.4. By 2030, ensure sustainable food production systems and implement resilient agricultural practices that increase productivity and production, that help maintain ecosystems, that strengthen capacity for adaptation to climate change, extreme weather, drought, flooding and other disasters and that progressively improve land and soil quality.

SDG 3. Ensure healthy lives and promote well-being for all at all ages.

Target 3.9. By 2030, substantially reduce the number of deaths and illnesses from hazardous chemicals and air, water and soil pollution and contamination.

SDG 6. Ensure access to water and sanitation for all.

Target 6.1. By 2030, achieve universal and equitable access to safe and affordable drinking water for all.

Target 6.3. By 2030, improve water quality by reducing pollution, eliminating dumping and minimizing release of hazardous chemicals and materials, halving the proportion of untreated wastewater and substantially increasing recycling and safe reuse globally.

Target 6.4. By 2030, substantially increase water-use efficiency across all sectors and ensure sustainable withdrawals and supply of freshwater to address water scarcity and substantially reduce the number of people suffering from water scarcity.

Target 6.6. By 2020, protect and restore water-related ecosystems, including mountains, forests, wetlands, rivers, aquifers and lakes.

SDG 7. Ensure access to affordable, reliable, sustainable and modern energy for all.

Target 7.1. By 2030, ensure universal access to affordable, reliable and modern energy services.

SDG 11. Make cities inclusive, safe, resilient and sustainable.

Target 11.B. By 2020, substantially increase the number of cities and human settlements adopting and implementing integrated policies and plans towards inclusion, resource efficiency, mitigation and adaptation to climate change, resilience to disasters, and develop and implement, in line with the Sendai Framework for Disaster Risk Reduction 2015-2030, holistic disaster risk management at all levels.

SDG 12. Ensure sustainable consumption and production patterns.

Target 12.2. By 2030, achieve the sustainable management and efficient use of natural resources.

SDG 13. Take urgent action to combat climate change and its impacts.

Target 13.1. Strengthen resilience and adaptive capacity to climate-related hazards and natural disasters in all countries.

Target 13.2. Integrate climate change measures into national policies, strategies and planning.

SDG 14. Conserve and sustainably use the oceans, seas and marine resources.

Target 14.1. By 2025, prevent and significantly reduce marine pollution of all kinds, in particular from land-based activities, including marine debris and nutrient pollution.

Target 14.3. Minimize and address the impacts of ocean acidification, including through enhanced scientific cooperation at all levels.

SDG 15. Sustainably manage forests, combat desertification, halt and reverse land degradation, halt biodiversity loss.

Target 15.1. By 2020, ensure the conservation, restoration and sustainable use of terrestrial and inland freshwater ecosystems and their services, in particular forests, wetlands, mountains and drylands, in line with obligations under international agreements.

Target 15.5. Take urgent and significant action to reduce the degradation of natural habitats, halt the loss of biodiversity and, by 2020, protect and prevent the extinction of threatened species.

Target 15.A. Mobilize and significantly increase financial resources from all sources to conserve and sustainably use biodiversity and ecosystems.

© 2019 by the authors. Licensee MDPI, Basel, Switzerland. This article is an open access article distributed under the terms and conditions of the Creative Commons Attribution (CC BY) license (http://creativecommons.org/licenses/by/4.0/).