Open Access This article is
freely available
re-usable
Article
Long-Term Annual Surface Water Change in the Brazilian Amazon Biome: Potential Links with Deforestation, Infrastructure Development and Climate Change
1
Instituto do Homem e Meio Ambiente da Amazônia (Imazon), Belém 66055-200, Brazil
2
Science Program, WWF-Brasil, Brasília 700377-540, Brazil
3
MHR Sales Consultoria, Belém 66633-090, Brazil
*
Author to whom correspondence should be addressed.
Received: 31 December 2018 / Accepted: 9 March 2019 / Published: 19 March 2019
Abstract
:
The Brazilian Amazon is one of the areas on the planet with the fastest changes in forest cover due to deforestation associated with agricultural expansion and infrastructure development. These drivers of change, directly and indirectly, affect the water ecosystem. In this study, we present a long-term spatiotemporal analysis of surface water annual change and address potential connections with deforestation, infrastructure expansion and climate change in this region. To do that, we used the Landsat Data Archive (LDA), and Earth Engine cloud computing platform, to map and analyze annual water changes between 1985 and 2017. We detected and estimated the extent of surface water using a novel sub-pixel classifier based on spectral mixture analysis, followed by a post-classification segmentation approach to isolate and classify surface water in natural and anthropic water bodies. Furthermore, we combined these results with deforestation and infrastructure development maps of roads, hydroelectric dams to quantify surface water changes linked with them. Our results showed that deforestation dramatically disrupts small streams, new hydroelectric dams inundated landmass after 2010 and that there is an overall trend of reducing surface water in the Amazon Biome and watershed scales, suggesting a potential connection to more recent extreme droughts in the 2010s.
Keywords:
Amazon Biome; land cover change; climate change; deforestation; infrastructure development
Supplementary Materials
The following are available online at
https://www.mdpi.com/2073-4441/11/3/566/s1
, Figure S1. Visualization and download interface on Google Earth Engine. Google Earth Engine Link to run the app above (copy and paste it to Code Editor and run it):
https://code.earthengine.google.com/3a4e78799b0726409de84dc80b572bd8
. Figure S2. Correlation matrix of all variables in the models described above. Figure S3. Boxplot of the monthly GSW detection of surface water between 1987 and 2015 showing more surface water detected in Dry months, relative to Wet months. Figure S4. First surface water occurrence in the GSW (A) and SWSC (B) between 1985 and 2015. Figure S5. Interchange between water and land detected between 1991 and 2017 obtained with GSW dataset for the Dry season. These years showed the highest and lowest surface water extent, respectively, using SWSC (see
Figure 6
in the manuscript for comparison). Table S1. Coefficients for Model 1—watersheds that have annually gained surface water. Table S2. Coefficients for Model 1—watersheds that have annually lost surface water.
Author Contributions
C.M.S.J. Conceptualization, writing—original draft preparation, methodology, writing—review and editing; F.T.K. Software and data curation; M.H.S. Conceptualization, validation; J.G.R. Data curation, visualization; and B.C.O. Conceptualization, writing, review and editing, and funding acquisition.
Funding
This research and the article processing charges was funded by WWF-Brasil and by the MapBiomas Project.
Acknowledgments
We are grateful for the funding provided by the Norwegian Government to the MapBiomas Project via the World Resource Institute. We are also thankful to Google for providing access to the Earth Engine platform and for their technical support. Finally, we appreciate and thank the careful review and constructive critiques of three anonymous reviewers of this manuscript.
Conflicts of Interest
The authors declare no conflict of interest.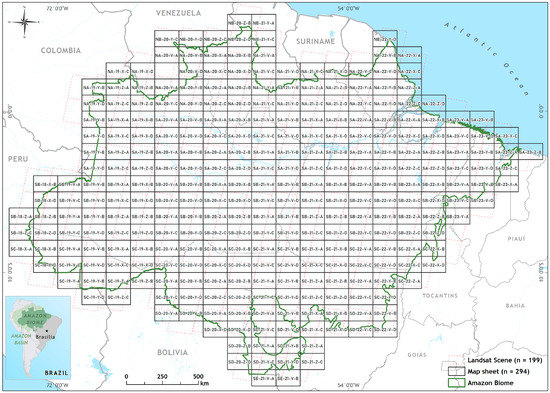 Figure 1.
Amazon biome study area, Landsat scenes (
n
= 194) and the map sheets (
n
= 294) used for producing annual mosaics of Landsat to map annually surface water from 1985 to 2017.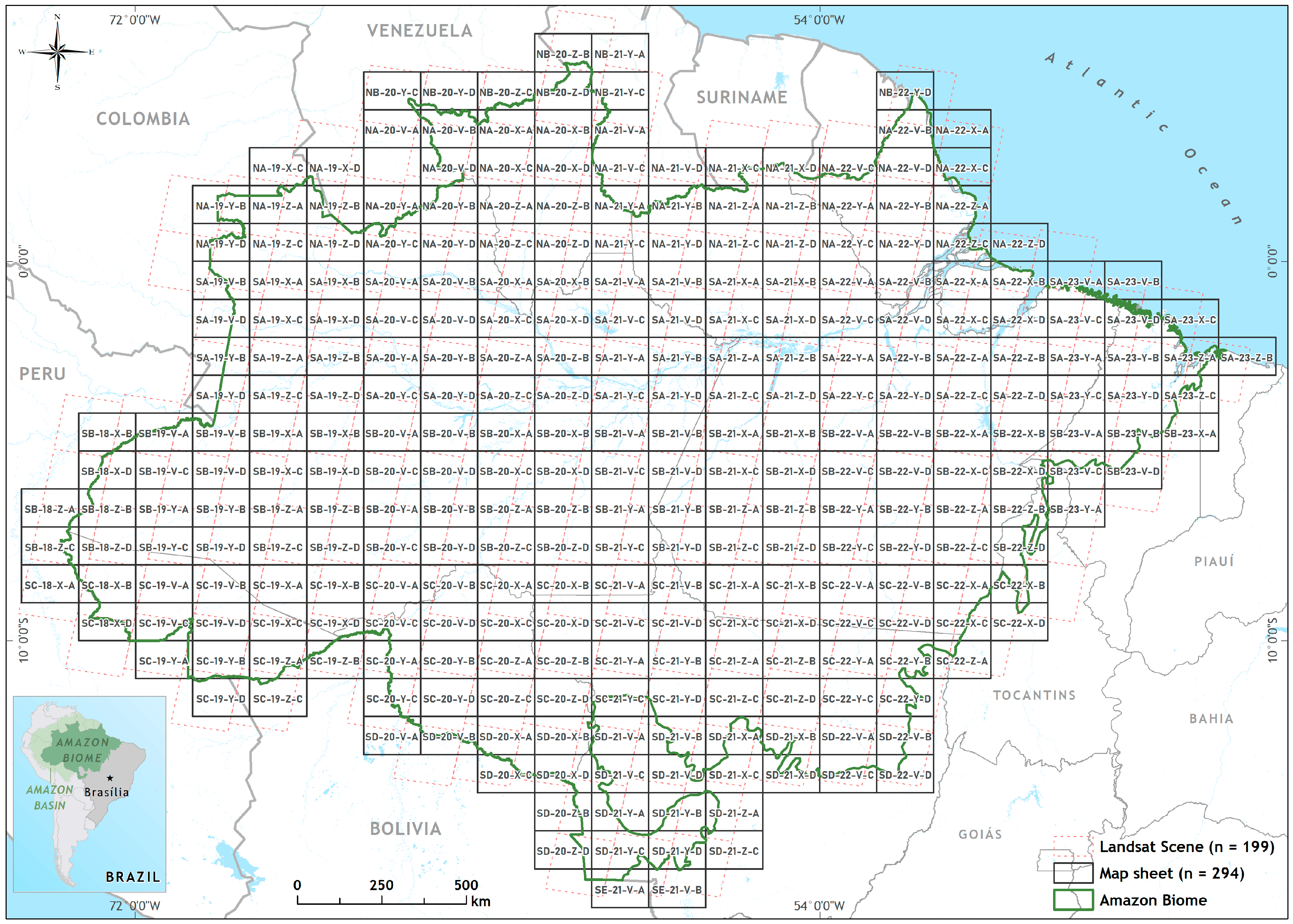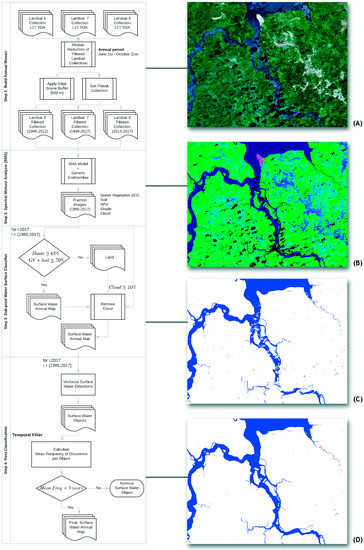 Figure 2. Image processing applied to annual Landsat datasets acquired between June and October to derive surface water maps, (A) annual median mosaic (B) SMA color composite (Red—Soil, Green—Green Vegetation, Blue—Shade), (C) surface water classification, and (D) temporally filtered surface water.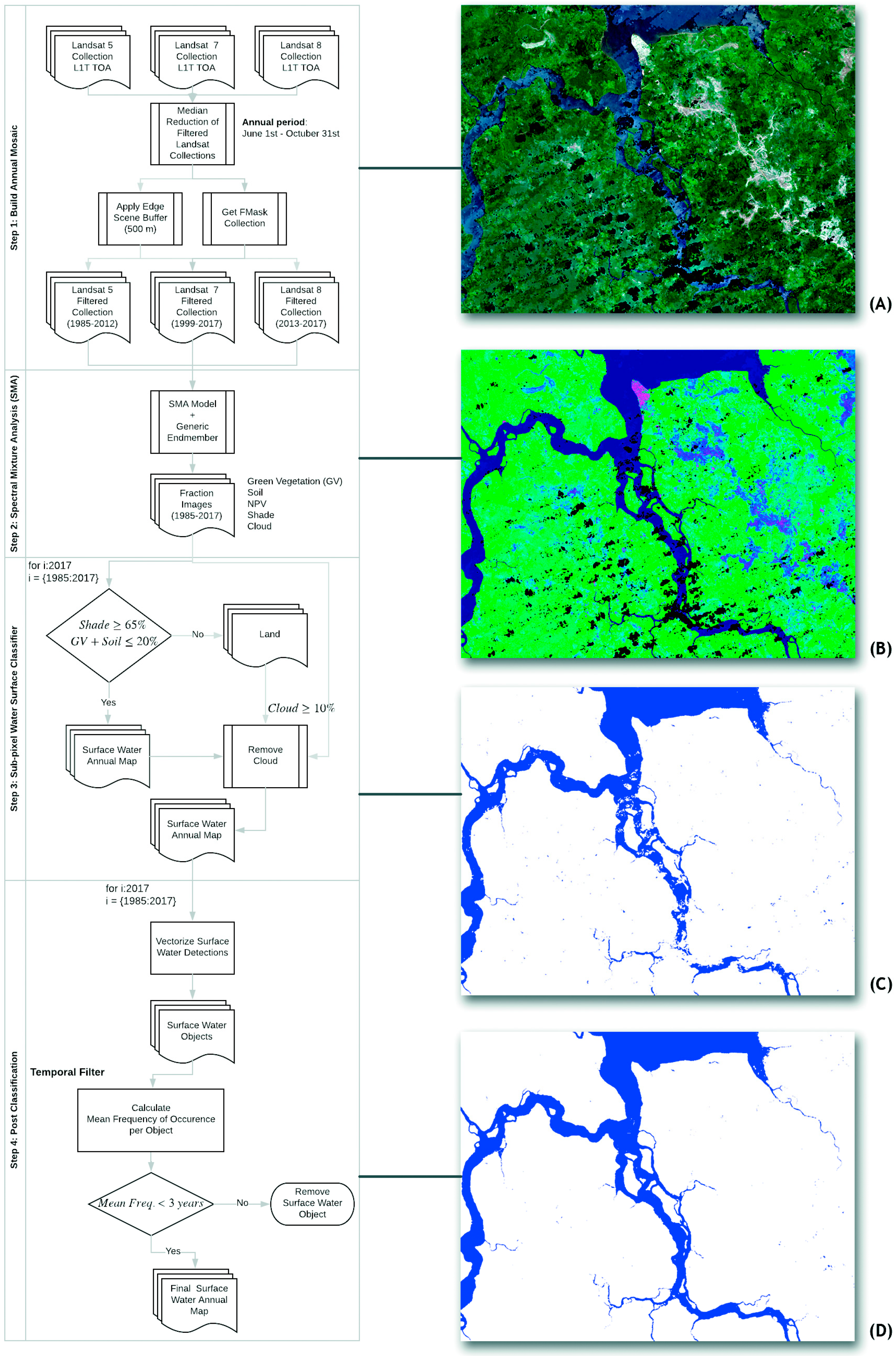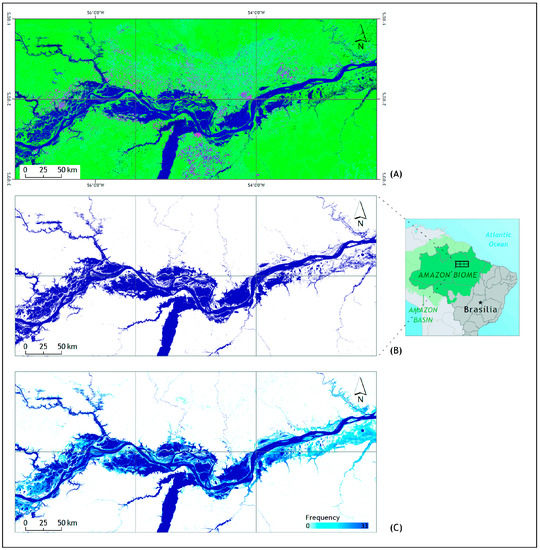 Figure 3.
Example of Spectral Mixture Analysis (SMA) results for a portion of the Amazonas River and Tapajós tributary. In (
A
), a color composite obtained by combining fraction images of Soil (Red), Green Vegetation (Green) and Shade (Blue). In (
B
), the water classification based on the surface water sub-pixel classifier (SWSC) and in (
C
) the water frequency map over 33 years. Light blue areas adjacent to dark blue ones are likely to represent land areas susceptible to flooding, and bright blue areas can also designate areas that had the fewer cloud-free satellite observation such as in the left side of the
Figure 3
C.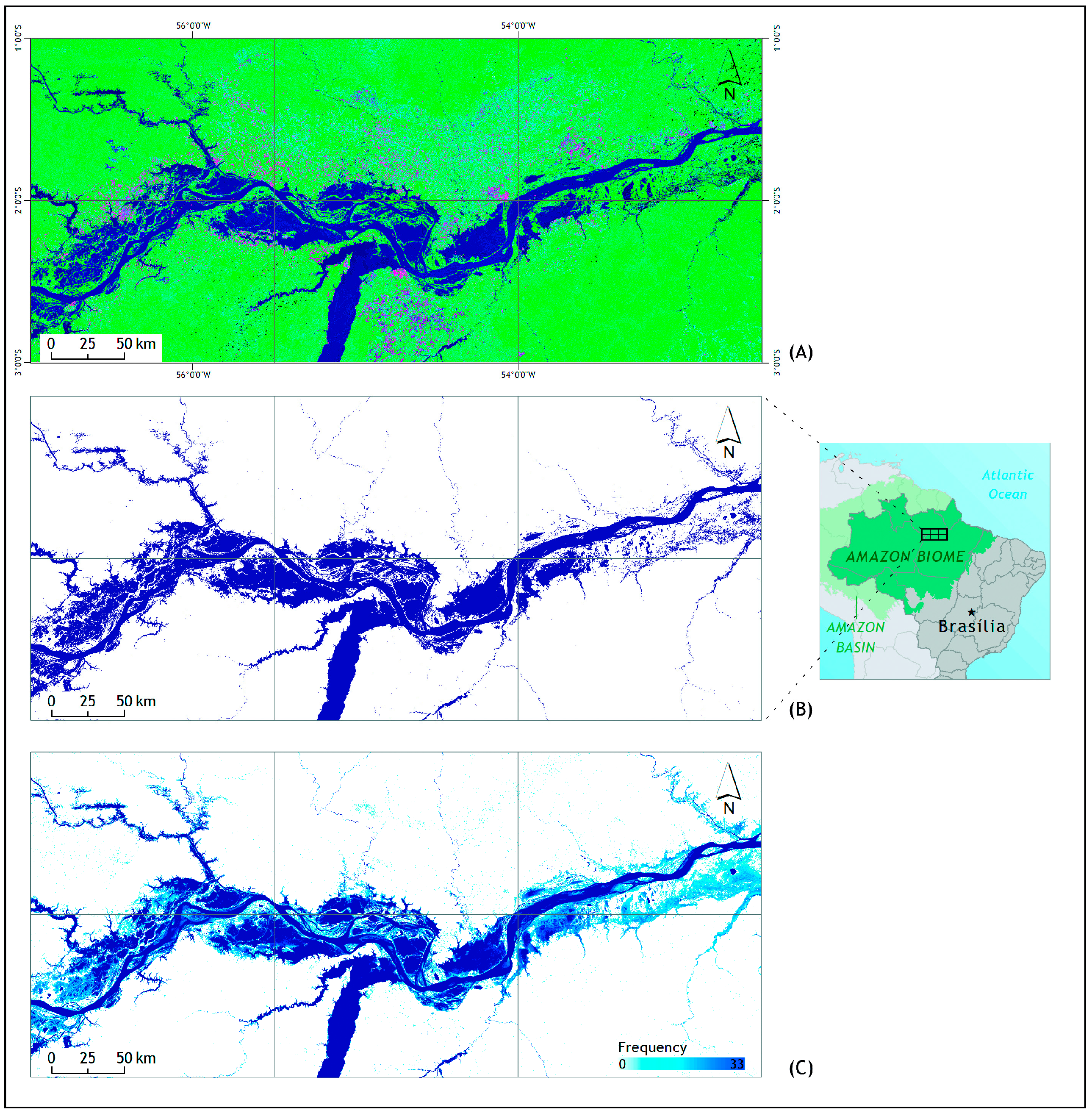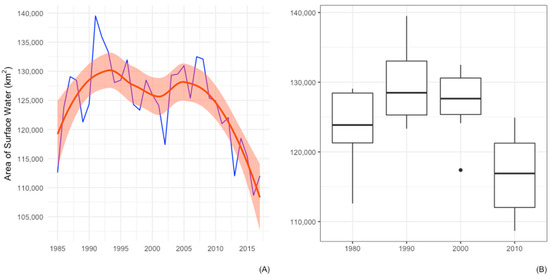 Figure 4. Annual surface water extent mapped with SWSC with Loess trend smooth pattern (red line) and 95% confidence interval (A). Box plot statistics are presented in (B) for circa decade periods.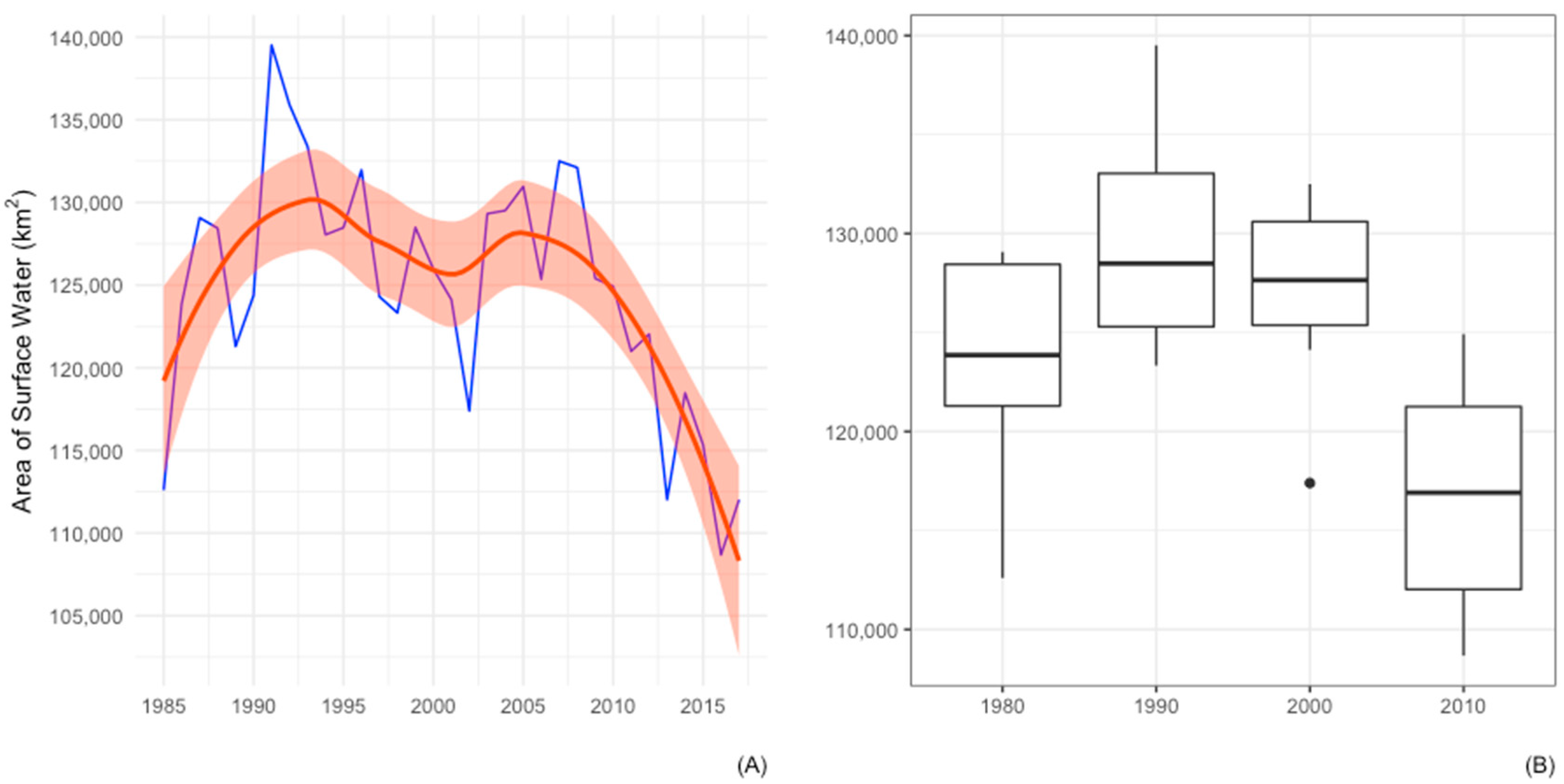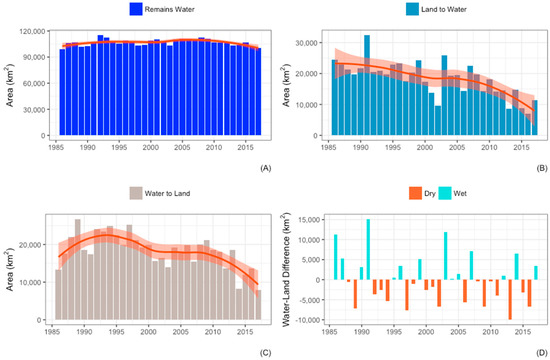 Figure 5. Annual decoupling of annual surface area mapped in the class Remains Water (A) from changes from Land to Water (B), Water to Land (C), and annual net difference (D) between the classes in (B,C).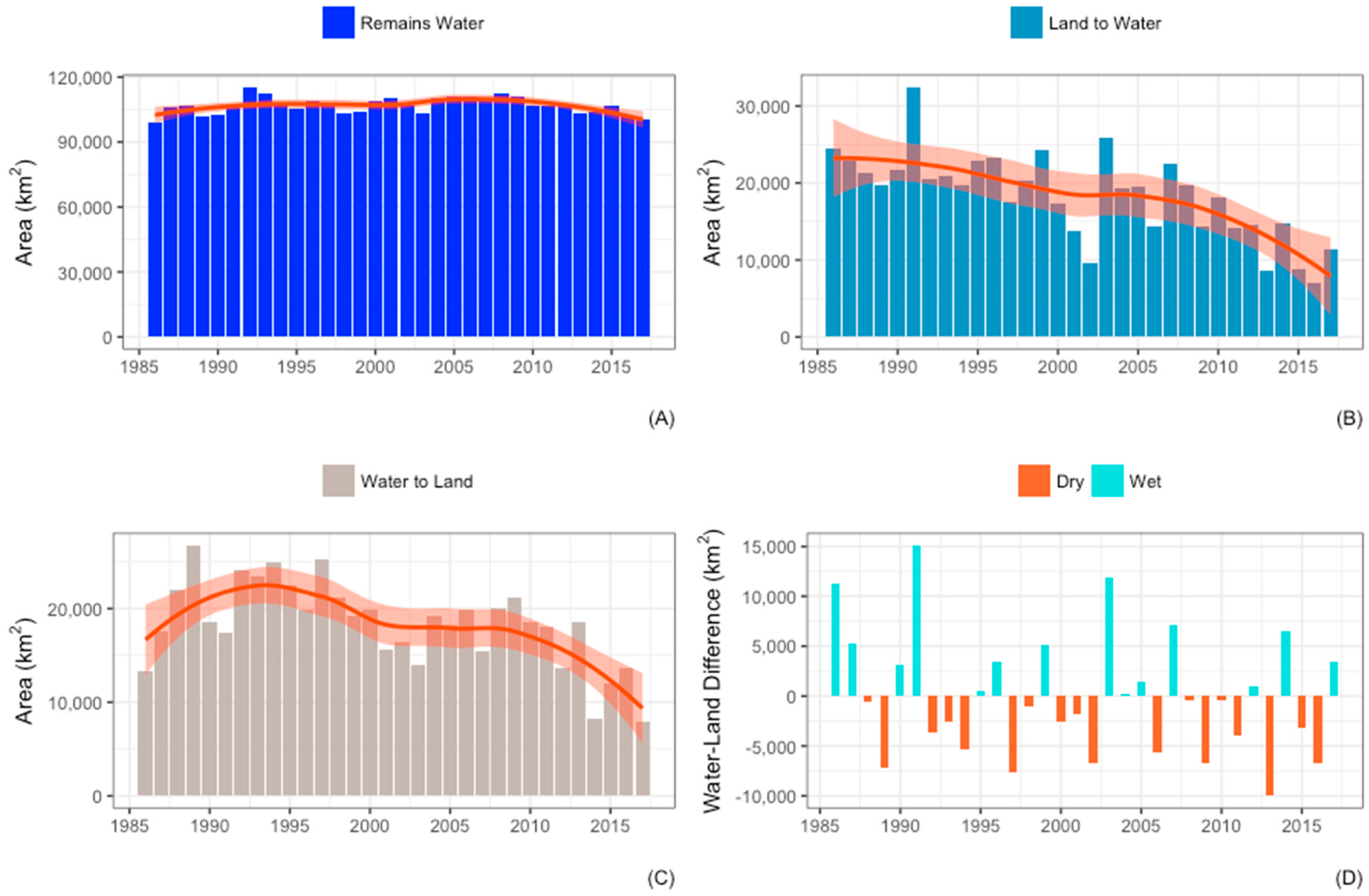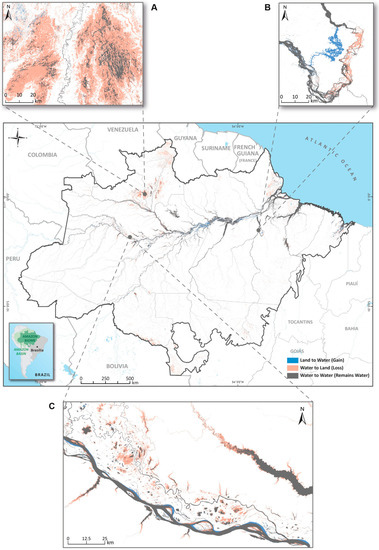 Figure 6. Interchange between water and land detected between 1991 and 2017, which are the highest and lowest surface water extent, respectively. Orange areas represent areas that changed from water in 1991 to land in 2017, and blue ones are changes from land to water between these years. In panel (A) wetlands changed from Water to Land; in (B) Land to Water associated with the construction of Belo Monte hydroelectric dam and Water to Land along the rivers that had the water flow diverted by the dam construction; and in (C) mostly Water to Land in flood plains along lakes and rivers.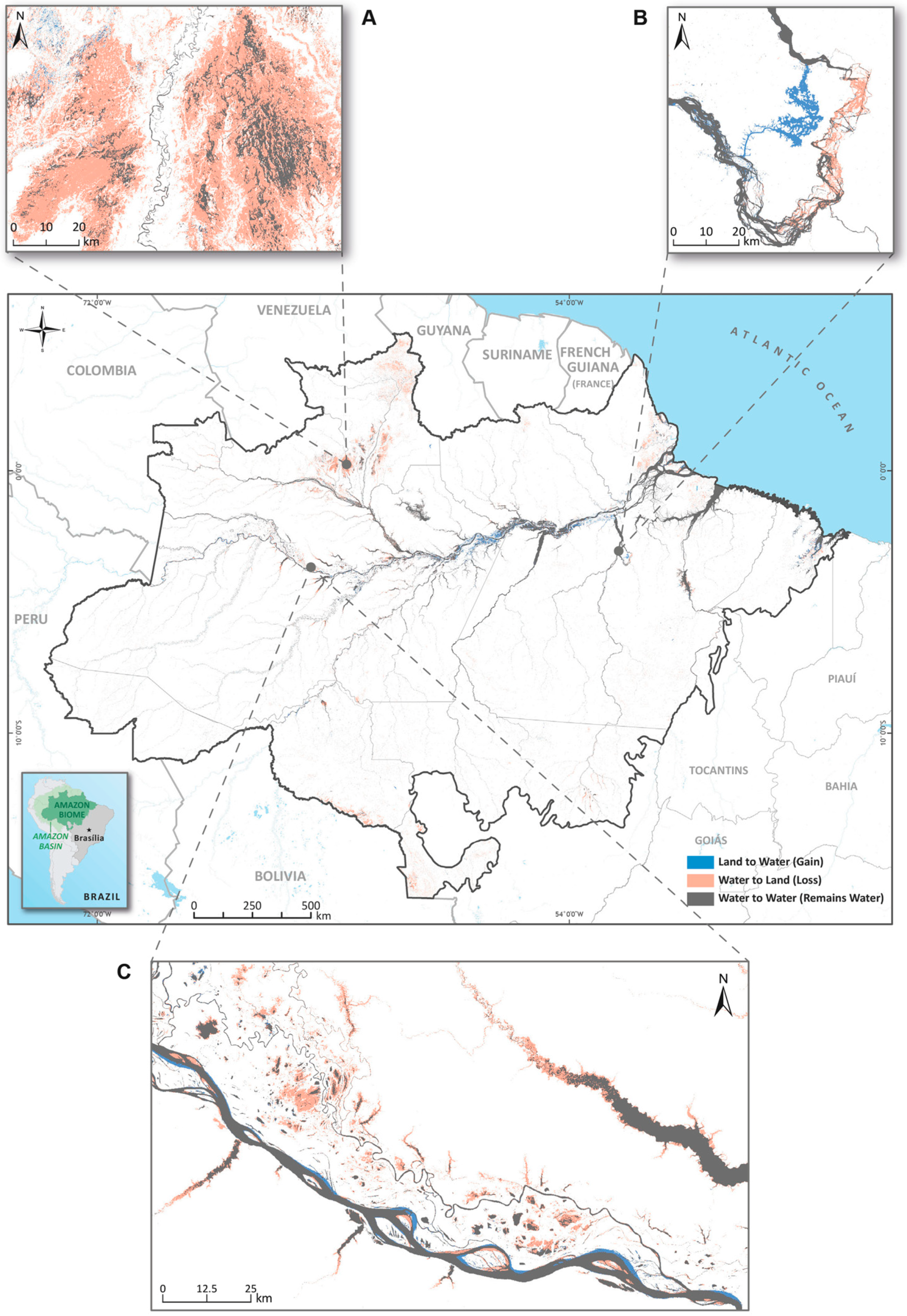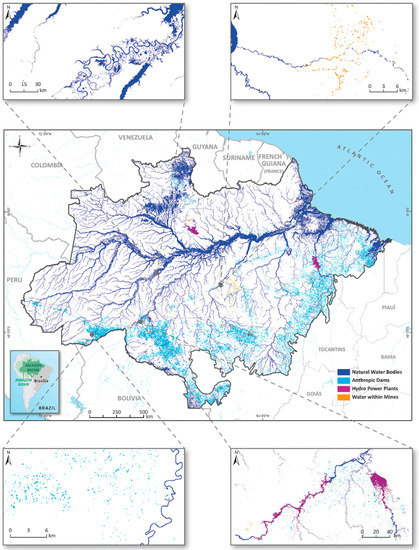 Figure 7. Surface water types mapped for the entire Amazon Biome in 2007. The panels depict examples of hydroelectric dams (bottom-right), small stream fragmentation in the Arc of Deforestation (bottom-left), Natural surface water (top-left) and mining along rivers (top-right).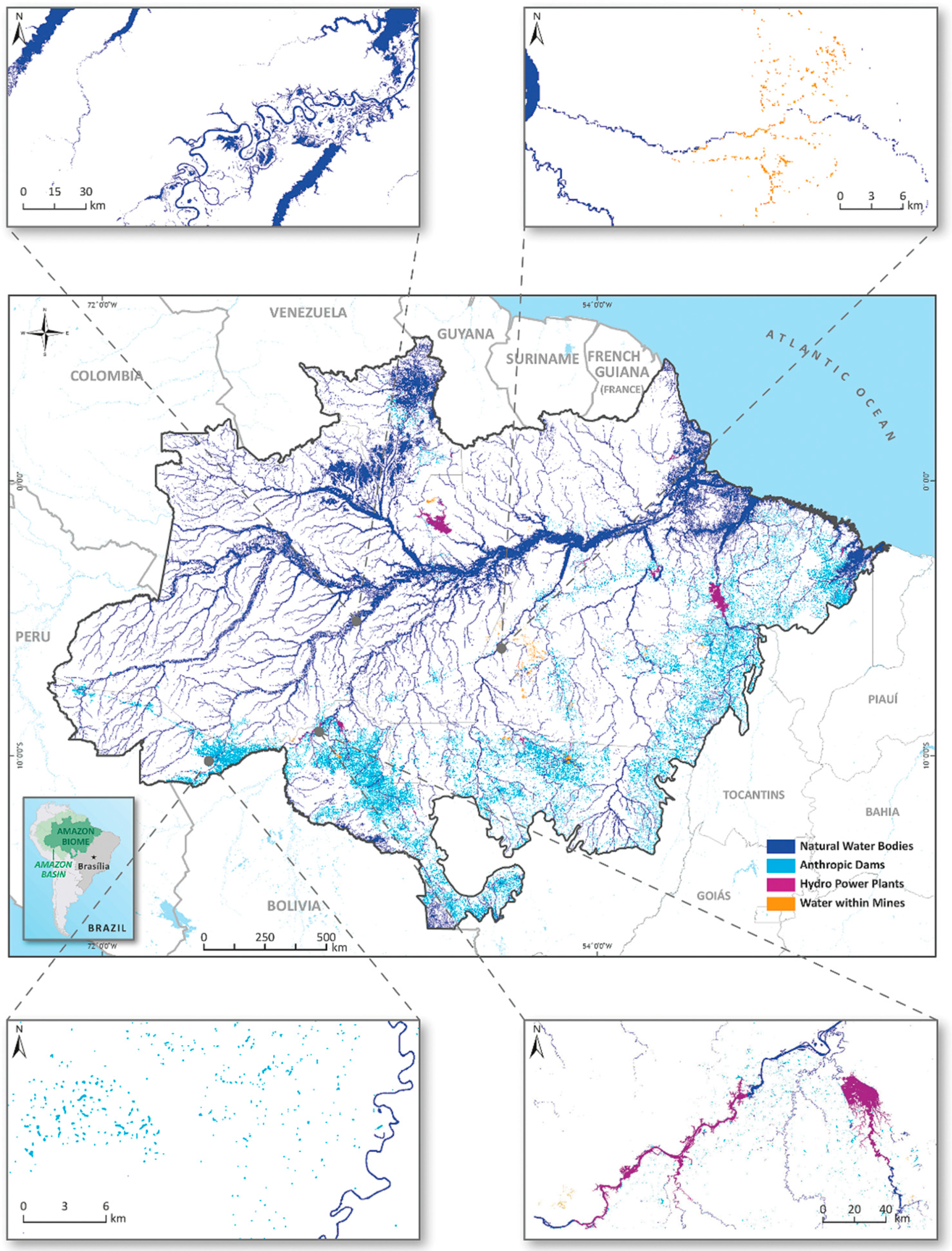 Figure 8. Absolute (A) and relative (B) surface water types showing a decrease in Natural water bodies, and an increase in Anthropic ones. Hydroelectric Dams showed an increase in surface water after 2010, and Agriculture Dams steady growth since 2000 (C).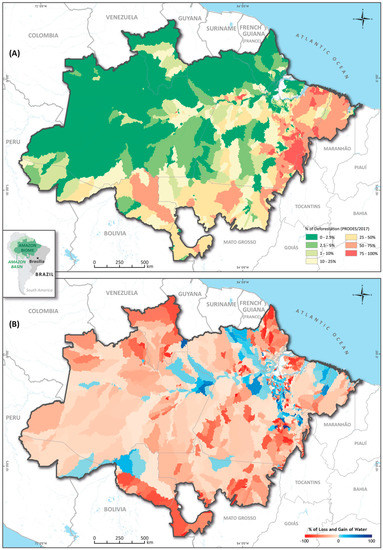 Figure 9. Proportion of forest (green) and deforested areas (orange) at level 4 watersheds (A), and gains and losses of surface water in 2017 per watershed relative to the mean difference from 1985 to 2017 (B).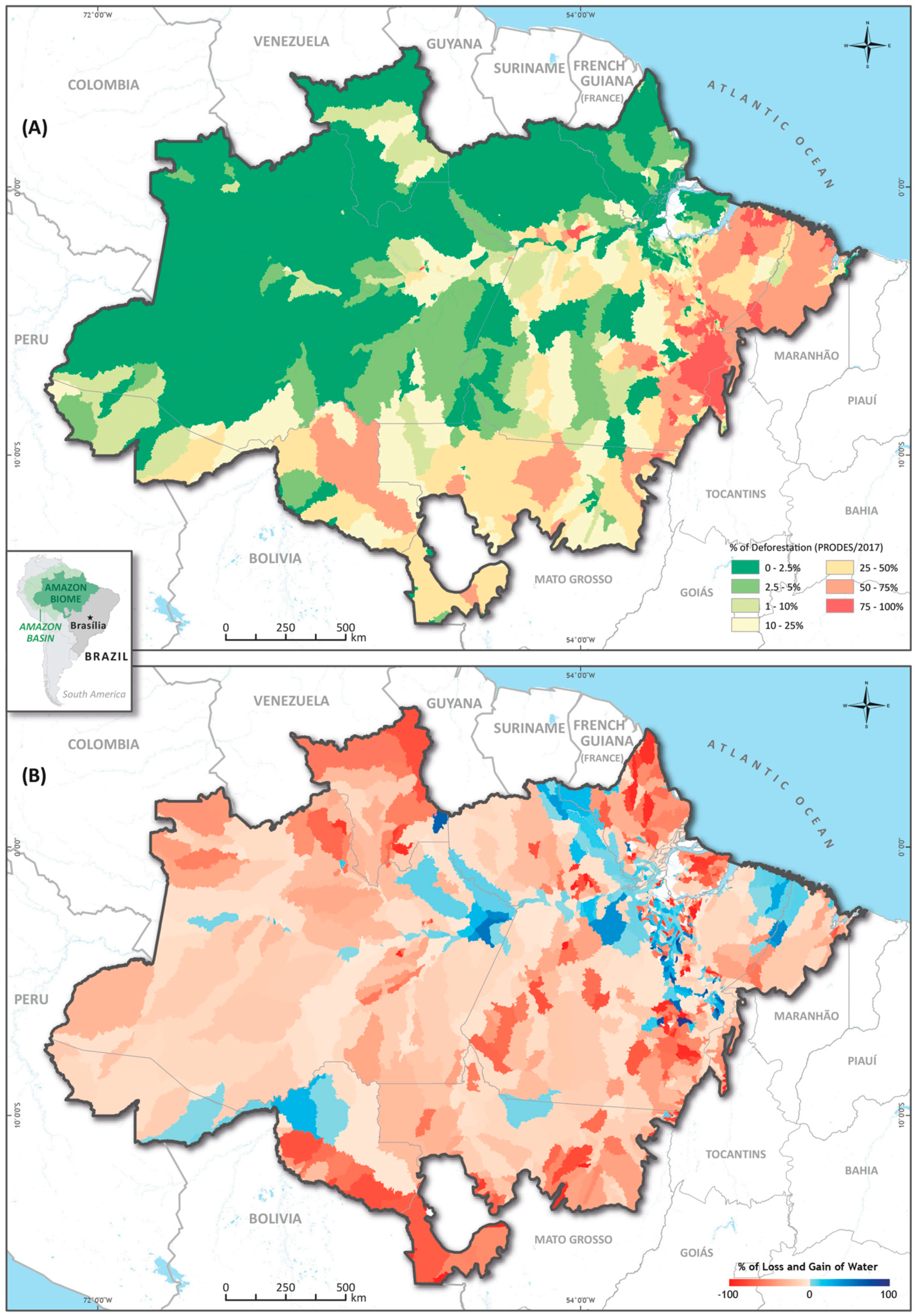 Period (# Years)
Minimum
Maximum
Mean
Standard Deviation (s)
(km2)
(km2/year)
1985–1989
112,599
129,072
123,274
5997
1990–1999
123,325
139,512
130,379
5302
2000–2009
117,396
132,498
127,265
4593
2010–2017
108,674
124,923
116,811
5702

© 2019 by the authors. Licensee MDPI, Basel, Switzerland. This article is an open access article distributed under the terms and conditions of the Creative Commons Attribution (CC BY) license (http://creativecommons.org/licenses/by/4.0/).