Changes in the Content of Heavy Metals in Bílina River during 2012–2017: Effects of Flood and Industrial Inputs
1
Unipetrol Centre for Research and Education, Inc., Revolucni 84, 40001 Ústi nad Labem, Czech Republic
2
Faculty of Mechanical Engineering, Jan Evangelista Purkyně University in Ústí nad Labem, Pasteurova 3544/1, 40096 Ústí nad Labem, Czech Republic
3
Faculty of Environment, Jan Evangelista Purkyně University in Ústí nad Labem, Králova výšina 3132/7, 40096 Ústí nad Labem, Czech Republic
4
Faculty of Food Technology, Kazan National Research Technological University, Karl-Marx-Str., 68., 420015 Kazan, Russia
*
Author to whom correspondence should be addressed.
Received: 21 January 2019 / Revised: 1 March 2019 / Accepted: 1 March 2019 / Published: 7 March 2019
Abstract
This article presents the development of selected heavy metals contained in river sediments at selected sites along the Bílina River. It describes the situation before the large flood in 2013, the situation just after that flood, the situation approximately 1 year after the flood, and 4 years after the flood. The contents of selected heavy metals from industrial pollution originating from transport and industry located along the river flow were monitored. Since the situation in the river before the flood was also known, it was possible to assess the impact of the 2013 flood on the distribution of heavy metals in the settled sediments. The results obtained show that the heavy metal content has changed significantly. During the flood in 2013 there was an increase in the concentration of almost all the monitored elements compared to the situation before the flood and one year after the flood. This could be caused by the churning of sediments as a result of the flood. The only exception was Cd, the concentration of which did not change significantly. However, Cd is present in the sediment samples at a low concentration at the limit of quantification (LOQ), so the change may not be noticeable. In 2017, four years after the flood, an increase in the concentration of all the monitored elements was found. The highest increase in the content of the monitored elements was observed at the sites with the highest industrial pollution. Following the flood in 2014, there was a situation where no significant differences were observed in the content of metals at the individual sampling points in contrast to the values obtained in 2012, 2013, and 2017. As a result of sediment churning and re-settlement during and after the flood, the sediment became homogenized along the entire river flow. After a longer period of time that was not accompanied by floods, a significant increase in the heavy metal concentration was observed due to anthropogenic pollution. The results show that the effect of flooding is only temporal and that anthropogenic pollution is more important than the impact of floods.
View Full-Text
►

▼

Figures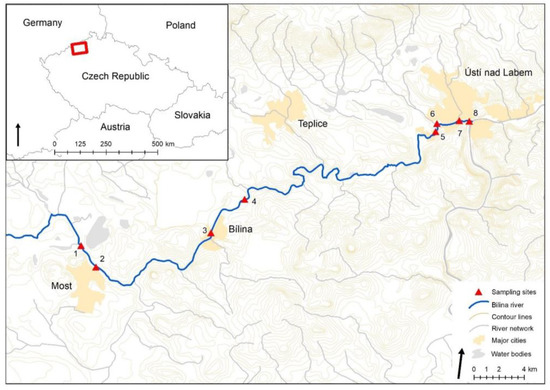 Figure 1
This is an open access article distributed under the
Creative Commons Attribution License
which permits unrestricted use, distribution, and reproduction in any medium, provided the original work is properly cited (CC BY 4.0).

Share & Cite This Article
MDPI and ACS Style
Čmelík, J.; Brovdyová, T.; Trögl, J.; Neruda, M.; Kadlečík, M.; Pacina, J.; Popelka, J.; Sirotkin, A.S. Changes in the Content of Heavy Metals in Bílina River during 2012–2017: Effects of Flood and Industrial Inputs. Water 2019, 11, 481.
Note that from the first issue of 2016, MDPI journals use article numbers instead of page numbers. See further details here.
Related Articles
Comments
[Return to top]