Open Access This article is
freely available
re-usable
Communication
A Newly Developed Unmanned Aerial Vehicle (UAV) Imagery Based Technology for Field Measurement of Water Level
1
State Key Laboratory of Water Resources and Hydropower Engineering Science, Wuhan University, Wuhan 430072, China
2
State Key Laboratory of Hydrology-Water Resources and Hydraulic Engineering, Nanjing Hydraulic Research Institute, Nanjing 210029, China
*
Authors to whom correspondence should be addressed.
Received: 16 November 2018 / Accepted: 8 January 2019 / Published: 11 January 2019
Abstract
:
Field measurement of water level is important for water conservancy project operation and hydrological forecasting. In this study, we proposed a new measuring technique by integrating the advantages of unmanned aerial vehicle (UAV) photogrammetry and image recognition technology. Firstly, the imagery of water fluctuation process was captured by an UAV airborne camera, and water surface line in the imagery was recognized and extracted using image recognition technology. Subsequently, successive water levels at a measuring section were calculated by parameter calibration. Statistical parameters of water levels, such as maximum, average, and minimum values during the capturing period were also calculated. Additionally, we introduced a correction method to offset the error caused by UAV drift. The newly proposed method was tested in field measurement for Miaowei hydropower station, China, and the results showed that the method is reliable and adoptable.
Keywords:
water level; water fluctuation; unmanned aerial vehicle; photogrammetry; image recognition; offset correction
1. Introduction
Water level measuring rule is a traditional contacting measurement method, which needs manual measurement, suggesting that it is difficult to continuously measure water level for its poor automaticity. In addition, it is easily damaged under high-speed flow, and also difficult to accurately obtain the water level when water surface fluctuates intensely.

Float-type water level gauge is suitable for low sandy flow, and the water level measuring well needs to be built for its operation [

2

]. Regularly adjusting the water level and cleaning up siltation in the measuring well and pipeline often results in high operating cost.

Pressure-type water level gauge is installed underwater, thus its accuracy is affected by water impurities and wave, and its calibration process is complex, resulting in a high failure rate [

3

].
Moreover, for some overcurrent buildings, such as spillways, in order to measure water level fluctuations, plurality of instruments along the flow need be installed, which increases instrument installation workload and costs. In some particular cases, such as short-term field measurements during the flood season of a new water conservancy project, the workload and cost of using above-mentioned instruments are higher, indicating their low applicability and efficiency.
3. Results and Discussion
3.1. Application Assessment of UAVi-fmwl
3.2. Preliminary Application of UAVi-fmwl
Water level of the plunge pool in seven cases of spillway flooding discharge was measured using UAVi-fmwl. The time series of water level in each working condition is shown in
Figure 13
. There are some instantaneous water level crosses between adjacent flooding discharges, however the total water level is positively correlated with flood discharge.
The statistical water levels (maximum, average, and minimum values) of each flooding discharge condition are shown in
Figure 14
. Three statistical water levels are all positively correlated with flooding discharges. Disparity between maximum water level and minimum water level increases with discharge, which reveals that the water fluctuation is gradually getting more intense with the stronger interaction of high speed velocity flooding flow and plunge pool water body [
32
].
In order to check the sidewall top elevation design, the regression relations of three statistical water levels and flooding discharges are also plotted in
Figure 14
, and their regression equations are calculated, as:
where
Z
max
is maximum water level elevation,
Z
ave
is average water level elevation,
Z
min
is minimum level water elevation, and
Q
is spillway flooding discharge.
Flow in rivers with relative regular form and constant boundary can be approximated as uniform and steady, and many universal theoretical and empirical equations between
Q
and water depth (
h
) have been proposed, e.g., the classical
Q
-
h
relation Equation (6) based on Manning equation and Chezy equation for a rectangular cross-section river [
33
,
34
].
where
n
is Manning's coefficient of the river,
b
is river width,
i
is the river slope, and the relationship between
Q
and
h
is nonlinear.
In this study, the research location is located at the downstream of spillway. Flow spraying out from spillway exit with high speed (generally larger than 20 m/s,
Figure 1
), and dropping into the plunge pool, makes the flow extremely non-uniform and unsteady. In addition, the river boundary form of the research section is irregular, thus the relationship between
Q
-
h
is always not consistent with classical
Q
-
h
Equation (6), and this exclusive relationship is unknown until this special research in this study.
Based on the exclusive linear relationship between
Q
and
h
, and the sidewall top elevation of water level measurement section (
B
1
: 1322.16 m), the maximum allowable spillway flooding discharge 6200 m
3
/s can be calculated based on Equation (3) if the water surface fluctuation is considered. This value approximates to the 10% frequency flood discharge (6130 m
3
/s) of Miaowei hydropower station. The maximum allowable spillway flooding discharge of 8625 m
3
/s can be calculated based on Equation (4) if the water surface fluctuation is neglected, and this value approximates to the 2% frequency flood discharge (8570 m
3
/s) of Miaowei hydropower station. This result could provide reference for the operation and scheduling of Miaowei hydropower station during its flooding period.
4. Conclusions
Aiming at solving the limitations of current measuring instruments and methods for water level measurements in the field, we integrated UAV photogrammetry and image recognition technology, and developed a newly optical measuring technology to measure water level in the field, and constructed the corresponding measurement system, including UAV, airborne camera, plane wall, baffle or straight line, calibration points, correction point, and image processing software.
The UAVi-fmwl theory and implementation processes are as follows: (1) capture the video of water surface fluctuation processes, (2) dedicate image processing software orderly preprocess images separated from video captured by airborne camera, (3) segment the water body and background, (4) use the traversal algorithm to calculate the pixel coordinates of measurement section, and (5) obtain the actual water level at that time according to the conversion coefficient and the conversion relationship. Particularly, the UAVi-fmwl considers the offset error of UAV and then provides a UAV offset correction method.
The UAVi-fmwl was applied to water level measurement in the plunge pool downstream of the spillway of a hydropower station, and the results showed that the newly developed technology has good reliability, good progressiveness, and strong potential to monitor water level in the field environment. In addition, an operation and scheduling reference of the hydropower station is acquired based on the water level analysis results.
The UAVi-fmwl proposed in this study has the advantages of maneuverable and flexible UAV, high image recognition and analysis automation, high recognition accuracy, non-contact, low cost, and no requirement for water quality. It is suitable to water level and water surface fluctuation measurement in complex field environment (e.g., high and steep mountain slope, wide river, high-speed flow), especially for short-term water surface fluctuation and urgent water level change process measurement (e.g., dammed lake). This technology can also be applied to hydraulic model experiments and fluid surface fluctuation measurement of the oil industry and metallurgical industry.
Funding
This research was jointly funded by the National Key Research and Development Program of China (2018YFC0407200), the Projects of National Natural Science Foundation of China (51679146; 51479120), and Research Projects of Nanjing Hydraulic Research Institute (Y117009; Y118009; Y118012).
Acknowledgments
The authors thank Dongfeng Li from National University of Singapore and Haipeng Luo from University of Victoria, Canada for their comments in writing this manuscript. We thank all the authors who contribute to this special issue. We also sincerely thank the reviewers who contributed their expertise and time on reviewing this manuscript.
Conflicts of Interest
The authors declare no conflict of interest.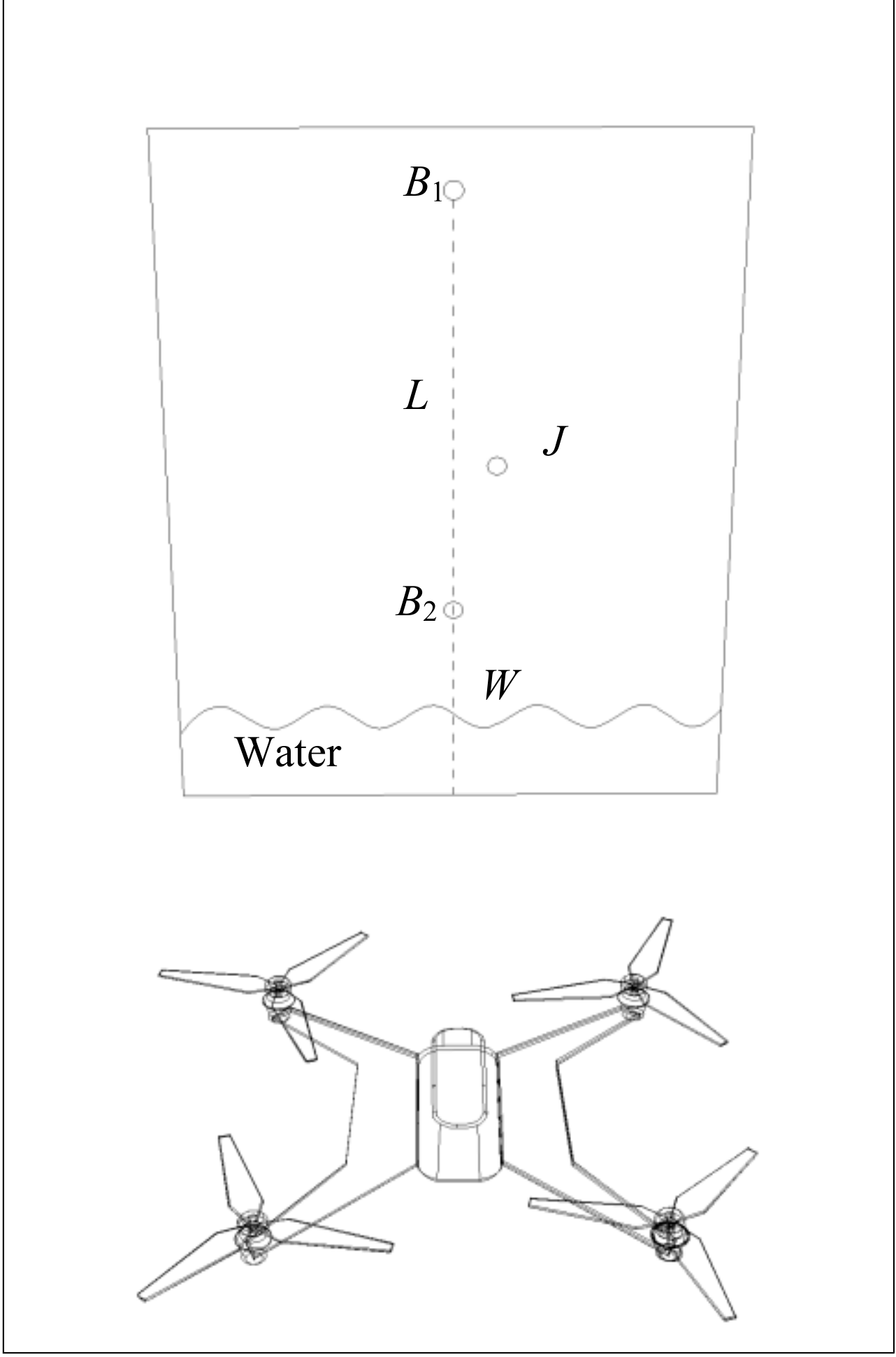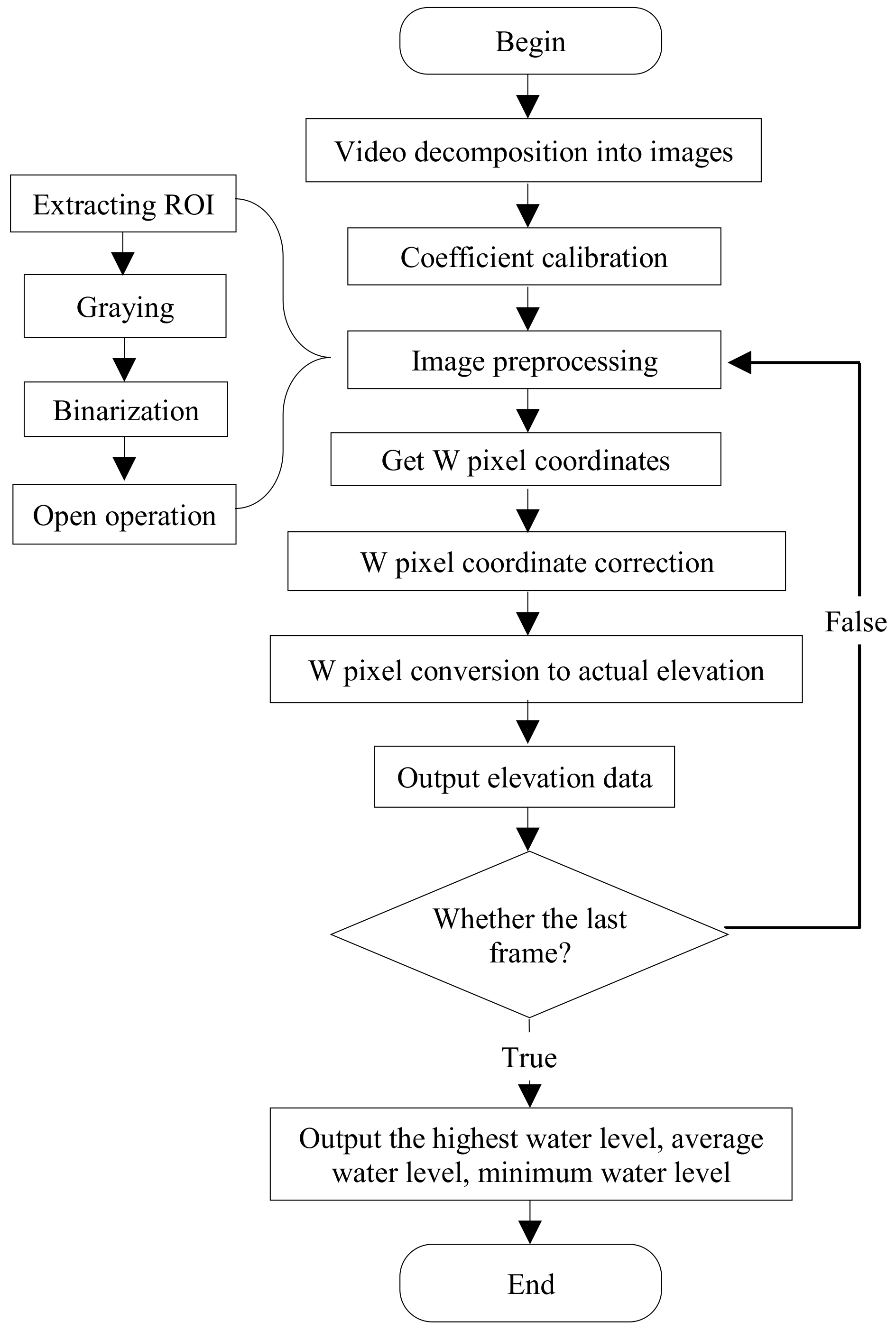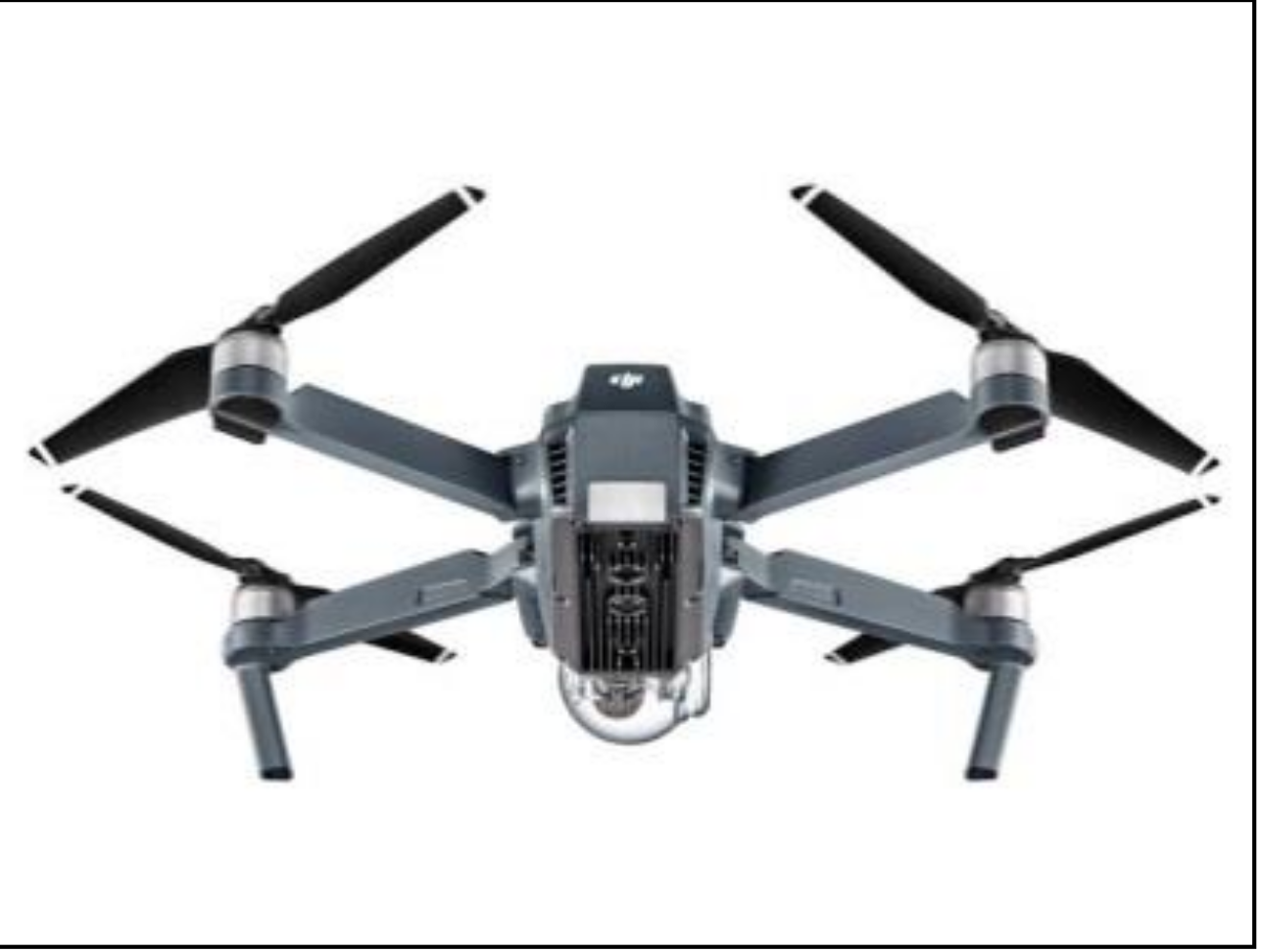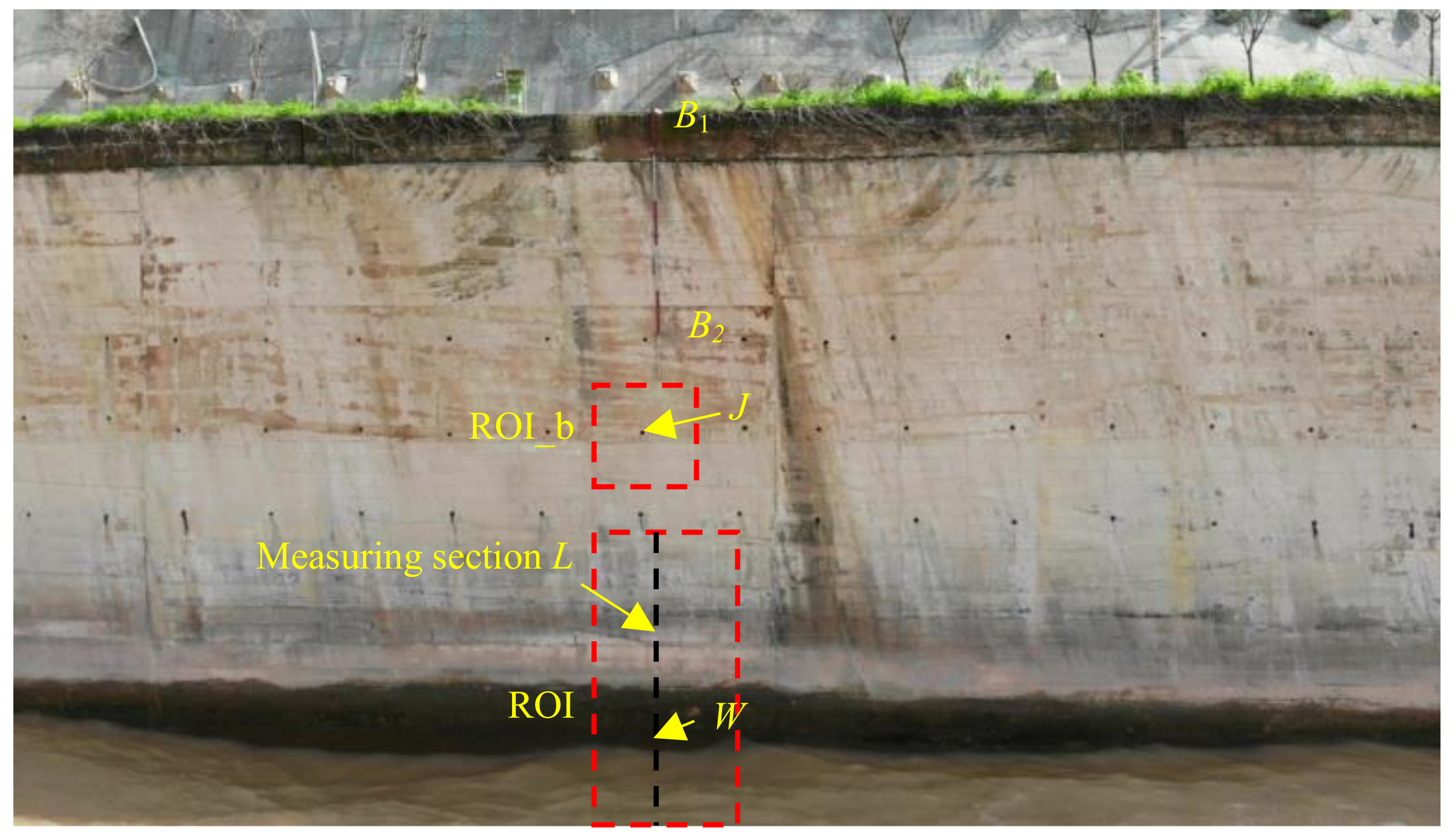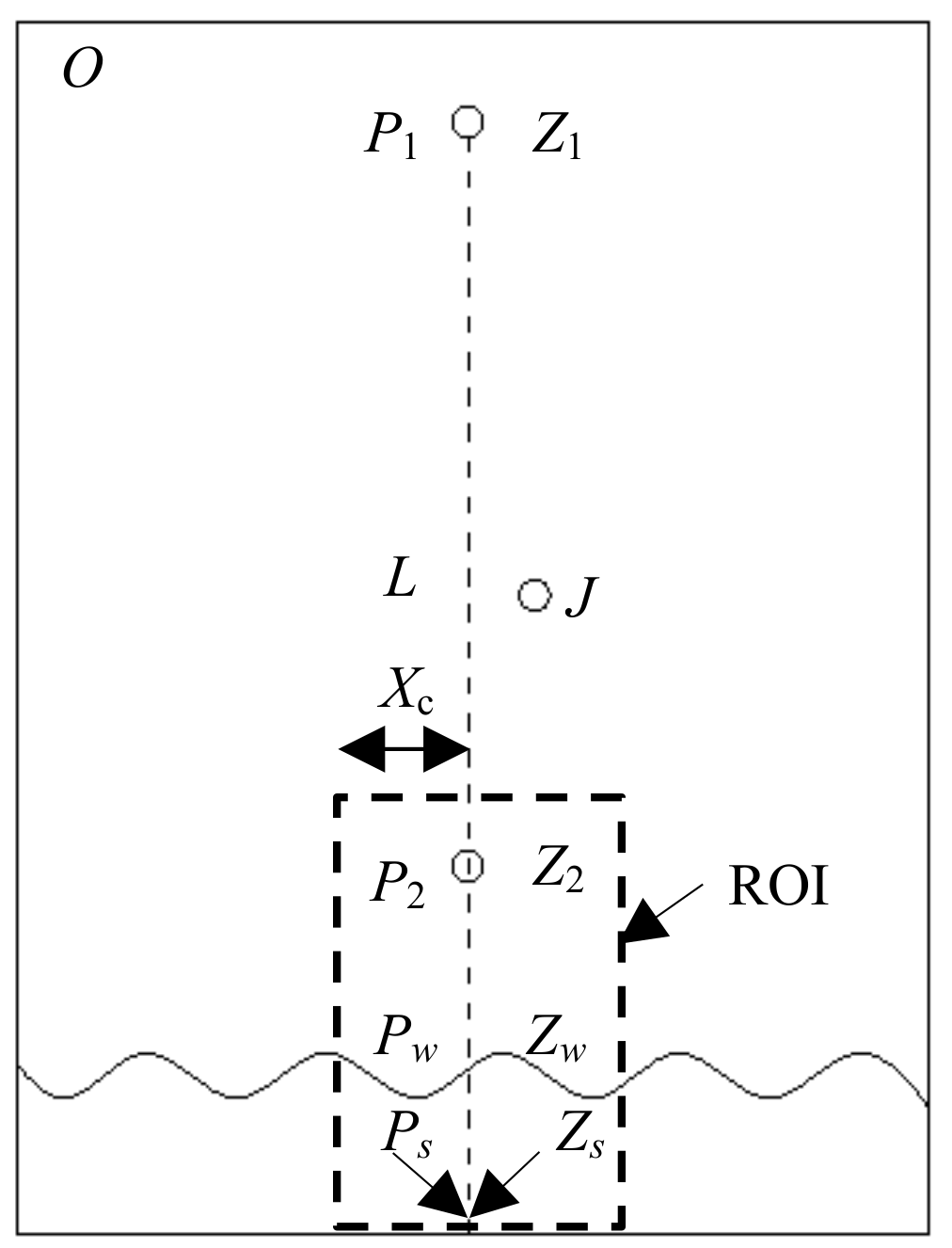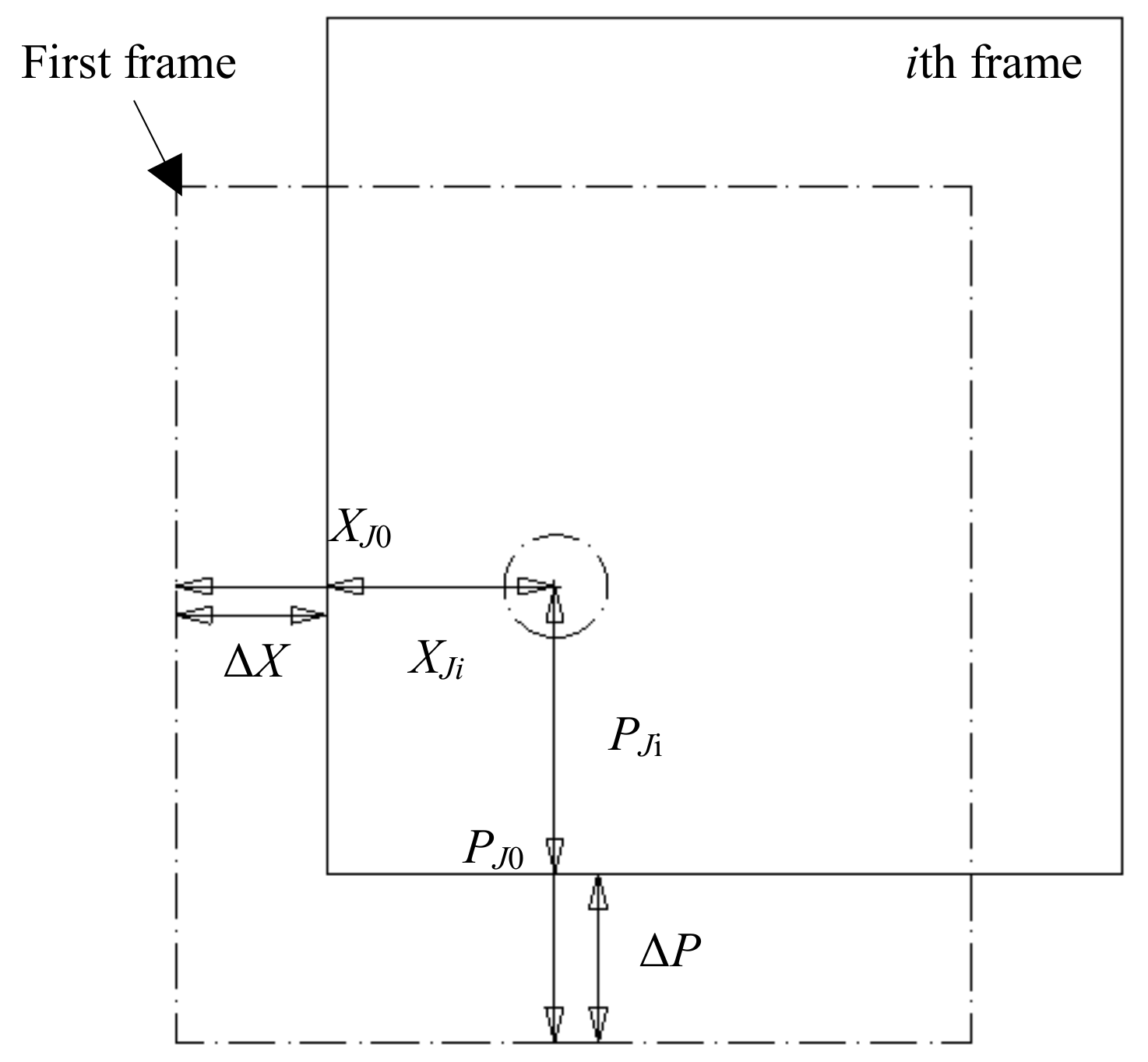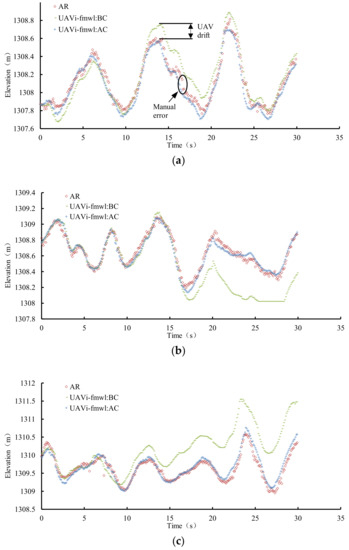 Figure 10.
Trends contrast between artificial recognition (AR) data and field measurement of water level (UAVi-fmwl) data. (
a
)
Q
= 341 m
3
/s; (
b
)
Q
= 643 m
3
/s; and, (
c
)
Q
= 1249 m
3
/s.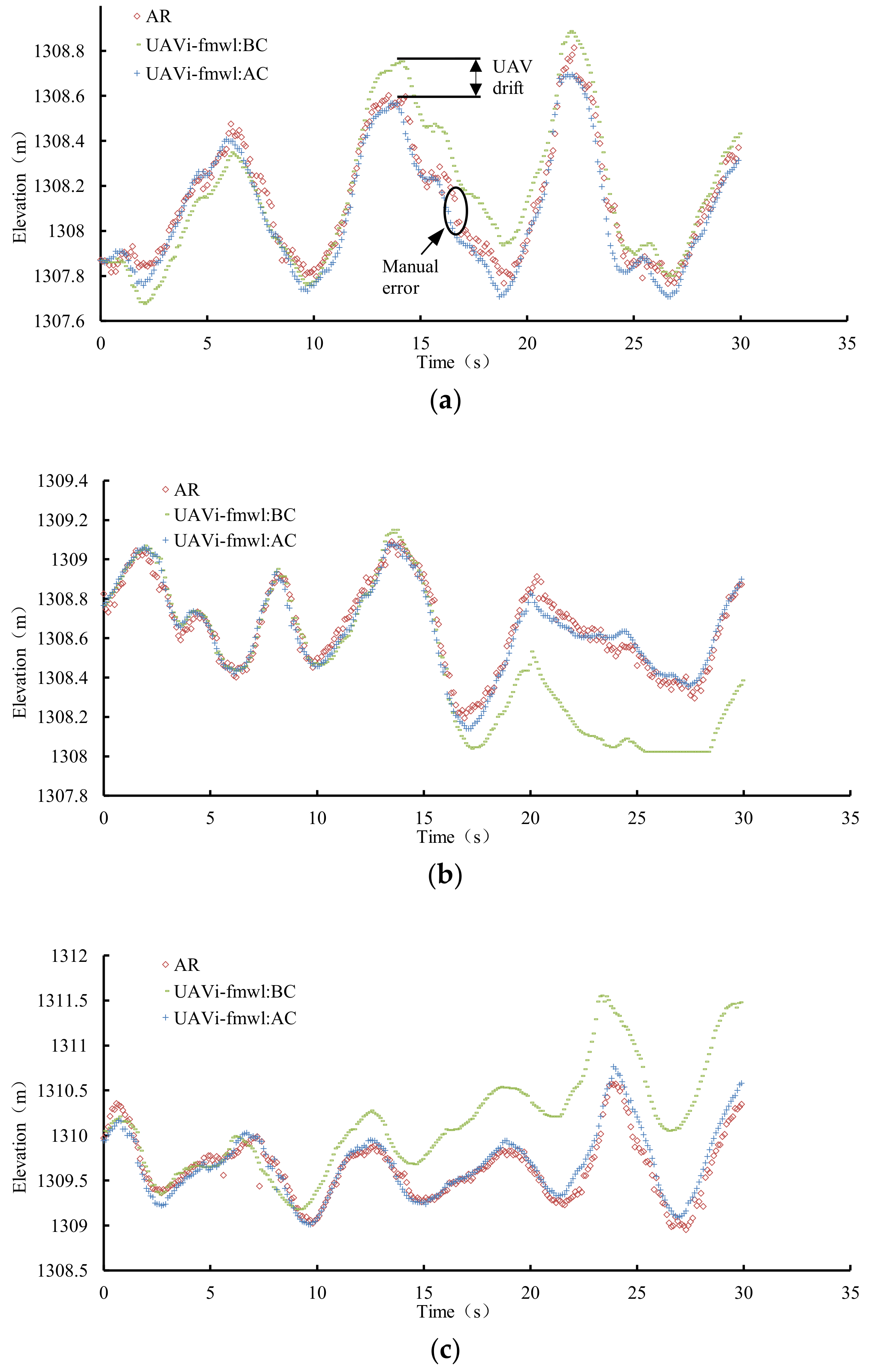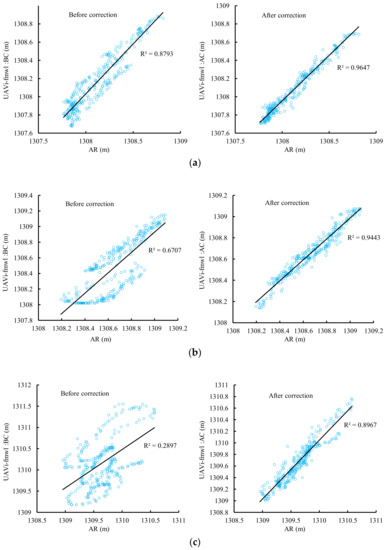 Figure 11.
Consistency analysis between AR data and UAVi-fmwl data. (
a
)
Q
= 341 m
3
/s; (
b
)
Q
= 643 m
3
/s; and, (
c
)
Q
= 1249 m
3
/s.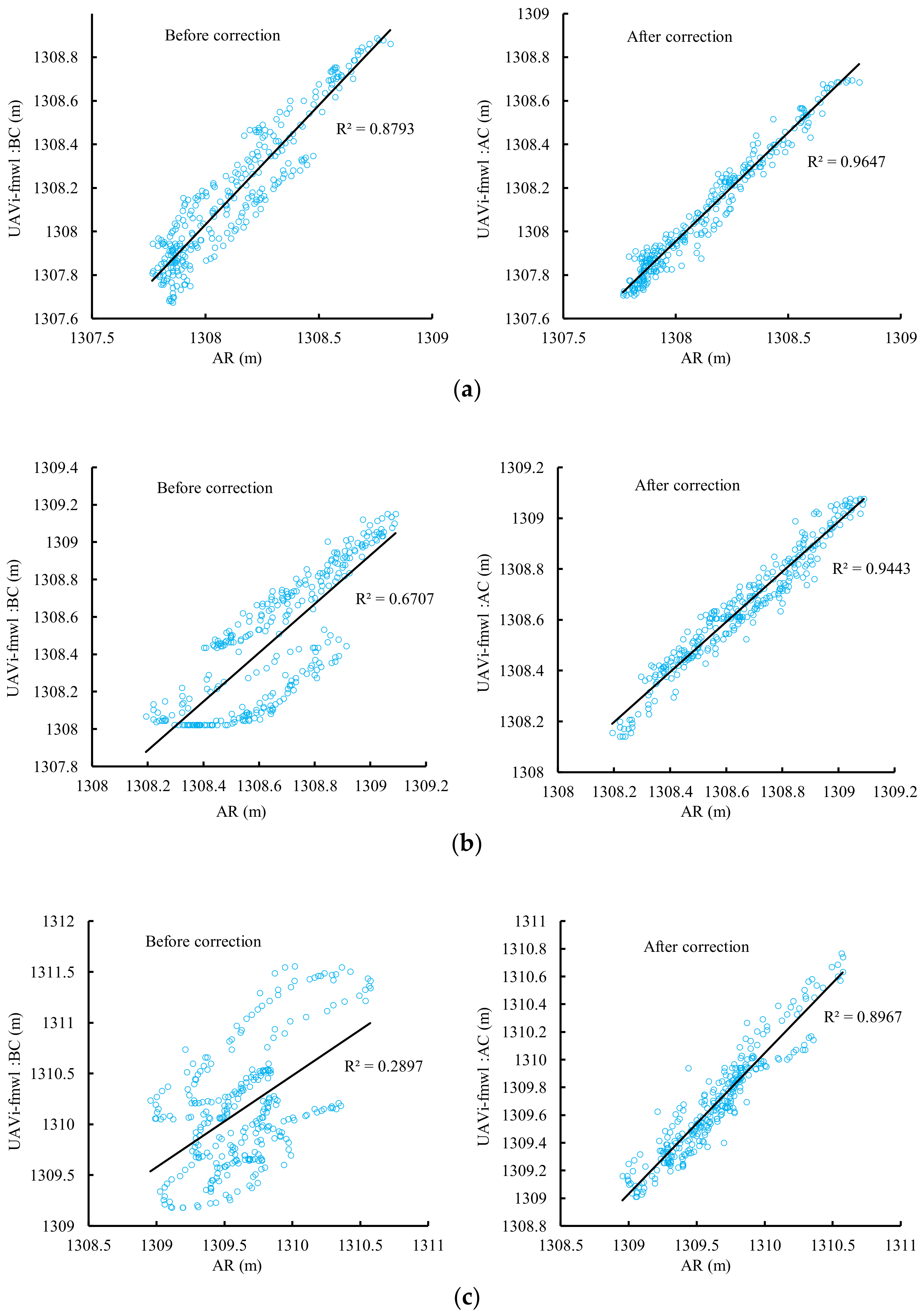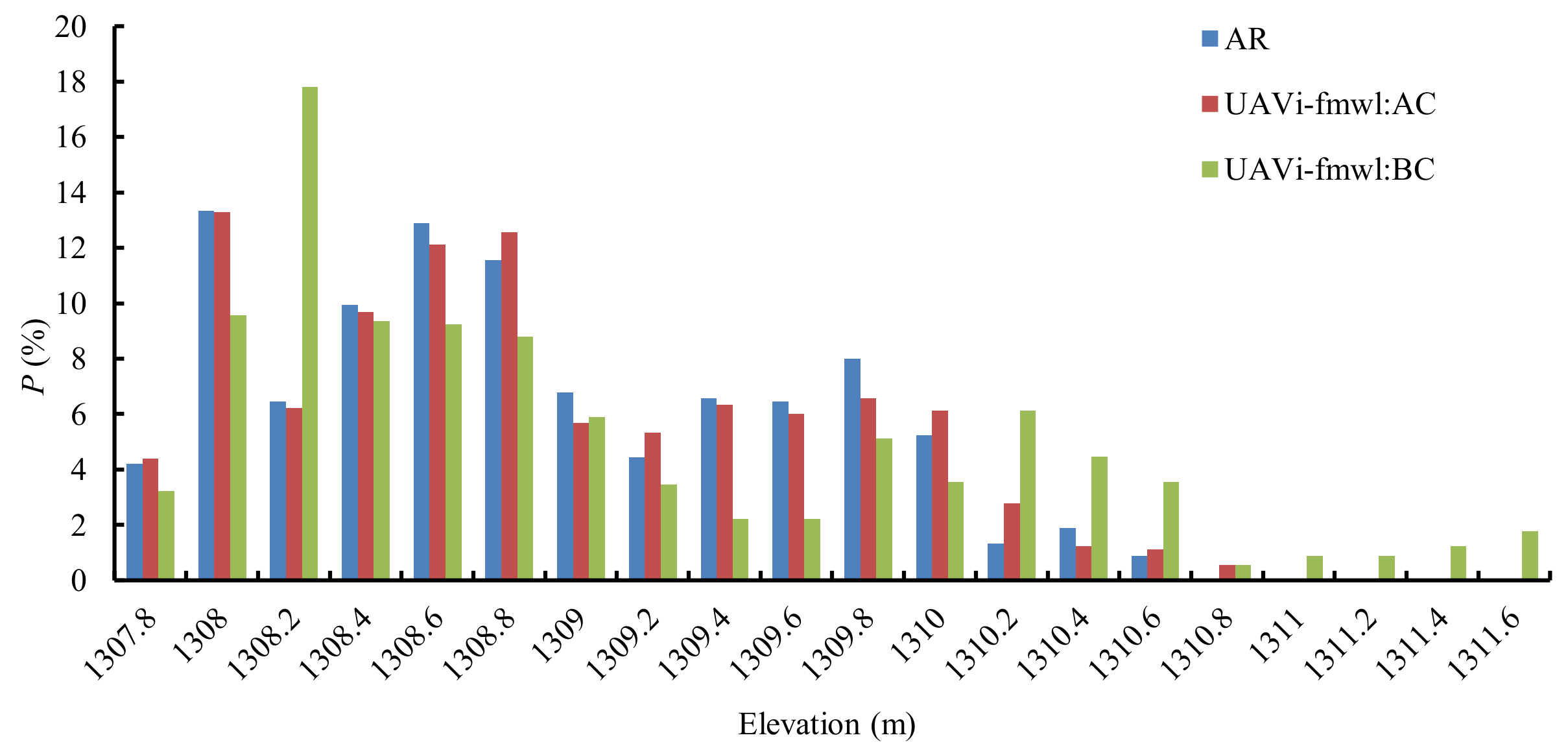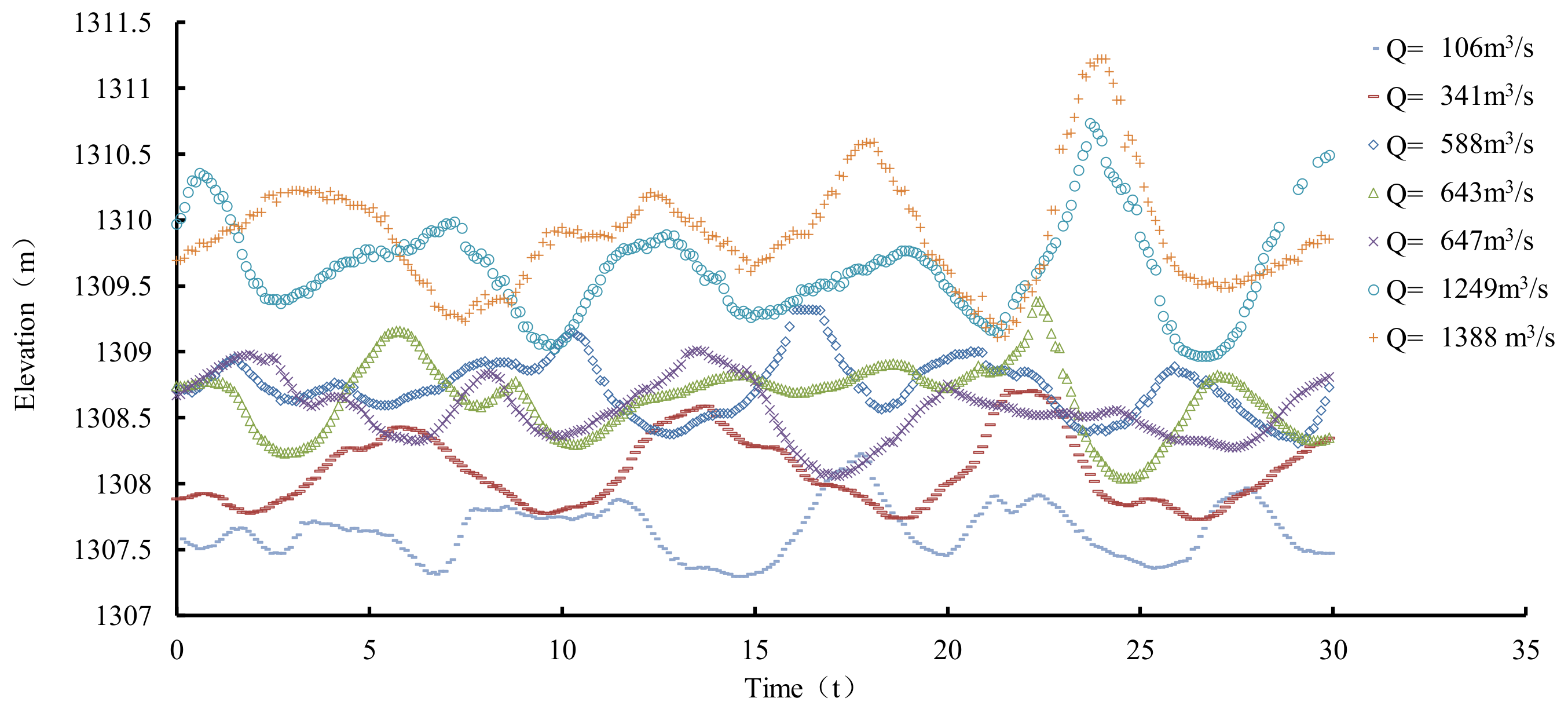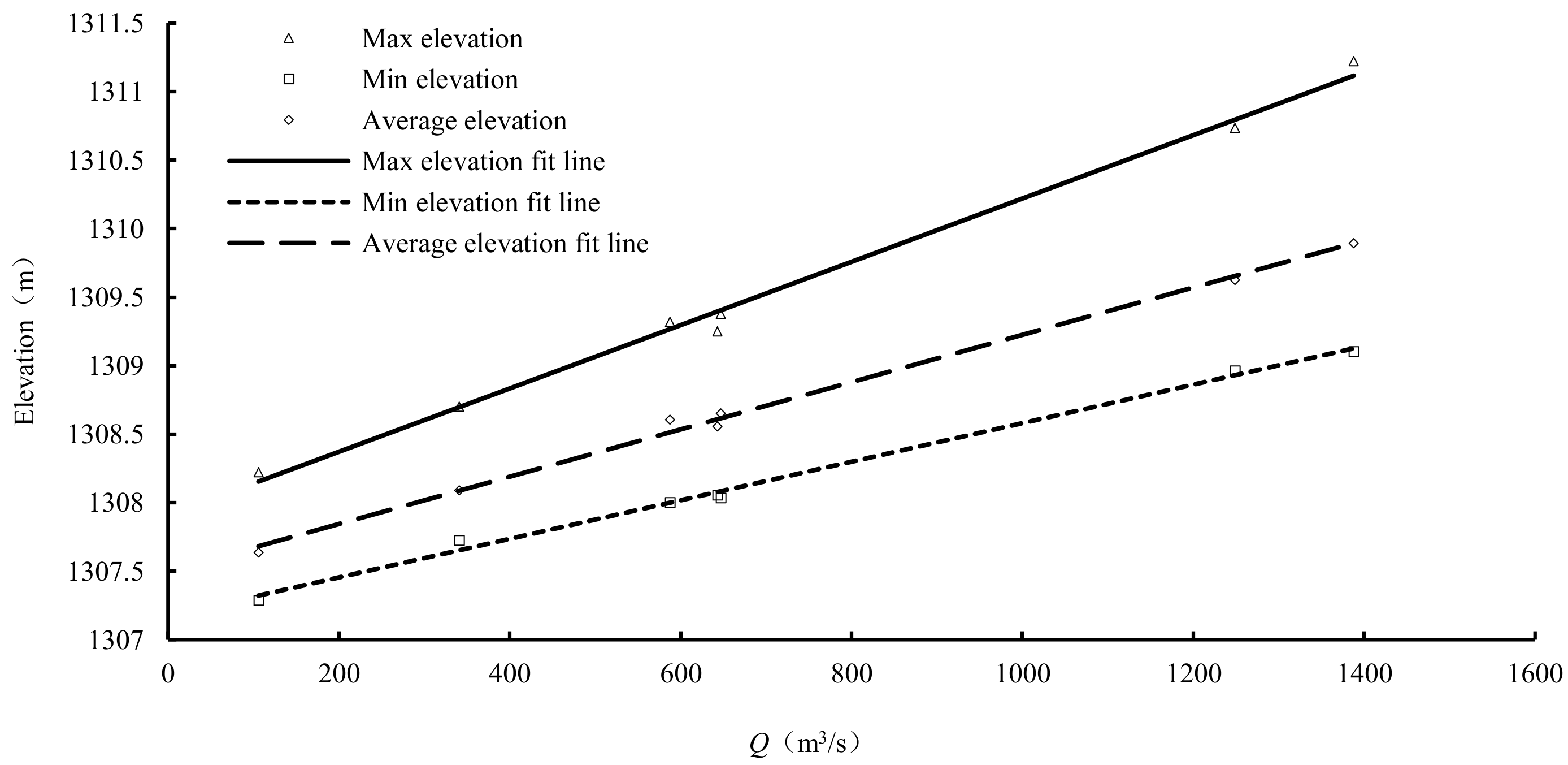 | Case | Q (m3/s) | Average Displacement (cm) | Max Displacement (cm) |
| --- | --- | --- | --- |
| 1 | 341 | 18.478 | 28.704 |
| 2 | 643 | 22.604 | 63.782 |
| 3 | 1249 | 72.961 | 140.293 |

© 2019 by the authors. Licensee MDPI, Basel, Switzerland. This article is an open access article distributed under the terms and conditions of the Creative Commons Attribution (CC BY) license (http://creativecommons.org/licenses/by/4.0/).