Land Use Change over the Amazon Forest and Its Impact on the Local Climate†
1
São Paulo State University (UNESP), Av. Eng. Luiz Edmundo Carrijo Coube, 14-01, Bairro: Vargem Limpa, Bauru, SP 17033-360, Brazil
2
Bauru Meteorological Centre (IPMet/UNESP), Bauru, SP 17033-360, Brazil
3
Federal University of Itajuba (UNIFEI), Av. BPS, 1303, Bairro: Pinheirinho, Itajubá, MG 37500-903, Brazil
4
Earth System Physics, Abdus Salam International Centre for Theoretical Physics, Trieste 34100, Italy
5
University of São Paulo (USP), Rua do Matão, 1226, Bairro: Butantã, São Paulo, SP 05508-090, Brazil
6
National Centre for Monitoring and Early Warning of Natural Disasters—CEMADEN, São José dos Campos, SP 12247-016, Brazil
*
Author to whom correspondence should be addressed.
Received: 7 November 2017 / Revised: 19 January 2018 / Accepted: 22 January 2018 / Published: 3 February 2018
Abstract
One of the most important anthropogenic influences on climate is land use change (LUC). In particular, the Amazon (AMZ) basin is a highly vulnerable area to climate change due to substantial modifications of the hydroclimatology of the region expected as a result of LUC. However, both the magnitude of these changes and the physical process underlying this scenario are still uncertain. This work aims to analyze the simulated Amazon deforestation and its impacts on local mean climate. We used the Common Land Model (CLM) version 4.5 coupled with the Regional Climate Model (RegCM4) over the Coordinated Regional Climate Downscaling Experiment (CORDEX) South America domain. We performed one simulation with the RegCM4 default land cover map (CTRL) and one simulation under a scenario of deforestation (LUC), i.e., replacing broadleaf evergreen trees with C
3
grass over the Amazon basin. Both simulations were driven by ERA Interim reanalysis from 1979 to 2009. The climate change signal due to AMZ deforestation was evaluated by comparing the climatology of CTRL with LUC. Concerning the temperature, the deforested areas are about 2 °C warmer compared to the CTRL experiment, which contributes to decrease the surface pressure. Higher air temperature is associated with a decrease of the latent heat flux and an increase of the sensible heat flux over the deforested areas. AMZ deforestation induces a dipole pattern response in the precipitation over the region: a reduction over the west (about 7.9%) and an increase over the east (about 8.3%). Analyzing the water balance in the atmospheric column over the AMZ basin, the results show that under the deforestation scenario the land surface processes play an important role and drive the precipitation in the western AMZ; on the other hand, on the east side, the large scale circulation drives the precipitation change signal. Dipole patterns over scenarios of deforestation in the Amazon was also found by other authors, but the precipitation decrease on the west side was never fully explained. Using budget equations, this work highlights the physical processes that control the climate in the Amazon basin under a deforestation scenario.
View Full-Text
►

▼

Figures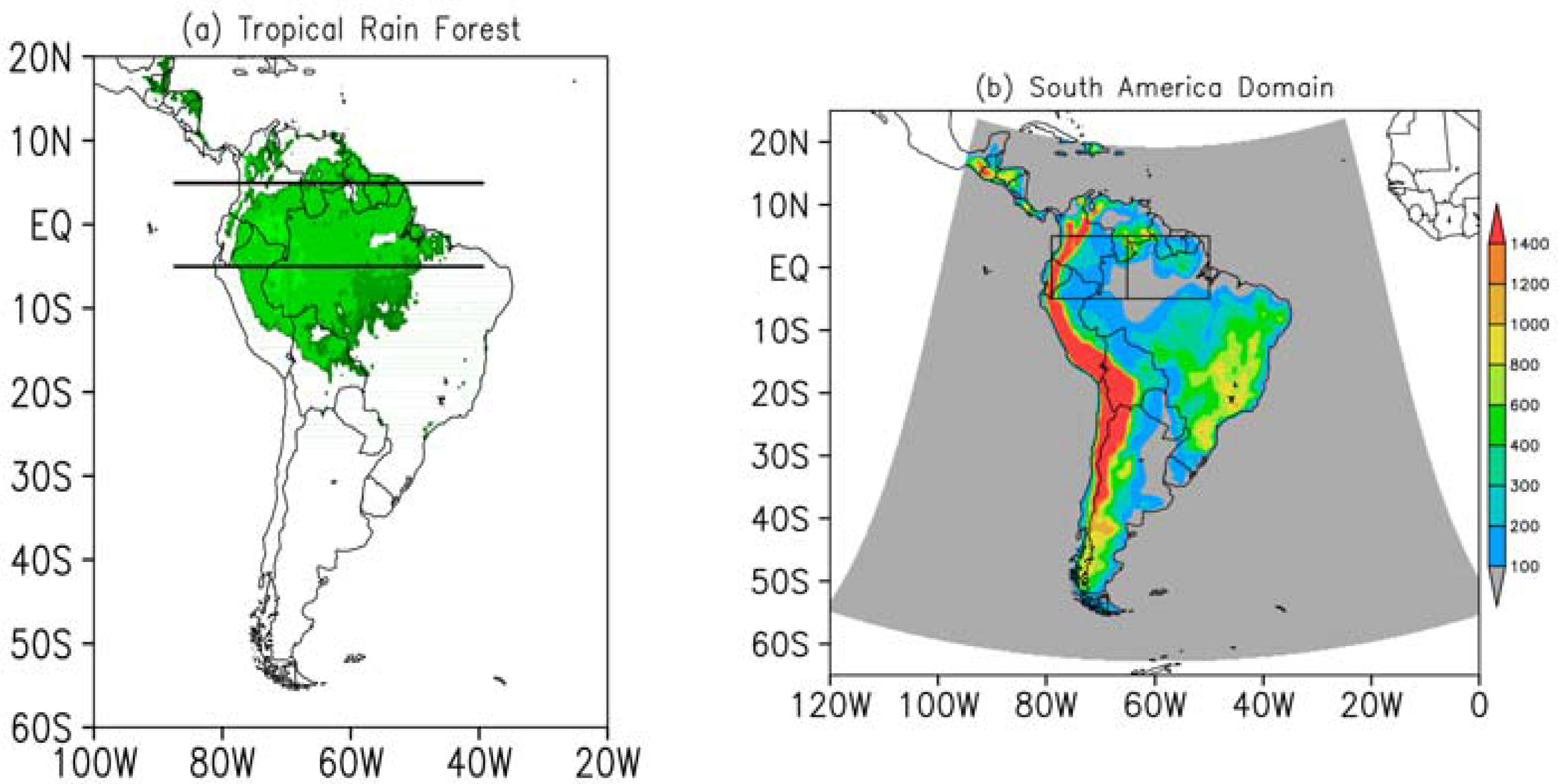 Figure 1
This is an open access article distributed under the
Creative Commons Attribution License
which permits unrestricted use, distribution, and reproduction in any medium, provided the original work is properly cited. (CC BY 4.0).

Share & Cite This Article
MDPI and ACS Style
Llopart, M.; Reboita, M.S.; Coppola, E.; Giorgi, F.; da Rocha, R.P.; de Souza, D.O. Land Use Change over the Amazon Forest and Its Impact on the Local Climate. Water 2018, 10, 149.
Note that from the first issue of 2016, MDPI journals use article numbers instead of page numbers. See further details here.
Related Articles
Comments
[Return to top]