Study on the Applicability of the Hargreaves Potential Evapotranspiration Estimation Method in CREST Distributed Hydrological Model (Version 3.0) Applications
1
State Key Laboratory of Hydroscience and Engineering, Department of Hydraulic Engineering, Tsinghua University, Beijing 100084, China
2
State Key Laboratory of Simulation and Regulation of Water Cycle in River Basin, Research Center on Flood & Drought Disaster Reduction of the Ministry of Water Resources, China Institute of Water Resources and Hydropower Research, Beijing 100038, China
*
Authors to whom correspondence should be addressed.
Received: 6 November 2018 / Revised: 7 December 2018 / Accepted: 17 December 2018 / Published: 19 December 2018
(This article belongs to the Section
Hydrology
)
Abstract
The potential evapotranspiration (PET) is an important input to the hydrological model and its compatibility has an important influence on the model applications. The applicability of the Hargreaves-Samani (HS) PET estimation method in Coupled Routing and Excess STorage distributed hydrological model version 3.0 (CREST 3.0 model) was studied in a typical humid region, Ganjiang River Basin, in Southern China. The PET estimation methods were evaluated based on the streamflow simulation accuracies using the CREST 3.0 model driven by different PET products with various spatial resolutions. The Penman-Monteith (PM) equation-based PET estimation method was adopted as the reference PET estimation method in this study. The results demonstrated that PET obtained from the HS method was larger than that generated by the PM method, and the CREST 3.0 model driven by both HS and PM-based PET products can simulate the streamflow temporal variations equally well in annual time scale. Compared with the PM method, the HS method was more stable and robust in driving CREST 3.0 model under the scenarios of different spatial resolutions. In addition, during the validation period (2007–2009) with 2003–2006 as the calibration period, the HS outperformed PM considering the streamflow simulation accuracy. Therefore, the HS method was not only applicable to CREST 3.0 model with flexible spatial resolutions, but also can be an alternative method to PM method in CREST 3.0 model streamflow simulation applications in Ganjiang River Basin. The study results will not only increase the confidence on the applicability of the HS method in hydrological simulation in Ganjiang River Basin, but also prove the flexibility of CREST 3.0 model in terms of PET input, which will expand the application range of the CREST 3.0 model.
View Full-Text
►

▼

Figures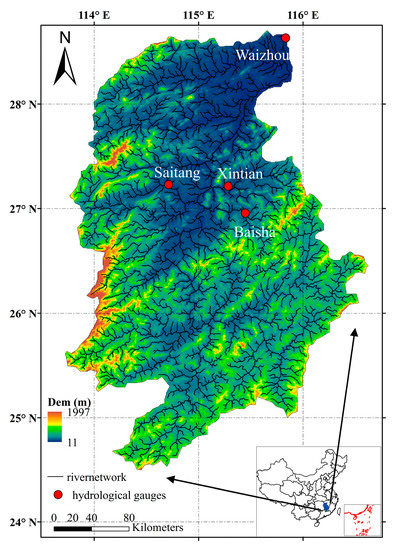 Figure 1
This is an open access article distributed under the
Creative Commons Attribution License
which permits unrestricted use, distribution, and reproduction in any medium, provided the original work is properly cited (CC BY 4.0).

Share & Cite This Article
MDPI and ACS Style
Li, Z.; Yang, Y.; Kan, G.; Hong, Y. Study on the Applicability of the Hargreaves Potential Evapotranspiration Estimation Method in CREST Distributed Hydrological Model (Version 3.0) Applications. Water 2018, 10, 1882.
Note that from the first issue of 2016, MDPI journals use article numbers instead of page numbers. See further details here.
Related Articles
Comments
[Return to top]