Hydrochemical Changes and Influencing Factors in the Dongkemadi Region, Tanggula Range, China
1
State Key Laboratory of Cryosphere Science, Northwest Institute of Eco-Environment and Resources, Chinese Academy of Sciences, Lanzhou 730000, China
2
College of Resources and Environment, University of Chinese Academy of Sciences, Beijing 100049, China
3
Key Laboratory of Eco-hydrology Inland River Basin, Chinese Academy of Sciences, Lanzhou 730000, China
4
College of Hydrology and Water Resources, Hohai University, Nanjing 210098, China
*
Author to whom correspondence should be addressed.
Received: 6 November 2018 / Revised: 4 December 2018 / Accepted: 11 December 2018 / Published: 14 December 2018
Abstract
In order to detect the source and controlling factors of hydrochemical ions in glacier meltwater-recharged rivers, the chemical characteristics of the river water, precipitation, and meltwater of the Dongkemadi River Basin, China, in 2014 (from May to October) were systematically analyzed, and combined with the hydrological and meteorological data. The results show that the hydrochemical pattern of the typical river was HCO
3
−
-Ca
2+
. The most cations were Ca
2+
and Mg
2+
, and the predominant anions were HCO
3
−
and SO
4
2−
, in the river. The concentration of major ions and total dissolved solids (TDS) in the river water were much larger than that in the precipitation and meltwater. The TDS concentration was ordered: River water > precipitation > meltwater. The water-rock interaction and the dilution effect of the precipitation and meltwater on the runoff ions resulted in a negative correlation between the ion concentration of the river water and the river flow. The chemical ions of the river runoff mainly originated from rock weathering and the erosion (abrasion) caused by glacier movement. In addition, the contributions of different sources to the dissolved components of the Dongkemadi River were ordered: Carbonate (75.8%) > silicate (15.5%) > hydatogenic rock (5.7%) > atmospheric precipitation (3%), calculated by a forward geochemical model. And the hydrochemical weathering rates of carbonate and silicate minerals were 12.30 t·km
−2
·a
−1
and 1.98 t·km
−2
·a
−1
, respectively. The CO
2
fluxes, consumed by the chemical weathering of carbonate and silicate, were 3.28 × 10
5
mol·km
−2
·a
−1
and 0.91 × 10
5
mol·km
−2
·a
−1
, respectively.
View Full-Text
►

▼

Figures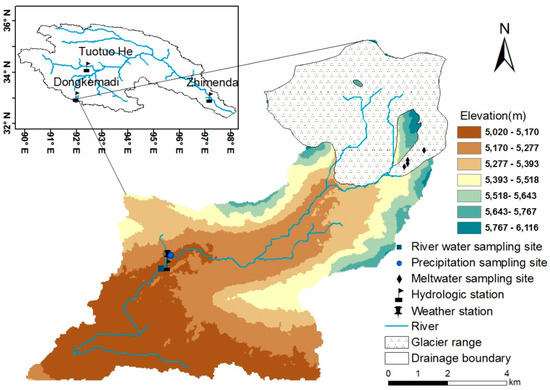 Figure 1
This is an open access article distributed under the
Creative Commons Attribution License
which permits unrestricted use, distribution, and reproduction in any medium, provided the original work is properly cited (CC BY 4.0).

Share & Cite This Article
MDPI and ACS Style
Han, T.; Li, Y.; Qin, J.; Li, X.; Yang, Q.; He, X. Hydrochemical Changes and Influencing Factors in the Dongkemadi Region, Tanggula Range, China. Water 2018, 10, 1856.
Note that from the first issue of 2016, MDPI journals use article numbers instead of page numbers. See further details here.
Related Articles
Comments
[Return to top]