Open Access This article is
freely available
re-usable
Article
Removal of Organic Micropollutants by Grainy Bentonite-Activated Carbon Adsorbent in a Fixed Bed Column
Institute of Water and Wastewater Engineering, Silesian University of Technology, 44-100 Gliwice, Poland
Received: 14 November 2018 / Accepted: 4 December 2018 / Published: 6 December 2018
Abstract
:
Organic micropollutants enter effluent streams and then flow into receiving waters. The volume adversely affects aquatic biota substantially. Therefore, many efforts have been made to develop methods for their elimination. The aim of this study was the removal of organic micropollutants with different properties from WWTP (wastewater treatment plant) effluent in fixed bed columns packed with several combinations of sand, granular activated carbon (GAC), and granular clay-carbonaceous composite. Two types of bentonite-powder activated carbon-based granules (Ben-AC) were prepared within this work, with different calcination temperature. It was found that higher calcination temperature enhanced the surface porosity and adsorption potential versus studied micropollutants due to dihydroxylation resulting in higher chemical activity. Introduction of these granules in the place of GAC in a fixed bed column enhances the removal degree of micropollutants and typical water quality parameters. For example, the reduction degree of color, phosphate, and nitrate concentrations increased from 83%, 69%, and 4% to 95%, 83%, and 24% for column I and II, respectively. The concentration of carbamazepine, octylphenol, nononylphenol, and anthracene was reduced by 75%, 83%, 72%, 99% in column I, while using column II or III their removal was: 86%, 97%, 99%, 99%, respectively. Independent of the column filling, the removal of carbamazepine was the lowest (75–86%), while the highest retention was obtained for anthracene (99%). The study of column performance in the treatment of effluent in time showed that column filled with Ben-AC-400 guaranteed high removal degree in the operating time. The batch adsorption data were better described by both the Langmuir model.
Keywords:
adsorption; clay-carbonaceous composite; fixed bed column; micropollutants
1. Introduction
This work aimed to determine the removal efficiency of four micropollutants with different physicochemical properties from WWTP effluent by granular bentonite-activated carbon composite (Ben-AC) and present the first study of this adsorbent in continuous filtration. The experiment was performed in three columns packed with granular activated carbon (GAC), sand and Ben-AC composite to represent an advantage of new granular adsorbent over conventional packing material. Moreover, two different types of granular Ben-AC composites were prepared.
3. Results and Discussion
3.1. Morphology of Bentonite-Activated Carbon Nanocomposite
The digital photographs of two types of grainy bentonite-activated carbon composites are shown in
Figure 2
. Ben-AC-250 are brighter than Ben-AC-400. This is related to different calcination temperatures. The higher calcination temperature caused stronger dihydroxylation of bentonite. Structural changes caused by the elimination of hydroxyl groups lead to darkening and an amorphous state of matter [
36
]. The specificity of this state is a thermodynamic imbalance, which affects the high chemical activity of such material. Moreover, the surface morphology of Ben-AC-400 seems to be slightly more heterogeneous, rough, and porous than Ben-AC-250 (
Figure 3
). It is an effect of higher structure damages due to higher calcination temperatures. As the temperature increases, the activated carbon contained in the bentonite is combusted forming multiple internal pores and channels inside granules. Du et al. suggests that thermal modification is a crucial step in forming a porous structure of grainy clays [
37
]. Both changes (chemical activity, porous surface) generated by higher calcination temperature of Ben-AC-400 are favorable in the context of adsorption potential.
3.2. Adsorption Isotherms
Figure 4
shows the isotherms of CBZ, OP, NP, and ANT on GAC, Ben-AC-250, and Ben-AC-400. According to the Giles classification, adsorption isotherms for Ben-AC-250 and Ben-AC-400 correspond to L2, while for GAC it is the L1 type. Both suggest a progressive saturation of the adsorbent. In other words, as more sites in the adsorbent are filled it becomes gradually impossible for a bombarding adsorbate molecule to find an empty site available [
38
]. However, in case of the L1 type isotherms, the curve reaches a distinct asymptotic plateau, which means that adsorbent has a limited adsorption capacity while in the L2 type isotherm there is no plateau meaning that adsorbent does not have a limited adsorption capacity [
39
].
The Langmuir and Freundlich models were used to describe the experimental data and the relevant parameters derived from these models are presented in
Table 5
. Based on the R2 value, it was found that the Langmuir model better described the course of adsorption. From the shape of the isotherms, it is evident that the Ben-AC-400 exhibited the greatest sorption capacity. This is also confirmed by the maximum adsorption
a
and value of the
K
F
constant which were both the highest for Ben-AC-400.
Significant differences were observed in the amount of adsorbed micropollutants. Independently on the adsorbent, the sorption uptake changes were in the following order: ANT > OP > NP > CBZ. To elucidate the factors controlling the adsorption mechanism and sorption affinity of these compounds, we should consider their hydrophobicity, molecular weight, ionic form, and solubility. The higher adsorption of ANT in comparison to the three other adsorbates can be ascribed to the different solubility in water, which is in mg/L 17.7, 7.0, 5.4, 0.04 mg/L for CBZ, OP, NP, ANT, respectively. The affinity of the adsorbate to sorption is larger when solubility is low [
40
,
41
], therefore, it explains the very high sorption uptake of ANT and distinctly lower uptake of CBZ. Molecular weight and log Kow value also affect adsorbed amount. Bigger molecules are hardly adsorbed due to steric hindrance [
18
]. Thus, adsorption of CBZ, OP, and NP could be limited by molecule size in comparison to ANT. Wang et al. reported that, sorption of polycyclic aromatic hydrocarbons with similar structure increased with an increase in their hydrophobicity. Interestingly, their further studies showed the same tendency for structurally different compounds [
42
]. This suggests that hydrophobic interactions predominantly regulated sorption of organic compounds [
43
].
3.3. Removal Performance in Fixed Bed Columns
3.3.1. Effect of Column Filling
3.3.2. Effect of Filtration Time
Figure 6
presents the removal performance in fixed bed columns in effluent treatment in time (fractions were collected every 20 min of filtration). Due to the very low reduction level of nitrate (<5%), these results were not included. It was found that reduction degree of color, absorbance, phenolic index, and phosphate decreased in time for all fixed bed columns, however, the highest drop of treatment effects were observed for column I filled with sand and GAC. This indicates the superiority of Ben-AC composites over conventional GAC. Among the analyzed water quality parameters, the highest drop of reduction in time was observed for phosphate. It can be associated with too fast flow rate. Ramirez et al. optimized removal of phosphate in fixed bed column at flow rate of 1 mL/min [
29
]. The decrease in the removal of organic quality parameters in fixed bed columns in time can be an effect of clogging and a reduction of porosity of bed filtration.
As shown in
Figure 7
, removal of micropollutants seems to be relatively stable compared to the rest of the parameters (i.e., color, absorbance, phenolic index, and phosphate). Interestingly, removal of anthracene increased slightly in time for all columns. These micropollutants varied in molecular weight and, thus, particle size. Anthracene has significantly lower molecular weight contrary to the other micropollutants. Probably, decreasing porosity of filtration bed in time was an enhancing factor for removal of anthracene as the effect of a sieve.
4. Conclusions
It has been demonstrated that the fixed bed column was a successful method for reduction micropollutants concentration and improvement in typical water quality parameters. Furthermore, replacement of GAC with Ben-AC granules caused the improvement of treatment effects of WWTP effluent, especially in the case of phosphate, nitrate, octylphenol, and nonylphenol. Columns packed with Ben-AC-400 showed slightly better removal performance than Ben-AC-250. It was associated with a higher calcination temperature of Ben-AC-400, which created a more porous structure by stronger structure damages. The higher sorption potential of Ben-AC-400 was also confirmed in batch adsorption studies. Independent of column filling, removal of micropollutants was as follows: The highest removal degree was observed for anthracene and the lowest for carbamazepine. This was due to different physiochemical properties of these micropollutants that determined their capture mechanism by filling material.
It was found over time, that fixed bed columns filled with Ben-AC composite also have a better removal performance. In the case of column I filled with GAC, a significant drop in the reduction degree of CBZ, OP and also phenolic index, phosphate, color, and absorbance was observed. Meanwhile for column II and III reduction degrees of these contaminants were at a relatively high level in the whole time of the experiment. Therefore, these results unequivocally confirm the high potential of clay-carbonaceous composites to remove micropollutants and are a basis for further research, which might, in future, enable the implementation of new and promising adsorbents into fixed bed columns for wastewater treatment technology.
Funding
This research was funded by the Polish Ministry of Science and Higher Education within BK-259/18
Conflicts of Interest
The author declares no conflict of interest.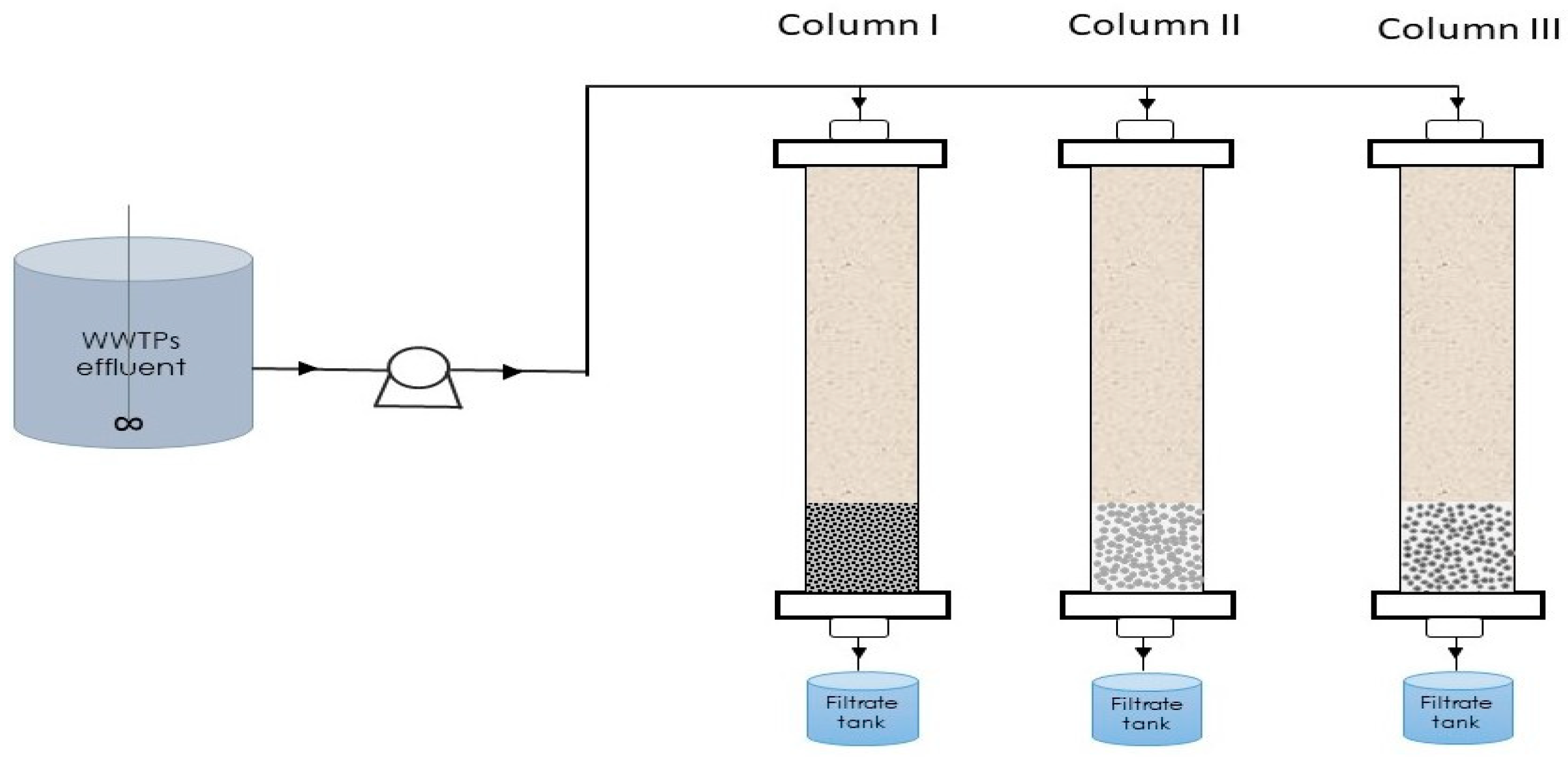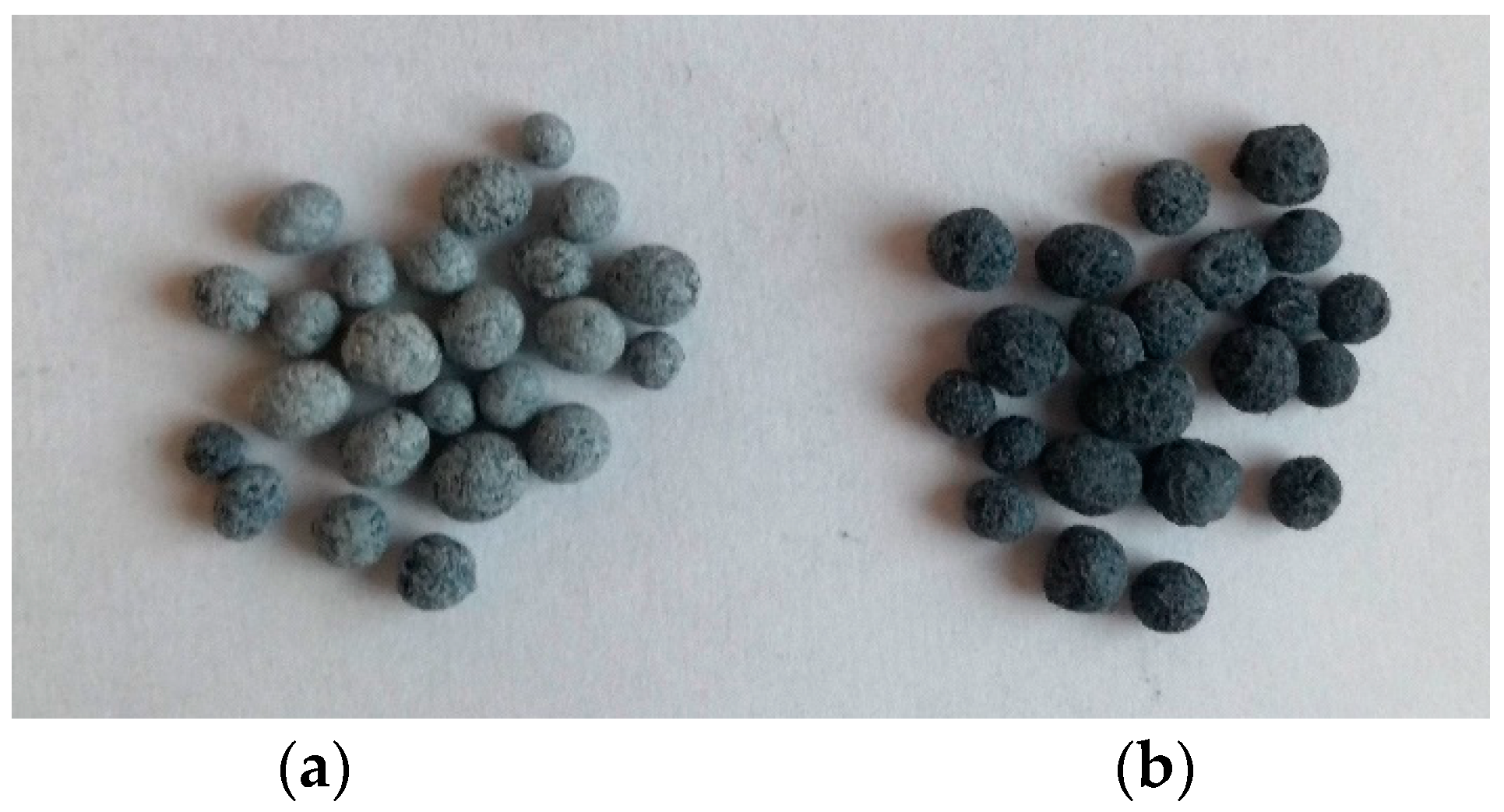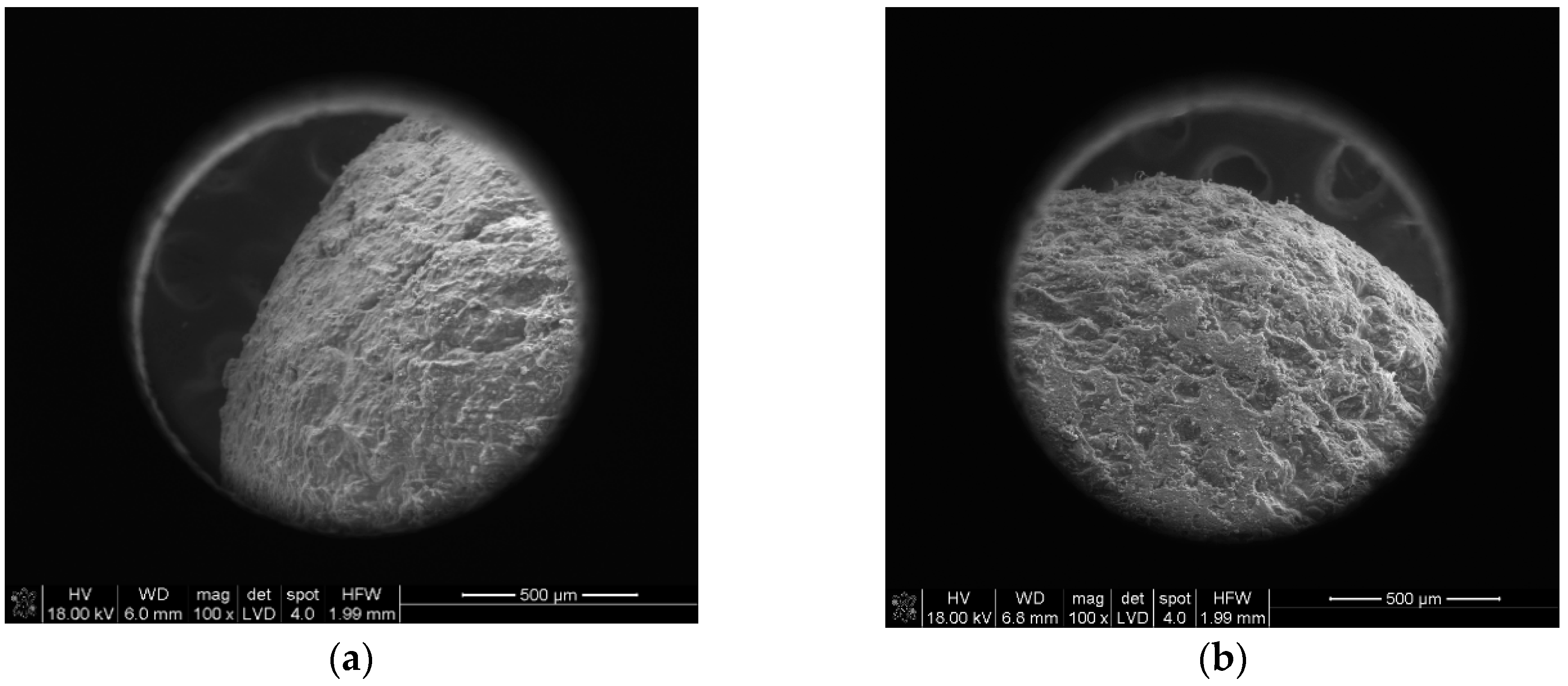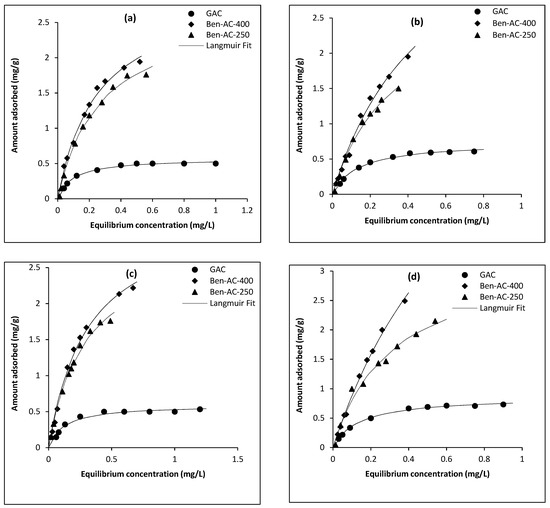 Figure 4. Langmuir adsorption isotherms of micropollutants (a) CBZ; (b) OP; (c) NP; (d) NP on granular activated carbon (GAC), Ben-AC-400 and Ben-AC-250.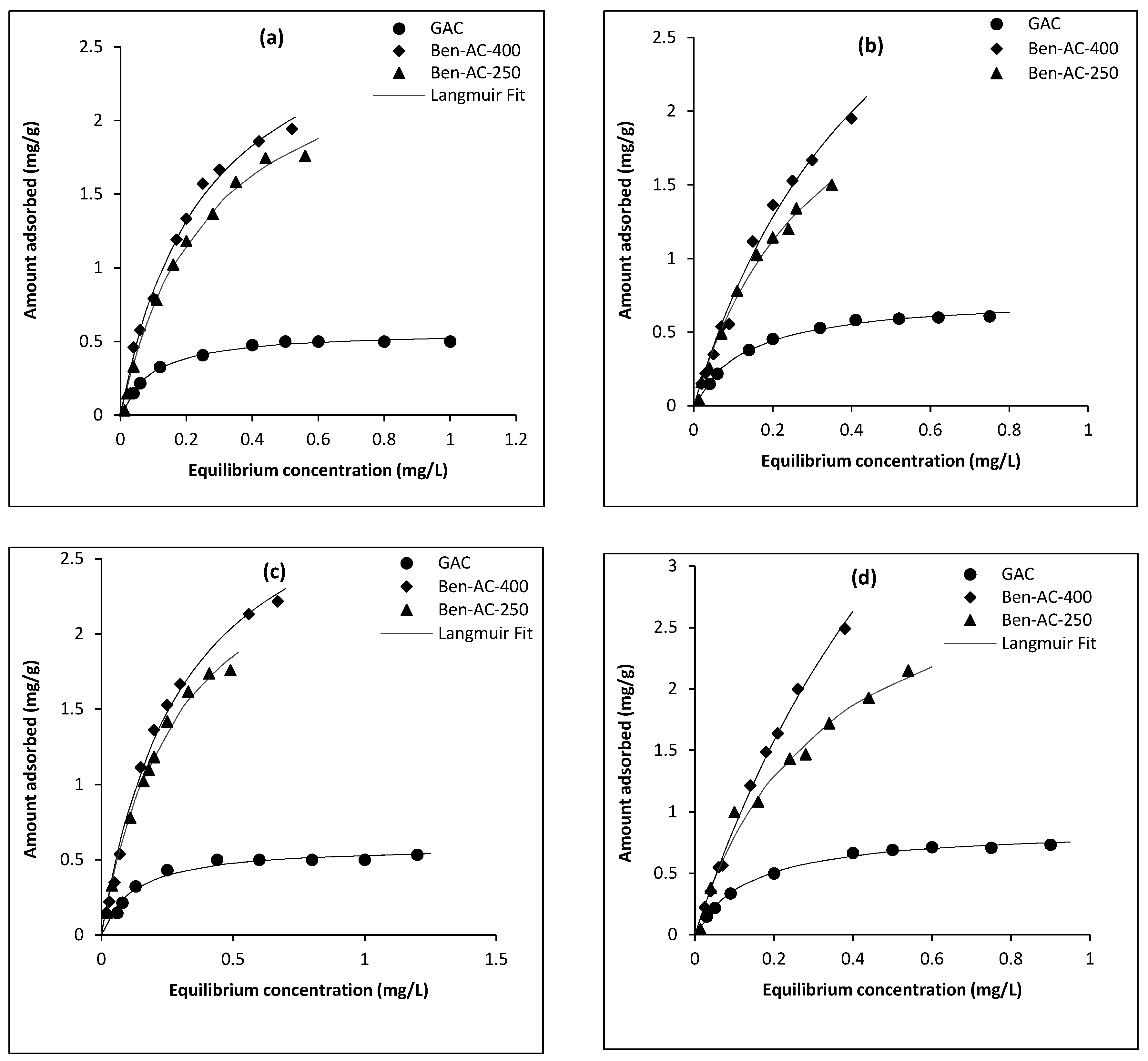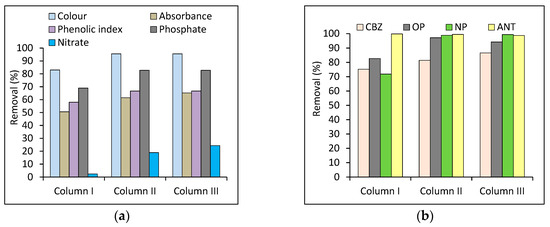 Figure 5. Impact of column filling on treatment of wastewater: (a) basic quality parameters; (b) micropollutants.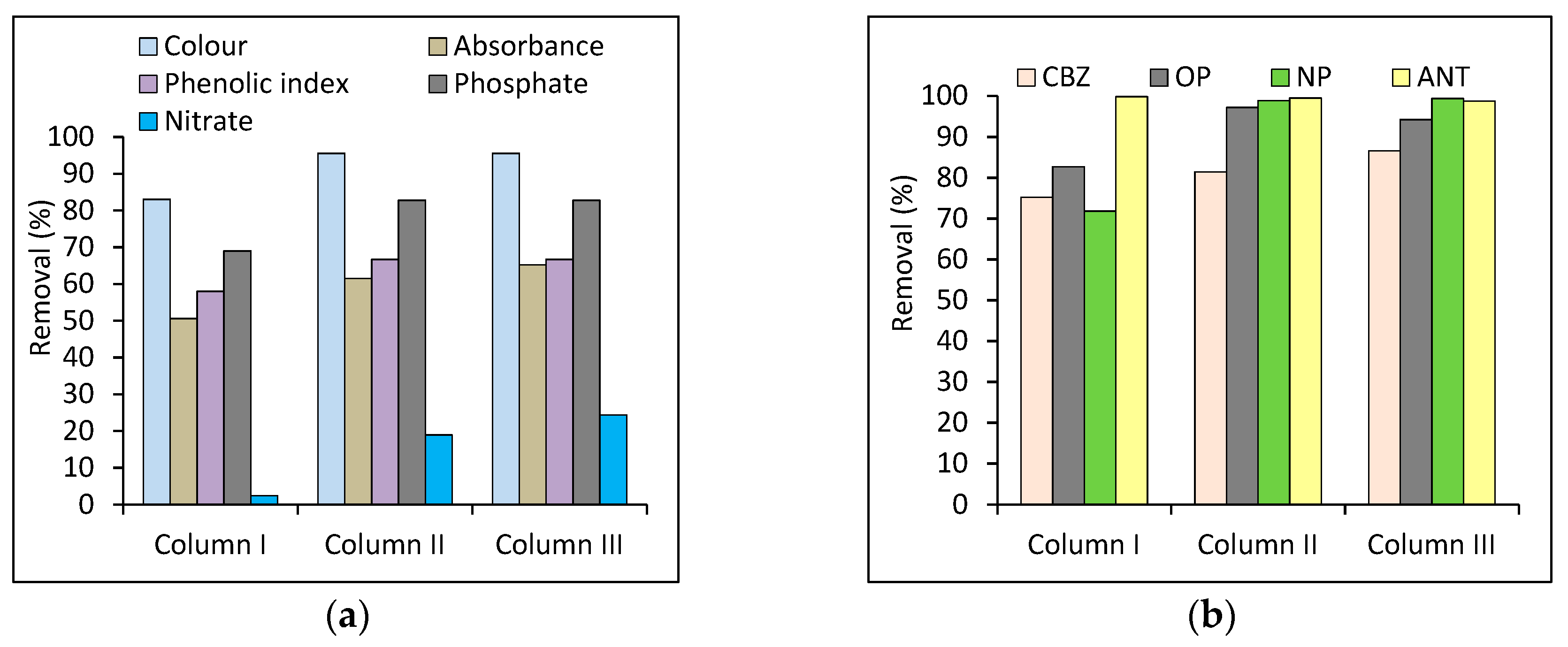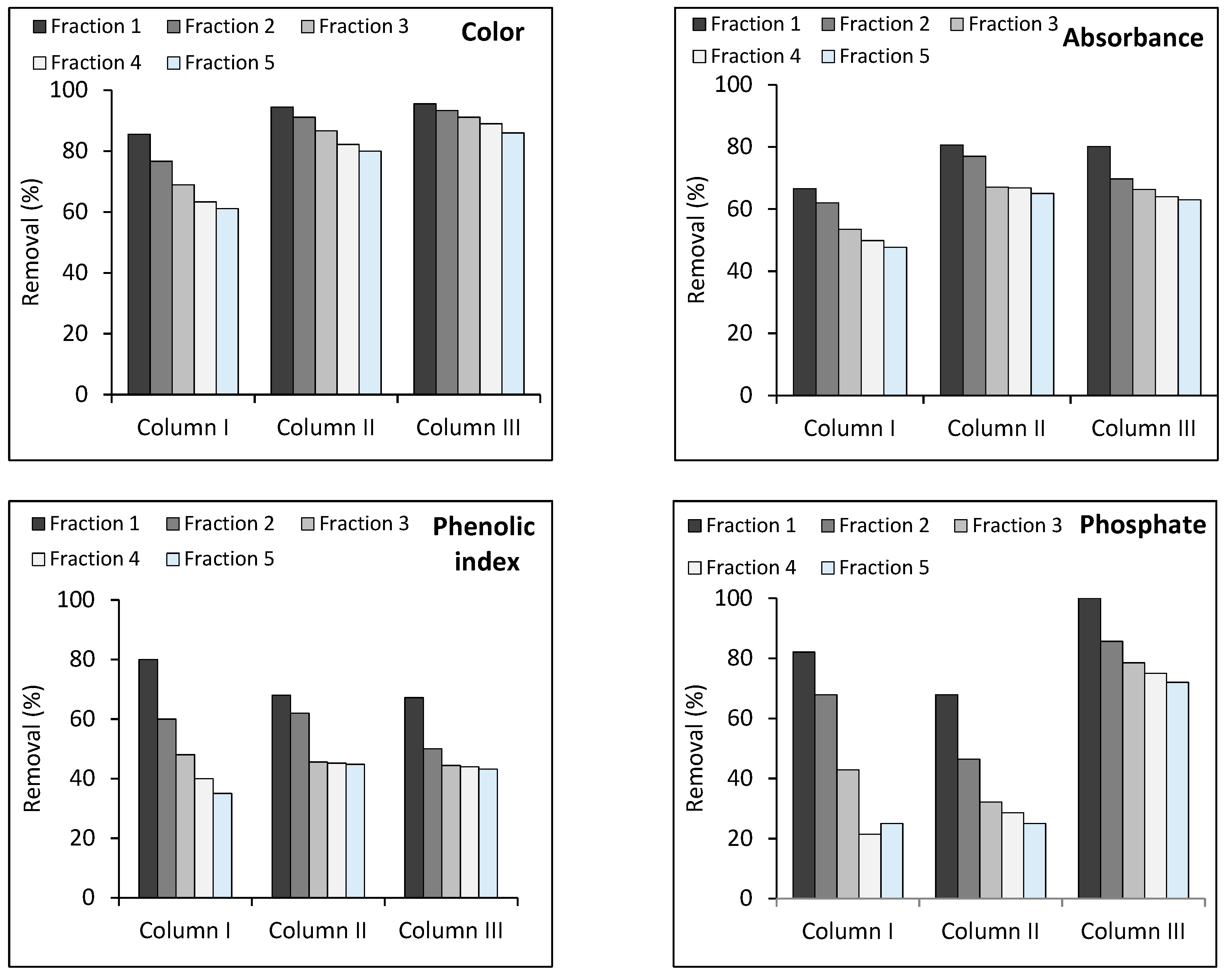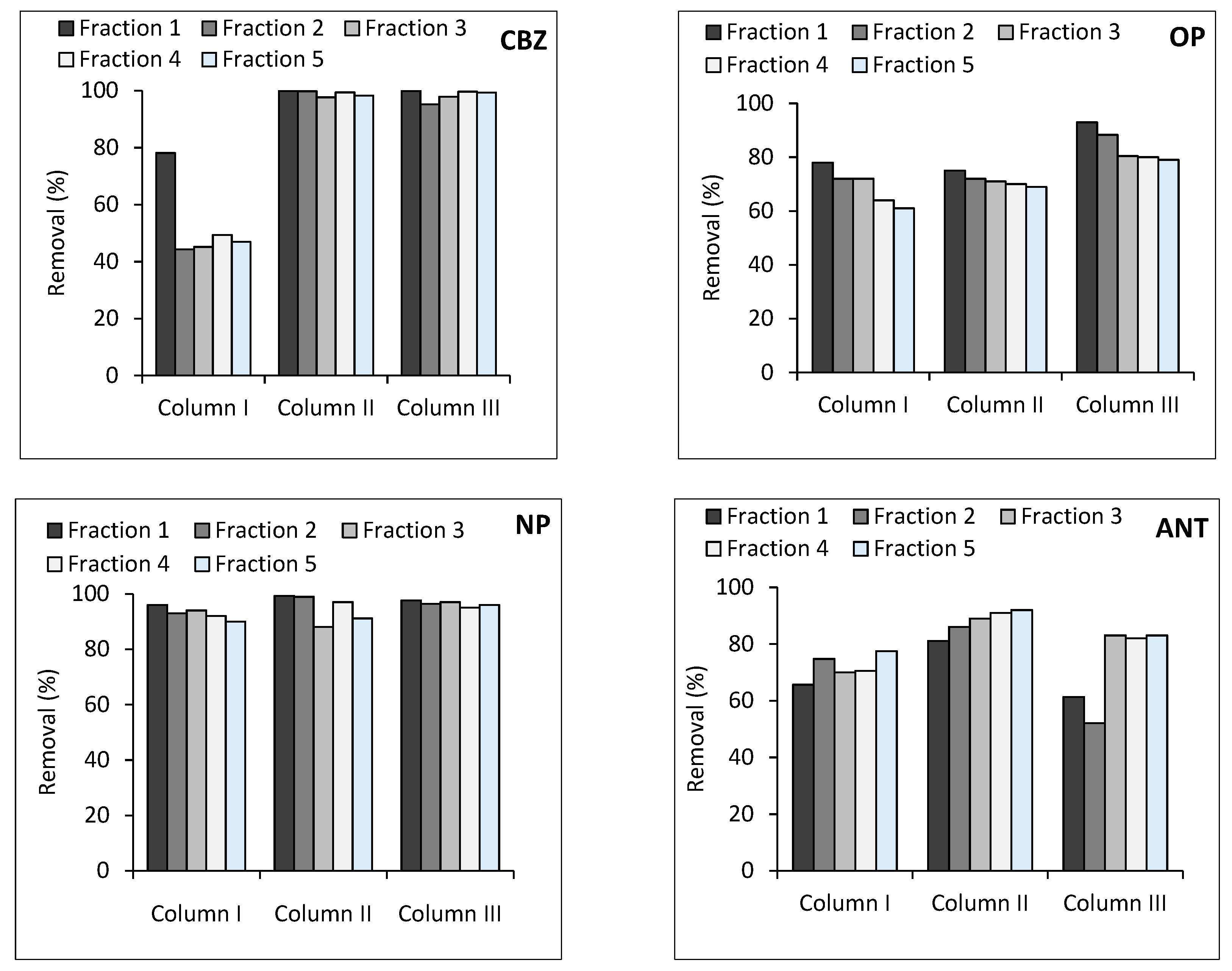 | Compound | Chemical Structure | Molecular Mass 1 (g/mol) | log Kow 1 (-) | Solubility in Water 20 °C 1 (mg/L) | pKa 1 (-) |
| --- | --- | --- | --- | --- | --- |
| Carbamazepine (CBZ) | | 236.27 | 2.45 | 17.7 | 13.9 |
| 4-tert-octylphenol (OP) | | 206.32 | 4.12 | 7 | 10.38 |
| 4-nonylophenol (NP) | | 220.35 | 5.92 | 5.43 | 10.7–11.7 |
| Anthracene (ANT) | | 178.55 | 4.45 | 0.043 | - |
Parameter
Color
(mg Pt/L)
pH(-)
COD
(mg O2/L)
Phosphate (mg P-PO4/L)
Nitrate
(mg N-NO3/L)
Phenolic Index (mg/L)
Value
112.0
7.1
7.2
2.9
7.8
0.3
| Layer Depth | Column I | Column II | Column III |
| --- | --- | --- | --- |
| 5 cm | GAC | Ben-AC-250 | Ben-AC-400 |
| 10 cm | Sand | Sand | Sand |
Chemical
Conditioning
Extraction
Elution
Analysis at Wavelength
Retention Time
ANT
5 mL MeOH
5 mL H2O
sample volume: 20 mL
extraction speed: 1 mL/min
3 mL DMF
254 nm
4.6 min
OP
5 mL MeOH
5 mL CAN
5 mL H2O
3 mL ACN/MeOH 60:40

v

/

v

220 nm
3.5 min
NP
220 nm
5.2 min
CBZ
284 nm
3.2 min

Table 5. Parameters of the Freundlich and Langmuir equations and correlation coefficients for the adsorption of micropollutants on granular activated carbon (GAC), Ben-AC-400 and Ben-AC-250.
Model
Langmuir
Freundlich
Adsorbate
Adsorbent

a

(mg/g)

b

(L/mg)
R2
(-)

K

F

((mg/g) L/mg) n)

n


(-)
R2
(-)
CBZ
Ben-AC-400
2.99
3.93
0.988
3.09
1.75
0.955
Ben-AC-250
2.72
3.7
0.995
2.74
1.72
0.9695
GAC
0.57
10.31
0.988
0.56
3.4
0.8931
OP
Ben-AC-400
4.55
1.96
0.991
4.15
1.3
0.979
Ben-AC-250
2.97
3.02
0.994
3.45
1.4
0.98
GAC
0.74
7.34
0.993
0.74
2.64
0.92
NP
Ben-AC-400
3.33
3.19
0.995
2.99
1.77
0.961
Ben-AC-250
2.94
3.4
0.994
2.92
1.7
0.970
GAC
0.59
8.01
0.962
0.54
3.4
0.8439
ANT
Ben-AC-400
7.92
1.24
0.996
5.88
1.19
0.989
Ben-AC-250
3.33
3.15
0.986
3.65
1.61
0.9739
GAC
0.86
7.11
0.996
0.836
2.625
0.9435

© 2018 by the author. Licensee MDPI, Basel, Switzerland. This article is an open access article distributed under the terms and conditions of the Creative Commons Attribution (CC BY) license (http://creativecommons.org/licenses/by/4.0/).