Identifying the Key Information and Land Management Plans for Water Conservation under Dry Weather Conditions in the Border Areas of the Syr Darya River in Kazakhstan
1
Research Centre of Ecology and Environment of Central Asia (Almaty), Almaty 050060, Kazakhstan
2
U.U. Uspanov Kazakh Research Institute of Soil Science and Agrochemistry, Almaty 050060, Kazakhstan
3
Department of Environment Studies, Panjab University, Chandigarh 160014, India
4
State Key Laboratory of Desert and Oasis Ecology, Xinjiang Institute of Ecology and Geography, Chinese Academy of Sciences, Str. Beijingnanlu 818, Ürümqi 830011, China
5
University of Chinese Academy of Sciences, Beijing 100049, China
6
Faculty of Geography and Environmental Sciences, Al-Farabi Kazakh National University, Almaty 050040, Kazakhstan
7
Institute of Natural Sciences and Geography, Abai Kazakh National Pedagogical University, Almaty 050010, Kazakhstan
8
Department of Botany, DAV University, Sarmastpur, Jalandhar 144012, Punjab, India
9
Laboratory of Remote Sensing and GIS, Department of Soil Science, University of Tehran, P.O. Box 4111, Karaj 31587-77871, Iran
10
Instituto de Geomorfología y Suelos, Department of Geography, University of Málaga, 29071 Málaga, Spain
*
Author to whom correspondence should be addressed.
Received: 1 October 2018 / Revised: 15 November 2018 / Accepted: 21 November 2018 / Published: 29 November 2018
Abstract
Due to an increase in poorly planned anthropogenic activities, the water quality of several Asian big rivers is highly being affected. Although the assessment of heavy metal contents is vital to develop and design sustainable water management plans, several areas in Central Asia such as Kazakhstan do not have recent studies available that evaluate this situation. One representative example of this lack of information is the Syr Darya River. Thus, this study carried out the first approach to a water quality assessment in Kazakhstan's Syr Darya River, where a massive expansion of irrigation canals, pastures in middle- and lower-reaches and an increase in industrialization and population have lowered its potential water capacity. To achieve this goal, various physicochemical parameters were analyzed for forty-three water samples along the river under dry weather conditions at 25 cm water depth. The obtained results were analyzed using standard methods (e.g., Multi N/C 2100 S analyzer or an atomic absorption spectrometer) and evaluated by multivariate techniques (cluster analysis (CA), principal component analysis (PCA), and non-metric multidimensional scaling (NDMS)) and a heavy metal pollution index (HPI). In the CA, five cluster groups were obtained. It is important to remark that the first cluster consists of the highest number of water sampling points (8). The last cluster is made up of only one point, which shows the highest difference against the other sites in our model. The NDMS also confirmed that some specific points along the river are different. Five components were extracted from the PCA: (1) COD (chemical oxygen demand), Zn, Cu, Pb, Ni and Mn; (2) Cu, Cd, Ni and Co; (3) T (water temperature), pH and DO (dissolved oxygen); (4) T and Fe; and (5) COD and OC (organic carbon). The HPI showed very high values (279.9), which were locally confirmed in some hotspots close to the Aral Sea, industrialized areas and agricultural fields. Therefore, our results demonstrate that, under dry weather conditions, surface water resources could be mismanaged in the Syr Darya River in Kazakhstan in specific areas. For the future, considering the important role that agriculture and pasture play in the Kazakh economy, we insist upon the importance of applying water quality control measures applying nature-based solutions and efficient management plans. Moreover, we confirmed the necessity to conduct further research related to sampling under other weather situations such as wet and cold conditions, different river water depths and other locations considering specific land uses, for example, grazing, mining, railways or industries.
View Full-Text
►

▼

Figures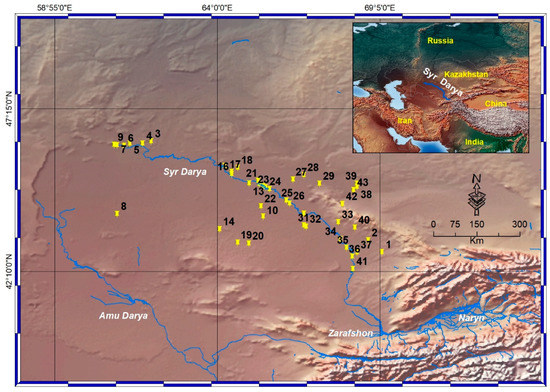 Figure 1
This is an open access article distributed under the
Creative Commons Attribution License
which permits unrestricted use, distribution, and reproduction in any medium, provided the original work is properly cited (CC BY 4.0).

Share & Cite This Article
MDPI and ACS Style
Yegemova, S.; Kumar, R.; Abuduwaili, J.; Ma, L.; Samat, A.; Issanova, G.; Ge, Y.; Kumar, V.; Keshavarzi, A.; Rodrigo-Comino, J. Identifying the Key Information and Land Management Plans for Water Conservation under Dry Weather Conditions in the Border Areas of the Syr Darya River in Kazakhstan. Water 2018, 10, 1754.
Note that from the first issue of 2016, MDPI journals use article numbers instead of page numbers. See further details here.
Related Articles
Comments
[Return to top]