Open Access This article is
freely available
re-usable
Article
Influence of Wave State and Sea Spray on the Roughness Length: Feedback on Medicanes
1
CNR/ISAC Unit of Lecce, 73100 Lecce, Italy
2
CNR/ISMAR Unit of Genova, 16149 Genova, Italy
3
CNR/ISMAR Unit of Venezia, 30122 Venezia, Italy
4
Università Politecnica delle Marche, UNIVPM/DIISM, 60121 Ancona, Italy
5
Departamento de Física, Universidade Federal de Santa Maria, 97105-900 Santa Maria (RS), Brazil
*
Author to whom correspondence should be addressed.
Received: 8 June 2018 / Accepted: 28 July 2018 / Published: 1 August 2018
Abstract
:
Occasionally, storms that share many features with tropical cyclones, including the presence of a quasi-circular "eye" a warm core and strong winds, are observed in the Mediterranean. Generally, they are known as Medicanes, or tropical-like cyclones (TLC). Due to the intense wind forcings and the consequent development of high wind waves, a large number of sea spray droplets—both from bubble bursting and spume tearing processes—are likely to be produced at the sea surface. In order to take into account this process, we implemented an additional Sea Spray Source Function (SSSF) in WRF-Chem, model version 3.6.1, using the GOCART (Goddard Chemistry Aerosol Radiation and Transport) aerosol sectional module. Traditionally, air-sea momentum fluxes are computed through the classical Charnock relation that does not consider the wave-state and sea spray effects on the sea surface roughness explicitly. In order to take into account these forcing, we implemented a more recent parameterization of the sea surface aerodynamic roughness within the WRF surface layer model, which may be applicable to both moderate and high wind conditions. The implemented SSSF and sea surface roughness parameterization have been tested using an operative model sequence based on COAWST (Coupled Ocean Atmosphere Wave Sediment Transport) and WRF-Chem. The third-generation wave model SWAN (Simulating Waves Nearshore), two-way coupled with the WRF atmospheric model in the COAWST framework, provided wave field parameters. Numerical simulations have been integrated with the WRF-Chem chemistry package, with the aim of calculating the sea spray generated by the waves and to include its effect in the Charnock roughness parametrization together with the sea state effect. A single case study is performed, considering the Medicane that affected south-eastern Italy on 26 September 2006. Since this Medicane is one of the most deeply analysed in literature, its investigation can easily shed some light on the feedbacks between sea spray and drag coefficients.
Keywords:
medicanes; air-sea interaction; sea spray; sea surface roughness; COAWST
Author Contributions
Conceptualization, U.R., E.C. and M.M.M.; Methodology, U.R., M.M.M., E.C. and A.R.; Software, F.S.P. and M.M.; Validation, L.S.; Formal Analysis, G.P., S.C. and D.B.; Resources, A.R.; Writing-Original Draft Preparation, U.R., M.M.M. and E.C.; Writing-Review & Editing, U.R., M.M.M. and E.C.
Funding
This research received no external funding.
Conflicts of Interest
The authors declare no conflict of interest.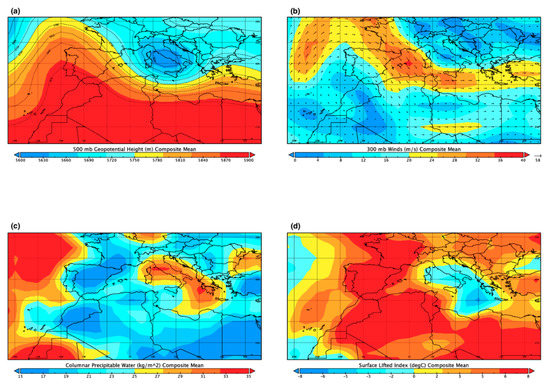 Figure 1. 6-Hourly NCEP/NCAR Reanalysis Data Composites at 0600 UTC of 26 September 2006 of geopotential height at 500 mb (a); wind field at 300 mb (b); Columnar precipitable water (c); surface lifted index (d).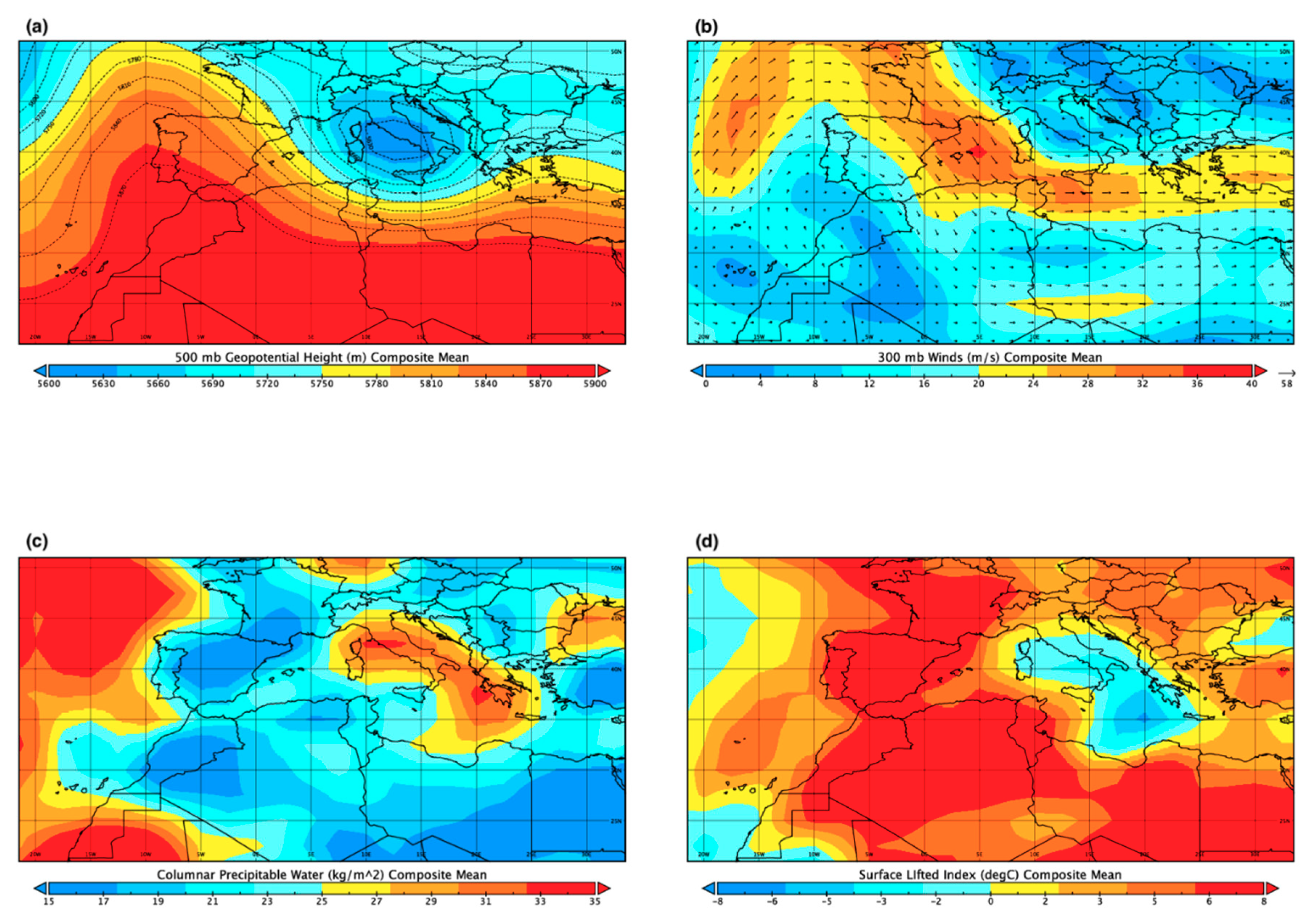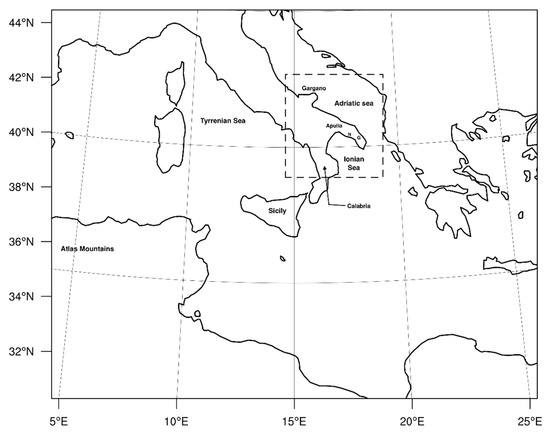 Figure 2. The numerical domain. The dotted box indicates the region of interest. Labels "G" and "N" denote the location of Galatina Airport and Nardò meso-network stations, respectively.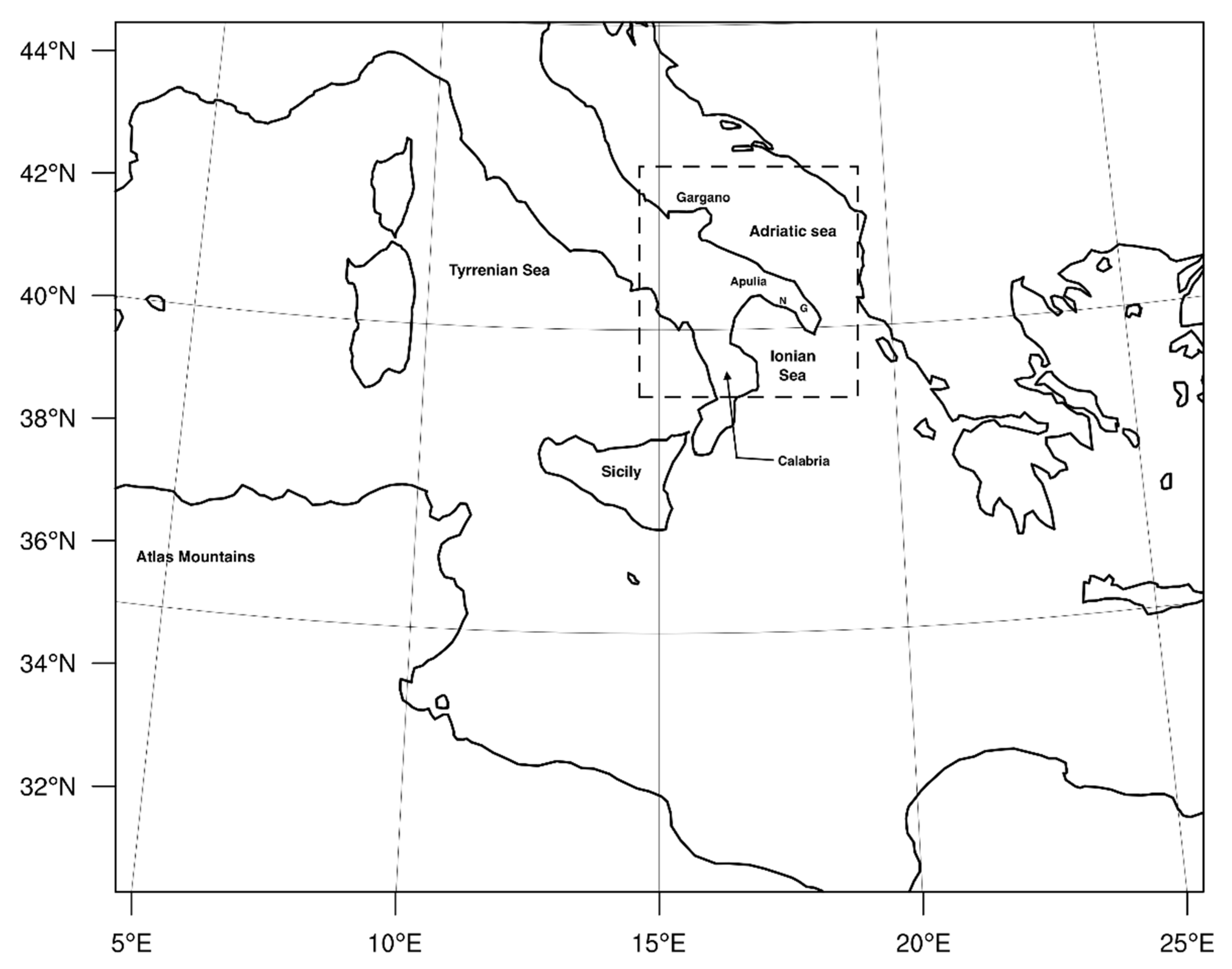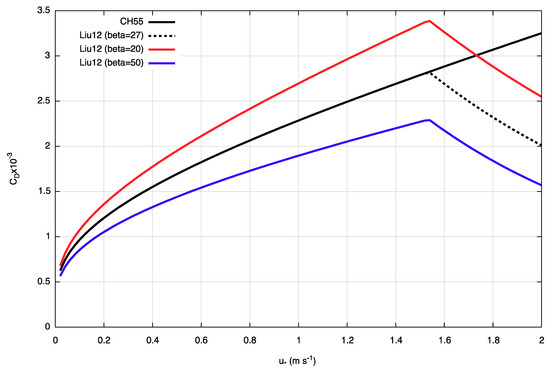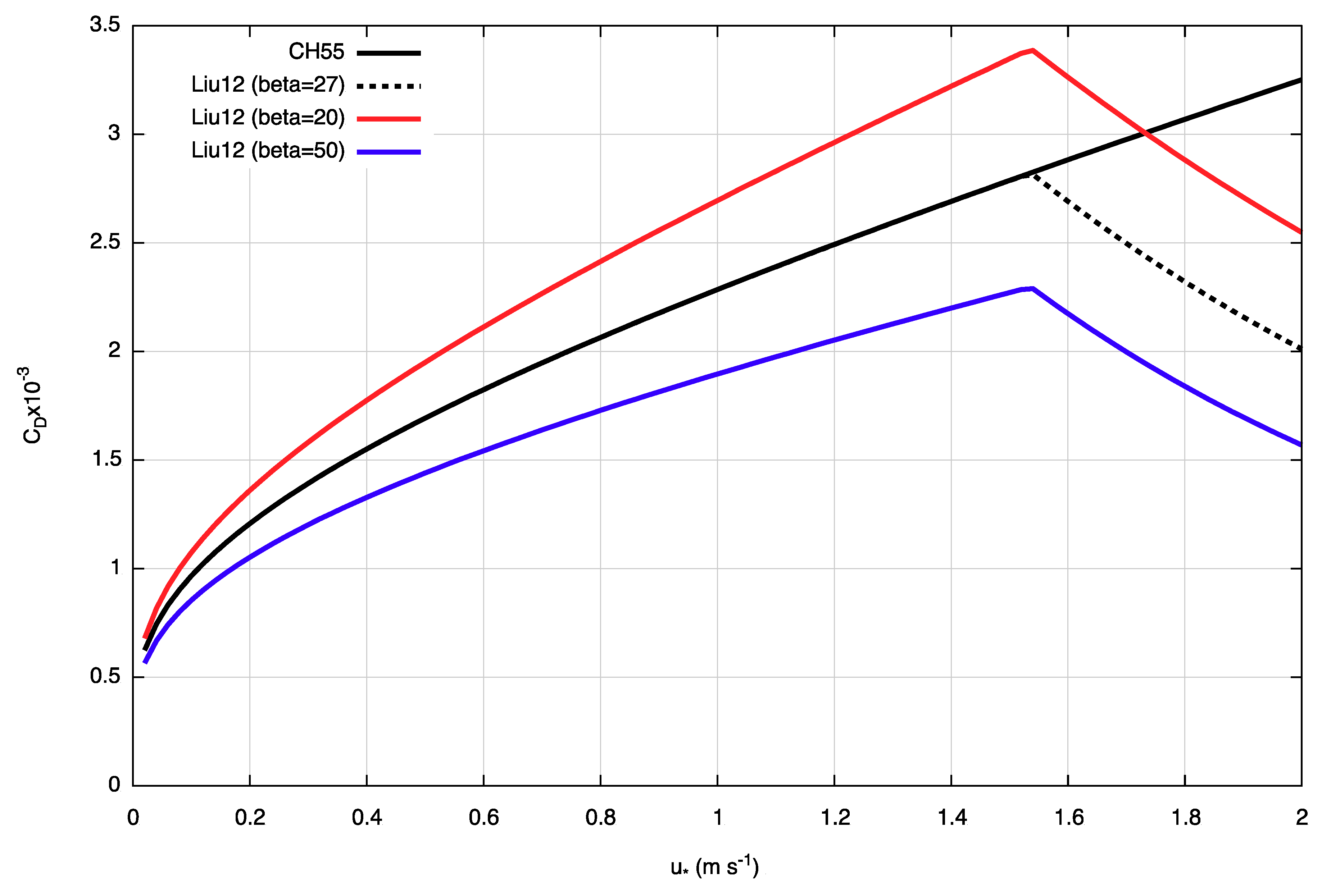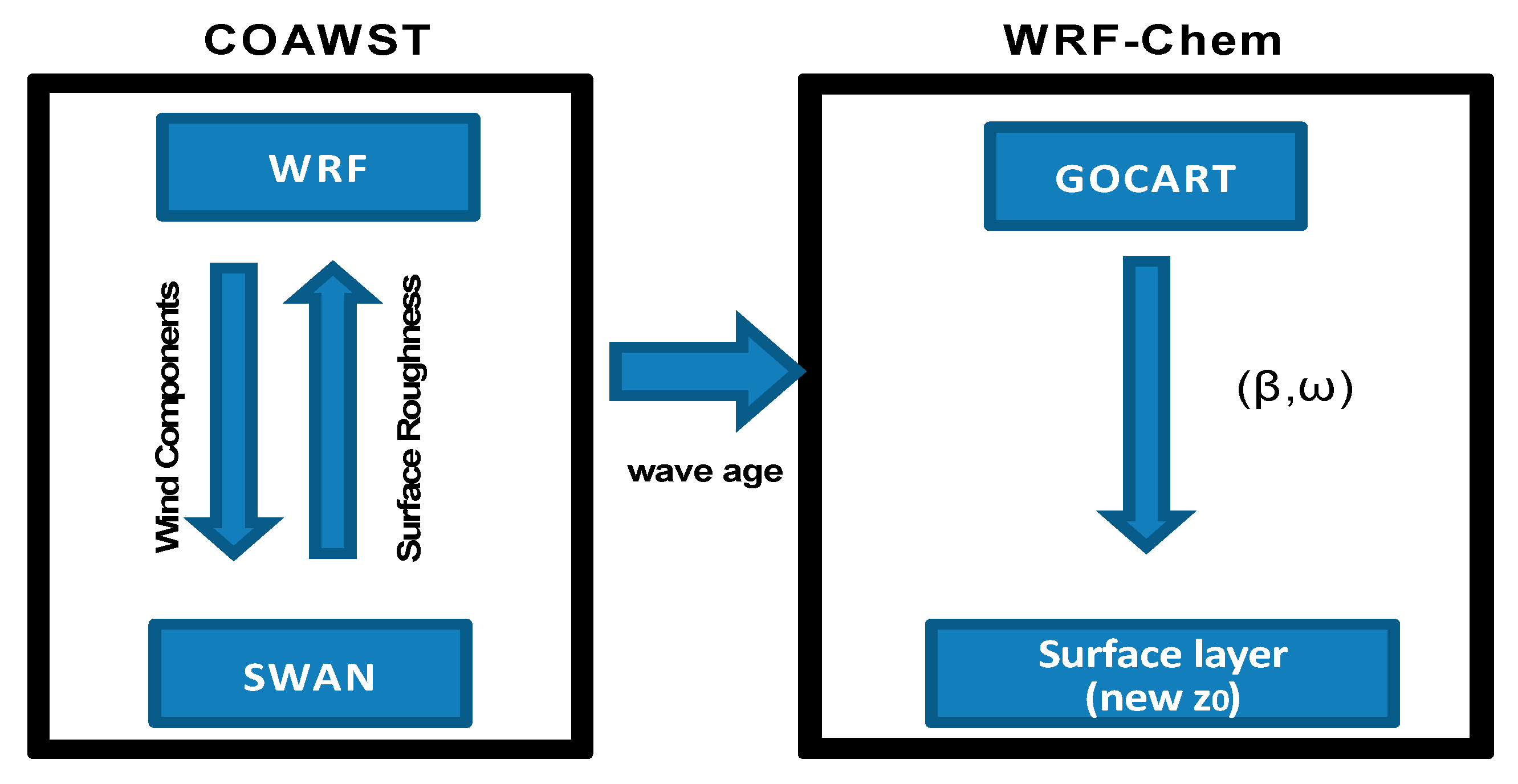 Figure 5. Averaged (0500–2000) UTC 26 September 2006 of wind-sea Reynolds number (a); simulated total sea spray emission (b); wave age parameter (c).


Figure 6. Mean sea-level pressure at 0600 UTC 26 September 2006 of ECMWF analysis (a); CPL0 run (b); CPL5 run (c).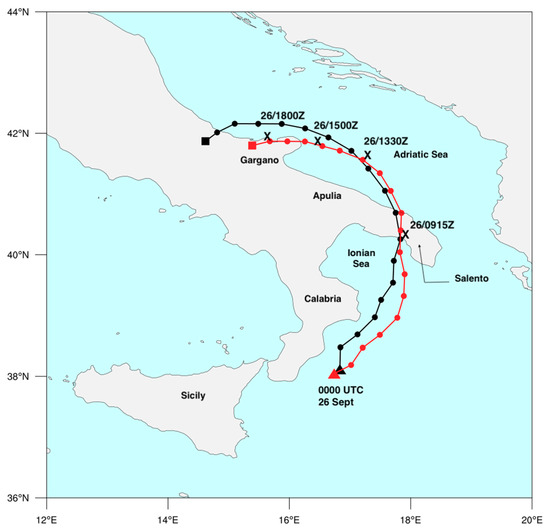 Figure 7. Cyclone track starting 0000 UTC 26 September 2006 of CPL0 run (continuous black line); CPL5 run (continuous red line). X points denotes the track of cyclone from radar-map images and their timing in DD/HHMM format.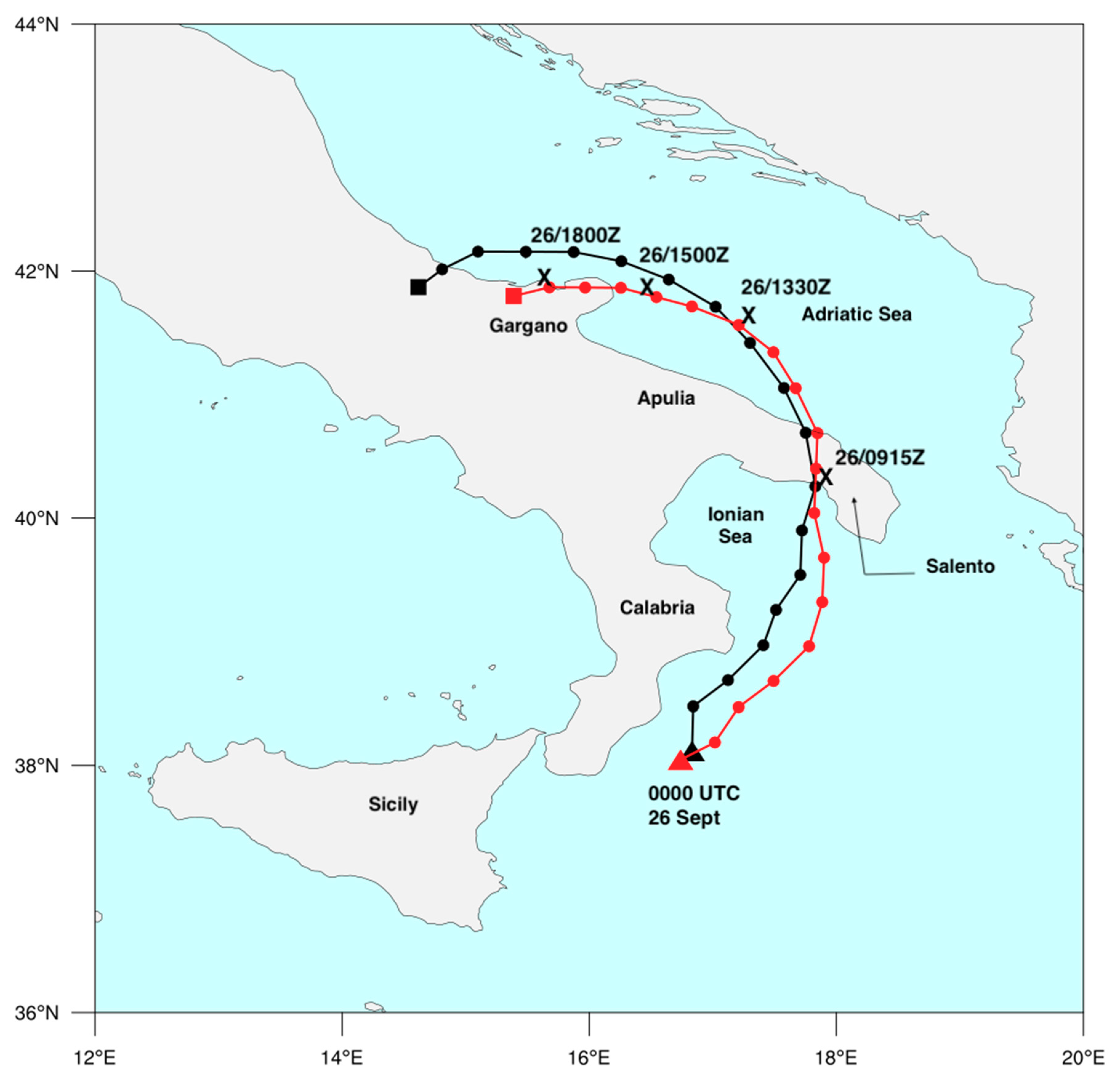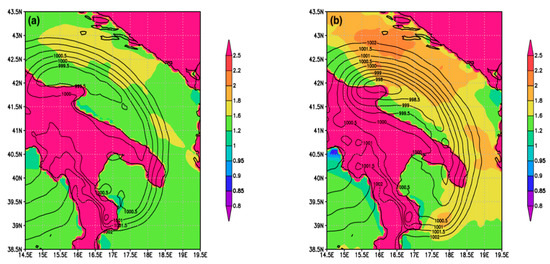 Figure 8. Averaged (0500–2000) UTC 26 September 2006 drag coefficient (shaded line) and sea-level pressure (isolines) for CPL0 run (a); and CPL5 run (b).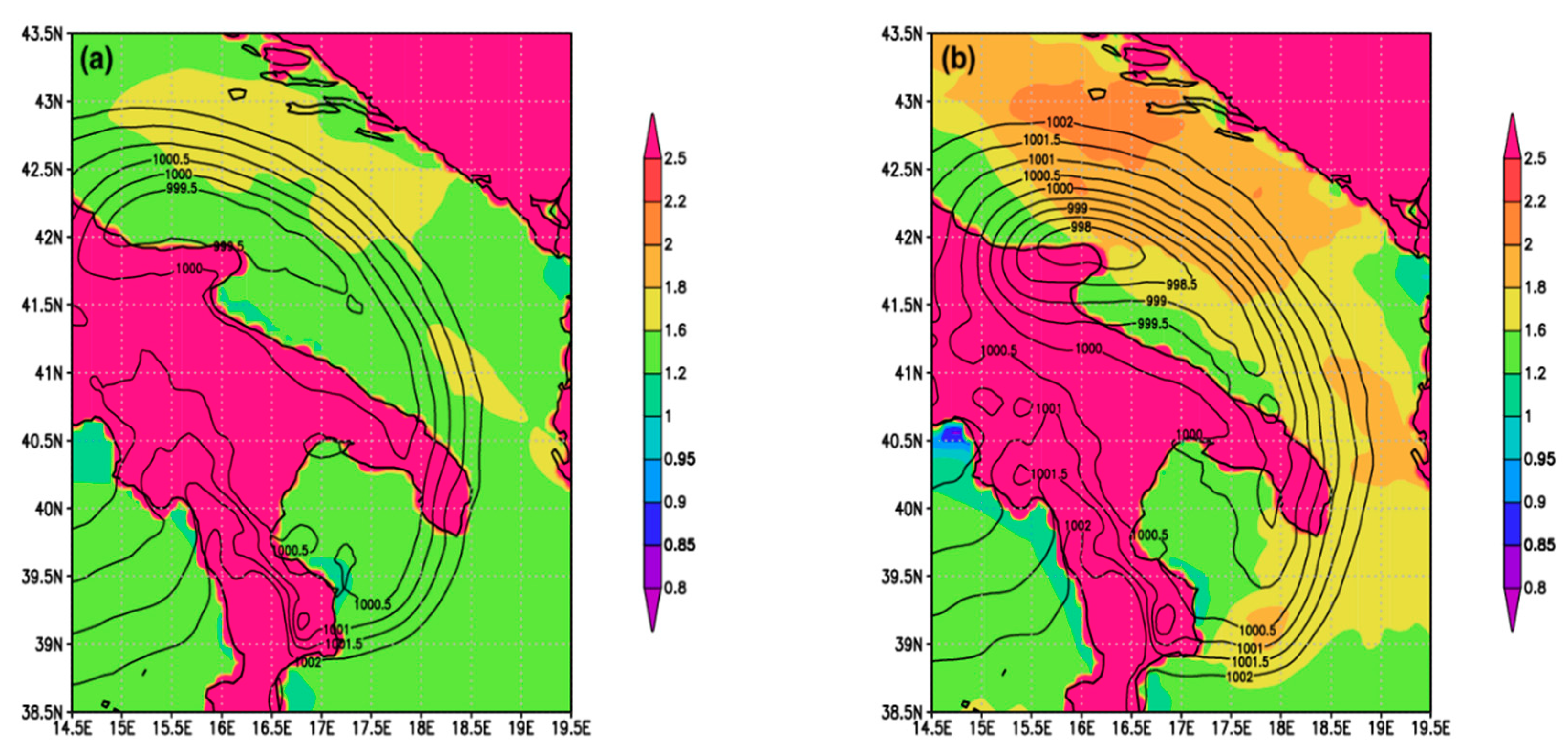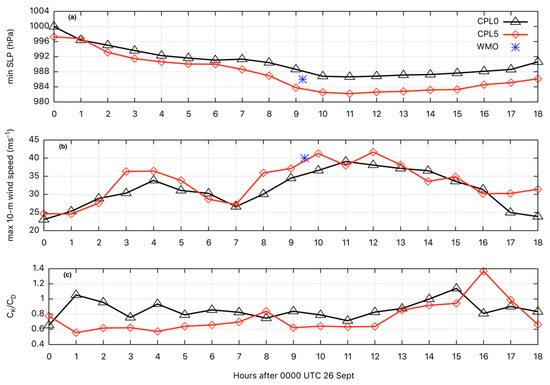 Figure 9.
Time series of the minimum sea-level pressure (
a
); maximum 10-m winds (
b
) and (
c
) ratio between moist enthalpy (
Ck
) and drag coefficient for momentum (
CD
). The minimum sea level pressure measured in Nardò station (986 hPa at 0915 UTC) and the maximum wind speed recorded in Galatina station (WMO station) (40 m/s at 0930 UTC) are also shown (blue asterisks) respectively in (
a
,
b
) (data from [
6
]) both taken along the cyclone track.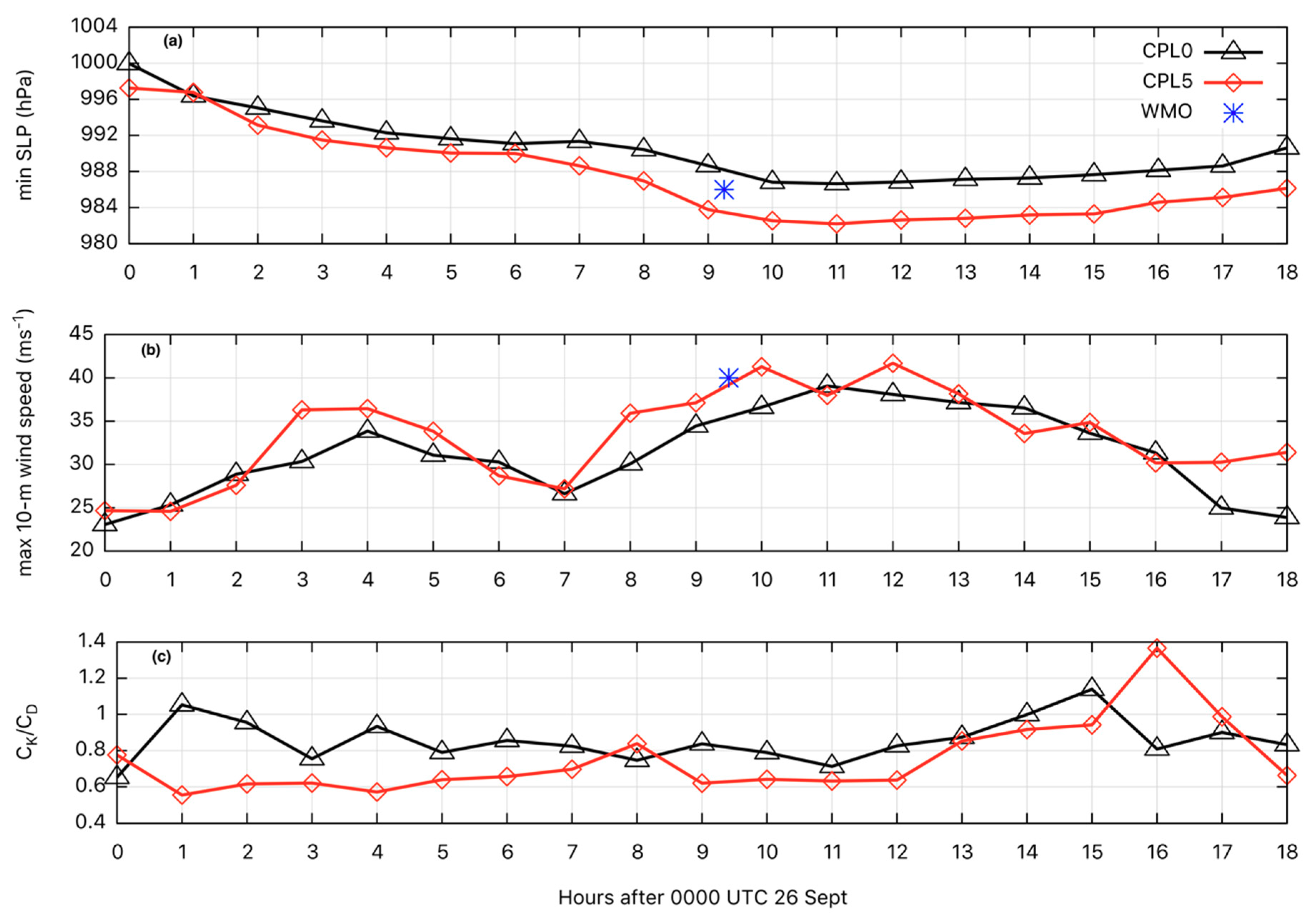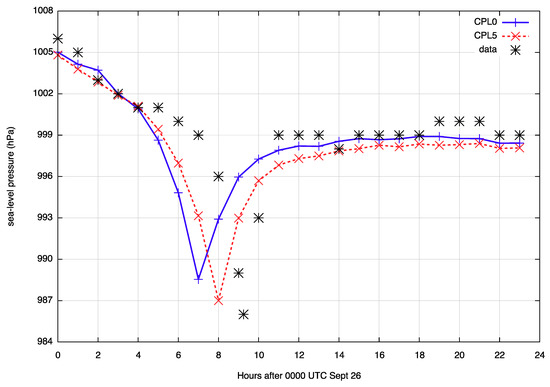 Figure 10. Time series of sea-level pressure at Nardo station for the measured data (asterisks); CPL0 run (blue continuous line); CPL5 run (red dotted line).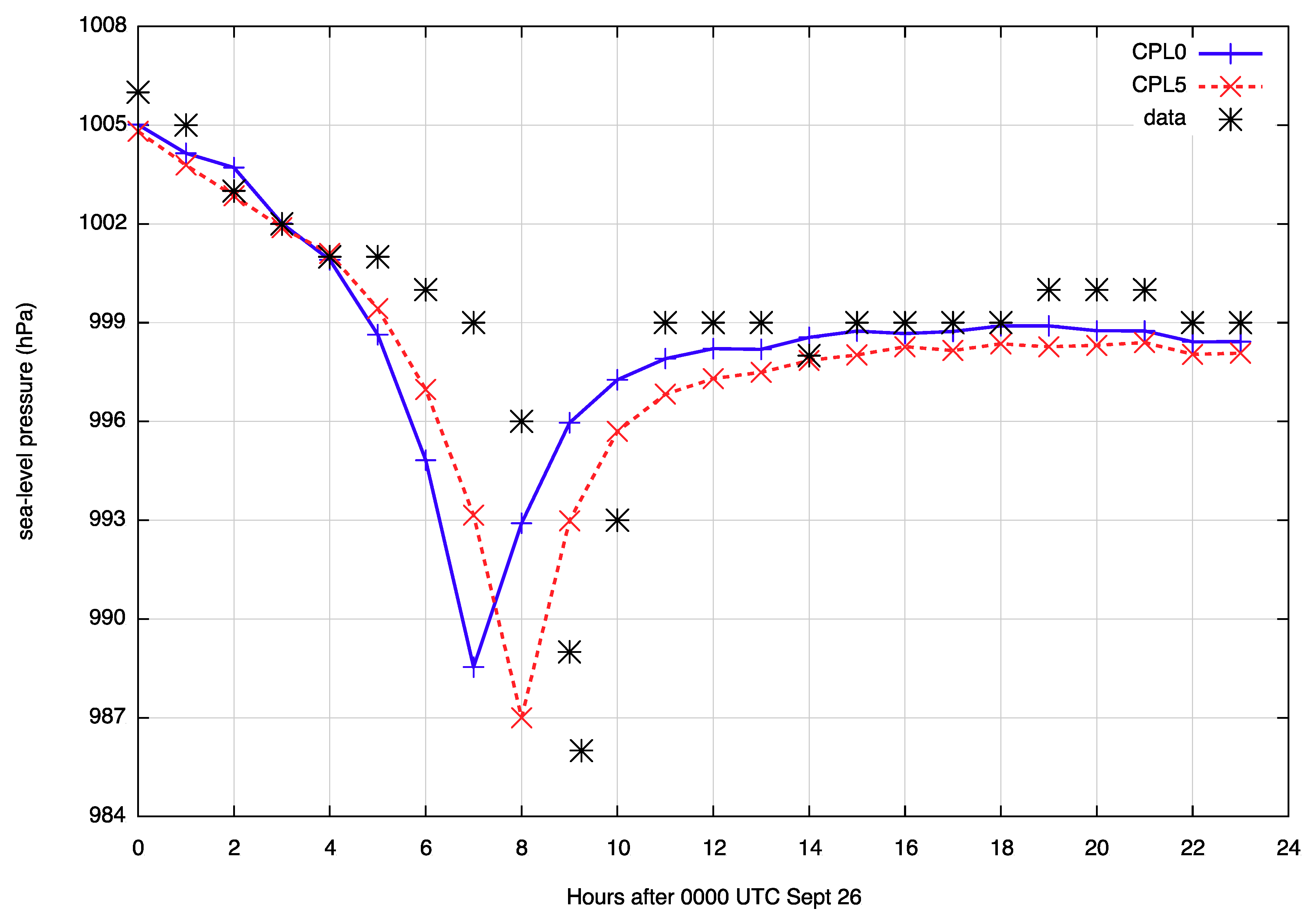 Table 1. The default isftcflx parameterization (0) and the additional parameterization option (isftcflx = 5) included in order to take into account wave state and sea spray effects.

Table 2. Modified definition of the range size bins between rmin and rmax as used in this work (rmin and rmax represent the minimum and maximum droplet radii, reff the effective radius).
Bins

r

0min (μm)

r

0max (μm)

r

0eff (μm)
1
10
30
20
2
30
75
52.5
3
75
200
137.5
4
200
500
350

© 2018 by the authors. Licensee MDPI, Basel, Switzerland. This article is an open access article distributed under the terms and conditions of the Creative Commons Attribution (CC BY) license (http://creativecommons.org/licenses/by/4.0/).