Open Access This article is
freely available
re-usable
Article
An Interactive Web Mapping Visualization of Urban Air Quality Monitoring Data of China
School of Resource and Environmental Sciences, Wuhan University, Wuhan 430079, China
*
Author to whom correspondence should be addressed.
Received: 7 July 2017 / Accepted: 10 August 2017 / Published: 13 August 2017
Abstract
:
In recent years, main cities in China have been suffering from hazy weather, which is gaining great attention among the public, government managers and researchers in different areas. Many studies have been conducted on the topic of urban air quality to reveal different aspects of the air quality problem in China. This paper focuses on the visualization problem of the big air quality monitoring data of all main cities on a nationwide scale. To achieve the intuitive visualization of this dataset, this study develops two novel visualization tools for multi-granularity time series visualization (timezoom.js) and a dynamic symbol declutter map mashup layer for thematic mapping (symadpative.js). With the two invented tools, we develops an interactive web map visualization application of urban air quality data of all main cities in China. This application shows us significant air pollution findings at the nationwide scale. These results give us clues for further studies on air pollutant characteristics, forecasting and control in China. As the tools are invented for general visualization purposes of geo-referenced time series data, they can be applied to other environmental monitoring data (temperature, precipitation, etc.) through some configurations.
Keywords:
air quality; environmental data visualization; spatial-temporal visualization; visual analytics
1. Introduction
Environmental monitoring data can be described by multivariate time series observations generated from geo-located monitoring stations. For our research topic, urban air quality monitoring data consist of many air pollutant concentration values (such as fine particles, carbon monoxide, sulfur dioxide, nitrogen oxides zone, etc.), which are reported hourly from monitoring stations fixed at specific positions in a city. These geo-referenced time series data are an important study subject in the areas of geovisualization and environmental science.
2. Method and Data
Mapping spatio-temporal datasets is mapping changes of geographical features over time and space [
7
]. Because the information load is huge, the interaction and dynamics [
20
] of spatio-temporal visualization should be well designed. Multiple levels of spatial and temporal details are important considerations in spatio-temporal visualization. Mostly, the methods that are proposed in the literature for visualizing spatio-temporal data in a multi-scale perspective have focused on either the spatial or temporal aspect, rather than integrating both views over multiple scales. Qiang [
21
] and Van de Weghe [
22
] presented a continuous spatio-temporal model for space-time analysis. However, in the real visualization domain, space and time are recognized or recorded by discrete intervals, such as the tiled map service and the periodic timekeeping system. The tiled map uses a quad tree to represent multi-scale feature of space, while the timekeeping system uses the year, season, month, day and hour structure to record time-based events. In this section, we propose a space and time zooming method conforming to the tiled map service and timekeeping system. This method also conforms to the "overview first, zoom and filter, then details on demand" process [
23
].
Mapping the time component onto an axis on 2D space or 3D space is conventional method for time series visualization. The space-time cube [
24
] maps time to a 3D axis vertically, resulting in a 3D trajectory for time series datasets. As the storygraph [
25
], it maps x and y coordinates of space to two vertical axes and time to the horizontal axis, which can show trends in time series datasets. This paper provides a cartographic method to encode the time component of spatio-temporal data. The method separates the time component from the map space and uses the glyph map symbol to encode and interact with time, which gives more freedom for time representation and interaction. Furthermore, all symbols on the map are controlled by the dynamic map layer for displaying appropriate symbols at different map zoom levels and view extents.
Environmental monitoring data, i.e., the air quality monitoring data have multidimensional features, which can be structured as data cubes with a hierarchical structure [
26
].
Figure 1
and
Figure 2
illustrate the hierarchies of time and geographical information respectively. In this paper, the time structure in the dashed polygon part is used for the visualization, as the instance on the right side of
Figure 1
. For the geographical part, this paper focuses on the air quality of city points, each of which has a semantic importance illustrated in the table on the right side of
Figure 2
. The importance level of the city points influences their weight in dynamic map symbol selection when zooming and panning the map.
In the following subsections, the technologies and framework of the mapping application and the design and development of two JavaScript visualization tools, timezoom.js and symadaptive.js, are discussed. The two visualization components are mainly based on the general purpose web mapping library leaflet.js and the data visualization library D3.js. Then, the data and their processing for this study are presented.
3. Results and Discussion
Based on the discourse above, this study designs the air mapping application in terms of the navigation of space, time and theme [
40
]. The whole application is built on the framework illustrated in
Figure 3
, with the two invented JavaScript visualization tools: timezoom.js and symadaptive.js.
4. Conclusions
The research presented here describes a novel combination of modern mapping technologies, with which this study develops an online mapping application of air quality of China. In this study, an open web platform is fully used to collect the time series air quality data consistently. Then, data visualization tools (D3.js) and web mapping tools (leaflet.js, rbush.js) are well combined to produce a fine interactive mapping application of spatio-temporal data. From the application, we can get a whole view of the air quality condition of China at a nationwide scale and a year time span at multiple spatio-temporal granularities. This interactive map application clearly presents several significant findings of air quality in China, which provide good assistance for visual air quality analysis and clues for in-depth studies on air pollution.
The lessons we learned from this study reside in three aspects. First, there are more and more open data about our living environment, into which we can delve and find important results for making our living environment better. Second, as cartographers, we should make full use of new technologies for data visualization and web mapping. A good combination of these excellent tools can give us greater power for environmental data visualization. Third, the visual form of data is more expressive than the raw data table, and it would give deeper insights into the data analysis. In other words, nowadays, with more and more open data, fine and flexible visualization tools and the crowd wisdom of the public, we can have a clear vision of the environment around us.
The future work is to enhance the efficiency of the timezoom.js symbol and to extend it to hour granularities for a more detailed time level. What is more, as time goes on and the air quality data are accumulated, a year selection mechanism should be added to the timezoom.js symbol, and the comparison function should be enhanced. At the same time, some air quality study problems can be defined from the previous discussions of the findings with the visualization, then our future work will collect evidence to test our hypotheses.
Acknowledgments
This research was supported by the National Key Research and Development Program of China (Grant No. 2017YFB0503500), and the National Natural Science Foundation of China (Grant No. 41531180).
Author Contributions
Wei Lu proposed the idea and did the visualization tools development, as well as the paper writing. Tinghua Ai gave important experiment suggestions and editing of the paper. Xiang Zhang and Yakun He provided suggestions on paper writing.
Conflicts of Interest
The authors declare no conflict of interest.
Appendix A. Mapping and Visualization Technologies Used
leaflet.js: leaflet.js is a lightweight, extensible, open-source JavaScript library for interactive maps, which was developed by Vladimir Agafonkin with a group of dedicated contributors. Its simplicity and extensibility provide the freedom to customize desirable plugins for specific use. For the map symbol, the Icon class component of leaflet.js can be extended as the HTML(Hypertext Markup Language) <div> element ,which provides the freedom of combination with other data visualization library.
D3.js: D3.js is short for Data-Driven Document, which is a JavaScript library for manipulate DOM(Document Object Model) elements based on data. It also provides many powerful visualization components based on HTML, SVG(Scalable Vector Graphics) and CSS(Cascading Stylesheets). Thus, we can utilize these visualization facilities to represent data as SVG elements, which can be embedded in a <div> element. Therefore, we can freely extend the Icon component of leaflet.js by using D3's visualization components.
rbush.js: rbush.js is a high-performance JavaScript R-Tree-based 2D spatial index library for points and rectangles by Vladimir Agafonkin. It can be used for conflict detection for map symbols when zooming. We can extend the LayerGroup class of leaflet.jsusing the collision detection function of RBush to realize a self-declutter map layer.
web.py: web.py is a light-weight web application framework in the Python language. It is simple and powerful, and it is an open sources software tool that can be used for whatever purpose with absolutely no restrictions.
Figure 1. Hierarchical structure of the time dimension. The dashed polygon part is handled in this paper. An instance of this structure is on the right side.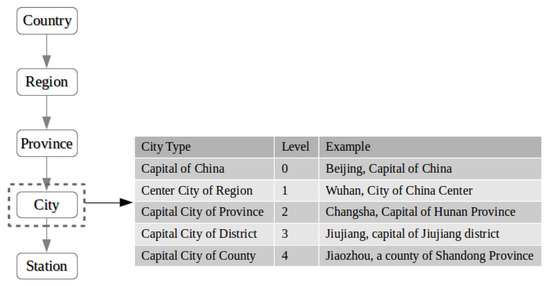 Figure 2. Hierarchical structure of the geographical dimension. In this paper, we focus on the city level, and the importance weight is in the table on the right side.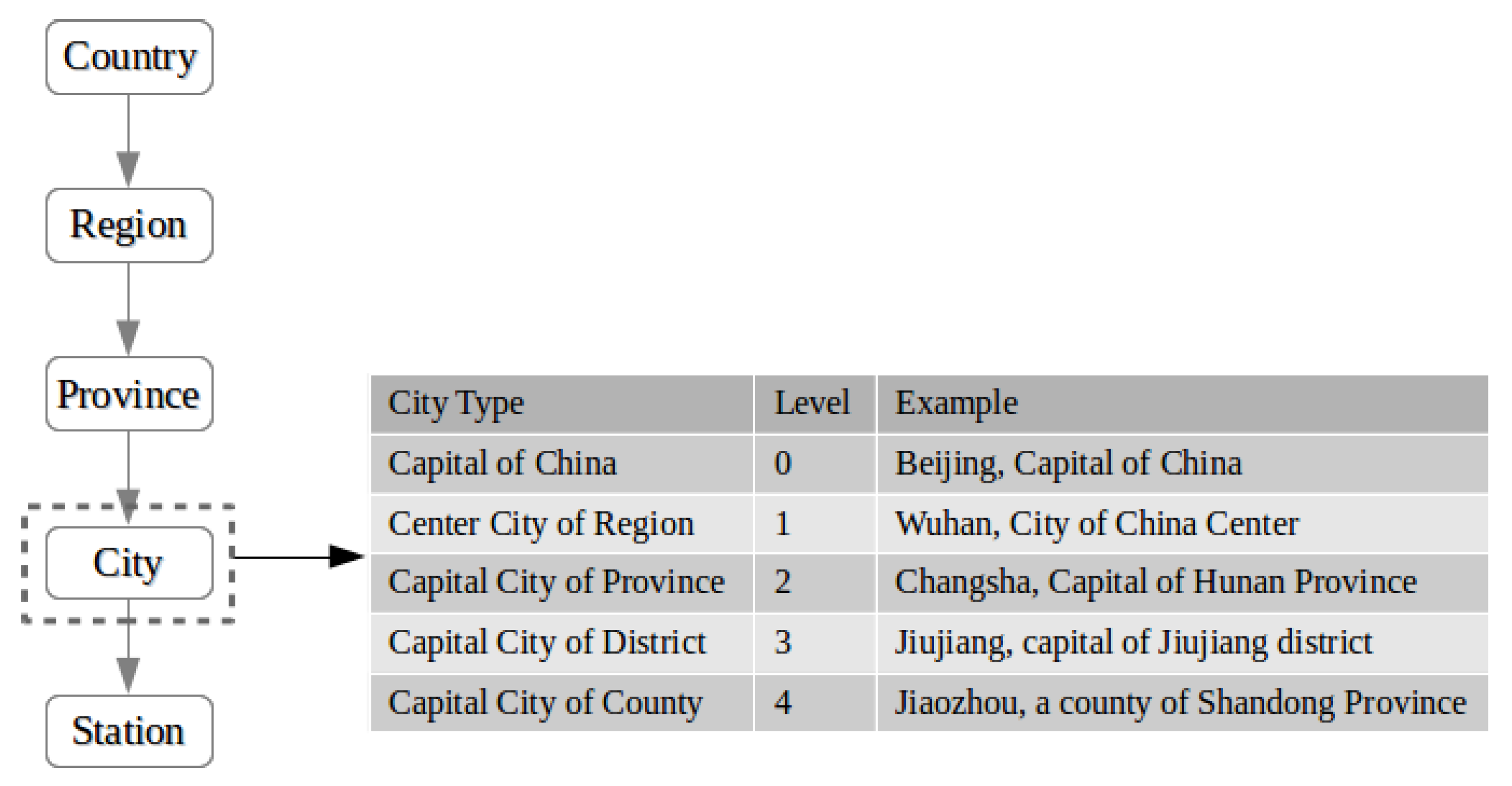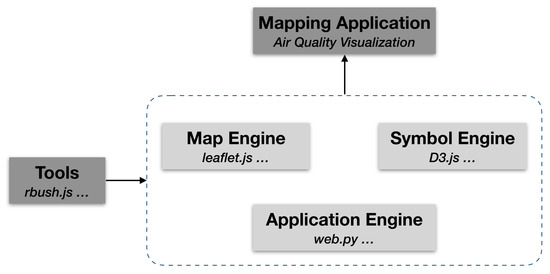 Figure 3. The air quality monitoring application framework. This paper proposes a mashup strategy to make use of multiple visualization and mapping technologies for web mapping applications.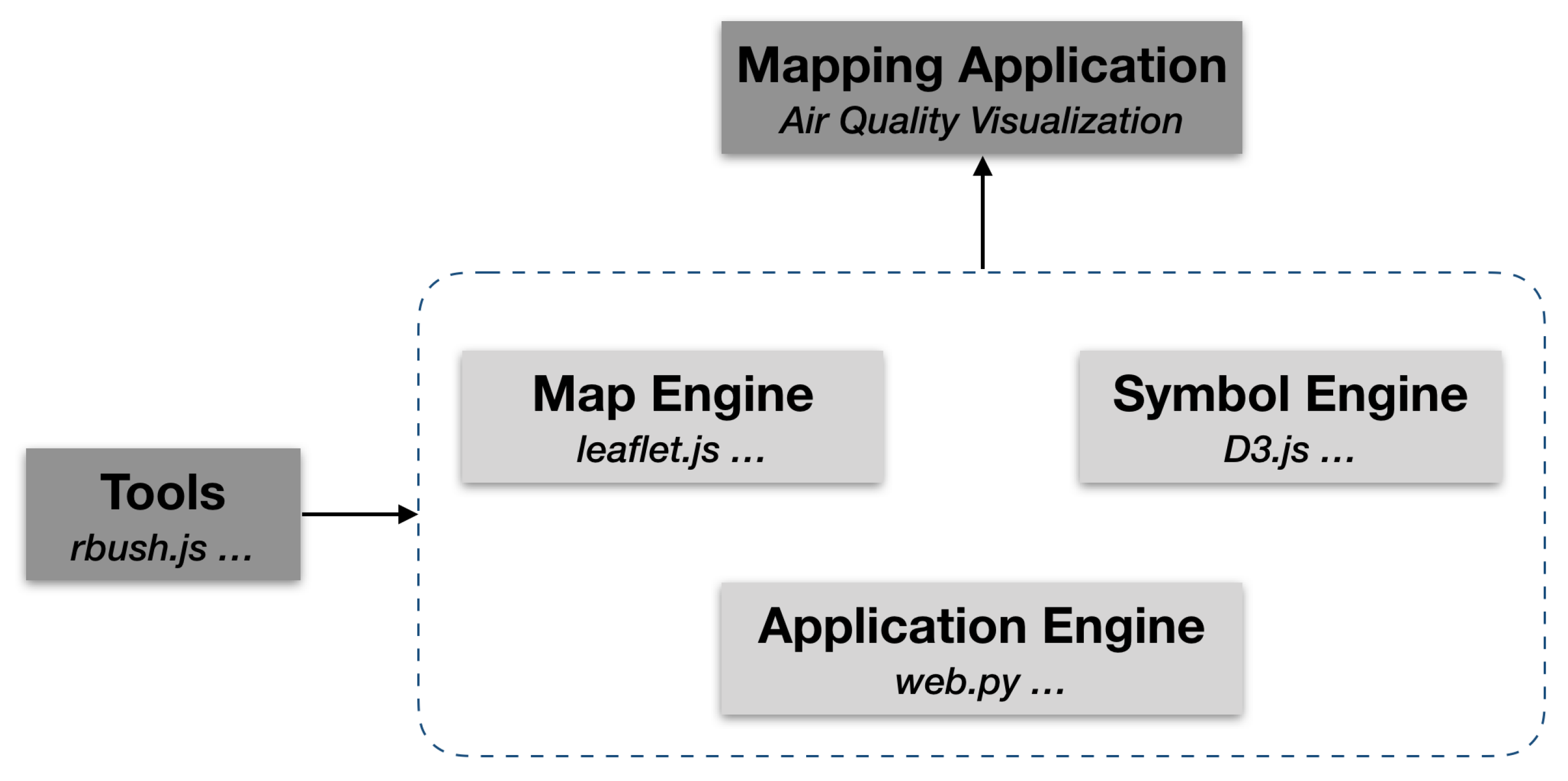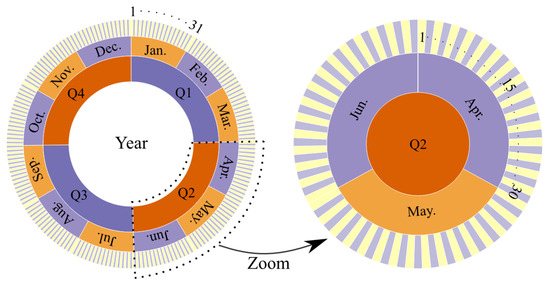 Figure 4. Multi-granularity time zooming interaction (timezoom.js): The inner circle shows the data value of the year, and Sectors Q1, Q2, Q3 and Q4 respectively indicate the four seasonal values and sectors January–December for the monthly data of a year; each month sector is surrounded by daily sectors. Clicking on each sector, the timezoom.js symbol will zoom to that time sector for detailed views of its value distributions.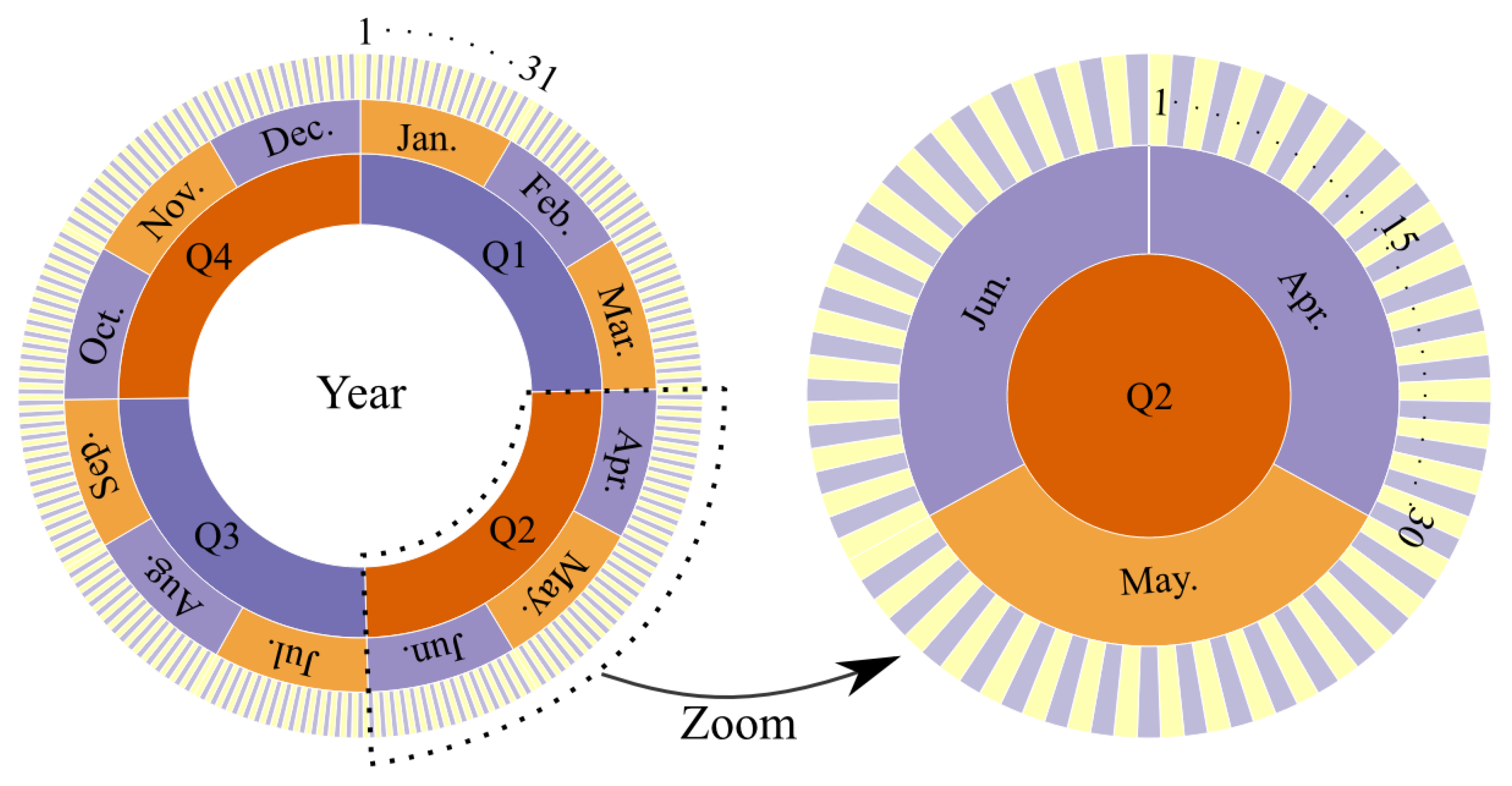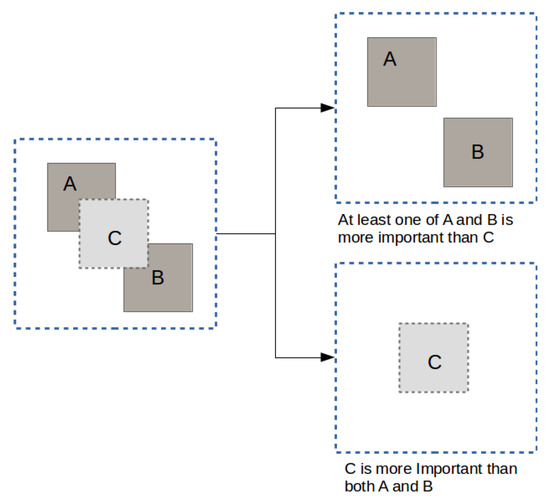 Figure 5. Multi-scale space zooming control (symadaptive.js): When the symbol C is add to the map, C will conflict with A and B. If C has a higher importance level than A and B, then C will be kept on the map, and A and B will be removed. For the other situation, if A or B has a higher importance level than C, C will be ignored.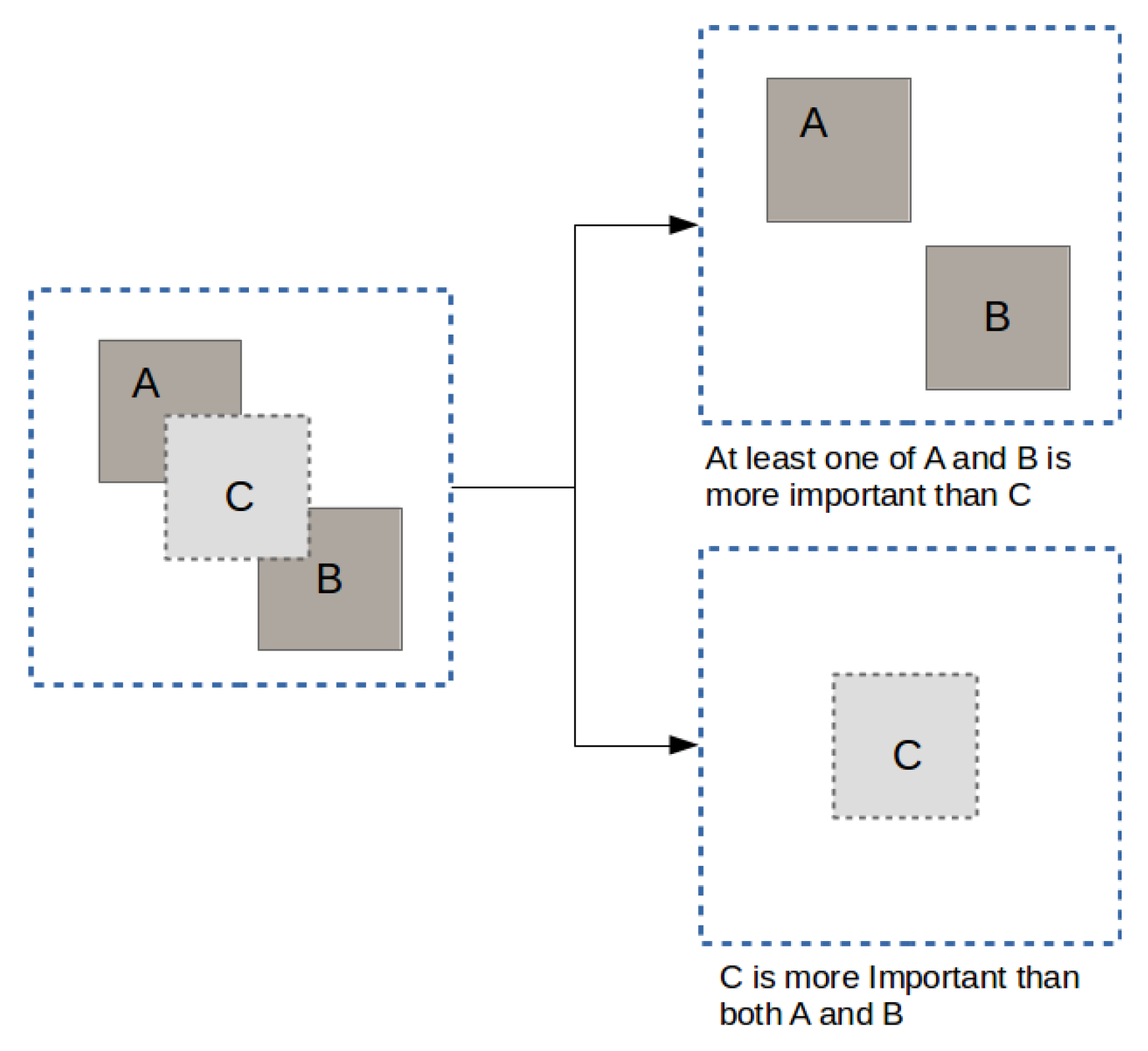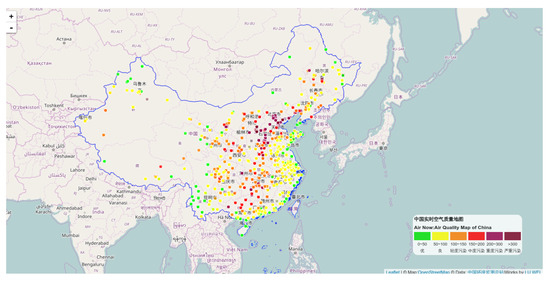 Figure 6.
Air Quality Monitoring Network in China. This image shows a snapshot air quality map of monitoring stations in China, at 8:00, 12 December 2016. (refer to:
http://mapviz.xyz:8080/
).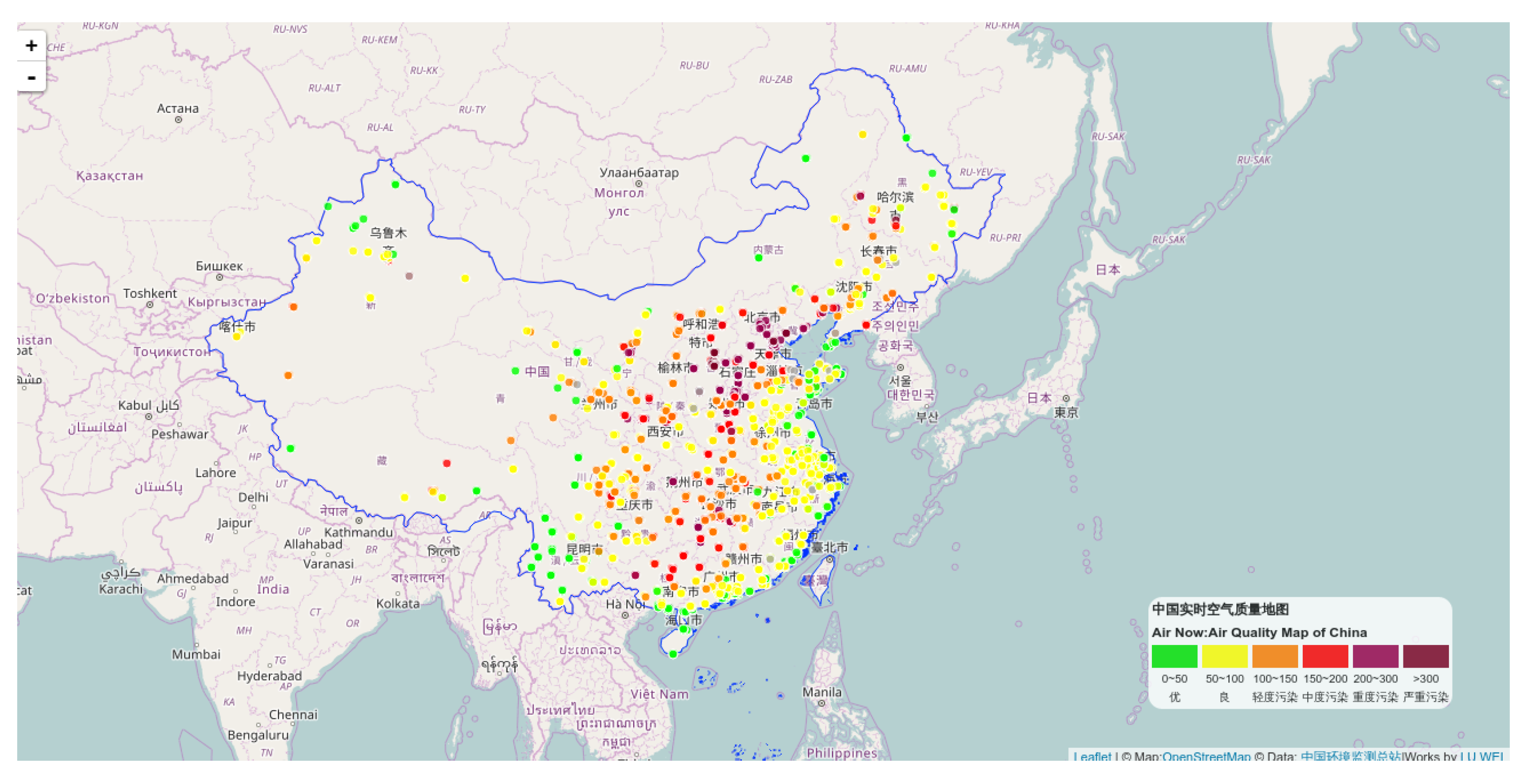 Figure 7. Spatial navigation. When zooming the map, the symbols are selected dynamically at each zoom level with the function provided by symadaptive.js. (a)–(d) illustrate map symbols at Zoom Levels 3–6 on the OpenStreetMap tiled map background. (a) Map Zoom Level 3; (b) Map Zoom Level 4; (c) Map Zoom Level 5; and (d) Map Zoom Level 6.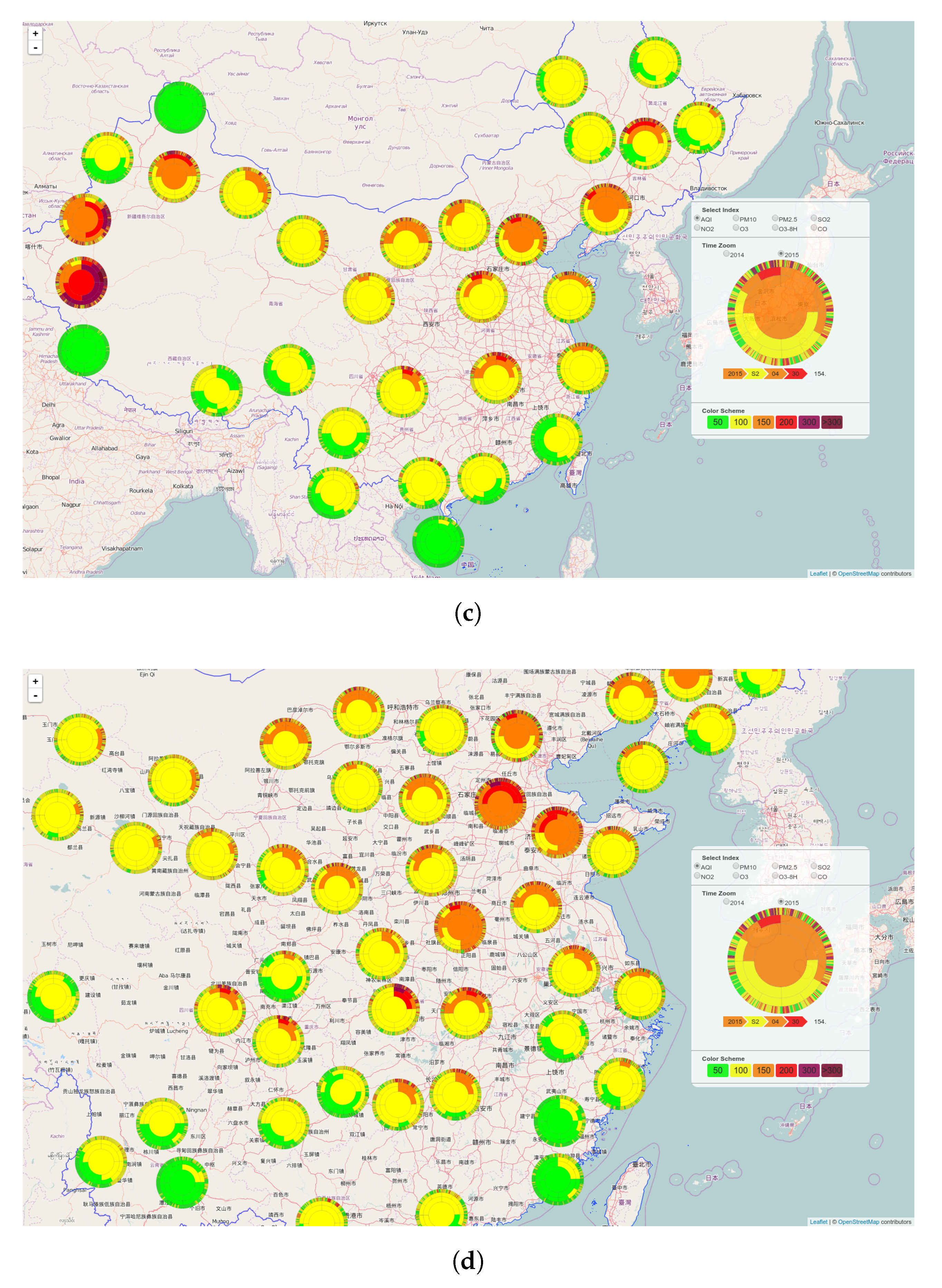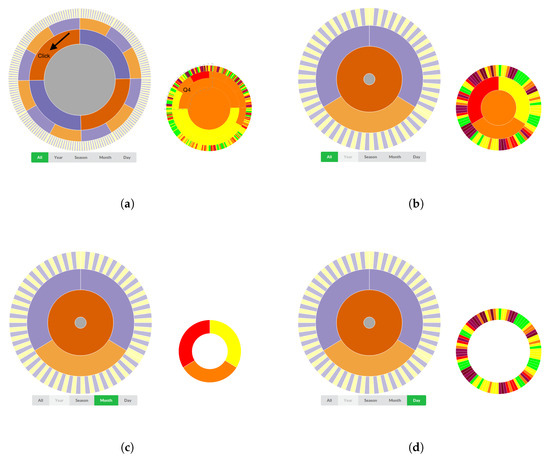 Figure 8. Temporal navigation. The left circle symbol shows the structure of the time symbol, and the right is the map symbol that will be displayed on the map. The toggle buttons below are for the time filter to focus on the time granularities of interest. (a) shows the full year data in a time symbol, and (b) shows the zoomed symbol to Quarter 4 (October, November and December). (c,d) show the symbols that are filtered by the month and day value.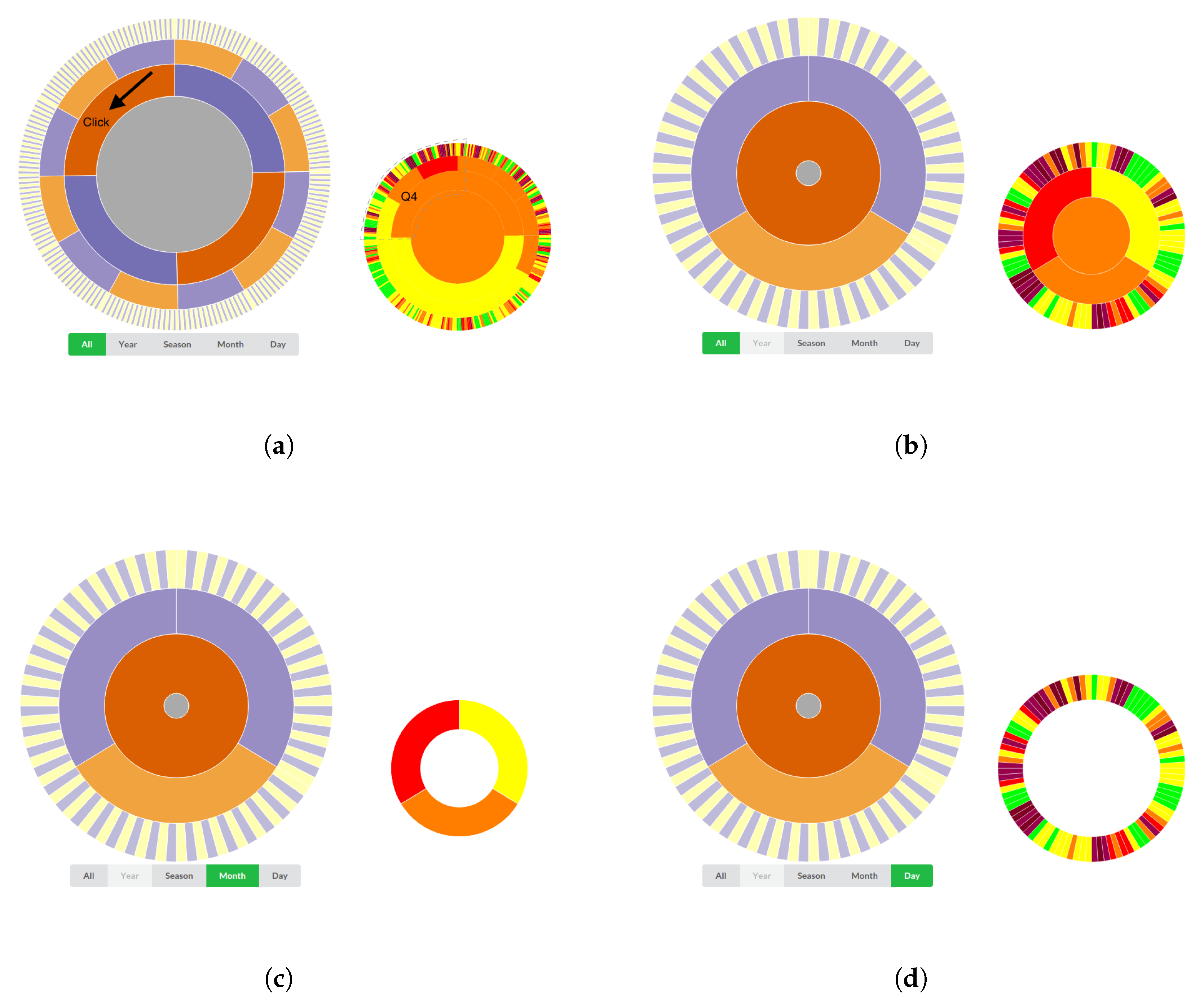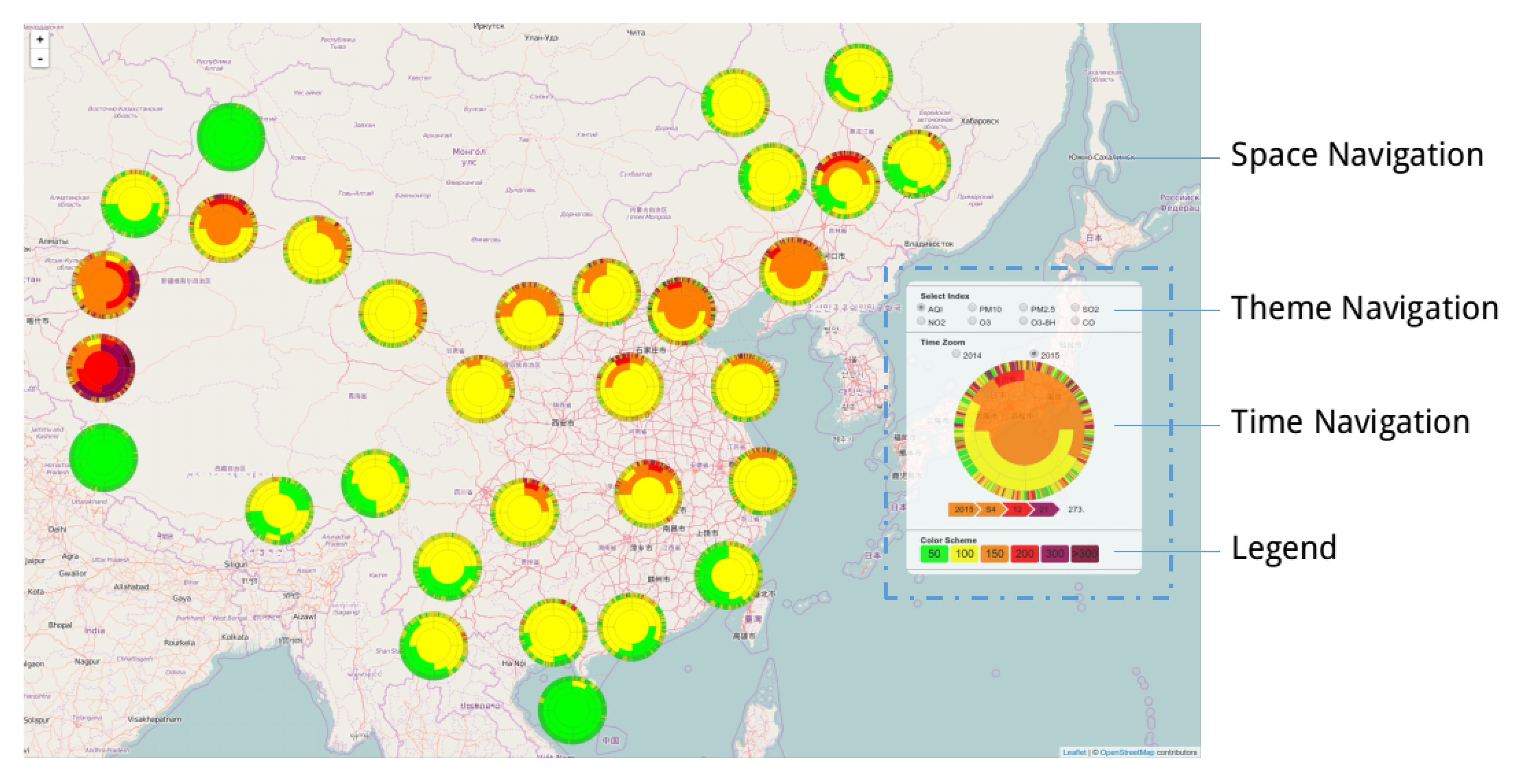 Figure 10. Air quality maps 2015 at OpenStreetMap Zoom Level 5. (a) is the AQI map of 2015; (b)–(g) are the air pollutants' concentration map in 2015 for PM10, PM2.5, SO, NO, O and CO respectively. (a) AQI map of 2015; (b) PM10 concentration map of 2015; (c) PM2.5 concentration map of 2015; (d) SO concentration map of 2015; (e) NO concentration map of 2015; (f) O concentration map of 2015; (g) O 8H concentration map of 2015; (h) CO concentration map of 2015.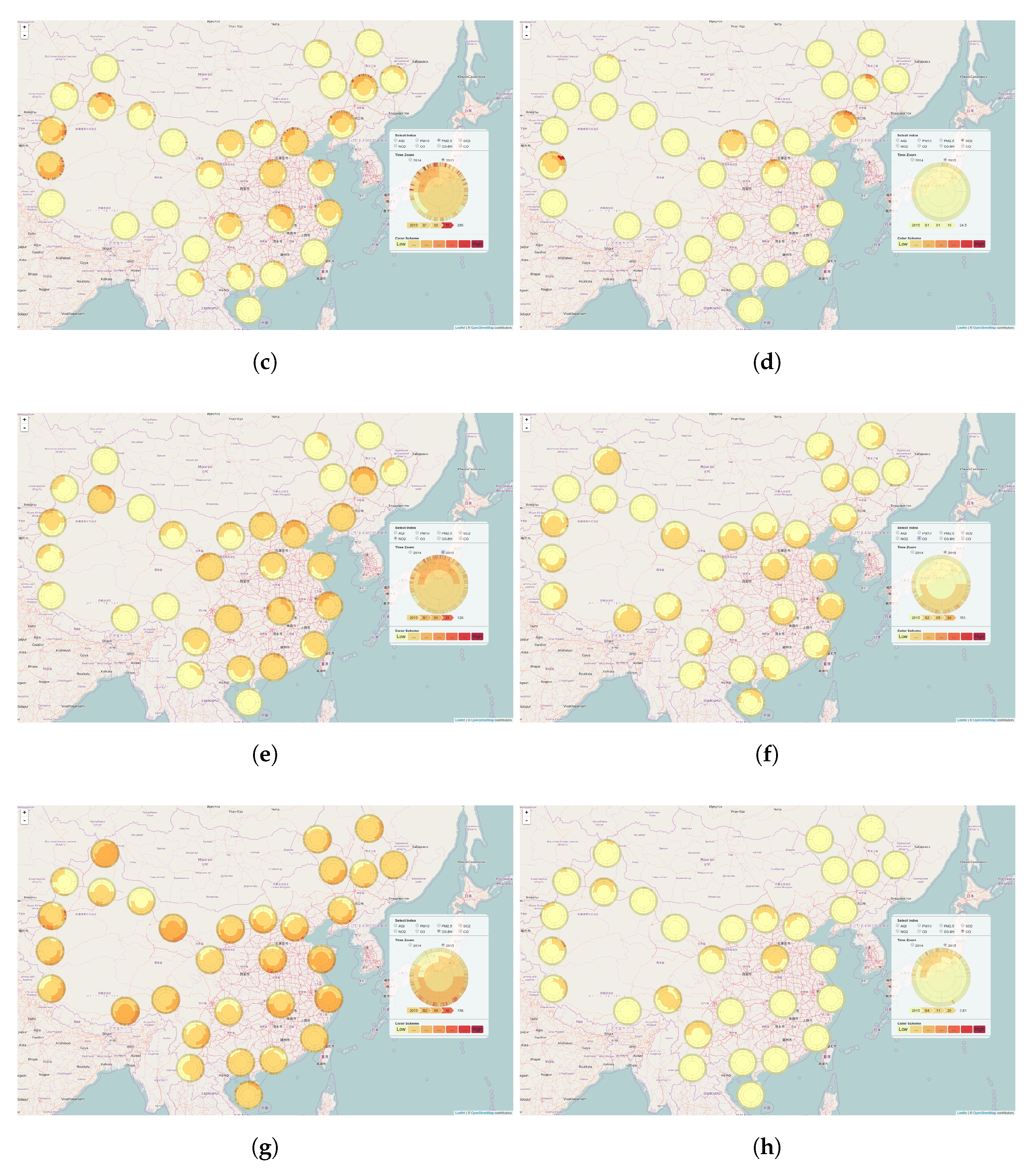 | Name | Description and Unit |
| --- | --- |
| AQI | Air Quality Index, value without unit, range 0–500 |
| SO | Sulfur Dioxide, g/m |
| NO | Nitrogen Dioxide, g/m |
| CO | Carbon Monoxide, |
| O | Ozone, g/m |
| O_8H | 8-h average concentration of Ozone, g/m |
| PM2.5 | Particulate Matter, diameter less than 2.5 m, g/m |
| PM10 | Particulate Matter, diameter less than 10 m, g/m |
| Divisions | Health Influences | Color Coding |
| --- | --- | --- |
| 0–50 | Good: Satisfactory | Green (0,228,0) |
| 51–100 | Moderate: Acceptable, but influential for very sensitive groups. | Yellow (255,255,0) |
| 101–150 | Slightly Unhealthy: Influential for sensitive groups. | Orange (255,126,0) |
| 151–200 | Unhealthy | Red (255,0,0) |
| 200–300 | Very Unhealthy | Purple (153,76,0) |
| >300 | Hazardous | Maroon (126,0,35) |
| IAQI Ranges | SO g/m | NO g/m | PM10 g/m | PM2_5 g/m | CO mg/m | O g /m | O_8H g /m |
| --- | --- | --- | --- | --- | --- | --- | --- |
| 0 | 0 | 0 | 0 | 0 | 0 | 0 | 0 |
| 50 | 50 | 40 | 50 | 35 | 2 | 160 | 100 |
| 100 | 150 | 80 | 150 | 75 | 4 | 200 | 160 |
| 150 | 475 | 180 | 250 | 115 | 14 | 300 | 215 |
| 200 | 800 | 280 | 350 | 150 | 24 | 400 | 265 |
| 300 | 1600 | 565 | 420 | 250 | 36 | 800 | 800 |
| 400 | 2100 | 750 | 500 | 350 | 48 | 1000 | - |
| 500 | 2620 | 940 | 600 | 500 | 60 | 1200 | - |

© 2017 by the authors. Licensee MDPI, Basel, Switzerland. This article is an open access article distributed under the terms and conditions of the Creative Commons Attribution (CC BY) license (http://creativecommons.org/licenses/by/4.0/).