Mercury Speciation at a Coastal Site in the Northern Gulf of Mexico: Results from the Grand Bay Intensive Studies in Summer 2010 and Spring 2011
1
Air Resources Laboratory, National Oceanic and Atmospheric Administration, 5830 University Research Court, College Park, MD 20740, USA
2
Cooperative Institute for Climate and Satellites, University of Maryland, 5825 University Research Court, College Park, MD 20740, USA
3
Grand Bay National Estuarine Research Reserve, 6005 Bayou Heron Road, Moss Point, MS 39562, USA
4
Division of Atmospheric Sciences, Desert Research Institute, 2215 Raggio Parkway, NV 89512, USA
5
Rosenstiel School of Marine and Atmospheric Science, University of Miami, 4600 Rickenbacker Causeway, Miami, FL 33149, USA
6
Earth Systems Research Center, Institute for the Study of Earth, Oceans and Space, University of New Hampshire, 8 College Road, Durham, NH 03824, USA
7
Department of Earth, Ocean, and Atmospheric Science, Florida State University, 117 North Woodward Avenue, Tallahassee, FL 32306, USA
8
School of Earth and Atmospheric Science, Georgia Institute of Technology, 311 Ferst Drive, Atlanta, GA 30332, USA
*
Author to whom correspondence should be addressed.
†
Current Affiliation: Department of Mechanical, Aerospace and Biomedical Engineering, University of Tennessee Space Institute, 411 BH Goethert Parkway, Tullahoma, TN 37388, USA.
§
Current Affiliation: Puget Sound Clean Air Agency, 1904 Third Avenue, Seattle, WA 98101, USA.
‡
Current Affiliation: Department of Chemistry, Otago University, Dunedin 9016, New Zealand.
ǁ
Current Affiliation: Department of Atmospheric Science, Colorado State University, 200 West Lake Street, Fort Collins, CO 80523, USA
¶
Current Affiliation: Talcott Mountain Science Center, 324 Montevideo Road, Avon, CT 06001, USA.
Received: 28 February 2014 / Revised: 12 April 2014 / Accepted: 14 April 2014 / Published: 29 April 2014
Abstract
During two intensive studies in summer 2010 and spring 2011, measurements of mercury species including gaseous elemental mercury (GEM), gaseous oxidized mercury (GOM), and particulate-bound mercury (PBM), trace chemical species including O
3
, SO
2
, CO, NO, NO
Y
, and black carbon, and meteorological parameters were made at an Atmospheric Mercury Network (AMNet) site at the Grand Bay National Estuarine Research Reserve (NERR) in Moss Point, Mississippi. Surface measurements indicate that the mean mercury concentrations were 1.42 ± 0.12 ng∙m
−3
for GEM, 5.4 ± 10.2 pg∙m
−3
for GOM, and 3.1 ± 1.9 pg∙m
−3
for PBM during the summer 2010 intensive and 1.53 ± 0.11 ng∙m
−3
for GEM, 5.3 ± 10.2 pg∙m
−3
for GOM, and 5.7 ± 6.2 pg∙m
−3
for PBM during the spring 2011 intensive. Elevated daytime GOM levels (>20 pg∙m
−3
) were observed on a few days in each study and were usually associated with either elevated O
3
(>50 ppbv), BrO, and solar radiation or elevated SO
2
(>a few ppbv) but lower O
3
(~20–40 ppbv). This behavior suggests two potential sources of GOM: photochemical oxidation of GEM and direct emissions of GOM from nearby local sources. Lack of correlation between GOM and Beryllium-7 (
7
Be) suggests little influence on surface GOM from downward mixing of GOM from the upper troposphere. These data were analyzed using the HYSPLIT back trajectory model and principal component analysis in order to develop source-receptor relationships for mercury species in this coastal environment. Trajectory frequency analysis shows that high GOM events were generally associated with high frequencies of the trajectories passing through the areas with high mercury emissions, while low GOM levels were largely associated the trajectories passing through relatively clean areas. Principal component analysis also reveals two main factors: direct emission and photochemical processes that were clustered with high GOM and PBM. This study indicates that the receptor site, which is located in a coastal environment of the Gulf of Mexico, experienced impacts from mercury sources that are both local and regional in nature.
View Full-Text
►

▼

Figures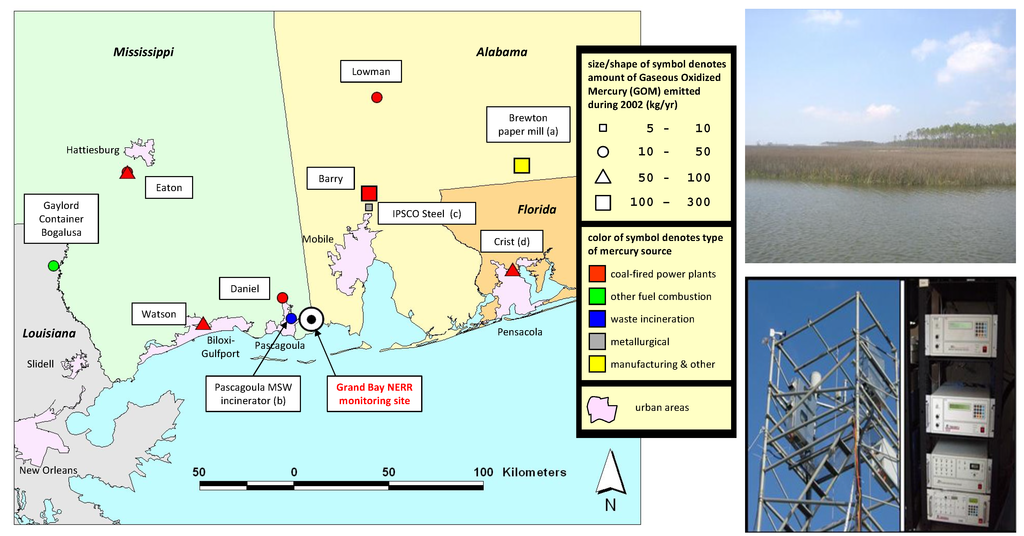 Figure 1

Printed Edition Available!
A printed edition of this Special Issue is available
here
.
Share & Cite This Article
MDPI and ACS Style
Ren, X.; Luke, W.T.; Kelley, P.; Cohen, M.; Ngan, F.; Artz, R.; Walker, J.; Brooks, S.; Moore, C.; Swartzendruber, P.; Bauer, D.; Remeika, J.; Hynes, A.; Dibb, J.; Rolison, J.; Krishnamurthy, N.; Landing, W.M.; Hecobian, A.; Shook, J.; Huey, L.G. Mercury Speciation at a Coastal Site in the Northern Gulf of Mexico: Results from the Grand Bay Intensive Studies in Summer 2010 and Spring 2011. Atmosphere 2014, 5, 230-251.
Related Articles
Comments
[Return to top]