Genetic Imbalances in Argentinean Patients with Congenital Conotruncal Heart Defects
1
Centro Nacional de Genética Médica, ANLIS, Ciudad Autónoma de Buenos Aires 1425, Argentina
2
Instituto de Biología y Medicina Experimental, CONICET, Ciudad Autónoma de Buenos Aires 1428, Argentina
3
Hospital El Cruce, Dr. Néstor Kirchner, Florencio Varela 1888, Provincia de Buenos Aires, Argentina
4
Departamento de Neonatología, Hospital Gandulfo, Lomas de Zamora 1832, Buenos Aires, Argentina
5
Servicio de Genética, Hospital Sor María Ludovica, La Plata 1904, Buenos Aires, Argentina
6
Hospital Dr. Arturo Oñativia, Salta 4400, Salta, Argentina
7
Hospital Pediátrico Dr. Avelino Castelán, Resistencia 3500, Chaco, Argentina
8
Servicio de Genética, Hospital Provincial Neuquén "Dr. Eduardo Castro Rendón", Neuquén 8300, Argentina
9
Laboratorio Central de Redes y Programas -MSP, Corrientes 3400, Argentina
10
Hospital Materno Infantil Dr. Ramón Sardá, Ciudad Autónoma de Buenos Aires 1246, Argentina
11
Departamento de Fisiología, Biología Molecular y Celular, Facultad de Ciencias Exactas y Naturales, Universidad de Buenos Aires, Ciudad Autónoma de Buenos Aires 1428, Argentina
†
These authors contributed equally to this work.
*
Author to whom correspondence should be addressed.
Received: 29 June 2018 / Revised: 23 August 2018 / Accepted: 5 September 2018 / Published: 11 September 2018
Abstract
Congenital conotruncal heart defects (CCHD) are a subset of serious congenital heart defects (CHD) of the cardiac outflow tracts or great arteries. Its frequency is estimated in 1/1000 live births, accounting for approximately 10–30% of all CHD cases. Chromosomal abnormalities and copy number variants (CNVs) contribute to the disease risk in patients with syndromic and/or non-syndromic forms. Although largely studied in several populations, their frequencies are barely reported for Latin American countries. The aim of this study was to analyze chromosomal abnormalities, 22q11 deletions, and other genomic imbalances in a group of Argentinean patients with CCHD of unknown etiology. A cohort of 219 patients with isolated CCHD or associated with other major anomalies were referred from different provinces of Argentina. Cytogenetic studies, Multiplex-Ligation-Probe-Amplification (MLPA) and fluorescent in situ hybridization (FISH) analysis were performed. No cytogenetic abnormalities were found. 22q11 deletion was found in 23.5% of the patients from our cohort, 66% only had CHD with no other major anomalies. None of the patients with transposition of the great vessels (TGV) carried the 22q11 deletion. Other 4 clinically relevant CNVs were also observed: a distal low copy repeat (LCR)D-E 22q11 duplication, and 17p13.3, 4q35 and
TBX1
deletions. In summary, 25.8% of CCHD patients presented imbalances associated with the disease.
View Full-Text
►

▼

Figures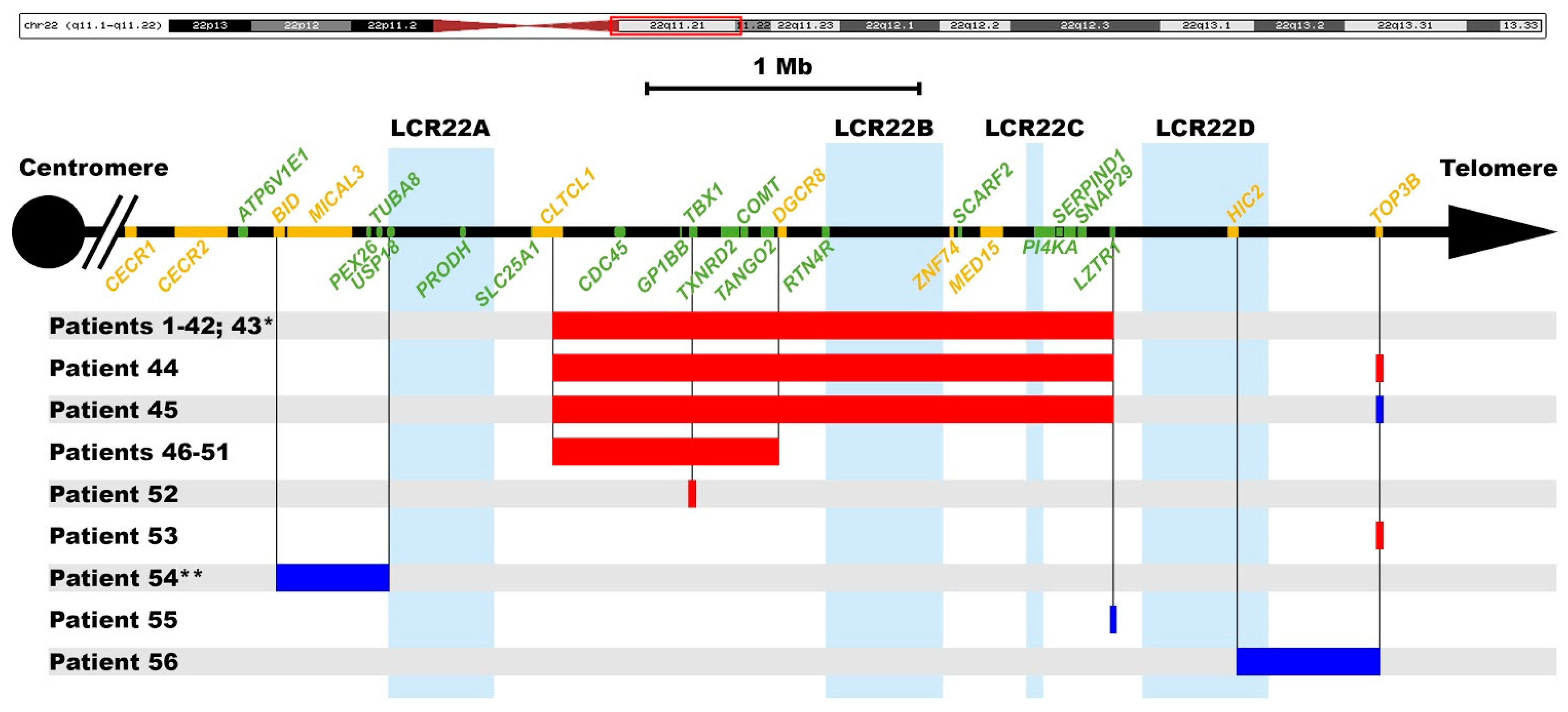 Figure 1
This is an open access article distributed under the
Creative Commons Attribution License
which permits unrestricted use, distribution, and reproduction in any medium, provided the original work is properly cited (CC BY 4.0).

Share & Cite This Article
MDPI and ACS Style
Delea, M.; Espeche, L.D.; Bruque, C.D.; Bidondo, M.P.; Massara, L.S.; Oliveri, J.; Brun, P.; Cosentino, V.R.; Martinoli, C.; Tolaba, N.; Picon, C.; Ponce Zaldua, M.E.; Ávila, S.; Gutnisky, V.; Perez, M.; Furforo, L.; Buzzalino, N.D.; Liascovich, R.; Groisman, B.; Rittler, M.; Rozental, S.; Barbero, P.; Dain, L. Genetic Imbalances in Argentinean Patients with Congenital Conotruncal Heart Defects. Genes 2018, 9, 454.
Note that from the first issue of 2016, MDPI journals use article numbers instead of page numbers. See further details here.
Related Articles
Comments
[Return to top]