Assessing Metagenomic Signals Recovered from Lyuba, a 42,000-Year-Old Permafrost-Preserved Woolly Mammoth Calf
1
Institute of Evolutionary Medicine, University of Zurich, 8057 Zurich, Switzerland
2
Centre for Ecological and Evolutionary Synthesis (CEES), Department of Biosciences, University of Oslo, 0316 Oslo, Norway
3
Institute of Evolutionary Biology and Environmental Studies, University of Zurich, 8057 Zurich, Switzerland
4
Swiss Institute of Bioinformatics (SIB), 1015 Lausanne, Switzerland
5
Institute for Archaeological Sciences, University of Tübingen, 72070 Tübingen, Germany
6
Institute of Veterinary Pathology, University of Zurich, 8057 Zurich, Switzerland
7
Center for Conservation Genomics, Smithsonian Conservation Biology Institute, Washington, DC 20008, USA
*
Authors to whom correspondence should be addressed.
Received: 2 August 2018 / Revised: 24 August 2018 / Accepted: 30 August 2018 / Published: 31 August 2018
Abstract
The reconstruction of ancient metagenomes from archaeological material, and their implication in human health and evolution, is one of the most recent advances in paleomicrobiological studies. However, as for all ancient DNA (aDNA) studies, environmental and laboratory contamination need to be specifically addressed. Here we attempted to reconstruct the tissue-specific metagenomes of a 42,000-year-old, permafrost-preserved woolly mammoth calf through shotgun high-throughput sequencing. We analyzed the taxonomic composition of all tissue samples together with environmental and non-template experimental controls and compared them to metagenomes obtained from permafrost and elephant fecal samples. Preliminary results suggested the presence of tissue-specific metagenomic signals. We identified bacterial species that were present in only one experimental sample, absent from controls, and consistent with the nature of the samples. However, we failed to further authenticate any of these signals and conclude that, even when experimental samples are distinct from environmental and laboratory controls, this does not necessarily indicate endogenous presence of ancient host-associated microbiomic signals.
View Full-Text
►

▼

Figures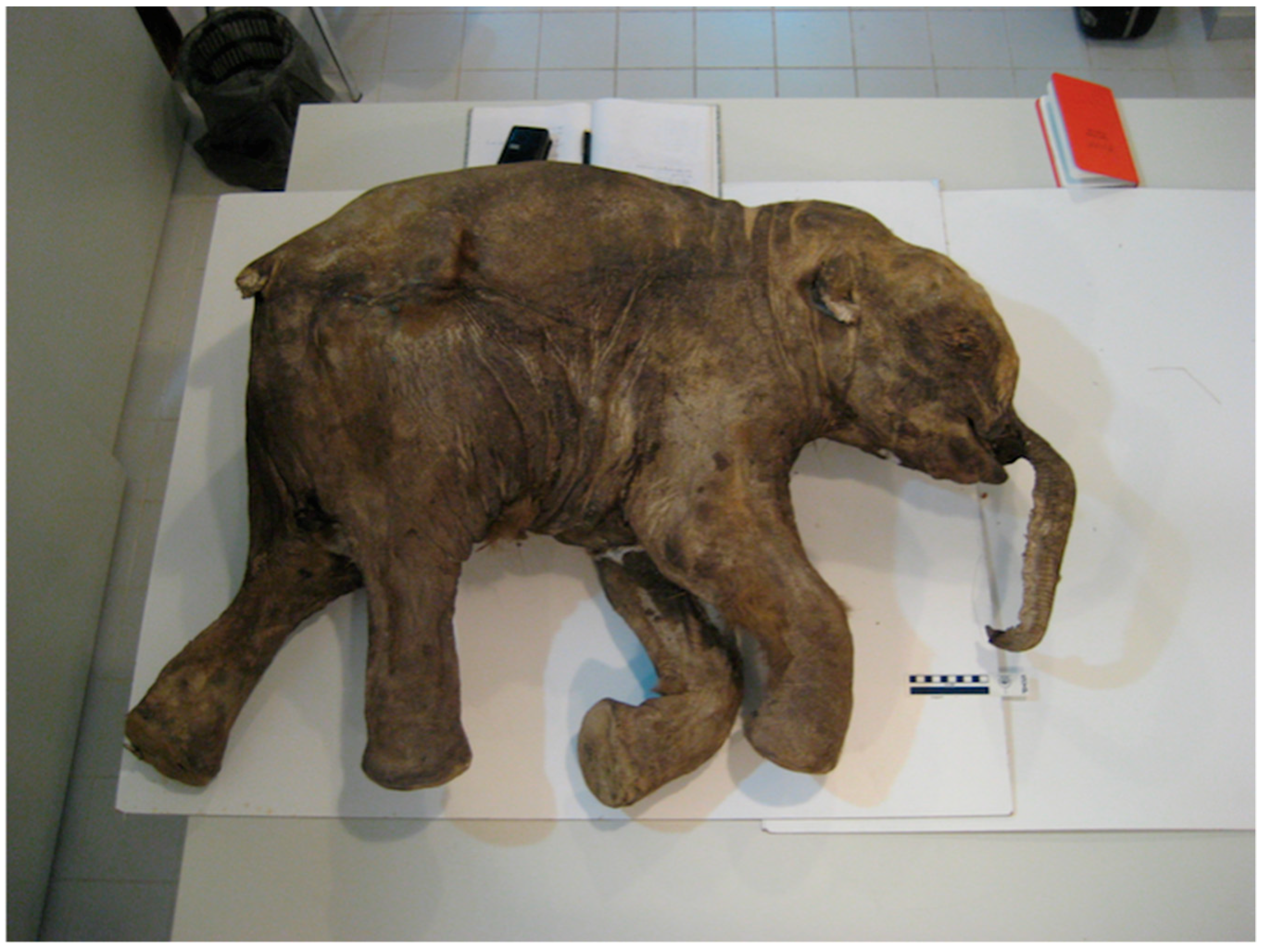 Figure 1
This is an open access article distributed under the
Creative Commons Attribution License
which permits unrestricted use, distribution, and reproduction in any medium, provided the original work is properly cited (CC BY 4.0).

Share & Cite This Article
MDPI and ACS Style
Ferrari, G.; Lischer, H.E.L.; Neukamm, J.; Rayo, E.; Borel, N.; Pospischil, A.; Rühli, F.; Bouwman, A.S.; Campana, M.G. Assessing Metagenomic Signals Recovered from Lyuba, a 42,000-Year-Old Permafrost-Preserved Woolly Mammoth Calf. Genes 2018, 9, 436.
Note that from the first issue of 2016, MDPI journals use article numbers instead of page numbers. See further details here.
Related Articles
Comments
[Return to top]