Genetic Diversity in the UV Sex Chromosomes of the Brown Alga
Ectocarpus
1
Sorbonne Université, UPMC Univ Paris 06, CNRS, Algal Genetics Group, Integrative Biology of Marine Models, Station Biologique de Roscoff, CS 90074, 29688 Roscoff, France
2
Evolutionary Biology and Ecology of Algae, CNRS, Sorbonne Universités, UPMC, University of Paris VI, UC, UACH, UMI 3614, 29688 Roscoff, France
3
Facultad de Ciencias, Instituto de Ciencias Ambientales y Evolutivas, Universidad Austral de Chile, Casilla 567, Valdivia, Chile
4
Bezhin Rosko, 29250 Santec, France
*
Author to whom correspondence should be addressed.
†
These authors contributed equally to this work.
Received: 1 May 2018 / Revised: 30 May 2018 / Accepted: 5 June 2018 / Published: 6 June 2018
Abstract
Three types of sex chromosome system exist in nature: diploid XY and ZW systems and haploid UV systems. For many years, research has focused exclusively on XY and ZW systems, leaving UV chromosomes and haploid sex determination largely neglected. Here, we perform a detailed analysis of DNA sequence neutral diversity levels across the U and V sex chromosomes of the model brown alga
Ectocarpus
using a large population dataset. We show that the U and V non-recombining regions of the sex chromosomes (SDR) exhibit about half as much neutral diversity as the autosomes. This difference is consistent with the reduced effective population size of these regions compared with the rest of the genome, suggesting that the influence of additional factors such as background selection or selective sweeps is minimal. The pseudoautosomal region (PAR) of this UV system, in contrast, exhibited surprisingly high neutral diversity and there were several indications that genes in this region may be under balancing selection. The PAR of
Ectocarpus
is known to exhibit unusual genomic features and our results lay the foundation for further work aimed at understanding whether, and to what extent, these structural features underlie the high level of genetic diversity. Overall, this study fills a gap between available information on genetic diversity in XY/ZW systems and UV systems and significantly contributes to advancing our knowledge of the evolution of UV sex chromosomes.
View Full-Text
►

▼

Figures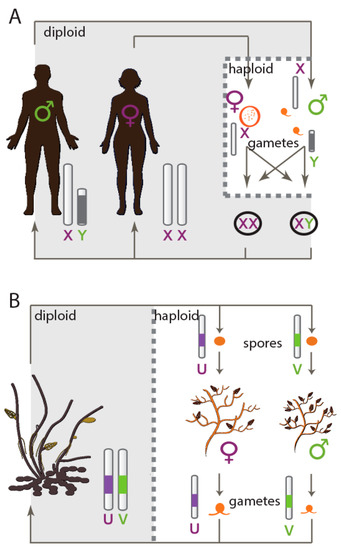 Figure 1
This is an open access article distributed under the
Creative Commons Attribution License
which permits unrestricted use, distribution, and reproduction in any medium, provided the original work is properly cited (CC BY 4.0).

Share & Cite This Article
MDPI and ACS Style
Avia, K.; Lipinska, A.P.; Mignerot, L.; Montecinos, A.E.; Jamy, M.; Ahmed, S.; Valero, M.; Peters, A.F.; Cock, J.M.; Roze, D.; Coelho, S.M. Genetic Diversity in the UV Sex Chromosomes of the Brown Alga Ectocarpus. Genes 2018, 9, 286.
Note that from the first issue of 2016, MDPI journals use article numbers instead of page numbers. See further details here.
Related Articles
Comments
[Return to top]