Identification and Characterization of the MADS-Box Genes and Their Contribution to Flower Organ in Carnation (
Dianthus caryophyllus

L.)

1

Key Laboratory of Horticultural Plant Biology, College of Horticulture and Forestry Sciences, Huazhong Agriculture University, Wuhan 430070, China

2

Key Laboratory of Urban Agriculture in Central China (pilot run), Ministry of Agriculture, Wuhan 430070, China

3

Laboratoire Reproduction et Development des Plantes, INRA-CNRS-Lyon1-ENS, Ecole Normale Supérieure Lyon, Lyon 520074, France

*

Author to whom correspondence should be addressed.

Received: 5 March 2018 / Revised: 22 March 2018 / Accepted: 22 March 2018 / Published: 4 April 2018
Abstract
Dianthus
is a large genus containing many species with high ornamental economic value. Extensive breeding strategies permitted an exploration of an improvement in the quality of cultivated carnation, particularly in flowers. However, little is known on the molecular mechanisms of flower development in carnation. Here, we report the identification and description of MADS-box genes in carnation (
DcaMADS
) with a focus on those involved in flower development and organ identity determination. In this study, 39 MADS-box genes were identified from the carnation genome and transcriptome by the phylogenetic analysis. These genes were categorized into four subgroups (30 MIKC
c
, two MIKC*, two Mα, and five Mγ). The MADS-box domain, gene structure, and conserved motif compositions of the carnation MADS genes were analysed. Meanwhile, the expression of
DcaMADS
genes were significantly different in stems, leaves, and flower buds. Further studies were carried out for exploring the expression of
DcaMADS
genes in individual flower organs, and some crucial
DcaMADS
genes correlated with their putative function were validated. Finally, a new expression pattern of
DcaMADS
genes in flower organs of carnation was provided: sepal (three class E genes and two class A genes), petal (two class B genes, two class E genes, and one SHORT VEGETATIVE PHASE (
SVP
)), stamen (two class B genes, two class E genes, and two class C), styles (two class E genes and two class C), and ovary (two class E genes, two class C, one AGAMOUS-LIKE 6 (
AGL6
), one SEEDSTICK (
STK
), one
B sister
, one
SVP
, and one
Mα
). This result proposes a model in floral organ identity of carnation and it may be helpful to further explore the molecular mechanism of flower organ identity in carnation.
View Full-Text
►

▼

Figures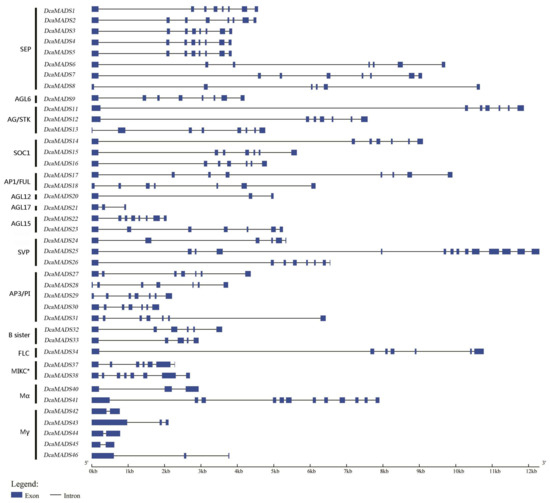 Figure 1
This is an open access article distributed under the
Creative Commons Attribution License
which permits unrestricted use, distribution, and reproduction in any medium, provided the original work is properly cited (CC BY 4.0).

Share & Cite This Article
MDPI and ACS Style
Zhang, X.; Wang, Q.; Yang, S.; Lin, S.; Bao, M.; Bendahmane, M.; Wu, Q.; Wang, C.; Fu, X. Identification and Characterization of the MADS-Box Genes and Their Contribution to Flower Organ in Carnation (Dianthus caryophyllus L.). Genes 2018, 9, 193.
Note that from the first issue of 2016, MDPI journals use article numbers instead of page numbers. See further details here.
Related Articles
Comments
[Return to top]