Kinetics and Thermodynamics of DNA Processing by Wild Type DNA-Glycosylase Endo III and Its Catalytically Inactive Mutant Forms
1
Institute of Chemical Biology and Fundamental Medicine (ICBFM), 630090 Novosibirsk, Russia
2
Department of Natural Sciences, Novosibirsk State University, 630090 Novosibirsk, Russia
3
New Jersey Institute of Technology, Department of Chemistry and Environment Sciences, University Heights, Newark, NJ 07102, USA
*
Authors to whom correspondence should be addressed.
Received: 27 February 2018 / Revised: 22 March 2018 / Accepted: 27 March 2018 / Published: 30 March 2018
Abstract
Endonuclease III (Endo III or Nth) is one of the key enzymes responsible for initiating the base excision repair of oxidized or reduced pyrimidine bases in DNA. In this study, a thermodynamic analysis of structural rearrangements of the specific and nonspecific DNA-duplexes during their interaction with Endo III is performed based on stopped-flow kinetic data. 1,3-diaza-2-oxophenoxazine (tC
O
), a fluorescent analog of the natural nucleobase cytosine, is used to record multistep DNA binding and lesion recognition within a temperature range (5–37 °C). Standard Gibbs energy, enthalpy, and entropy of the specific steps are derived from kinetic data using Van't Hoff plots. The data suggest that enthalpy-driven exothermic 5,6-dihydrouracil (DHU) recognition and desolvation-accompanied entropy-driven adjustment of the enzyme–substrate complex into a catalytically active state play equally important parts in the overall process. The roles of catalytically significant amino acids Lys120 and Asp138 in the DNA lesion recognition and catalysis are identified. Lys120 participates not only in the catalytic steps but also in the processes of local duplex distortion, whereas substitution Asp138Ala leads to a complete loss of the ability of Endo III to distort a DNA double chain during enzyme–DNA complex formation.
View Full-Text
►

▼

Figures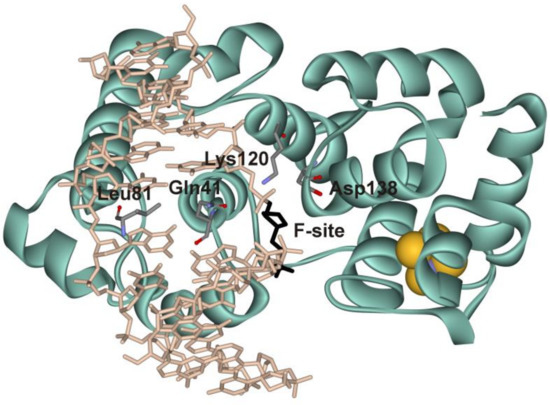 Figure 1
This is an open access article distributed under the
Creative Commons Attribution License
which permits unrestricted use, distribution, and reproduction in any medium, provided the original work is properly cited (CC BY 4.0).

Share & Cite This Article
MDPI and ACS Style
Kladova, O.A.; Krasnoperov, L.N.; Kuznetsov, N.A.; Fedorova, O.S. Kinetics and Thermodynamics of DNA Processing by Wild Type DNA-Glycosylase Endo III and Its Catalytically Inactive Mutant Forms. Genes 2018, 9, 190.
Note that from the first issue of 2016, MDPI journals use article numbers instead of page numbers. See further details here.
Related Articles
Comments
[Return to top]