Open Access This article is
freely available
re-usable
Review
Wnt Signalling in Intestinal Stem Cells: Lessons from Mice and Flies
1
Wolfson Wohl Cancer Research Centre, Institute of Cancer Sciences, University of Glasgow, Garscube Estate, Switchback Road, Glasgow G61 1QH, UK
2
CRUK Beatson Institute, Institute of Cancer Sciences, University of Glasgow, Garscube Estate, Switchback Road, Glasgow G61 1BD, UK
†
These authors contributed equally to this work.

Received: 26 January 2018 / Accepted: 21 February 2018 / Published: 2 March 2018
Abstract
:
Adult stem cells play critical roles in the basal maintenance of tissue integrity, also known as homeostasis, and in tissue regeneration following damage. The highly conserved Wnt signalling pathway is a key regulator of stem cell fate. In the gastrointestinal tract, Wnt signalling activation drives homeostasis and damage-induced repair. Additionally, deregulated Wnt signalling is a common hallmark of age-associated tissue dysfunction and cancer. Studies using mouse and fruit fly models have greatly improved our understanding of the functional contribution of the Wnt signalling pathway in adult intestinal biology. Here, we summarize the latest knowledge acquired from mouse and
Drosophila
research regarding canonical Wnt signalling and its key functions during stem cell driven intestinal homeostasis, regeneration, ageing and cancer.
Keywords:
Wnt signalling; intestine; homeostasis; regeneration; stem cells;
Drosophila
; mouse models; cancer
1. Introduction
Wingless-related integration site (Wnt) was named after the
Drosophila wingless
gene and the mouse
int1
gene.
Int1
was discovered in 1982 as a gene overexpressed in breast cancer [
1
]. Subsequent studies revealed first the amino acid sequence and next demonstrated that
Int1
was a secreted protein with the potential to act as a signalling molecule [
2
,
3
]. Five years later,
int1
was found to be homolog to the
Drosophila
gene
wingless
(
wg
), which had been previously characterized as a segment polarity gene through seminal work that identified regulators of body axis during embryonic development [
4
,
5
]. Thereafter,
int
/
wingless
became Wnt, giving also the generic name to the pathway itself, and
Int1
became Wnt1 as the first ligand identified. More than three decades later, there are no doubts about the importance of the Wnt pathway as an evolutionarily conserved system, which is broadly implicated in diverse biological processes such as embryonic development, adult tissue homeostasis, regeneration and disease [
6
,
7
,
8
].
The Wnt pathway is divided into β-catenin-dependent (canonical) and independent (non-canonical) signalling. In both cases, the major components of the pathway are the Wnt ligands, which act in an autocrine or paracrine fashion by binding their Frizzled (Fz) receptors. In canonical Wnt signalling, Fz receptors engage with co-receptors Lrp5/6, at the cell surface. Here, we will focus on the canonical pathway, as it is the one mainly studied in stem cell biology and the intestine. Briefly, in steady state conditions, the levels of cytoplasmic β-catenin are kept low through phosphorylation by a complex of proteins, known as the 'destruction complex', which includes Axin, Adenomatous polyposis coli (Apc), glycogen synthase kinase 3 (Gsk3) and casein kinase 1α (Ck1α) [
9
]. This destruction complex promotes the ubiquitination of β-catenin and its degradation by the proteasome. Moreover, the ADP-ribose polymerase Tankyrase (Tnks) has been described to target Axin and stimulate its degradation through proteolysis [
10
]. Activation of the signalling pathway upon binding of Wnt ligands to receptors initiates a series of signalling events, including the activation by phosphorylation of cytoplasmic Dishevelled (Dsh), which ultimately leads to inactivation of the destruction complex and stabilization of β-catenin, its accumulation in the cytosol and translocation into the nucleus where it forms complexes with Tcf/Lef transcription factors, among others, to regulate target gene expression [
8
,
11
,
12
].
Work in the last two decades has demonstrated a central role of the Wnt pathway in the regulation of adult stem cells and, hence, the maintenance of tissue homeostasis. Stem cells are highly dependent on extrinsic cues derived from their microenvironment, also known as niche. Wnt signals are an essential component of a wide range of stem cell niches, including that of the gastrointestinal epithelium [
13
,
14
].
The intestinal epithelium is constantly turned over through the action of dedicated intestinal stem cells (ISCs). This process needs to be sustained and highly regulated as its disruption leads to either tissue wasting or the development of gastrointestinal disorders, including cancer. In this review, we will summarize the latest findings regarding the contribution of canonical Wnt signalling to ISCs and their activity during normal tissue homeostasis, regeneration, ageing and intestinal cancer. We will discuss data derived from studies in mice and the fruit fly
Drosophila melanogaster
, with an emphasis on the use of the fly as an increasingly valuable model system and powerful genetic tool for studying various aspects of Wnt signalling in intestinal health and pathogenesis.
2. The Adult Mammalian Intestine
3. The Adult
Drosophila

Intestine

The adult digestive tract of the fruit fly

Drosophila melanogaster

is a tubular structure surrounded by visceral muscle, enteric neurons and gut-associated trachea, which are akin to the mammalian vasculature. As it is the case for the mammalian intestine, the fly gut ensures essential physiological functions of the living organism, such as the incorporation and processing of food, nutrient absorption and elimination of solid waste, and displays key endocrine, immune and metabolic roles. The fly intestine consists of a monolayer epithelium, divided into three domains of different developmental origins: the foregut, the midgut, and the hindgut. The foregut and the hindgut epithelium are of ectodermal origin whereas the midgut epithelium originates from the endoderm. The foregut comprises the pharynx, the esophagus and the crop. The midgut extends from the cardia until the junction with the hindgut, where the Malpighian tubules, which display functions similar to the mammalian kidneys, connect with the gut. The

Drosophila

adult midgut is described to be the structural and functional equivalent of the mammalian small intestine [

17

,

41

].

The fly midgut is replenished by ISCs [

42

,

43

].

Drosophila

ISCs undergo cell division to renew themselves and generate uncommitted enteroblasts (EBs), which are progenitor cells that can further differentiate into either secretory enteroendocrine cells (EEs) or absorptive enterocytes (ECs) [

44

]. ISCs and EBs are characterized by the expression of the snail family transcription factor

escargot

(

esg

) [

42

] and

headcase

(

hdc

) [

45

].

Drosophila

ISCs do not reside within discrete anatomical locations equivalent to the mammalian crypts and are instead scattered along the basal membrane of the intestinal epithelium. However, they are in either direct or close contact with their microenvironment, which includes uncommitted progenitor cells (EBs), differentiated midgut epithelial cells, visceral muscle (VM) and trachea cells, which all constitute niches as they provide factors that regulate ISC self-renewal and differentiation [

46

,

47

,

48

,

49

,

50

,

51

,

52

] (

Figure 2

i).

Due to the similarities between the

Drosophila

midgut and mammalian intestine and the relative simplicity of the invertebrate model system, the adult fly midgut has become a powerful paradigm for investigating the role of many conserved signalling pathways, including Wnt signalling, in the regulation of ISC activity [

51

,

53

].
4. Wnt Signalling in Mammalian Intestinal Homeostasis and Regeneration
5. Wnt Signalling in Intestinal Homeostasis and Regeneration in
Drosophila
6. Wnt Signalling in Ageing and Tumorigenesis of the Mammalian Intestine
7. Wnt Signalling in Intestinal Hyperplasia and Ageing in
Drosophila
8. Conclusions and Perspectives
Many interesting questions remain to be addressed regarding the role of Wnt signalling in the intestine and, in particular, in ISC function. Understanding the role of 'regeneration specific' Wnt ligands, which are redundant for basal tissue homeostasis, is one of them. Studies in both mice and
Drosophila
have evidenced the existence of damage-inducible Wnt stem cell niches that are specifically needed to drive the acute proliferative response of ISCs following injury, but are dispensable for homeostatic tissue self-renewal [
71
,
87
]. Intestinal regeneration shares many molecular features of tumorigenesis [
116
,
119
]. Identification of the mechanisms activated by damage/stress-inducible sources of Wnt ligands might represent an excellent therapeutic window for the targeting of Wnt-driven intestinal hyperplasia while preserving organismal health.
Another interesting aspect of Wnt signalling in the intestine relates to the role of short range signalling in the system. Pioneer work in
Drosophila
revealed that restriction of
Wg
secretion through cell membrane tethering maintains cell growth functions of the ligand in the wing disc [
145
]. Later work in the mammalian intestine presented evidence for short-range Wg signalling in stem cell proliferation through membrane-tethered
Wnt3
[
89
]. The extent of developmental and adult intestinal-specific functions of such short range signalling remains largely unexplored.
Drosophila
is likely to provide invaluable answers to this and other unexplored aspects of the regulation of intestinal health and disease by Wnt signalling.
New, sophisticated mammalian CRC models are being successfully created through the use of novel technologies such as CRISPR/Cas9. This includes the generation of mouse models carrying multiple gene mutations [
146
], metastatic CRC models [
147
,
148
,
149
,
150
], tools to trace cancer stem cells in vivo [
151
] and complex gene editing within cultured intestinal organoids [
152
,
153
]. It will only be a matter of time before the conservation of intricate molecular networks identified in
Drosophila
can be assessed in such powerful mammalian paradigms.
Acknowledgments
We thank to all our colleagues, whose work has contributed to this review and apologies to those whose work has not been discussed due to space restrictions. J.B.C. is a Sir Henry Dale Fellow jointly funded by the Wellcome Trust and the Royal Society (Grant Number 104103/Z/14/Z).
Conflicts of Interest
The authors declare no conflicts of interest.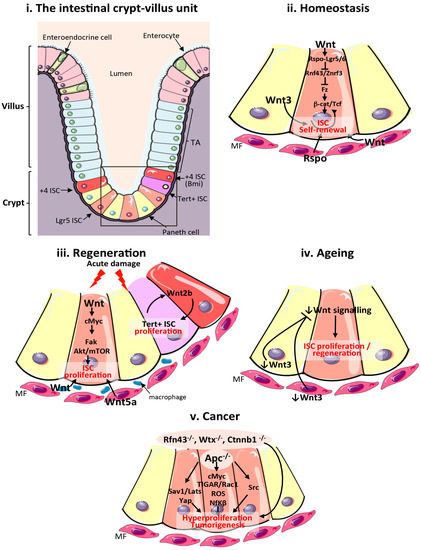 Figure 1. Wnt signalling in the mammalian intestine during homeostasis, regeneration, ageing and cancer. (i) Schematic of the cellular composition and architecture of a crypt–villi unit in the mammalian intestine. The stroma is depicted in purple and the gut lumen in peach. The boxed area highlights the crypt and stem cell niche, which are magnified in (ii–v); (ii) Main sources of the Wnt stem cell niche and pathway activation during intestinal homeostasis. Wnt3 from Paneth cells, and Wnt and Rspo from mesenchymal and epithelial stem cell niches are important sources of Wnt during homeostasis; (iii) Sources of the Wnt stem cell niche and pathway activation during intestinal regeneration following damage. Wnt2b signalling from intestinal epithelial cells is required to activate proliferation of quiescent Tert + intestinal stem cells (ISCs). Wnt from macrophages and Wnt5a from the mesenchyme are also important sources of Wnt during regeneration. Wnt activation of cMyc is known to target Fak and Akt/mTOR pathways to increase ISC proliferation in response to damage; (iv) Reduced production of mesenchymal and Paneth cell Wnt3 and canonical Wnt pathway activity in the ageing intestinal epithelium impairs ISC proliferation; (v). Wnt pathway activation during intestinal tumourigenesis and functional pathways activated following Apc loss. ISCs: intestinal stem cells; TA: transit amplifying cells; Tert: telomerase reverse transcriptase; MF: mesenchymal fibroblasts; Apc: Adenomatous polyposis coli; Fak: focal adhesion kinase; ROS: reactive oxygen species; TIGAR: TP53-inducible glycolysis and apoptosis regulator; Rspo: R-Spondin; Sav1: Salvador 1; mTOR: mammalian target of rapamycin; Yap1: Yes associated protein 1; Lats: Large tumour suppressor kinase 1; Nf-κβ: Nuclear factor κβ.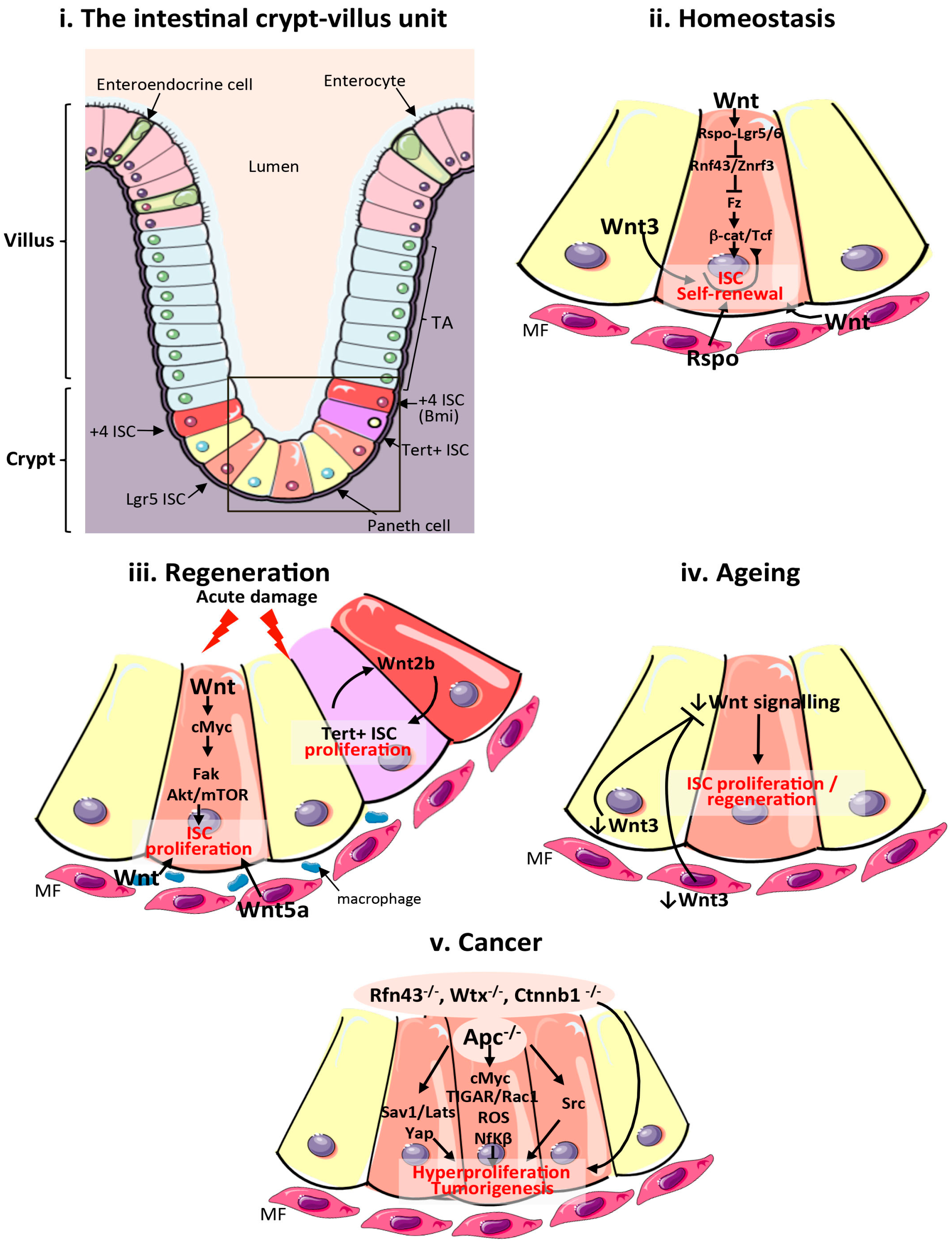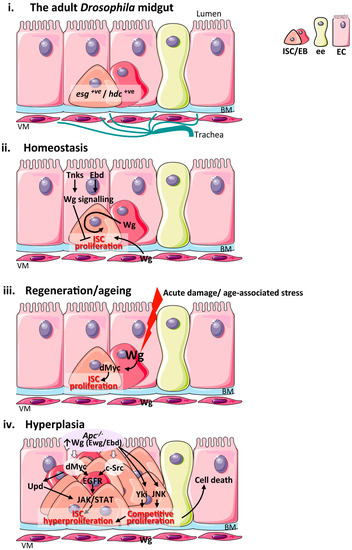 Figure 2.
Wnt signalling in the adult
Drosophila
midgut during homeostasis, regeneration, ageing and hyperplasia. (
i
) Schematic of the cellular composition and architecture of the adult
Drosophila
midgut epithelium and its microenvironment; (
ii
) Main sources of the Wnt stem cell niche and pathway activation during intestinal homeostasis. The VM and EBs produce Wg ligand to active signalling within ISC and drive their proliferation. Wg signalling activation in ECs by Tnks and Ebd inhibit ISC proliferation non-autonomously; (
iii
) Sources of the Wg stem cell niche and pathway activation during intestinal regeneration following damage and upon ageing. Up-regulation of Wg from EBs activates Wg signalling and its downstream target dMyc to drive ISC proliferation. The VM niche expresses Wg but is dispensable for ISC proliferation in this context; (
iv
) Wnt pathway activation during intestinal hyperplasia and functional pathways downstream of
Apc
. JNK and Yki activation in
Apc
−/−
cells drive ISC proliferation and cell competition leading to apoptosis of neighbouring wild type cells. ISC: intestinal stem cell; EB: enteroblast; EC: enterocyte; ee: enteroendocrine cell; BM: basement membrane; VM: visceral muscle;
esg
:
escargot
;
hdc
:
headase
; Wg: Wingless; Tnks: Tankyrase; Ebd: Earthbound; Ewg: Erect wing; Yki: Yorkie; JNK: c-Jun N-terminal kinase; Upds: Unpaired cytokines; EGFR: Epithelial growth factor receptor; JAK: Janus kinase.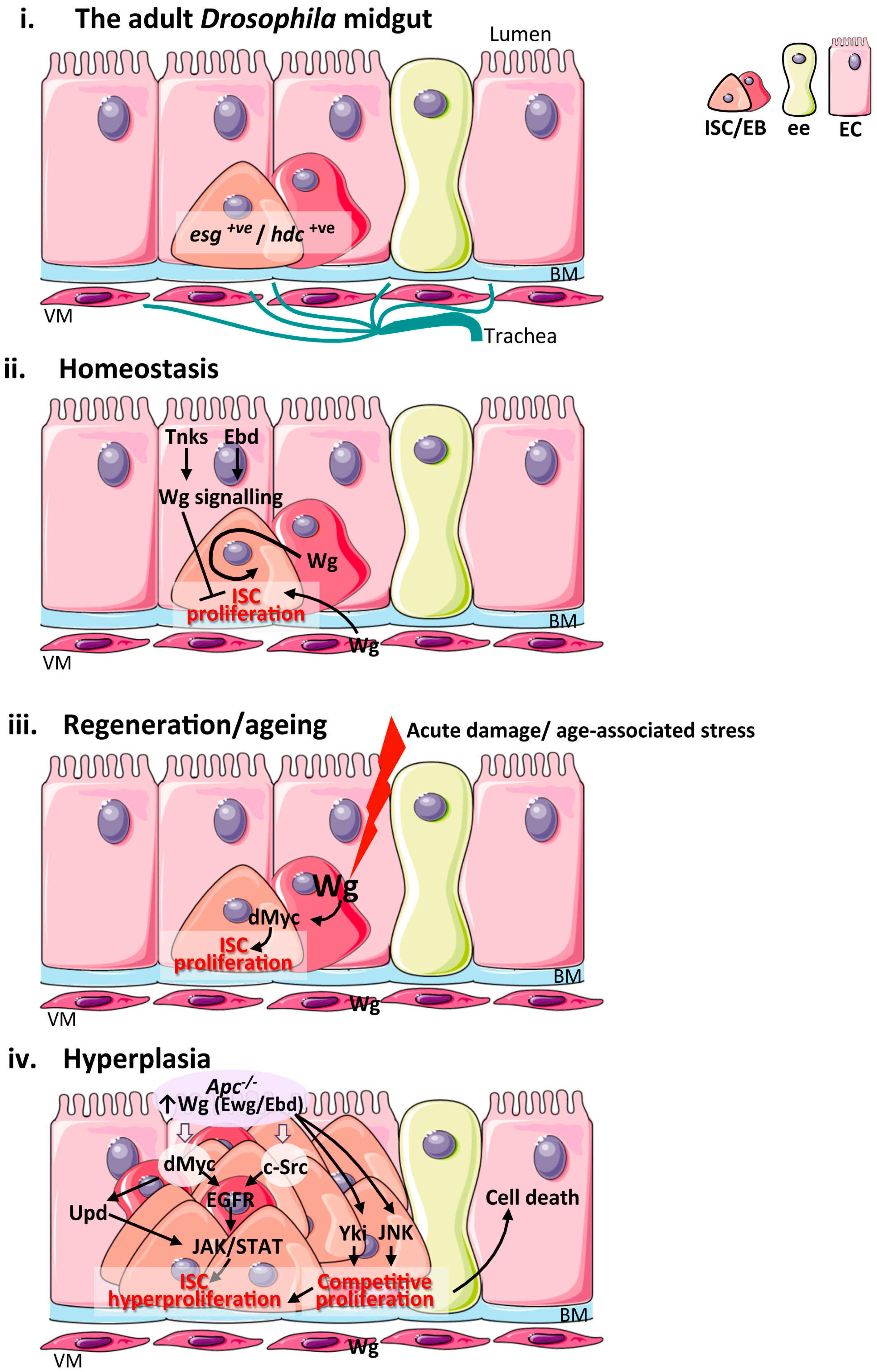 Table 1. List of fly and mammalian Wnts and their expression and function within the intestine. Known fly and mammalian Wnt ligand genes and their expression status in the intestine as determined by FlyGut-seq and NCBI, respectively. Reported intestinal function of Wnts is referenced.
Species
Wnt Type
Vertebrate Ortholog
Intestinal Expression
Main Intestinal Function

Drosophila Melanogaster

Wg
Wnt1
+
Required for intestinal homeostasis, regeneration and ageing [86,87]
Dwnt2
Wnt7
-
Dwnt3/5
Wnt5
-
Dwnt4
Wnt9
+
Unknown
Dwnt6
Wnt6
-
WntD/Dwnt8
-
-
Dwnt10
Wnt10
-

Mus Musculus

Wnt1
-
Wnt2
+
Intestinal development [88]
Wnt2b/13
+
Secreted by sub epithelial and mesenchymal cells and essential for gut homeostasis [62]
Wnt3
+
Secreted from Paneth cells and essential for stem cell maintenance [37,89]
Reduced expression in ageing ISCs [90]
Wnt3a
-
-
Wnt4
+
Intestinal development [88]
Wnt5a
+
Intestinal development [88]
Intestinal elongation [91]
Stromal macrophage induced expression upon regeneration [73]
Colonic crypt regeneration [72]
Wnt5b
+
Intestinal development [88]
Wnt6
+
Intestinal development [88]
Transcriptionally upregulated upon damage by irradiation in crypt epithelial cells [92]
Wnt7a
-
-
Wnt7b
-
-
Wnt8a
+
Intestinal development [88]
Wnt8b
-
-
Wnt9a
+
Suppressor of proliferation in CRC [93]
Wnt9b
+
Expressed in Paneth cells [82]
Wnt10a
+
Unknown
Wnt10b
-
-
Wnt11
+
Intestinal development [88]
Expressed in adult intestine [94]
Wnt16
Low
Unknown

© 2018 by the authors. Licensee MDPI, Basel, Switzerland. This article is an open access article distributed under the terms and conditions of the Creative Commons Attribution (CC BY) license (http://creativecommons.org/licenses/by/4.0/).