Open Access This article is
freely available
re-usable
Review
Archaeal Viruses from High-Temperature Environments
1
Department of Microbiology and Immunology, Montana State University, Bozeman, MT 59715, USA
2
Department of Biological Sciences, Cal Poly Pomona, Pomona, CA 91768, USA
3
Department of Plant Sciences and Plant Pathology, Montana State University, Bozeman, MT 59715, USA
*
Author to whom correspondence should be addressed.
Received: 22 January 2018 / Accepted: 21 February 2018 / Published: 27 February 2018
Abstract
:
Archaeal viruses are some of the most enigmatic viruses known, due to the small number that have been characterized to date. The number of known archaeal viruses lags behind known bacteriophages by over an order of magnitude. Despite this, the high levels of genetic and morphological diversity that archaeal viruses display has attracted researchers for over 45 years. Extreme natural environments, such as acidic hot springs, are almost exclusively populated by Archaea and their viruses, making these attractive environments for the discovery and characterization of new viruses. The archaeal viruses from these environments have provided insights into archaeal biology, gene function, and viral evolution. This review focuses on advances from over four decades of archaeal virology, with a particular focus on archaeal viruses from high temperature environments, the existing challenges in understanding archaeal virus gene function, and approaches being taken to overcome these limitations.
Keywords:
archaeal virology; extremophiles; environmental virology; archaeal viral genetics; archaeal viral genes
1. Introduction
Archaea are well known as extremophiles that can thrive in some of the most extreme and inhospitable environments [
1
]. Members of the Archaea appear to be an interesting blend of features typically found in bacteria (e.g., metabolic characteristics and overall cellular morphology) or in eukaryotic organisms (e.g., eukaryotic-like information processing systems) along with features that distinguish Archaea from both Bacteria and Eukarya (e.g., cellular membranes with ether linked lipids). The Archaea is comprised of several recognized phyla, including the better-studied Euryarchaeota and Crenarchaeota, and several candidate phyla, including the recently discovered superphylum Asgardarchaeota (
Table 1
) [
2
,
3
]. It is now appreciated that members of the Archaea can be found across diverse natural environments [
4
,
5
,
6
,
7
], however, their dominance in certain extreme environments makes these sites ideal settings for the discovery of archaeal viruses and for examining archaeal–virus interactions. Nearly all of the archaeal viruses that have been described to date have been isolated from either high-salt environments or high-temperature (>70 °C) hot springs, making them ideal tools with which to study the genes and genomics of biological entities from extreme environments. This review will focus on what we have learned from nearly 45 years of examining archaeal viral genes, and the significant challenges that remain in understanding the function of archaeal viral genes and their interactions with their hosts. This review will focus principally on studies of archaeal viruses from high temperature environments, but will also touch on archaeal viruses from other environments.
High-temperature low-pH hot springs around the world are dominated by Archaea to the point where no eukaryotic organisms are present, and Bacteria only make up a small portion, typically <1% of the cellular biomass in many hot springs [
1
,
8
,
9
,
10
]. One possible explanation for the dominance of Archaea in these environments is not that Bacteria are unable to tolerate and live in such extreme conditions, but rather, that Archaea are better at surviving in these conditions, due to their ability to outcompete Bacteria in environments where nutrients are chronically limited [
11
]. In addition to lacking bacterial species, these environments frequently have a low diversity of archaeal species present (typically <10) [
8
,
12
], replicating in a low cell density environment. These low-complexity cellular communities, combined with near complete knowledge of the viral community structure [
13
,
14
,
15
], make high-temperature low-pH hot springs ideal natural environments for the study of archaeal virus–host interactions in a natural setting.
The number of viruses described from extreme environments has been increasing, but compared to mesophilic environments, the number of viruses described still lags significantly behind. The hot springs of Yellowstone National Park (YNP) and around the world have been especially rewarding for the study of thermophilic viruses infecting species of Crenarchaea. These viruses exhibit remarkable morphological diversity not shared by any other viruses that have been characterized to date, and are extensively reviewed by Dellas et al. [
16
], Rachel et al. [
17
], and Prangishvili et al. [
18
]. However, to date, only ~100 archaeal viruses, all of which have DNA genomes, as compared to over 2000 bacteriophages, with both DNA and RNA genomes, have been classified in the most recent release of the International Committee on Taxonomy of Viruses (ICTV) [
19
]. Of the archaeal viruses deposited in National Center for Biotechnology Information (NCBI) (
Figure 1
), most infect halophilic species within the Euryarchaeota phylum (32 viruses) and thermophilic species of Crenarchaeota (55 viruses). However, even when viruses that have only been identified through metagenomic approaches are included, there are still only roughly 150 archaeal viruses that have been described, to date. In addition, the viruses infecting members of most archaeal phyla are unknown at this time (
Table 1
).
2. Challenges Associated with Archaeal Virology
3. Comparison of Gene Content of Bacteriophage, Archaeal, and Eukaryotic Viruses
Despite the overrepresentation of bacteriophage in the pVOG dataset, there are a number of pVOGs that are only encoded by archaeal viruses. Of the 479 pVOGs that are encoded for by dsDNA archaeal viruses, 66% (317 pVOGs) are encoded only by archaeal viruses without membership from any bacteriophage. As expected, the vast majority of these archaeal-only pVOGs do not have a predicted function. When combined with the archaeal virus genes that are not part of a pVOG, only ~10% of all archaeal dsDNA viral genes are part of a pVOG with a predicted function. These results indicate that a significant component of the archaeal virus gene repertoire differs from their bacteriophage counterparts.
4. Archaeal Virus Life Style and Gene Functions
5. Future Prospects
Looking forward, there is still a vital need for discovery and characterization of archaeal viruses from other environments, including, but not limited to, deep-sea vents, where certain lineages of Asgardarchaeota were identified [
2
], and additional hot springs, marine systems, and other environments where Archaea are prevalent [
104
]. To date, only two phyla of Archaea have cultured viruses (Crenarchaeota and Euryarchaeota), and several others have metagenomic evidence of viruses (
Table 1
). Additionally, the further refinement of bioinformatic tools to match viruses to their hosts based on CRISPR spacer matches, k-mer usage frequency, or other techniques, will provide invaluable avenues for researchers to study archaeal viruses in other environments where Archaea are present in lower frequencies. These studies will discover new archaeal viral families, as well as describe new members of existing archaeal viral families, allowing for a more in-depth examination of the evolution of archaeal viruses and their hosts. While laboratory studies offer invaluable information and insight as to how viruses interact with their hosts, they do not tell the whole story. There is a need to develop additional tools to probe host–virus interactions dPleairectly in their environments. It is likely that many of the unknown viral gene products function only in the context of their environment, helping to overcome host defense systems, outcompeting other viruses, and adapting to changes in the geochemical environment that is often found in extreme environments.
While the field of archaeal virology has advanced in recent years, there still remains significant challenges in understanding archaeal viral gene function. The expanded appreciation that Archaea exist well beyond extreme environments challenges us to understand their role in the ecology, and evolution of organisms within these environments. This will only occur by more fully understanding archaeal viral gene function and interactions with their hosts, both in the laboratory and in their natural environments. The fascinating gene diversity exhibited by these viruses should attract increased attention from virologists, biochemists, genetics, and structural biologists to unravel archaeal virus function. Future advances in culturing and the development of genetic systems will undoubtedly provide excellent systems for the study of archaeal viruses.
Acknowledgments
We thank Jennifer Wirth for her critical reading and comments on this review.
Author Contributions
M.Y. conceived of the review. J.M.M. analyzed the data, and all authors wrote the manuscript.
Conflicts of Interest
The authors declare no conflict of interests.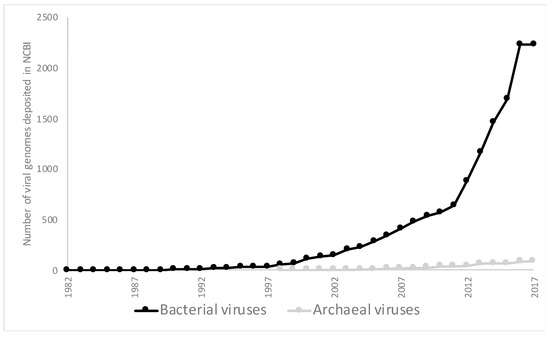 Figure 1.
Number of bacterial and archaeal viruses that have been fully sequenced and deposited in the NCBI viral genome database on 6 December 2017 [
27
].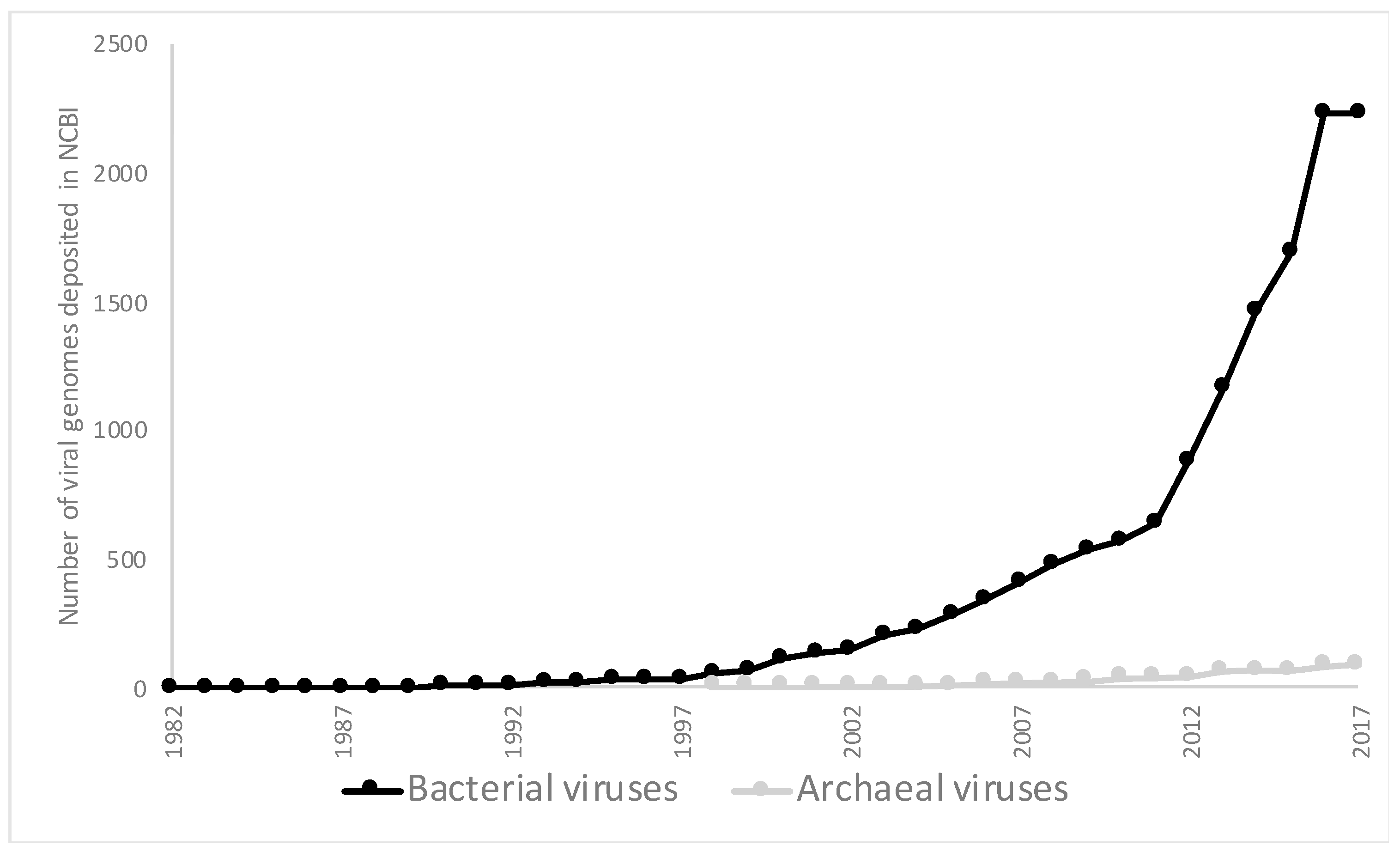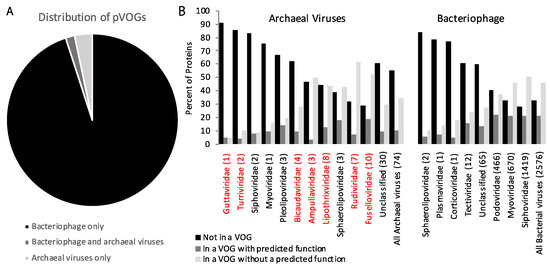 Figure 2.
Analysis of genes from double stranded DNA (dsDNA) viruses in the prokaryotic viral orthologous group (pVOG) analysis [
54
]. (
A
) Distribution of pVOGs that are encoded for by dsDNA bacteriophages only, dsDNA archaeal viruses only, or both. (
B
) Percentage of genes from each viral family for dsDNA archaeal viruses and bacteriophages that are not in a VOG, in a VOG with a predicted function, or in a VOG that lacks a predicted function. For each viral family, the number of viruses belonging to the family is provided in parenthesis. Archaeal viral families with high temperature representatives are shown in red.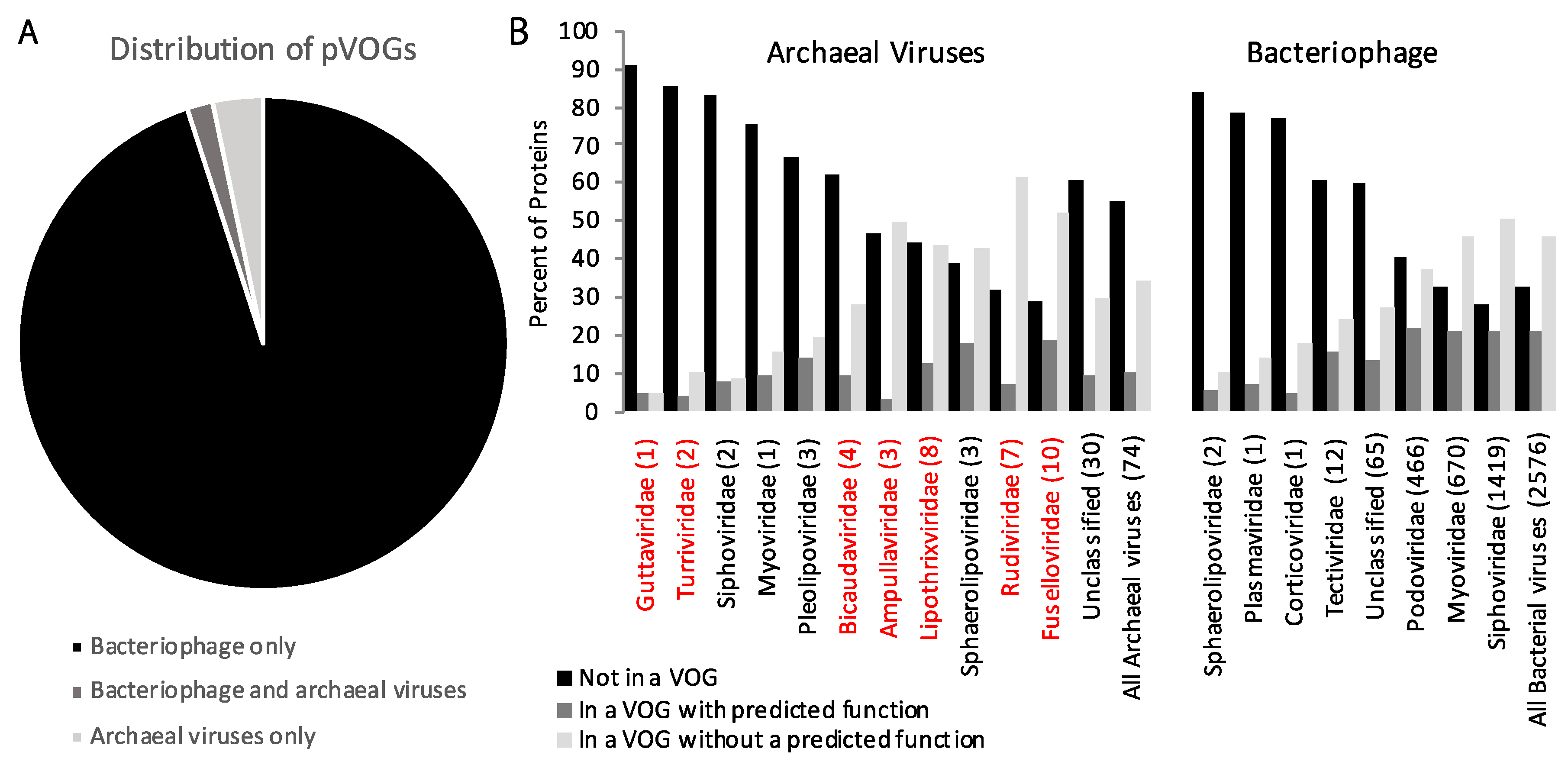 Table 1.
Number of isolated viruses infecting archaeal phyla and candidate phyla with metagenomic evidence of viruses. Archaeal phyla and candidate phyla were curated from the National Center for Biotechnology Information (NCBI) taxonomy browser [
20
] on 9 February 2018. The number of viruses was determined from the NCBI viral database. Numbers in brackets refer to articles that describe viruses from metagenomic sequences that are inferred to infect the archaeal phyla.
| Phyla | Number of Viruses in NCBI | Metagenomic Viruses |
| --- | --- | --- |
| Candiditus Aenigmarchaeota | 0 | No |
| Candiditus Bathyarchaeota | 0 | Yes [21] |
| Crenarchaeota | 55 | Yes [13] |
| Candiditus Diapherotrites | 0 | No |
| Euryarchaeota | 32 | Yes [21,22,23] |
| Candiditus Geothermarchaeota | 0 | No |
| Candiditus Heimdallarchaeota | 0 | No |
| Candiditus Korarchaeota | 0 | No |
| Candiditus Lokiarchaeota | 0 | No |
| Candiditus Micrarchaeota | 0 | No |
| Nanoarchaeota | 0 | Yes [8] |
| Candiditus Nanohaloarchaeota | 0 | Yes [24] |
| Candiditus Odinarchaeota | 0 | No |
| Candiditus Pacearchaeota | 0 | No |
| Candiditus Parvarchaeota | 0 | No |
| Thaumarchaeota | 0 | Yes [23,25,26] |
| Candiditus Thorarchaeota | 0 | No |
| Candiditus Woesearchaeota | 0 | No |

Table 2. Table of all viruses mentioned in this review, their abbreviation, and the original reference where the virus is described.
Abbreviation
Virus Name
Reference
AFV1

Acidianus

filamentous virus 1
Bettstetter et al., 2003 [41]
APBV1

Aeropyrum pernix

bacilliform virus 1
Mochizuki et al., 2010 [42]
ATSV

Acidianus

tailed spindle virus
Hochstein et al., 2015 [43]
ATV

Acidianus

two-tailed virus
Prangishvili et al., 2006 [44]
HHTV-2

Haloarcula hispanica

tailed virus 2
Atanasova et al., 2012 [45]
HSTV-1

Haloarcula sinaiiensis

tailed virus 1
Atanasova et al., 2012 [45]
MetSV

Methanosarcina

spherical virus
Weidenbach et al., [46]
MTIV

Metallosphaera

turreted icosahedral virus
Wagner et al., 2017 [47]
ϕCh1

Natrialba magadii

phi Ch1
Witte et al., 1997 [48]
PBCV-1

Paramecium bursaria

chlorella virus 1
Reisser et al., 1988 [49]
PRD1
Phage PRD1
Olsen et al., 1974 [50]
SIRV1

Sulfolobus islandicus

rod-shaped virus 1
Prangishvili et al., 1999 [51]
SIRV2

Sulfolobus islandicus

rod-shaped virus 2
Prangishvili et al., 1999 [51]
SSV1

Sulfolobus

spindle virus 1
Palm et al., 1991 [52]
STIV

Sulfolobus

turreted icosahedral virus
Rice et al., 2004 [37]
TTV-1

Thermoproteus tenax

virus 1
Janekovic et al., 1983 [53]

© 2018 by the authors. Licensee MDPI, Basel, Switzerland. This article is an open access article distributed under the terms and conditions of the Creative Commons Attribution (CC BY) license (http://creativecommons.org/licenses/by/4.0/).