The Pleiotropic Effects of the Canonical Wnt Pathway in Early Development and Pluripotency
Stem Cell Signalling Laboratory, Department of Development and Regeneration, KU Leuven Stem Cell Institute, Herestraat 49, Onderwijs en Navorsing 4, Box 804, 3000 Leuven, Belgium
*
Author to whom correspondence should be addressed.
†
These authors contributed equally to this work.
Received: 13 December 2017 / Revised: 30 January 2018 / Accepted: 30 January 2018 / Published: 14 February 2018
Abstract
The technology to derive embryonic and induced pluripotent stem cells from early embryonic stages and adult somatic cells, respectively, emerged as a powerful resource to enable the establishment of new in vitro models, which recapitulate early developmental processes and disease. Additionally, pluripotent stem cells (PSCs) represent an invaluable source of relevant differentiated cell types with immense potential for regenerative medicine and cell replacement therapies. Pluripotent stem cells support self-renewal, potency and proliferation for extensive periods of culture in vitro. However, the core pathways that rule each of these cellular features specific to PSCs only recently began to be clarified. The Wnt signaling pathway is pivotal during early embryogenesis and is central for the induction and maintenance of the pluripotency of PSCs. Signaling by the Wnt family of ligands is conveyed intracellularly by the stabilization of β-catenin in the cytoplasm and in the nucleus, where it elicits the transcriptional activity of T-cell factor (TCF)/lymphoid enhancer factor (LEF) family of transcription factors. Interestingly, in PSCs, the Wnt/β-catenin–TCF/LEF axis has several unrelated and sometimes opposite cellular functions such as self-renewal, stemness, lineage commitment and cell cycle regulation. In addition, tight control of the Wnt signaling pathway enhances reprogramming of somatic cells to induced pluripotency. Several recent research efforts emphasize the pleiotropic functions of the Wnt signaling pathway in the pluripotent state. Nonetheless, conflicting results and unanswered questions still linger. In this review, we will focus on the diverse functions of the canonical Wnt signaling pathway on the developmental processes preceding embryo implantation, as well as on its roles in pluripotent stem cell biology such as self-renewal and cell cycle regulation and somatic cell reprogramming.
View Full-Text
►

▼

Figures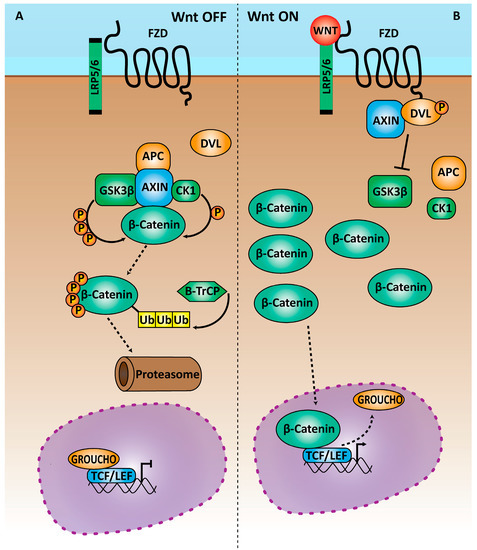 Figure 1
This is an open access article distributed under the
Creative Commons Attribution License
which permits unrestricted use, distribution, and reproduction in any medium, provided the original work is properly cited (CC BY 4.0).

Share & Cite This Article
MDPI and ACS Style
De Jaime-Soguero, A.; Abreu de Oliveira, W.A.; Lluis, F. The Pleiotropic Effects of the Canonical Wnt Pathway in Early Development and Pluripotency. Genes 2018, 9, 93.
Note that from the first issue of 2016, MDPI journals use article numbers instead of page numbers. See further details here.
Related Articles
Comments
[Return to top]